Sajad Lone/Kupwara
Zara Khan, a six-year-old girl from Kanispora village of north Kashmir's Baramulla district has recently made her debut trek to the mountains in the Uri sector; bagging the title of the youngest trekker from Kashmir Valley.
Studying in the 3rd standard at Delhi Public Public School (DPS) Baramulla Zara is aiming at scaling the higher peaks in Jammu Kashmir.
In an attempt to earn the opportunity, Zara Khan recently joined a local trekking group sponsored by the Indian army to the mountains in the Uri sector, where Zara covered a distance of 7km and became the youngest trekker from Kashmir Valley.
Speaking to Awaz-the Voice, Zara said that the Army has been providing much-needed support for trekking activities. "For months I had been thinking of climbing the mountains but it became possible only when the army provided me an opportunity to join a group of local trekkers," she said.
She said she feels very safe trekking in the mountains around which she has grown. "By joining the Group of local Trekkers it will help me explore the natural beauty of the remote areas."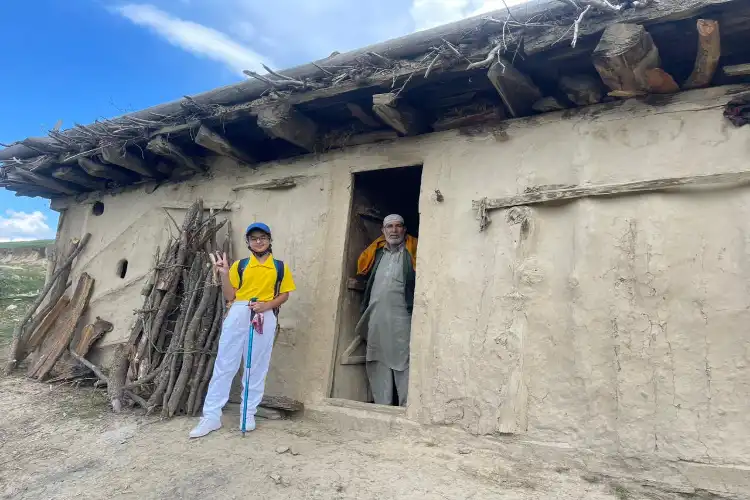 Zara Khan posing in front of her house in the village
Interestingly, her village is close to the Line of Control and had been earlier a hotspot in the exchange of fire between the Army and the Pakistani troops. With the ceasefire holding, Zara and other children can lead normal lives. "With the ceasefire between the two countries, these villages are now witnessing trekking a ray of hope to add their earnings," a villager from Kansipora said.
The Indian Army sources said the troops deployed at the LoC have been providing much-needed support to the young trekkers. In one such trekking expedition conducted recently, enthusiasts from all age groups joined hands and explored remote areas close to LoC in Baramulla District.
The initiative is indicative of a stable security situation and the enthusiasm it has generated among the locals for exploring their area which is rich in scenic splendor and seeing a bright future for their young ones.
It seems that post-ceasefire understanding between India and Pakistan, trekking has become a major recreational activity in parts of north Kashmir including Gurez, Uri, and Karnah.
ALSO READ: Language must be spoken with love: Naseeruddin Shah
The youngest athlete was later honored by his school DPS Baramulla for achieving the title of the youngest trekker from Kashmir valley.