New Delhi

The NGOs from different countries including Islamic nations working on social harmony and unity of religions have resolved to prepare a charter for harmony and peace. At an international seminar held in Delhi, the participants authorized Indresh Kumar, leader of the Rashtriya Swayem Sevak Sangh (RSS) to prepare the draft of the charter.
The idea was put forth at the two-day seminar on the theme 'India and Central Asia Historical, Cultural and Economic Connectivity' held in JNU. The charter will address issues that are the source of conflict between followers of different religions.
Besides India, the countries that took part in the seminar included Islamic countries like Iran, Turkey, Tajikistan, Kazakhstan, Kyrgyzstan Uzbekistan, Azerbaijan, Buddhist-dominant Mongolia, and Christian Armenia.
The civil society engagement between India, its neighbours, and central Asian countries, is part of India's outreach to the region.
In this seminar, the issue of people of one religion calling others infidel, non-believers, or kafir was also discussed. The seminar resolved that all humans are believers and nobody should be called a non-believer. "Everyone believes in God, the ways may be different." It resolved.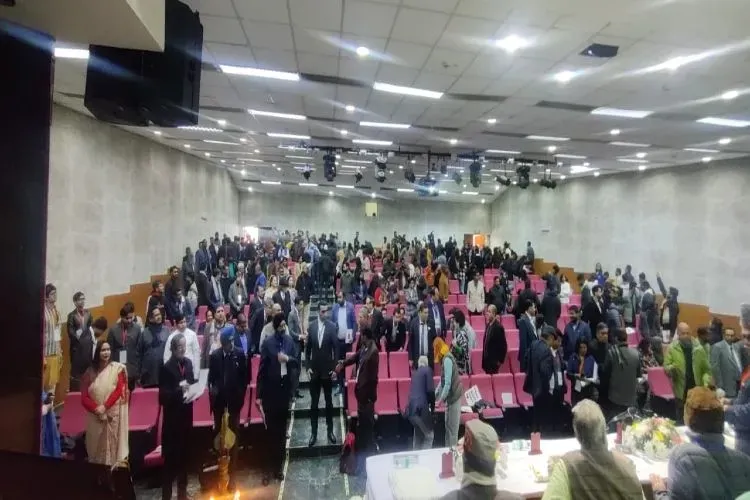 Delegates at the international seminar in JNU

The gathering agreed that if any country or person calls someone 'kafir,' all countries will strongly condemn him.
Some of them are Iraj Elahi from Iran, Firat Sonal from Turkey, Lukmon Baba Kolajdeh from Tajikistan, Nurlan Jalgasbev from Kazakhstan, and Habibullo Mirjojoda from Kyrgyzstan, Isaev, Dilsod Akhtokov and Aziz Baratoon from Uzbekistan, Shalar Geldinjarov from Turkmenistan, Ganbold Damjav from Mongolia, Arman Martirosyan from Armenia, Farid Mamundzay from Afghanistan Ashraf Shikalyev from Azerbaijan.
Speakers said India is like a big brother and can play the role of Vishwaguru. However, Indresh Kumar clarified that the concept of Vasudhaiva Kutumbakam is not hegemonistic but treats the entire world as a family. He said India is full of diversity.
All speakers endorsed the idea that RSS prepare the draft of the mission document.
Union Minister of State Dr. Subhash Sarkar and National Commission for Minorities Chairman Iqbal Singh Lalpura, Indira Gandhi Kala Kendra Secretary Prof. Sachidanand Joshi, General Secretary of Rashtriya Suraksha Jagran Manch Golok Bihari and
International Seminar Coordinator Jamia Millia Islamia M Mahtab Alam Rizvi was also present.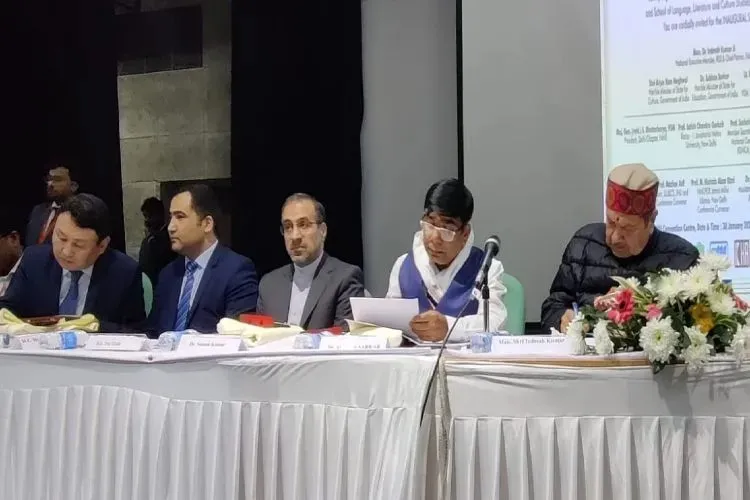 Indresh Kumar presiding over a session at the International seminar

The seminar also discussed terrorism and all participants condemned it. Indresh Kumar described terrorism as an enemy of peace, development, harmony, and humanity. He said that no civilized society has a place for anti-social organizations peddling terrorism, Maoism, Naxalism, etc. All speakers agreed that they will not allow their land to be used for terrorism.
The seminar concluded that criticism of any religion, scriptures, shrines, or religious personalities like God, Goddesses, deities, Prophets, and violence in their name to create anarchy was condemnable. It asked people of all religions to give importance to peace, unity, brotherhood, and harmony instead of insulting other religions.
Indresh Kumar said that the ban on religious conversions is necessary for world peace and development. He urged the representatives of Muslim countries to speak up against religious conversions.
Representatives of these countries also decided to join hands to increase cooperation and coordination among themselves. Kumar also discussed the scope of cooperation as a group and dialogue, art, education, literature, culture, digital technology, and business growth.
ALSO READ: Orange-seller Padma Shri Harekala Hajabba wants to build a college in his village
At the end of the seminar, ambassadors, high commissioners, intellectuals, and delegates lighted candles and raised the slogan, "Eliminate darkness, bring light"; give us a voice." And "Our path is not hatred, riot, war but peace, harmony, brotherhood and development".