Mansooruddin Faridi/New Delhi
"If you give a man a fish, you feed him for a day. If you teach a man to fish, you feed him for a lifetime." With this vision, Aasif Mujtaba launched a mission to help scores of children whose families suffered the loss of property and livelihood in the Delhi riots of 2020 by rebuilding their lives. Instead of giving them doles, he decided to arrange a source of livelihood for the families and education and skill development for the children.
Aasif, a Delhi-based campaigner, launched his mission by imparting skills to stay-at-home Muslim girls skills that could become their source of livelihood.
Aasif Mujtaba is the founder of the NGO Miles2Smile Foundation which works out of Southeast Delhi's Shaheen Bagh Miles2Smiles has since turned into a social movement to improve the lives and future of Muslim children.
His NGO has managed to improve the lives of many children and provide a livelihood for many adults and make many women feel respected and productive.
Aasif Mujtaba's NGO had put up a stall at the recently held Urdu language literary festival in Delhi Zahsn-e-Rekhta. Named Khattati the stall decorated with colorful banners displayed and sold the works of young calligraphic artists – mostly young women – who are being trained by the NGO.
Each piece of calligraphy sold was made by a girl from a Delhi-riot-affected family. The stall was a big draw during the three-day festival. The sales done by the stall have motivated the girls into pursuing it as a profession.
Aasif Mujtaba has started with relief for the riot-affected families in East Delhi. It's during the distribution of relief that he realized that the biggest need of the children is education while paving the way for employment for the elders.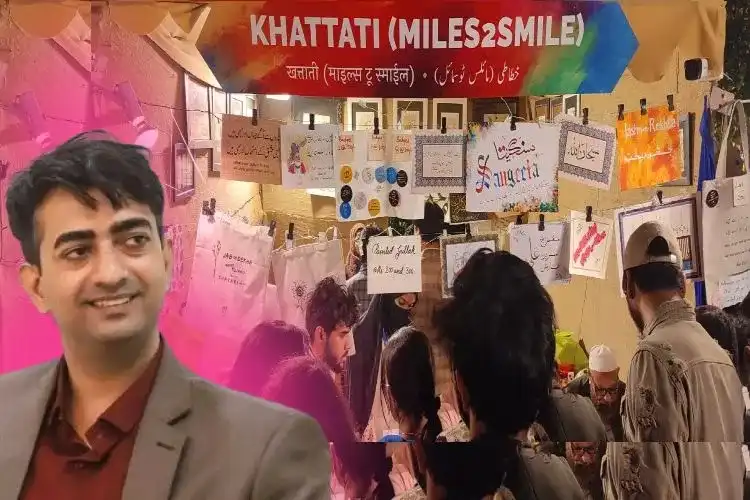 The stall of Calligraphy works of Miles2Smiles at jashn-e-Rekhta
Aasif Mujtaba told Awaz-the Voice that some of the affected children from the riot-affected areas of East Delhi, especially girls, showed interest in learning the art of calligraphy.
"I realized what they want and also that people would buy their works and we (NGO) can be a platform. We also noticed some families were against the girls going out to learn or study and were okay with them working from home to earn."
Aasif Mujtaba said that since he knew veteran calligrapher Waseem Sahab of Delhi Urdu Academy. "I contacted him and he started calligraphy classes two months back. He offers a one-year course. Inshallah after a year, the batch of calligraphers will be ready. These girls will not only be able to make a living out of it but also lead to the evolution of this art."
Aasif Mujtaba says since his experience of calligraphy for the people of Shiv Vihar he is considering a simiilar course for the people of Shaheen Bagh.
Aasif Mujtaba says he helped the distressed people in every possible way, from the East Delhi riots to the Covid-induced lockdown, but our effort was to rehabilitate everyone financially and not make them dependent on charity. "We prefer self-reliance to temporary help as a solution to a crisis."
He has launched a new project in a rented place in Shaheen Bagh where he intends to open a sewing school for needy people. The school will be a self sufficient unit as it intends to take up bulk orders for stitching school uniforms.
They say this center will have a financial model and not be run on donations. "We have set a target of making all our systems revenue self-sufficient by 2025."
During the Jashan-e-Rekhta, the visitors showed interest in his work and appreciated the initiative to link calligraphy art with employment.
However, Miles2Smile has many other projects. Some of these are:
250 children from the riot-affected areas of Northeast Delhi study in its school.
45 Rohingya refugee children are studying at the Fatima Al-Fahri Learning Center.
92 people were assisted in the relief and rehabilitation work in Karoli, Rajasthan.
310 people helped in relief and rehabilitation work in Khargaon, Madhya Pradesh
86 people were helped in relief and rehabilitation work in Sendwa, Madhya Pradesh.
132 people helped in relief and rehabilitation work in Jahangirpuri, New Delhi
21 people helped in relief and rehabilitation work in Himmatnagar and Roorkee
In Madrasa Imam Bukhari in Haryana's Nuh, 45 children are memorizing Quran.
In Madrasa Miftah Al-Quran located in Shiv Vihar, New Delhi, 72 children are memorizing.
Perfection of thought.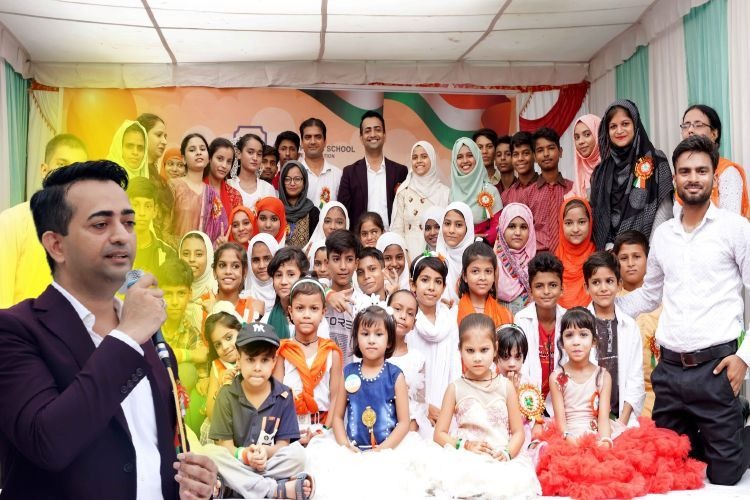 Aasif Mujtaba with young children
Miles2Smile also connects individuals and communities with decent means of livelihood. Aasif Mujtaba says he wants to participate significantly in the first UN goal of eradicating poverty by 2030.
Aasif Mujtaba says helping others spread the idea that one day when a person is self-sufficient he too can do the same.
Project Putli oversees the education of poor children. The Foundation has developed a massive database that records the number of children who are either victims of communal bias or belong to economically-disadvantaged families.
The NGO encourages people to adopt these children for education can be supported. These children, who live with their families, are also taught some vocational courses like coding, robotics, and graphics designing.
Miles2Smile made every effort to bring normalcy to the lives of Rohingya refugees by providing them with all the necessary equipment and rebuilding their houses and shops for them. Wherein arrange for education for their children so that their future is not bleak.
Aasif Mujtaba says, "In August 2020, after the violence and the lockdown, I met a few families who could not afford their children's education because of the 'double whammy'. When volunteers came to conduct surveys we dot a list of 80 children.
Aasif Mujtaba while talking to 'Awaz-the Voice' said that his NGO wanted to start a study point in Shiv Vihar, but then they took a private school 'Sunrise Public School' in Loni on lease in November 2020.
The school started with 80 children and has grown to 500 students in the last two years. Most of them are from the riot-affected areas and those from the neighbouring areas, According to Mujtaba, 22 students were orphaned during the riots.
ALSO READ: School dropout Asif Sheikh's UK company has Rs 5 crore turnover
The school educates children from Nursery to Class 8, after which the Foundation either helps them get admission to a government school or bears the cost of their education in a private school.