Andalib Akhter
A Gaushala is a protective shelter or sanctuary for cattle particularly cows, set up to improve their health and life, sell pure milk and cow products, conserve germplasm, and stop animal cruelty. By offering care and shelter, Gaushalas perform the critical function of preventing the suffering of cattle. Gaushalas also known as pinjrapole, kanji house, gauvatika are spread across the country. The origin of gaushalas can be traced to the Vedic period when the emphasis was on protection, preservation and development of cows.
At present, there are above 5000 gaushalas in India, out of which, 1837 are recognised under the Animal Welfare Board of India (AWBI) (FIAPO, 2019). AWBI is the statutory body of the 'Prevention of Cruelty to Animals Act 1960 (PCA). Gaushalas receive financial support and management advice from the AWBI. Under the PCA 1960, Gaushalas fall under the purview of the Registration of Cattle Premises Rules (RCPR).
According to the 20th Livestock census, the total cattle population in India is around 19 crores, of which around 25% (4.7 crores) are male. These male cattle, when not used, old and unproductive indigenous cows are the potential animals for admission in Gaushalas. Dairying has picked pace in the past three decades. Farmers often abandon old and unproductive indigenous cattle and they either keep roaming or land in Gaushalas. In the 10 districts of Haryana alone, out of the total cattle housed in gaushalas, 89% were unproductive. The disowned indigenous cattle can be seen moving freely in rural and urban areas, and on roadsides, often feeding on garbage dumps.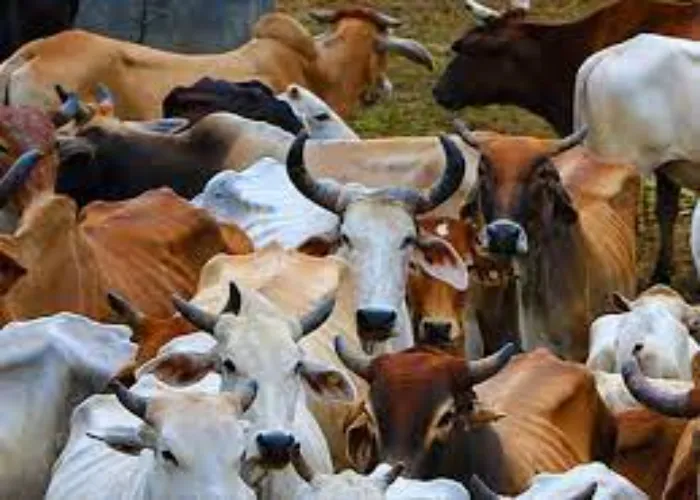 Abandoned cows and oxen

According to the Ministry of Road Transport & Highways, stray animals caused 1604 road accidents in India, with the highest being in Gujarat (220), followed by Jharkhand (214) and Haryana (211). Many of the states in India have banned cattle exports making it even harder to manage the huge population of old, unproductive cows and male cattle. Farmer testimonies from Haryana suggest that the newborn male calves are also sent to gaushalas by some farmers or abandoned near markets.
Burden on Gaushalas
Major sources of income for gaushalas are donations by the general public, business entities, and a few corporates, government grants, and the sale of milk. Some studies show that in Haryana, 74% of the income of gaushalas came from private donations, 7% from government grants, and 20% from the sale of milk.
In Telangana, 83% came from donations and 14% from selling milk and milk products. All over India, 81% of the gaushalas were running as private bodies with no support from the state and funding was mainly received for the adoption of animals, fodder, medicines, infrastructure, and expansion of gaushalas (FIAPO, 2019). Major expenses of gaushalas were towards feed and fodder followed by veterinary and medical expenses.
Making Gaushalas Economically Viable
To make Gaushalas Economically Viable for long-term financial sustainability, there is a need to find alternative business models for them. In an investigative report, the Federation of Indian Animal Protection Organisations (FIAPO) offers different revenue models with expected costs and benefits. These include the manufacturing and sale of organic fertilizers such as manure, compost, fuel, biogas, and bio-fertilizers by the gaushalas and being the input suppliers for bio-pesticide, bio-fertiliser, paper, and pharmaceutical industries (FIAPO, 2019).
Also, the Gaushalas can be turned into active cattle improvement and conservation centers through the conservation of indigenous breeds and progeny testing of large number of bulls. The use of organic fertilisers and bio fertilisers is quite low in India. Less than 1% of the cropped area is treated with any bio fertiliser and less than a quarter of the cropped area is treated with organic fertilisers.
Gaushalas can become a major supplier of inputs for promoting natural farming in the country through concerted efforts of the government, private players, and entrepreneurs. Natural farming, as a chemical-free farming system, is being promoted to check the adverse effect of agrochemicals on human health, and reverse the environmental ill effects (like soil degradation, groundwater depletion, loss of biodiversity, etc.) caused primarily because of overuse of chemical fertilisers and pesticides after the onset of the green revolution in India.
NITI Aayog Recommendation
Keeping in view the burden on Gaushalas and their sustainability NITI Aayog formed a task force to suggest ways to improve the Economic Viability of Gaushalas. The Task Force recently submitted its report titled "Production and Promotion of Organic and Bio fertilisers with Special Focus on Improving Economic Viability of Gaushalas".
The report extensively provides several suggestions and recommendations for improving the financial and economic viability of Gaushalas, channelizing the potential of stray, abandoned, and uneconomic cattle wealth for promoting natural and organic farming. It suggests policy intervention and mechanisms for sustaining Gaushalas, creating market avenues for by product and waste of cattle, enabling gaushalas to generate income, encouraging the use of various products made from cow urine and cow dung, integrating Gaushalas with healthy farming and creating shelter for abandoned cattle.
The report provides factual estimates of operating costs and fixed costs and other issues in respect of gaushalas and investments involved in setting up the Bio-CNG plant and PROM plant in Gaushalas. According to the report, Cow dung is the major product of Gaushala but it faces several challenges in realizing its economic value. "Gaushalas should be helped through capacity development and other means to generate income from gobar. This should include proper processing of gobar using biogas plants, value addition, marketing and certification of the cow dung based organic as well as bio fertilisers" recommend the report
It also suggests the removal of subsidies on inorganic fertilisers especially on urea to encourage organic sources of nutrients, which do not get any subsidy. "There is a need for some parity in support for chemical fertilisersvis-a-vis organic and cow dung and cow urine based compost, manures, jivamrit, ghanjivamrit and other organic fertiliser formulations" noted the report saying it will help gaushalas to earn a sizeable income from cow dung and cow urine.
ALSO READ: Muslims matter, hence BJP to launch year-long outreach campaign in 65 districts
Noting that Gaushalas cannot market compost and other organic fertilizer produced by them and there is no organised market and buyer for their produce it recommended that Public sectors fertiliser distribution agencies like IFFCO, KRIBHCO, and such state-level agencies should be mandated to market standardized organic and biofertiliser produced by Gaushalas.
The writer is a senior journalist