Nakul Shivani/ New Delhi
As I was exploring the majestic Purana Qila (Old Fort) in the heart of Delhi on a sunny winter morning, the aroma of food wafted through the chilly air and drew me towards the Major Dhyan Chand stadium across the road.
The colourful crowds, banners and a spring in everybody's steps convinced me something was 'cooking' inside the stadium.
At Jashn-e-Rekhta, there was a celebration of Urdu language going on with full enthusiasm. People sat in awe of the beauty of the language spoken by masters on stage. But language is not the only factor drawing people here. There is also food, mouth-watering dishes that are a big hit among the attendees.
At Zahra, there were earthen Kulhads neatly stacked to make people freshen up their day before they go in to listen to the wonderful poetry and discussions. But the chai here is not normal. "We offer Tandoori chai'" says Javed, who is managing the kiosk. The Kulhad (terracota cup) is heated in a tandoor before the chai is poured into it. "It retains the original aroma of tea," he adds.
"We have a footfall of close to a thousand in a day. If someone has tasted it once he or she will definitely come back. It's the process, the fragrance, the experience that draws people to our stall," adds Shaghil as he pours steaming hot chai for a customer.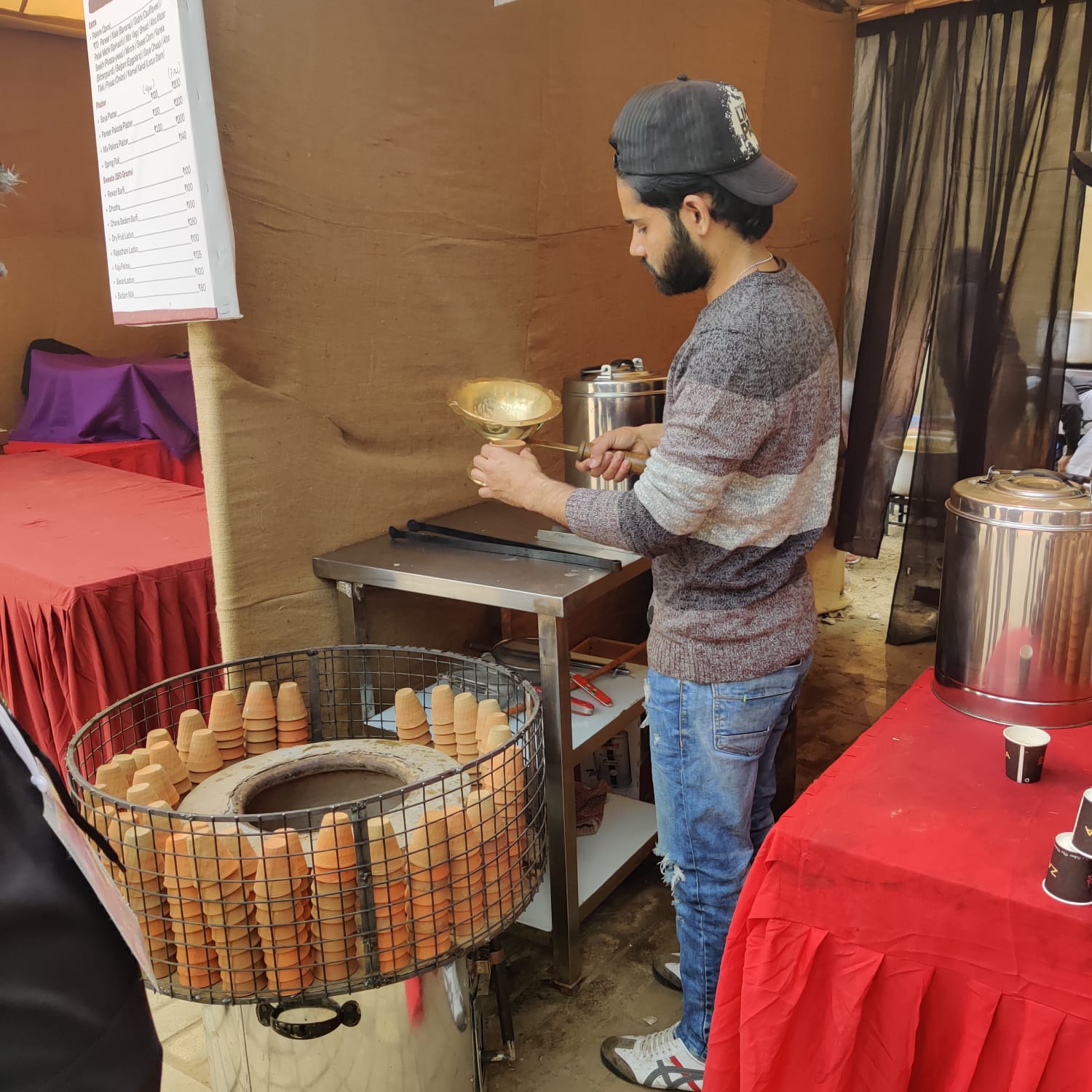 'Tandoori Chai' is a big hit among tea lovers
Once you are done with the tea, try the world famous mouth-watering Goulati Kebabs from Lucknow. "We bring all our spices from Lucknow. Our chefs are from Awadh. We can't go wrong," says Nabeel Kidwai who has been coming to Jashn-e-Rekhta for its last five editions.
"People who come here are very knowledgeable not just about Urdu but also about food. We can't fool them with selling them dishes that are not authentic,' he adds.
At Ilham, a food stall run by Afghani refugees, I met Shyamal, a professional working in Pune. He is here along with this friend Tulhas to not just enjoy the festival of Urdu language but also try the various distinct dishes on offer.
He has come all the way from Pune only to be part of this festival. "The quality of everything here is very good. At the end of it I want to go back as a better human being who can narrate stories to friends and family about not just the beauty of language but also authentic food," he says.
Further down the venue I see Tabarak Nosh. This is a cloud kitchen managed by husband-wife duo Tariq and Afreen. They are offering authentic and unique Iranian, Sindhi and Turkish dishes. "You don't find these dishes here in Delhi. We thought why not use this opportunity to let Delhiites enjoy something new," says Tariq.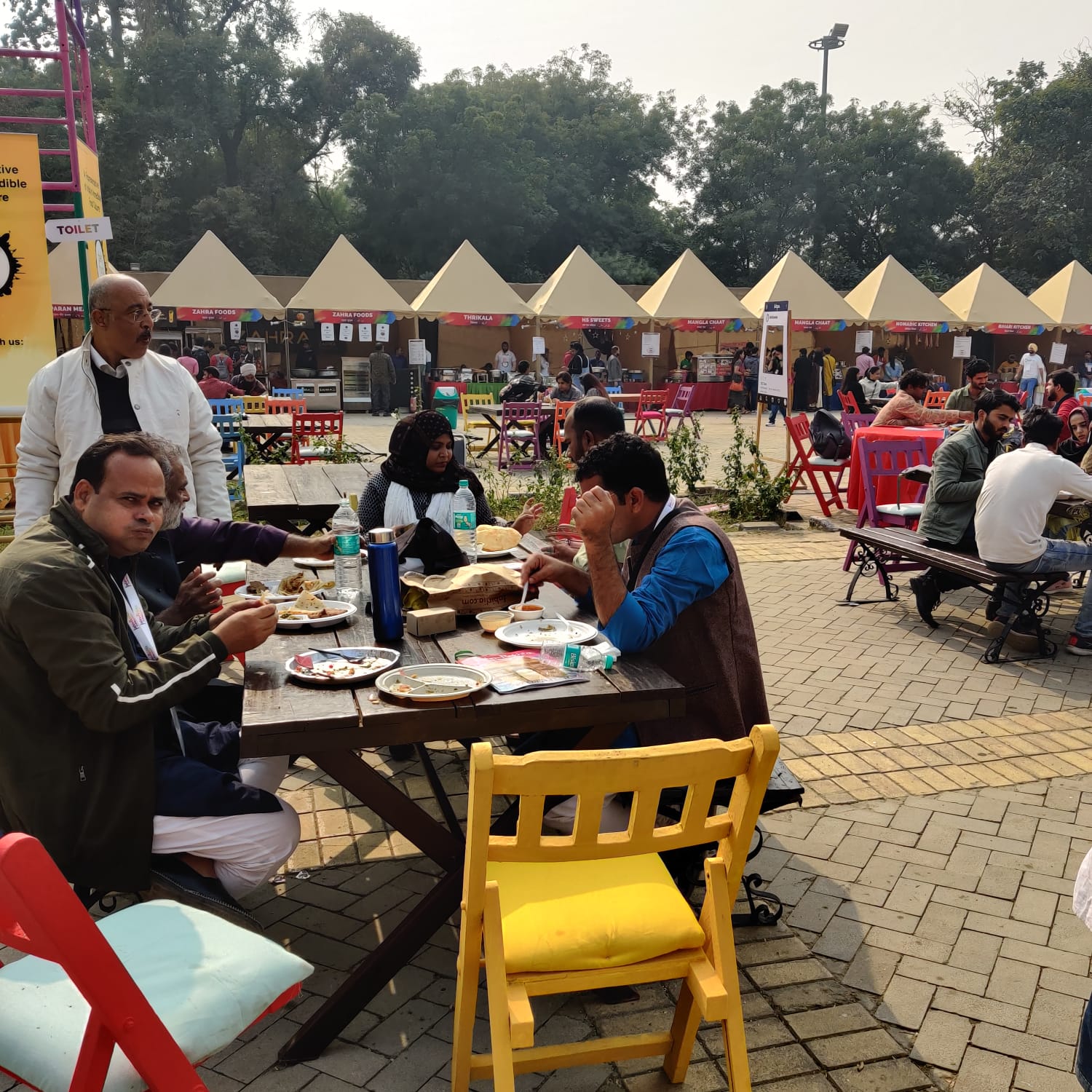 People enjoying unique and authentic food at Jashn-e-Rekhta
"Like Urdu language, I saw traditional food also dying. So, I thought of reviving this art and bring back traditional food items back on the table," says Afreen. "There cannot be a better place to make a beginning than jashn-e-Rekhta," she adds.
On offer here is Sindhi Daal and Poories, and Gozleme, a paratha stuffed with chicken and cheese. Mridul who is taking a break from a poetry session, has finished his breakfast of Sindhi Daal and Poorie. "I will be trying the Gozleme now, don't know when I will get to eat them again," he says.
A couple of hours spent at Jashn-e-Rekhta and you realise how enriching the experience is. It is not just about language, it is also a wonderful place where you can satisfy your craving for authentic and unique food from Awadhi to Irani to Afghani.
ALSO READ: Jashn-e-Rekhta:Javed Akhtar says language should not be linked to script
The event is on over the weekend. It won't be a bad outing with family and friends to listen to the beauty of Urdu language and enjoy good food on a nice Delhi winter day.