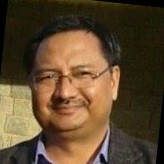 Dr. Rajib Handique
Mor manat bhin par nai oi Allah
Mor manat bhin par nai
Hindu ki Musalmaan ekei Allar forman
Mor Manat eketi bhab
(O Allah, there is no difference in my mind. there is no difference in my mind ; Both Hindus and Muslims are the creations of one Allah. And in my mind too, the same thoughts)
The above is a popular Zikir ascribed to Ajan Fakir or Pir. Immortalized by Zikir (devotional songs of Assamese Muslims) like the one above, Ajan Pir (a Muslim saint or holy man) remains a symbol of the syncretic religious traditions of Assam. While Bhakti and Sufi movements had their influence in India at large, Assam became a confluence for these two orders blended as they were with devotion and mysticism.
It was in the 17th century that the Sufi saint and poet Hazrat Shah Miran, popularly known as Ajan Fakir came to Assam. The period of Ajan Pir's stay in Assam is indicated by one of his Zikirs corroborated by two other Ahom chronicles. Legends say that Ajan Fakir came to Assam from Bagdad accompanied by his brother Shah Navi, and finally settled in Soraguri Sapori, near present Sivasagar town in Upper Assam. According to another legend, Hazrat Shah Miran received the name 'Ajan Fakir' or Ajan Pir (Saint) because he was the one who taught the Assamese Muslim to recite "Azan" as part of Muslim ritual.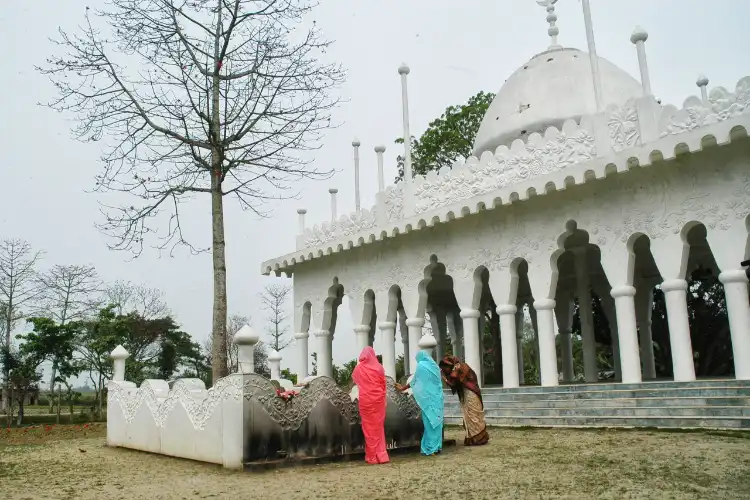 Women at the Dargah of Pir Ajan Fakir

S.K. Bhuyan, one of the noted historians of Assam stated that the Zikirs of Ajan Fakir have succeeded in preserving and disseminating the true significance of Islam among the Muslim masses of Assam. It is said that the objective of Azan Pir was to 'stabilise' Islam by pointing out the unorthodox deviations from the main principles and practices which the Muslims of Assam were generally subject to, living so far away from their co-religionists of Northern India.
Ajan Pir's activities were however reported to the king in bad light for which his two eyeballs were ordered to be extracted. Legend has it that the Pir put his two eyeballs in two cups and gave it to the kings' soldiers. This misfortune of Azan Pir is recorded in the Zikirs. S.K. Bhuyan in his Foreword to Syed Abdul Malik's work on 'Asomiya Zikir aru Zari' mentions that it was during the reign of Ahom king Gadadhar Singha (1681-1696 CE) that people realised the greatness of the spiritual powers of Ajan Pir, following which the Pir was rehabilitated with land grants and servitors, to enable him to work with ease and comfort.
Whatever Ajan Pir preached was rooted in the prevailing culture of Assam. The great Vaishnavite saint Srimanta Sankardeva (1449-1569 CE) had left behind a rich legacy of devotional performing Art forms that included Borgeet, Bhaona (traditional religious drama) and Sattriya dance. Ajan Fakir composed his Zikirs based mostly on Borgeet and used the same genre of devotional lyrics and music. The songs were glorification of God or Allah but aimed at inculcation of those human attributes which bring peace to the soul and establish harmony between man and man.
Ajan Pir's activities began during the thirties of the 17th century CE, i.e., during the eventful reign of Pratap Singha (1603- 1641 CE) that was also marked by the first phase of Ahom-Mughal conflict. Later the conflict led to a Mughal invasion under Mir Jumla resulting in the conquest of Garhgaon, the Ahom capital (1662 CE). The Mughal army stayed at Garhgaon for about a year after which they went back to Bengal imposing a humiliating treaty on the Ahoms in 1663 CE.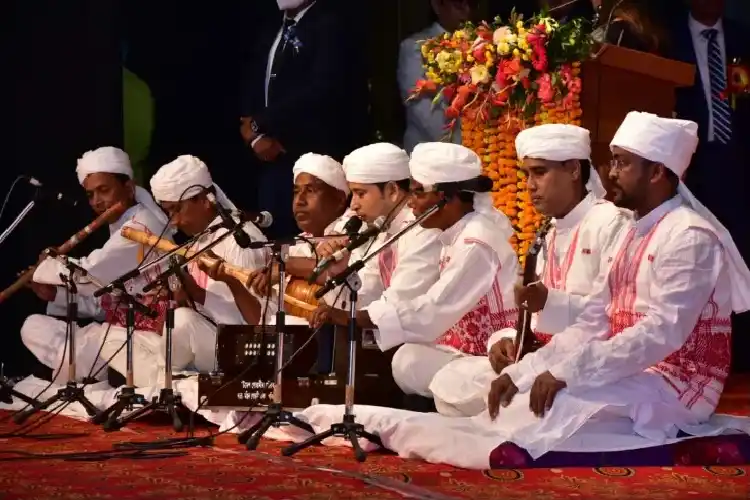 Menfolk performing Zikir
The period of Mir Jumla's stay at Garhgaon was significant from the point of view of Ajan Pir's legacy. As a preacher, Ajan Pir tried to enhance the devotion of his followers towards Allah and their religion. But while doing that, the Pir was rooted in the culture of Assam and was using the idioms of Vaishnava tradition. Shihabuddin Talish, the chronicler and author of Tarikh-e-Aasham who accompanied Mir Jumla during his invasion of Assam makes an interesting observation of the Muslims of contemporary Assam. He states, "They are Muslims in name only and had nothing to do with Islam. They are more inclined to be associated with the local people than the Muslims."
ALSO READ: Kashmir's trailblazer all-women's Sufiyana Group is making waves
It thus appears that the increased devotion to Allah preached by Azan Pir through traditions like the Zikir did not make the Muslims of Assam loyal towards another Muslim invading power. It is not for nothing that Assam is called 'Sankar-Ajanor desh' or the land of Sankardeva and Ajan Pir. The communal harmony preached in the 17th century Assam has its bearing even today. Assam has remained largely insulated from the communal riots of other parts of India. The contribution of Ajan Pir needs further research and analysis as he was living in Assam during the momentous period of Ahom-Mughal conflict which the Ahoms finally won through a unified resistance.
(The writer is the Head, Department of History & Former Dean, Faculty of Arts, Gauhati University)