Dr. Muhammad Ahmad Naeemi
Ghaus Siwani/New Delhi
Dr. Mohammad Ahmad Naeemi is an Assistant Professor in the Department of Theology at Hamdard University, New Delhi. Author of many books, he also delivers motivational speeches in Madrassas to attract the students to modern education. Ghaus Siwani of Awaz-the Voice, Urdu, spoke to him about Madrasa education. Excerpts from the conversation:
What is the history of Islamic schools in India?
Madrasas in India have had a glorious past. Madrasa education contributed greatly to the dissemination of knowledge among the masses. The school system was introduced by the British in this region, but before that madrasas were the centers of learning. Along with religious studies, modern day subjects were also taught there. Also, people of all religions received education in Madrasas.
The graduates from Madrasas used to be called Jamia Uloom, that is knowledgeable in all sciences. It's because, in Madrasas, where Quran, Hadith, Fiqh, and the Arabic language were taught along with Medical Science, Astrology, Astronomy, Math, Philosophy, and Logic.
At that time the graduates of madrasas played an important role in history.
These days there is talk of modernization of and other changes in Madrasas, What do you think about this?
Looking at the madrasa curriculum, the authorities must look into the syllabi and they will find that the curriculum of the madrasas does not meet the modern day requirements and corresponding modifications are the need of the hour. I have a close relationship with madrasas and often visit these to motivate students. I give motivational speeches to the students and try to convince them that they can do much better in life after studying in madrasas. Surely they can make advances in the academic field. Along with this, I also brief them about how would they get admissions in colleges and universities for higher education after graduating from a Madrasa.
I tell them that if they improve their English language skills, it will open many new routes for their education and development. They can do a lot in their life because of their proficiency in English.Mercifully, awareness is dawning. Madrasa students are turning to modern universities in large numbers. We have seen that madrasa students are very hardworking and intelligent. These students are doing well in universities and colleges. As far as the revision of the curriculum of the madrasas is concerned, the madrasa authorities also want the change. They are also bringing about changes. If this happens it will be very good for the future of the children enrolled there.
Madrasa modernization is seen as crucial for linking education with employment. Is this a fair assessment?
This is a good thing. While Islam emphasizes other things, it also says that a man should be self-sufficient. He should have a means of livelihood. If there is a source of livelihood, only then a person will be able to serve the country, nation, and humanity. Those involved in Madrasa education have started thinking about including professional education along with religious education. This is so that the problem of employment can be solved. From this aspect, work is being done in Madrasahs and awareness is also coming among the students. They are pursuing professional studies, diplomas, etc. Many students are working in hospitals and agencies where interpreters are needed after studying different languages. They are becoming self-sufficient in terms of employment.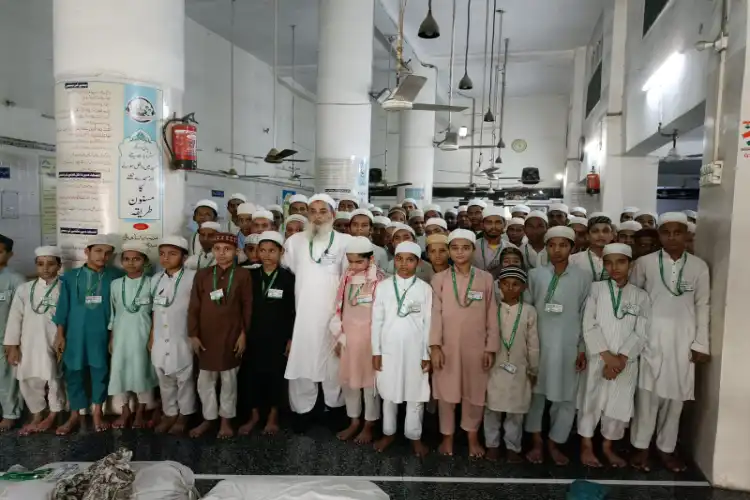 Why not recreate the Madrasa education in such a way that along with religious education, the students can also clear their regular high school and even graduation and if they want join regular institutions for further studies?
Yes! This is happening in many schools. Many madrasas have a bachelor's degree or equivalent to a BA. There are many such madrasas in Tamil Nadu and Kerala. The syllabus for all others should be prepared based on the Madrasas of these two South Indian States. Modern subjects must be included in the syllabus but there should be no tampering with the theology. Also, subjects that are no longer relevant should be excluded from the curriculum on the pattern that West has adopted by excluding the redundant ancient Greek philosophy. Similarly, there is no special need for ancient logic in educational curriculum. In place of this, modern sciences should be taught. Also, the duration of study time in Madrasas can also be increased.
ALSO READ: Professor VK Tripathi: I was born a Hindu, raised by a Muslim