Ajit Rai
In a country (Russia) where great filmmakers like Sergei Eisenstein and Andre Tarkovsky were born, today's cinema has become a victim of politics, conspiracy and has lost direction. Russian President Vladimir Putin is often found saying that many exiled Russian filmmakers are making films to tarnish the country's image with the funds of American-European countries. Some such films shown in the big film festivals of the world have also raised this debate.
Russia has banned its filmmakers from attending the Cannes Film Festival and has even rejected an appeal from France on it.
Cinema and Conflict
World-famous Russian filmmaker Kirill Serebrennikov's film Leto (Summer) was selected in the competition section of the 2018 Cannes Film Festival. The director of the Festival, Theri Fremo, told a press conference that the French government was in talks with Russian President Vladimir Putin to allow Russian filmmakers to attend the Cannes Film Festival.
Kirill Serebrennikov is accused of embezzling government grants through his organization Seventh Studio. In 2017, on May 23, Russian authorities raided his office and filed a case of fraud and corruption in government grants against him. Since then he is under house arrest. It is believed that he had to bear the brunt of criticizing the Putin government.
At the Cannes Film Festival, the cast of his film Leto took to the red carpet with placards and slogans demanding his release.
Sergei Loznitsa's new film Donbass (2018) also generated a big debate. The film depicts heart-wrenching images of the Ukraine war that has been going on since 2014. Sergei Loznitsa style is the same as in his previous films, In the Fog, and A Gentle Creature but he has dropped the story and instead turned it into a reporter's narrative of the terrible conditions through the scenes of landscape, soundtrack, overwhelming atmosphere, etc.
It is the locale of Ukraine's eastern border with Russia. Donbass refers to the area where separatist groups with the support of Russia have declared independent republics in the cities of Donetsk and Luhansk. In collaboration with Putin and the Russian military, several separatist groups are fighting with the Ukrainian military, and often with each other. While Ukraine's military has the support of Europe and US President Donald Trump.
Media reports are often misleading. For example, in one scene a group of Russian soldiers sitting on a giant tank proudly tell a German journalist that they are fighting to defend their homeland when Ukraine is not their homeland. They are speaking in the Russian language. They are soldiers from Russia.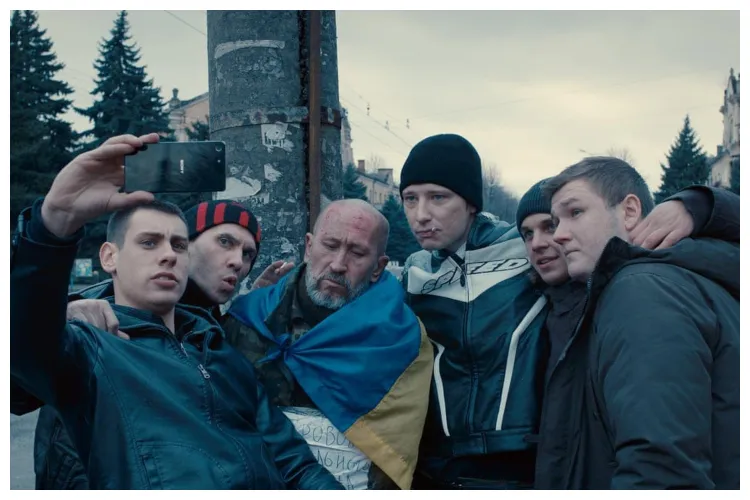 Scene from Donbass
Another group apprehends the journalist by claiming that he is Hitler's illegitimate child and that he is a fascist. One scene depicts civilians living in a bunker where there is worse life than death. There is loot all around. Army personnel pick up anyone at any time, forcibly get them written off and grab their car and other belongings. In Ukraine itself, soldiers searching civilians in and out of the Donbass area are sometimes dehumanized. Sergei Loznitsa, born in Belarus, grew up in Kyiv, and learned to film in Russia, does not make any judgment on his part.
When war is accepted as peace, propaganda declared as truth and hatred as love, it means that life has become worse than death. In such situations, the film Donbass becomes a practical guide to understanding the conditions of human life.
Ukrainian army personnel are rarely seen in the film except in one scene when they hand over an innocent man to the crowd with folded hands, on whose stomach it is written that he is a member of the Ukraine Execution Squad. The mob kills him.
At the beginning of the film, we see that the make-up of the actors is being done in the vanity van for the shooting of a film. Suddenly a girl, the assistant of the director, comes and hurriedly escorts everyone to a safe place and then the bomb explodes. In the last scene too, make-up is going on in the same van that some people suddenly come inside and kill twelve artists. Meaning the film starts from where it also ends there.



Sergei Loznitsa in his previous film A Gentle Creature depicted the deteriorating lives of citizens in superpower Russia, but there he told a story. The film was screened in the competition section of the 70th Cannes Film Festival.
ALSO READ: Ranveer Singh trained hard for 5 months to play Kapil Dev: Kabir Khan
In Donbass he has gone to Ukraine but it neither has a human character nor story. Each scene tells a story. The target of the film in Russia and its President Vladimir Putin, not Europe and America.
Beyond this politics, it is a fact that today's cinema is showing the truth of Russian society which is usually not available through the media.
(Ajit Rai is a veteran film critic of India)