Suchitra Krishnamoorthy, Nandita Das, and Sadia Siddiqui (Top L to R) Rakesh Bedi, Rajinder Gupta, Yashpal Sharma (lower (L-R)
Film magazines and sites are abuzz with stories of how film stars celebrate Diwali. Rana Siddiqui Zaman spoke to some film actors and asked them about their childhood Diwali and more
Rana Siddiqui Zaman
A 54-year-old Yashpal Sharma chuckled the moment I requested him to dig into his childhood Diwali. The Ganga-Jal fame actor whose Dada Lakhmi has turned him into an international icon with numerous awards for Haryana's first epic on the legendary 'saang' writer and singer, Laksmi Chand, shares laughing on incidents he has "never shared with media yet".
"We, my brothers and friends, used to go to the market two to three days in advance with a big jhola (cloth bag) to buy firecrackers. Those days the shopkeepers would decorate all crackers on a charpai (a bed of jute rope) to attract customers. We used to go with a plan. "Un dino hamare paas zyada paise to hote nahi they (we didn't have much money those days) One of us would bargain or speak with the shopkeeper to divert his attention and another one would stealthily keep some crackers in the jhola", he laughs adding they would do this for a couple of days and come back home with bagful of firecrackers daily.
The fun wouldn't end here. They would have coins of five, twenty-five, or fifty paisa and they would play the game of kancha (marbles) with them in the evening. It was a kind of gambling. "Hamare pas panchi, dassi, atthanni hoti thi usi se juajaisaku chkhlete they. Bada hi mazaa ata thaa."
He delightfully shares they never knew what pollution those days was because "our home in Haryana was situation is a sarkari colony. For long distances, there were no buildings or too many vehicles. So they would happily burn crackers the whole night slowly, take a trip around to watch others burn them if we had finished ours' and clap and clap in excitement when bomb string (bomb ki ladi) would be fired."
"Now ever since we have come to Mumbai we don't burst crackers noticing the dense pollution that these cause. For years together our children also have not burnt fire. The Diwali isn't the same anymore".
On the mere mention of Diwali sweets in childhood, he jumps in joy. "Oh yes! I had just forgotten it. Those days sweets like balushahi, boondi ke laddoo, andkheel khilaona were our favourite sweets, not like burfi of today. We would fight to get the thickest of those sweet sugar toys to eat," he laughs adding how the schools made it compulsory for the students to write an essay on Diwali on topics like: Why is Diwali celebrated and Why is gambling on Diwali a bad practice and so on.
In the long Diwali pooja of Laxmi, Ganesh then bhajans like Om Jai Jagdish Harey… his mother would say "katha". Notably on Diwali, Yashpal points out how his house wall would be decorated with a mark of Swastik (a good omen sign) in saffron with the names of all men in the family but not women. "I never understood why women's names were not there. So, after marriage I always had put my wife's name too along with men in the house."
Suchitra Krishmoorthi
"This Year I am not celebrating as I lost my mother but during childhood, we would get a sackful of firecrackers and start burning them some two, or three weeks in advance and continue for a week, 10 days after Diwali too! I was a spoilt brat so I would get up at 5 a.m. and fire the crackers in my courtyard. Diwali was the most joyous occasion for us kids. My mother would make lots of snacks and sweets. We used to be given oil baths, our heads would be massaged with oil in the morning and our new clothes would be kept in our pooja room by my mother. After the pooja, my father would give us those new clothes. Then there would be festive lunch and lots of firecracker time in the evening."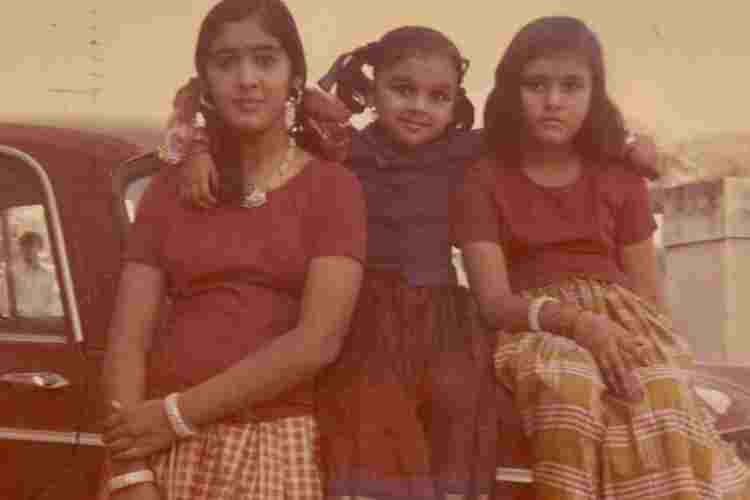 A childhood Diwali picture of Suchitra Krishmoorthi with her sisters on Diwali
"Since my father was in Income Tax, we used to get a lot of gifts as clothes and sweets on Diwali. This used to be the most joyous of occasions for us."
Sadia Siddiqui
Childhood Diwali? I celebrate it till now and as always with the same love and fervor. I love mithai and eat it to the fill. So I would be on a diet for two months in advance so I could eat a lot of sweets! I used to celebrate it, especially with my best friend Sucheta Dwivedi from childhood till now. As always would make rangoli outside my home and I do it till late. Now I don't burn firecrackers. This year too I would not burn crackers but certainly decorate diyas and make rangoli as always.
I, as a Muslim never felt Diwali is my friend's festival and not mine. My Eid is hers too and Diwali is mine. That has always been for us. During Rakhsha Bandhan I would tie rakhi on my brother.
Nandita Das
We never did anything more than lighting diyas and having good food.
Rajendra Gupta
The veteran actor gets so filled up and nostalgic on the mention of childhood Diwali that all that he utters is this, "Oh we would get mad on Diwali, Bas aik pagalpan hota thaa jisey shabdon mein bayan nahi kiya ja sakta (I can't explain the fun in words we used to have on Diwali). We used to wait for it for months, we would dream of masti and fun with friends much in advance.
As I grew up, the desires grew too and I celebrated it more joyously. As a youth, we also gamble and start finding excitement in every such thing. But with age, every excitement dwindles. I feel like I have been there, and done that. What's new? Now my Diwali is feeling happy looking at the kids and youth at home celebrating and going back memory lane each year and feeling satisfied at having experienced all that.
Rakesh Bedi
We used to look forward to bachpan ki Diwali. We used to be busy decorating homes with diyas. My mother would be after our life to point to the place we forgot to keep diyas on. Our home was full of sweets coming from different houses. So my mother (laughs) would ask us to circulate the same sweets to others.
But even as a child, I was never interested too much in firecrackers. I was more artistic and liked the art part of the Diwali. So, if anyone, especially rich brats would fire an expensive mammoth string of bombs, I used to be very angry at how is he wasting money by burning it this way. Now I think it is that over-burning at stretch has caused all of us. So much so that burning firecrackers is no longer a part of Diwali celebrations. All those over-burning crackers will make our children suffer in the future. What a price to pay! "
ALSO READ: Diwali: The light that is, and will be
"But I am sure even this time some rich brats will not stop burning crackers and enjoy those bursting sounds and show how rich they are. It makes me feel like shouting at them, asking them to go to Israel and see how firecrackers are burning for a month there!"