Saquib Salim
In the year 1916, an English professor at Presidency College in Kolkata vilified India and Indians at will. His racial attitude enraged the students but they couldn't do much about it. One day when he tried to insult a student, he couldn't take it. He started beating the professor and faced the consequences of his reaction. The student was expelled. The student was Netaji Subhas Chandra Bose and the teacher he beat was Prof Edward Farley Oaten.
Bose later wrote that this particular incident shaped his political outlook and prepared him for the revolutionary struggle. Maybe because of this incident, Bose always believed that a student movement was indispensable for the freedom struggle. The formation of the All India Students Federation (AISF) in 1936 was the first Indian student group to take up the cause of the freedom movement. Ansar Harvani, one of its founders, was close to Bose.
He later wrote, "The election of Subhas Bose as Congress President gave a fillip to the Students' Movement. Unlike other Congress leaders who looked upon students and youth with suspicion, he had great faith in youth power…… despite the advice of local Congress Committees not to accept the invitation of the Students' Federation he made it a point not only to address the meetings arranged by them but built up personal contact with local as well as provincial students leaders."
After leaving India in 1941, Bose worked closely with students in Germany. He met Ansar before leaving India and ordered him to prepare Indian students for a large-scale anti-British movement.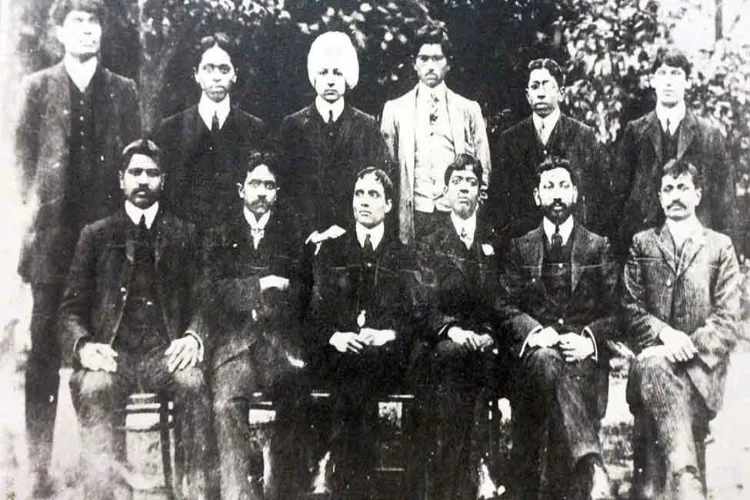 Students at India House, London, UK
Therefore, students have played a pivotal role in the freedom struggle. Shyamji Krishna Varma established India House in London and offered fellowships to Indian students studying in England. India House became a breeding ground for revolutionary thoughts and produced patriots like Madan Lal Dhingra, V. D. Savarkar, Virendranath Chattopadhyay, Ali Khan, Asaf Ali, Lala Lajpat Rai, M. P. T. Acharya, Syed Haider Raza, etc. During the period 1905-09, India House became a center of the Indian freedom struggle in Europe, and its impact was felt till 1947. India House was a purely student movement.
Jamia Millia Islamia deserves a special mention in this list. In 1920, the students at Aligarh boycotted the British-funded Muslim University to establish Jamia Millia Islamia. It was a student initiative that teachers also joined in. Khwaja Abdul Hamied, who taught Chemistry, was arrested for showing a black flag to the Governor at the convocation of Allahabad University. He later did a Ph.D. degree in Germany and also worked with other revolutionaries there.
Like college students, the madrasa students were fighting it too. Maulana Abul Kalam Azad believed that madrasa students were more nationalist than college students because they did not compete for government jobs. Maulana Mahmood Hasan, leader of the Silk Letter Movement, was one of the first students at Darul Uloom, Deoband, and also taught there, later. He wrote that Darul Uloom was not founded for education but to keep the passion for revolution alive following the First War of Independence in 1857. The students of this madrasa worked with Ghadar revolutionaries and pioneered the movements like the Silk Letter.
Maulana Azad also formed a revolutionary organization, Hizbullah, comprising madrasa students. He established his madrasa at Kolkata to preach nationalism. The idea came from Aurobindo Ghosh who had established a school to propagate Hindu teachings where students were trained in revolutionary activities and prepared for armed revolt.