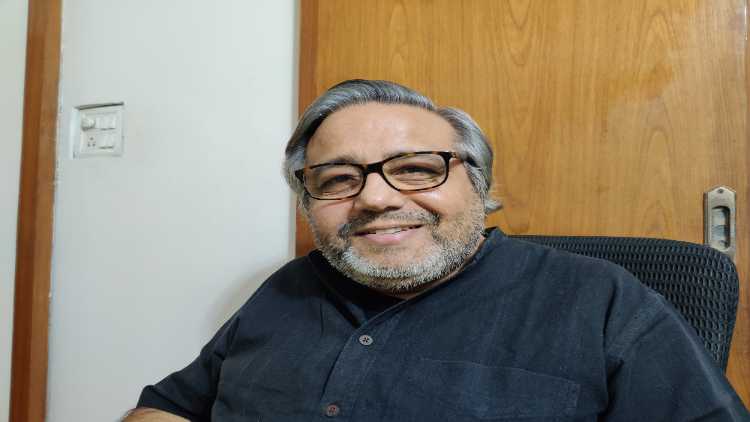 Shekhar Iyer
Sooner or later, coronavirus vaccines are going to be available in plenty. As the government orders more doses of vaccines and manufacturers ramp up production, the current shortage of jabs may become a thing of the past.
However, two problems are bound to haunt us. One is that there are still large sections of people who are deciding not to get the vaccines or wait until more people have had them. The second problem is the wastage of vaccines.
Though India may have administered 21 crores vaccine doses as of May 2021, vaccine hesitancy has remained a big issue.
In fact, the World Health Organisation defines vaccine hesitancy as a "delay in acceptance or refusal of vaccines despite availability of vaccination services."
That is because of some irrational fears or traditionally held beliefs against vaccination.
The Challenge of Nuh
In Nuh district of Haryana, there are very few takers for the vaccine.
At many centres, health workers wait for at least ten people to turn up to start vaccination.
The Nuh Challenge

As Nuh is a Muslim-dominated district, the administration is banking on religious leaders from the community. Announcements about the role of vaccines in containing the pandemic have been made from mosques in the area.
Several vaccination camps were inaugurated by known religious leaders. Recently, Mufti Zahid Hussain, who runs a madrasa in the district, appealed to people to not believe rumours and instead vaccinate themselves at the earliest.
He demonstrated by taking the shot himself.
The truth is that the Nuh district leads in terms of wastage of Covid19 too, reporting a high figure of 11.8%. Boxes of vials of vaccine are opened in the hope that people will turn up at the vaccination centres. When they don't come, the vials go to waste.
According to district officials, there is a lot of hesitancy against all kinds of vaccines.
So much so, the Nuh district administration has turned to a community radio programme -- Alfaz-e-Mewat -- to fight the myths and drive their message home.
The radio, which reaches 225 villages, broadcasts information about vaccinations regularly to help increase the number of villagers turning up at the vaccination centres.
There are many people in India who still say openly that the Corona vaccine is a 'death vaccine.'
More Instances

Let us consider these reports:
Villagers in Uttar Pradesh's Barabanki jumped into the Sarayu river to escape vaccination when a team of health officials reached the village to inoculate them.
In Tamil Nadu, local villagers have refused to take the jab, citing the death of popular comedian-actor Vivek who died of cardiac arrest two days after he took the vaccine. Ironically, Vivek had given publicity to his jab in a bid to urge everyone to take the vaccine. So his death came as a huge shock and dampener for the vaccination drive though doctors were at pains to explain his death was not linked to vaccination.
In Rajasthan, a TV channel's investigation found that vaccine vials were dumped in garbage bins in at least two health centres in Pali district.
In Kesarpura village, 14 km from Ajmer city, 15 people died of Covid-19. The state government rushed a team with vaccine vials to the village of 1,300 people but not a single villager took the vaccine. Only a health worker took the jab.
In Bihar, villagers have thrashed health workers who went to vaccinate them. These health workers have been consistently pleading with villagers to take the vaccine, but none agreed to do so.
In Maharashtra's Shahapur, Bhiwandi, Palghar and Thane, local tribals are very hesitant to take the vaccine. In a bid to avoid the jab, some people flee to jungles in Gondia district on seeing health workers.
Karnataka too has had a similar experience. Many local people in Mysuru, Kodagu, and Chamarajanagar districts refuse to take the jab. These districts have also reported instances of people escaping from isolation centres without completing the mandatory 14-day isolation period.
In Uttar Pradesh's Aligarh district, an FIR has had to be filed against an auxiliary nurse midwife who was accused of throwing 29 vaccine-loaded syringes in the dustbin. She used to insert the needle inside the recipient's body but did not inject the Covid-19 vaccine.
A bigger problem is that there is even strong physical resistance from villagers to visiting health teams. They stupidly believe that Covid is an urban phenomenon. Some even think 5G towers (which are currently experimenting with the new spectrum technology) are causing Covid-19.
In these places, there is no dearth of testing kits or vaccine vials. Also, the second wave of Covid-19 has shown to all of us how it can be very dangerous. Therefore, it goes without saying that "the sooner you get vaccinated, the sooner you are protected."
But vaccines can work only when people of all different backgrounds, ages and ethnicities take the jab.
Disastrous consequences
Any kind of vaccine hesitancy allows Covid-19 to continue spreading in the community.
Facebook's Covid-19 Symptom Survey showed India's overall vaccine hesitancy rate is around 28.7 per cent.
Vaccine hesitancy rates are quite high in urban centres in Tamil Nadu and Punjab, which report 42% and 41% respectively. Even medical students across 22 states, who are supposed to be better informed than others about the importance of vaccination, have shown a 10.6 per cent vaccine hesitancy, according to a survey conducted by AIIMS Jodhpur.
Officials concede that the villagers are reluctant to take the vaccine due to rumours that it is poisonous and may lead to impotency.
On its part, the Centre has promised the availability of 216 crore vaccines by December so that all adults can be vaccinated.
However, many states failed to prevent the loss of these vaccines--because of either careless handling or not finding enough people to vaccinate when vials are opened.
On the issue of vaccine wastage, Prime Minister Narendra Modi did not mince words recently. "Wasting even a single dose means not being able to give shield to a life. It is important to stop vaccine wastage," he said.
Until last month, India is said to have wasted 4.6 million doses so far since the drive to vaccinate the population kicked off in January, according to data shared by the Ministry of Health and Family Welfare. The Centre has been urging the states to keep wastage below 1%. But, as Modi pointed out earlier this month, over 10% of covid-19 vaccines in Telangana, Andhra Pradesh and Uttar Pradesh are being wasted.
Among the major states, Jharkhand is said to have 'wasted' nearly 37.3 % vaccines while in Chhattisgarh it is 30.2%. Others like Tamil Nadu (15.5%), Jammu and Kashmir (10.8%), Madhya Pradesh (10.7%) are reporting much higher wastage than the national average (6.3%).
Significantly, eight states have acted to the contrary. Kerala, West Bengal, Himachal Pradesh, Mizoram, Goa, Daman and Diu, Andaman and Nicobar Islands as well as Lakshadweep have reported 'zero wastage'.
Whether it is rural Uttar Pradesh, Madhya Pradesh, Maharashtra, Rajasthan, Bihar, Gujarat, Tamil Nadu or Haryana, many villages have definitely witnessed a surge in cases. In 2020, rural India had largely remained unaffected.
That is why the reports of the spread of the coronavirus in its second edition has set the alarm bells ringing.
What to do?
So, how do we overcome the crisis caused by a hesitancy to take the jab or undertake tests?
There are suggestions for invoking the stringent Compulsory Vaccination Act of 1892 and similar legislation to make vaccination compulsory by law. This will not work in the long run and only increase the resentment of the communities toward immunisation in general.
Fortunately, we have before us the success story of the polio campaign as a mass immunisation programme, for which actor Amitabh Bachchan was a driving force.
Governments collaborated with community and religious leaders to fight misinformation and fear of the polio vaccine on the ground. It was done by advocating the cause of nutrition, child health and maternal health.
Similarly, an imaginative strategy should be adopted for solving the issue of vaccine hesitancy with community engagement. Many are citing the example of Maharashtra's Nandurbar district administration, which is using mobile teams to tackle vaccine hesitancy. In rural Chhattisgarh, folk songs are being used to spread the right information on vaccination.
We have to go about identifying areas and communities that suffer from the highest vaccine hesitancy. Then, we have to ask our community leaders and mass influencers to generate positive ideas about vaccination