Mansooruddin Faridi/New Delhi
Every year on the occasion of Diwali a gathering of people who have a taste in Urdu literature is held at Bikaner, Rajasthan where people recite couplets from Urdu Ramayana written by Moulvi Badshah Hussain Khan Rana Lucknavi in 1935. Aptly called 'Mahfil-e-Ramayan', this event symbolizes the inclusive culture of India and the inherent communal harmony and religious tolerance of all Indians.
Interestingly, Maulvi Badshah Hussain Khan Rana Lucknawi composed the Urdu version of Ramcharitramanas – the story of Ramayana on the demand of one of his Kashmiri Pandit disciples. He was a well-known poet of Bikaner and yet his Urdu Ramayana remains his most iconic work.
His book was awarded a gold medal by the Banaras Hindu University while Maharaja Ganga Singh of Bikaner included it in the school curriculum.
Maulvi Badshah Hussain Khan Rana Lucknavi used to teach Urdu and Persian in Bikaner.
Urdu Ramayana in Bikaner is organized under the auspices of the Tourism Writers' Association headed by Dr. Ziaul Hasan Qadri in association with the District Institute of Education and Training in Bikaner.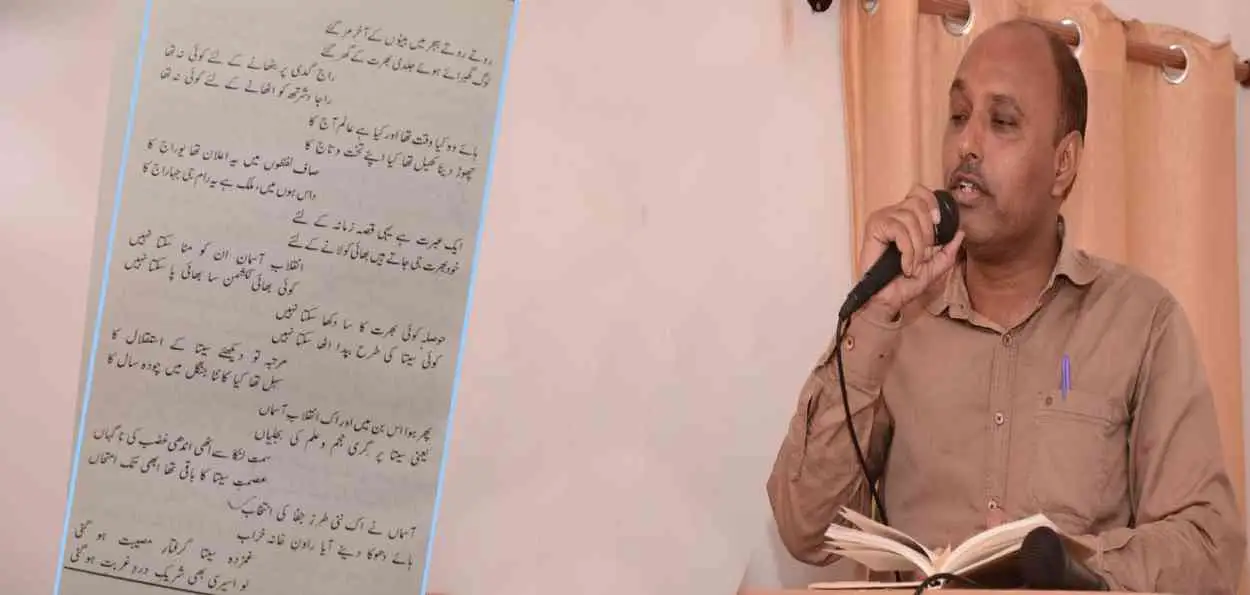 The literary festival was launched in 2012 and it has been continuing without interruption. Its popularity has grown over the years.
Qadri said the Urdu Ramayan recitation was a source of pride for Bikaner. He told Awaz-the Voice that the Urdu Ramayan is an excellent literary resource of Indian history and tradition. The author has captured Lord Ram's journey from exile in the forest to his return to his Kingdom –Ayodhya- in a four-hour recitation.
According to Mr. Qadri, Ranal Khanvi came from Sandila in Uttar Pradesh and settled in Bikaner. He was also a teacher and poet of Urdu and Persian languages.
One of his students, who was a Kashmiri Pandit, informed him that a Ramayana competition was held on the occasion of Tulsidas Jayanti at Banaras Hindu University. However, Maulvi Ranal Khanvi said that since he has not read the Ramayana, he can't participate.
At this, his Kashmiri Pandit disciple said, "If you permit, I will read the Ramayana to you every day". Maulvi Ranal Khanvi agreed.
Every day his disciple used to recite the Ramayana and the Maulvi sahib wrote it as the Kashmiri man recited it.
In a few days after the completion of the Ramayan, Maulvi Ranal Khanvi was ready with his Urdu Ramayana in verse.
His disciple sent the manuscript to the BHU by post.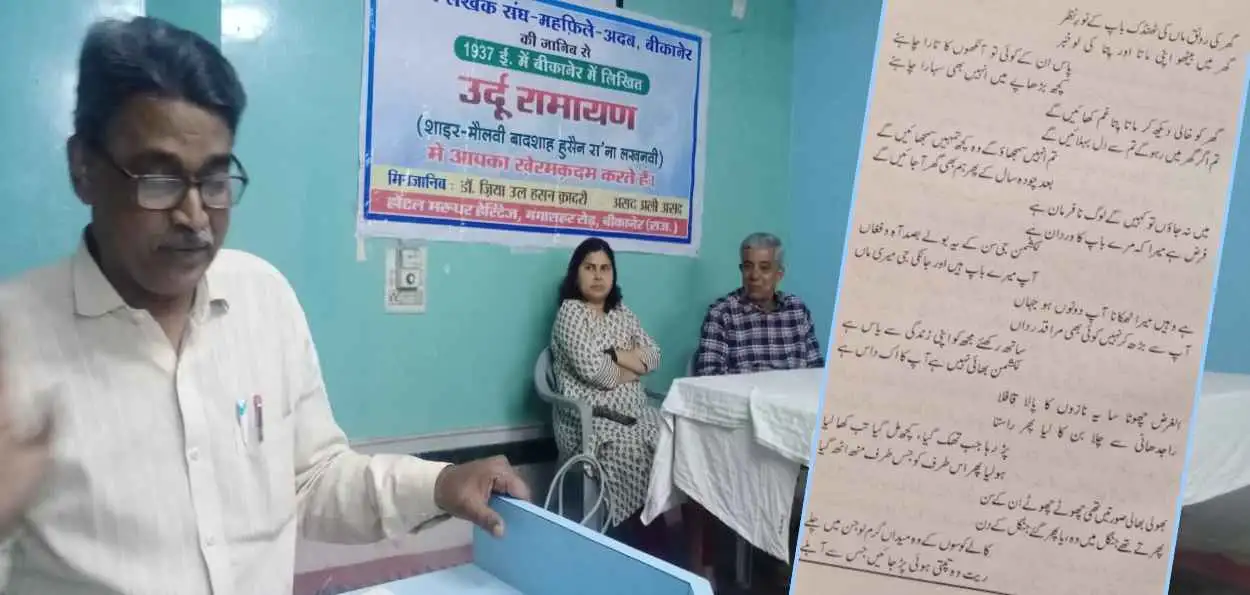 A few days later the news that Maulvi Ranal Khanvi's Urdu Ramayan had won the gold medal flowed in. It was big news for Bikaner, and everyone rejoiced.
The famous Kashmiri Pandit intellectual Sir Tej Bahadur Sapru came to Bikaner to hand over the gold medal to Maulvi Sahib.
Maharaja Ganga Singh of Bikaner was overjoyed to see the work of Maulvi Ranal Khanvi.
It must be remembered that Maulvi Ranal Khanvi also translated the edicts of the kings from 1913 to 1919 from Sandila for Bikaner Maharaja Ganga Singh. A function was held at Nagarak Bhandar, to felicitate Maulvir Anal Khanvi for his gold medal. On the occasion, he recited the Urdu Ramayana.
Maharaja Ganga Singh was so pleased to hear it that he immediately announced that the poem should be made a part of the curriculum.
However, after the partition of the country, the curriculum was discontinued and slowly people forgot about it.
Dr. Zia-ul-Hasan Qadri said, "I listened to the stories of the Urdu Ramayana from the elders of the city. I also heard it from Maulvi Ranal Khanvi, a student of Muhammad Ibrahim Ghazi, which was the symbol of the civilization of Bikaner.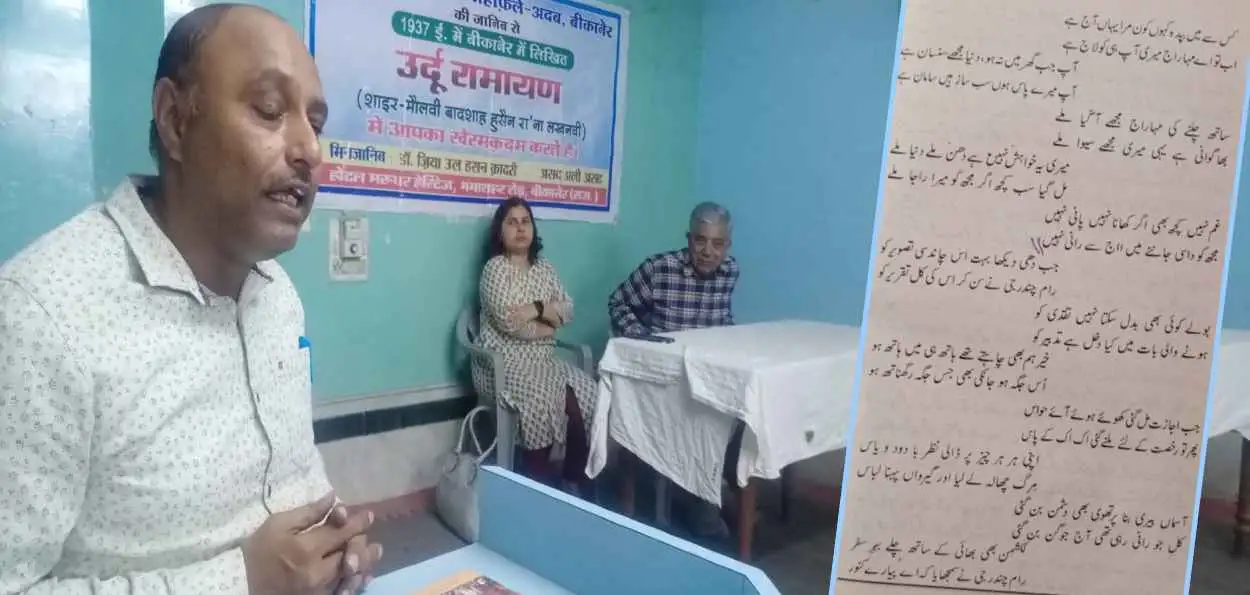 In 2006 the Rajasthan Secondary Board of Education announced to make Urdu Ramayana a part of the 12th syllabus.
In 2012, the recitation of the Urdu Ramayana started. Now every year on the occasion of Diwali, this festival is celebrated in the city and Hindus and Muslims of the city sit together and listen to it. It is a treat to watch and be part of.
Qadri says that Bikaner has been a beautiful example of Hindu-Muslim unity. The purpose of presenting Urdu Ramayana and making it an annual event in the city is to keep its traditions and civilization alive.
It is more important today when attempts are being made to dismantle the unity. To preserve this inclusive culture, a series of Urdu Ramayana recitations has been started. It is very interesting and a great example of religious harmony.
He said that there was a time when non-Muslim poets recited Naat in praise of Bani and Muslim poets sang bhajan in praise of Hindu avatars. This has been our common culture. Religious tolerance has been the bedrock of our civilization.
Asad Ali Asad, a journalist, played a major role in popularizing Urdu Ramayan.
Asad Ali Asad said that there is a dire need for books like Urdu Ramayana in India. Reading it brings together people of all religions and classes. It teaches the lesson of love and peace.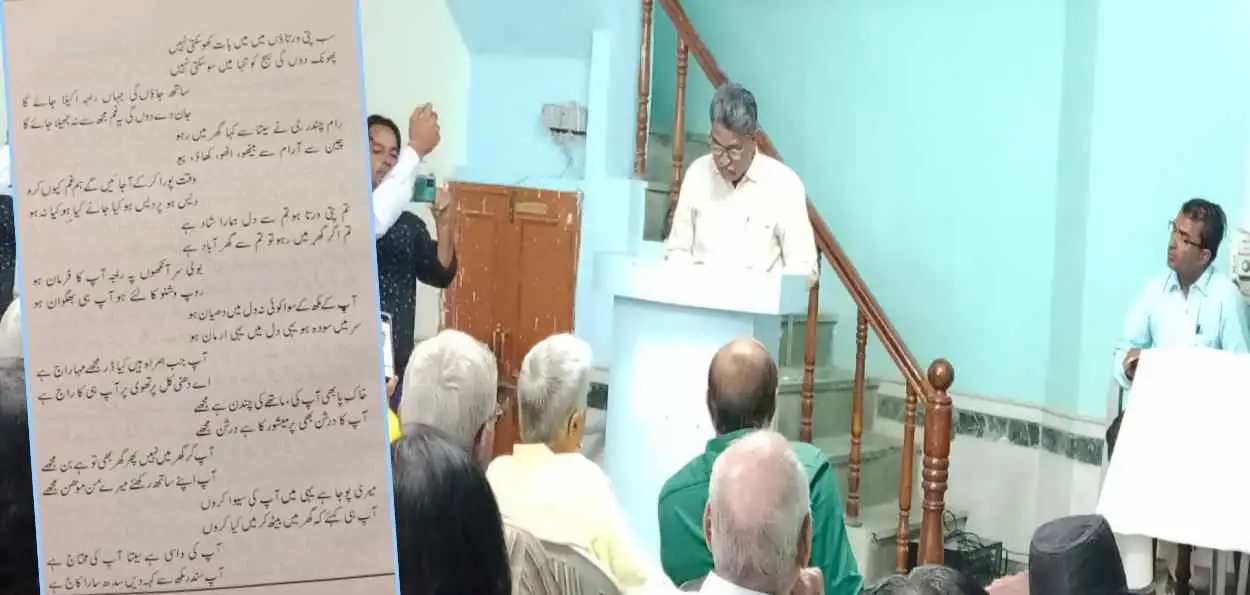 Qadri told Awaz-The Voice that there is not much material about Urdu Ramayan even on the internet, but Professor Mukul Chaturvedi of Zakir Hussain College, Delhi contacted and got the Urdu Ramayan and presented the same in the English language.
Similarly, BBC made a two-minute video film on Urdu Ramayana. In 2021, Madhya Pradesh Urdu Academy presented a play on a Muslim poet who wrote odes to Hindu avatars at the Dharma Festival. The role of Maulvi Ranal Khanvi was explained there.
However, people feel Maulvi Ranal Khanvi and Urdu Ramayan have not gotten the deserving publicity so far.
According to Qadri, Rana Lucknowi died in 1943 at his native place of Sandila when he had gone for the winter holidays. Bikaner remembers him every year and children of the state read about it in their textbooks.
ALSO READ: A requiem to Maj Purushottam and other fallen soldiers on Diwali
"It's heartening to see our new generation studying their common culture and growing respecting each other's prophets or avatars. We remember everyone in good words. This is India and we have to keep this India alive."