Saquib Salim
"The goal of Jamiat-e-Ulema has ever been complete independence, and it regards this as its religious, political, and moral right. And anything which stands in the way of this right is unbearable to it." This is an excerpt from the statement delivered by the Working Committee of Jamiat-i-Ulema-i-Hind in September 1939.
The statement was published by Raj Printers in Meerut after a meeting held under the leadership of Maulana Ahmad Saeed. The meeting was convened to discuss the steps that the Jamiat should take after the Second World War had broken down in Europe.
Netaji Subhas Chandra Bose was already campaigning for a movement against the British during the war. Mahatma Gandhi, Jawaharlal Nehru, Sardar Patel, etc. differed with him and forced Bose to resign as the President of Congress but Ulema, especially those who subscribed to the Deoband School, were in complete agreement with him.
It is no coincidence that Maulana Nur ud-Din Bihari, a very prominent leader of Jamiat, was one of the founding members of Forward Bloc, a party Bose formed after resigning from Congress. Bihari was elected as its Delhi chief and was jailed in 1940, two years before the Quit India Movement of Congress. Maulana Ubaidullah Sindhi's campaign and meetings with Bose are well documented. Maulana was a prominent Deobandi Maulana. During his radio broadcasts from Germany and Japan, Bose asked Indians to gather behind certain leaders among them Mufti Kifayatullah and Jamiat got special mentions.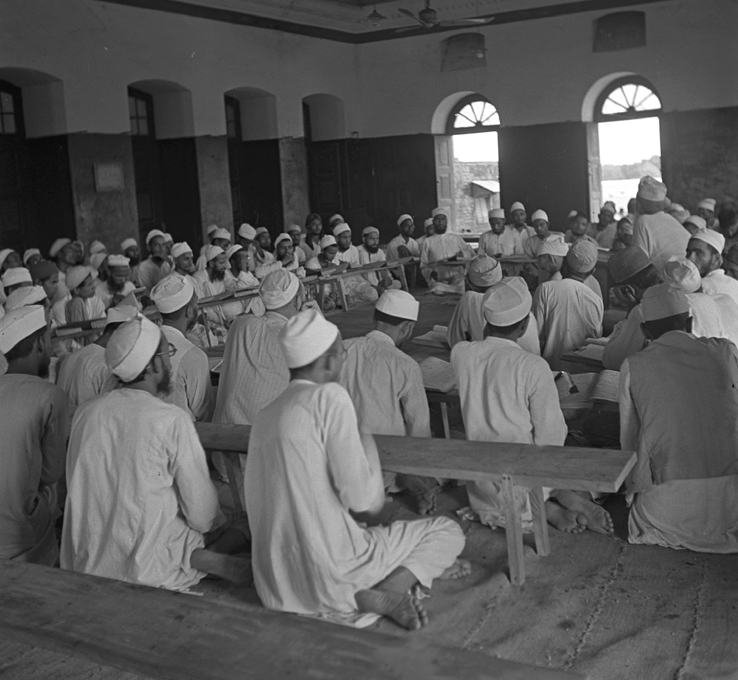 Students at Deoband seminary

Nobody should be surprised to know that Jamiat-i-Ulema was one of the first large organisations in India to openly come out against the British war efforts. In September 1939, the British Government notified that all literature and propaganda material of the meeting of Jamiat should be proscribed. The British asked Indians to support their war against Germany. While the Congress was still discussing the issue, Jamiat came out with a statement asking people to oppose the British. This was exactly in line with what Netaji Subhas, Maulana Ubaidullah, and Rash Behari Bose were preaching.
The banned statement which discussed the appeal of the British Government to cooperate in their war efforts read:
"Keeping in view the sublime Islamic, national and moral principles at this critical juncture, the Working Committee of the Jamiat-e-Ulema-i-Hind has considered and examined this aspect of the question, namely, that if Britain has pushed her nation into the fire of the war between Germany and Poland, is it our Islamic, national or moral duty that we should advise the Indians to jump into this fire and shed their blood in support of Britain?"
It further stated, "so far as action and reaction is concerned, we regret that there is no light of conviction and satisfaction in this for the Indians."
Ulema questioned how it affected India if Germany was a democracy or a dictatorship. In their view, colonial oppressors of Indians were the biggest enemy and freedom was the only goal. It was pointed out that Indians were being killed for more than a century and every promise of granting freedom during the first World War was broken.
Ulema said about the First World War, "By suffering all sorts of ruin and devastation during the last great war and by offering the highest sacrifices in man and money, India consolidated British Imperialism and prolonged the duration of her servitude. How can they be reassured now that support to Britain at this juncture would confer freedom on them, or the victory and consolidation of British Imperialism would (not?) become the cause of Britain's further autocracy and consolidation under the guise of democracy."
Ulema appealed that in this situation, "all Indians should unitedly come to a decision on behalf of India, in keeping with their self-respect and dignity, and jointly adopt the same path; for, this is the true basis of their deliverance and freedom."
ALSO READ: Nasratul Abrar: A fatwa by Ulema in favour of Hindu-Muslim unity
Often historians overlook the fact that considerable leadership and cadre of Forward Bloc came from Jamiat-e-Ulema, they supported Netaji Subhas, Uleam of Jamiat and Ahrar started a movement when Subhas wanted and didn't wait till August 1942. Ulema like Maulana Husain Ahmad Madani, Maulana Muhammad daud Ghaznavi, Maulana Nur ud-Din Bihari, Maulana Habib ur Rahman Ludhianvi, and others were jailed before the Quit India Resolution of Congress. Interestingly, the Quit India Resolution was passed under the Presidentship of Maulana Abul Kalam Azad, who himself was a tall leader of Jamiat-e-Ulema.