Mansoorudin Faridi/New Delhi
For the People living in India, Pakistan, and Bangladesh, the brand Hamdard is synonymous with Unani medicine. The man behind the emergence of this brand is Bade Hakim Sahib whose real name is Hakim Abdul Hameed. He changed the profile of the Unani system of medicine and today it's one of the Indian systems of medicine recognized and promoted by the Ayush and health ministry. Today, Hamdard is so much part of the lives of all people of the Indian subcontinent; they use its expectorant and anti-cough tonics, Shirin Badam Rogan, ance clearing Safi, and above all the soul-refreshing Roohafza as one uses a grandmother's time-tested recipes for common ailments and refreshing the mind and body. Bade Mian's contribution in the field of medicine, pharmacology, the growth and development of Unani medicine, education, history, and research is great. For this reason, Hamdard is seen more as a movement rather than an institution, with the great sage Hakim Abdul Hameed as its architect.
Khandaan
India's division was accompanied by chaos and violence. Hakim Muhammad Saeed, the younger brother of 'Bade Hakim Sahib' also left for Pakistan. In this situation, Hakim Sahib was strangely scouting for land. It could look awkward but he envisioned the problem that the Indian Muslims would face in the future. The elite and the educated among the Muslims had migrated to Pakistan leaving behind a community of impoverished and educationally and socially backward Muslims. He knew there is a need for institutions to get Muslims out of the cycle of backwardness-poverty-illiteracy.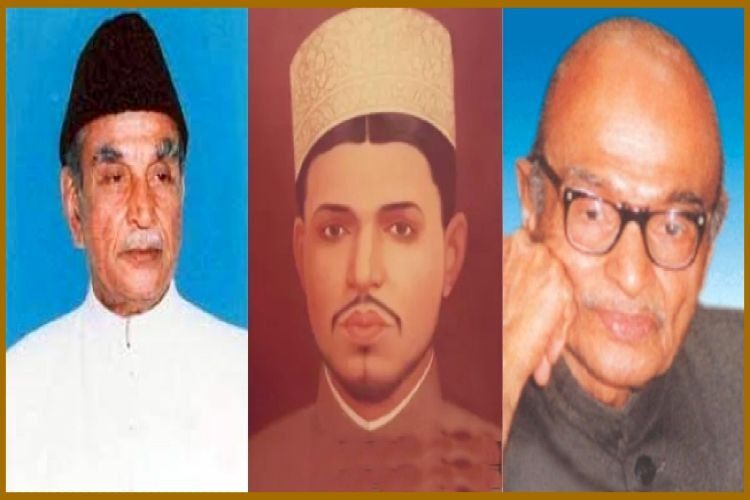 Hakim Abdul Hameed and his sons
According to eminent Islamic scholar Professor Akhtar -ul Wase, Hakim Sahib played the same role after the partition of the country as Sir Syed Ahmed Khan the founder of Aligarh Muslim University did after the 1857 war of independence. He paved the way for the education of Muslims in India.
Hakim Abdul Majeed started his journey with his first job in the Indian Pharmacy established by Masih-ul-Mulk Hakim Ajmal Khan. In the year 1904, he borrowed some money from his father-in-law Rahim Bakhsh Sahib and started the Hamdard Foundation.
He also started trading in herbs and making medicines from plants and selling the same at his shop "Hamdard.' His wife Rabia Begum helped him in this. Even her sister Fatima Begum used to work at Abdul Majeed's pharmacy. After his death, his son Hakim Abdul Hameed took charge of the pharmacy.
Hakim Hafiz Abdul Majeed founded Hamdard in Delhi, the capital of undivided India, in 1901. After his death, his wife Rabia Begum kept the business alive with the help of her son Hakim Abdul Hameed.
The Hamdard family is the first pre-partition family to flourish across India, Pakistan, and Bangladesh. Its most known product is 'Rohfaza' the rose drink concentrate that runs in the bodies of all people in the subcontinent. The drink became known around the world as the "Red King" because of its splendor and soul-refreshing taste.
However, it is interesting to know that when Pakistan was partitioned and Bangladesh came into being, the name of Dhaka Hamdard became 'Hamdard Bangladesh'. This way, Hamard had remained one of the key links between the constituents of what was once a united India.
The Unani system of medicines doesn't treat the body as clubbing of different parts; it treats the body as one unit and therefore also emphasizes the spiritual aspect of life. So that was when the recipe of Ruhfaza has tested the entire country or the world was taken as a 'patient.'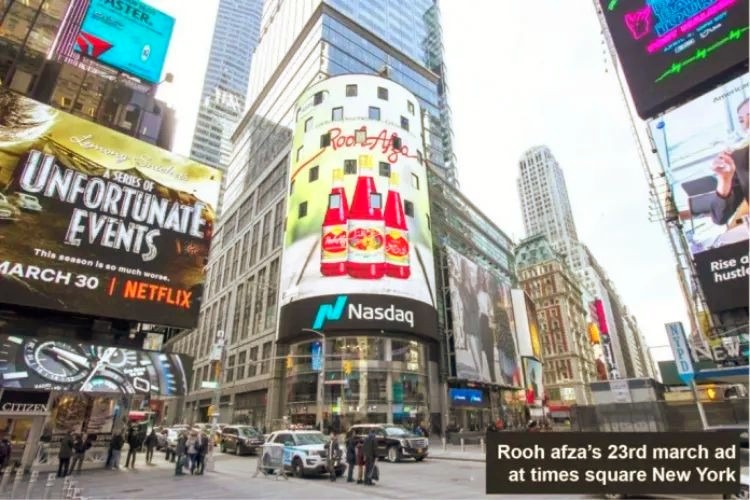 Hamdard's Roofafza displayed in Times Square
Hakim Abdul Hameed did not confine himself to medicine. He created separate platforms in each field and paved new scientific paths from language to poetry, and history to research. He did not choose any one field for his services but stepped into everything that he thought had shortcomings and there was a scope for intervention to improve things. Thus he laid a 'cornerstone' on which not only the big corporations are flourishing today.
His entrepreneurship started with Hamdard Waqf Laboratories Delhi. Under which various institutions were established, including the Institute of Islamic Studies, the Institute of History of Medicine, Medical Research, Hamdard College of Pharmacy, Hamdard Medical College, Majidia Hospital. Hakim Abdul Hameed was the Chief Trustee.
Hakim Abdul Hameed was one of the founders of Hamdard National Foundation, Ghalib Academy, Hamdard Education Society, and Hamdard Institute of Historical Research Center. He was also the President of the All India Unani Medical Conference and Vice President of the Central Council for Research in Unani Medicine. Till his end, Hakim Abdul Hameed remained involved in academic, literary, medical, and journalistic fields.
The takeaway from Hakim Abdul Hameed's life is his establishing the institutions for development and promotion of the community in every field but yet not neglecting his core inheritance of healthcare and life. He was an able administrator who laid strong foundations of all the institutions and is the reason why these continue to flourish without any need for governmental or other support.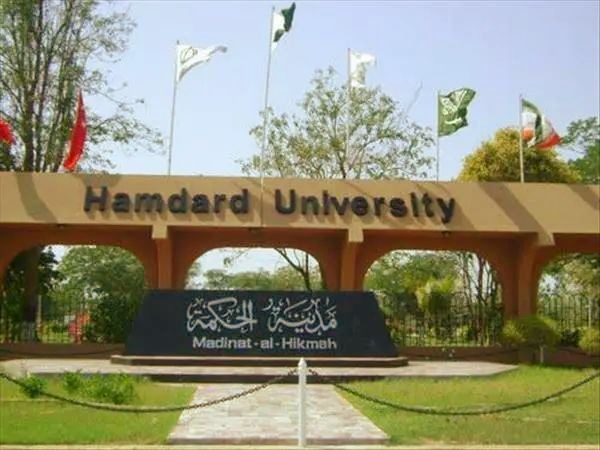 The Hamdard Univeristy, Delhi
Akhtar Al-Wase says, "Establishing an institution is not as difficult as keeping it healthy and alive. Hakim Abdul Hameed had done something to make a reasonable arrangement to meet the expenses of the institution he had set up. He rented out a nearby building to Haj House for raising money for maintenance and payment of salaries to the staff, including of the Hotel Karim Nemat Kudha."
Hakim Abdul Hameed did not confine himself to one field. Though he was an expert in Unani medicine, he also accepted aloe vera and also paved the way for interfaith knowledge and harmony.
In fact, in 1963, Hakim Sahib established the Indian Institute of Islamic Studies, the director of which was the late Syed Osaf Ali. This institution later became a part of Jamia Hamdard. Importantly, its scope was not limited to Islamic teachings but its purpose was to study the other faiths and religions.
Not only this, in 1965, when Hakeem Sahib opened Hamdard Research Clinic and Nursing Home on Asif Ali Road, he combined the Unnani with allopathy to treat ailments. Blood tests and other tests were done for the diagnosis as per allopathy and the medicines prescribed were under the Unani system.
The nursing home employed doctors of Allopathy. The renowned of them was Dr. Sansarchand Almast who translated the Bhagwad Gita into Urdu and sent its published copies to people abroad. This nursing home later became Majidiya Hospital.
Hamdard in Persian-Urdu and many other languages means Sympathiser and this brand has played that role in the life of most Indians.
Jamia Hamdard University is Hakim Abdul Hameed's greatest contribution to India. He was its founding chancellor and also that of Aligarh Muslim University.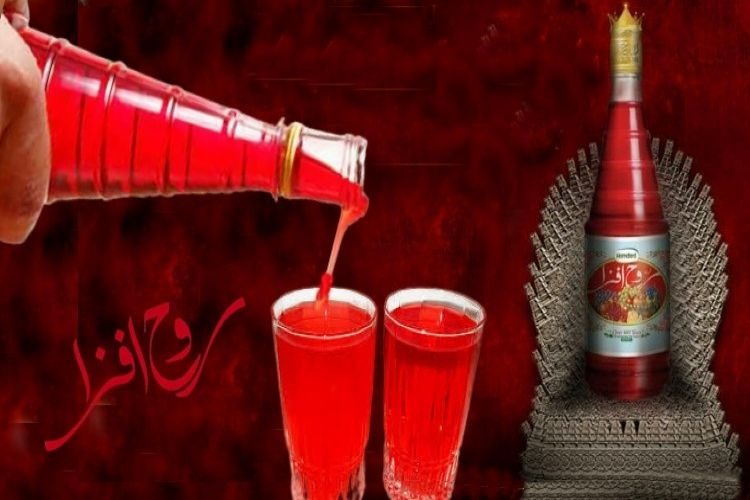 Rooh Afza: the most popular Hamdard product across India, pakistan and Bangladesh
Besides education, he also gave importance to employment generation and for this promoted skill and vocational training. No wonder, most of these institutions focused on vocational education. He has also set up a Hamdard Business employment Bureau, Hamdard College of Pharmacy, Hamdard Medical College, Rafida Nursing College, Hamdard Study Circle, etc. These institutions also provided employment-oriented courses, such as calligraphy, typing, and computer courses.
Under the auspices of the Hamdard Study Circle, students are selected and prepared for IAS preparation. The aspirants are also provided accommodation, meals, and library facilities. In fact, it will not be an exaggeration to say that Hakim Abdul Hameed has left no field of human activity untouched.
For his services, Abdul Hameed was awarded many honors including Ibn Sina Award 1993 (Russia), Padma Shri Award 1995 (India), Padma Bhushan Award 1991, (India) Hamdard University Karachi Includes Pakistan 1995 Awards. But the interesting thing is that he was never interested in awards. According to Prof. Akhtar Al-Wase, he was a conqueror of character and not of speech.
Ghulam Yahya Anjum, a professor in the Department of Islamic Studies at Jamia Hamdard, says: The great sage's simplicity, eloquence, and wisdom were unparalleled. He used to travel in an old Fait car. When the driver asked him why he drives in a cheap car, he said that when it is possible to travel in a cheap car, where is the need for upgrading it.
He has authored books like Theories and Philosophers of Medicine, 1973, Philosophy of Medical and Science, 1972, Arab Medicine and Modern Medicine, 1977, and others on different topics in English, Hindi, and Urdu.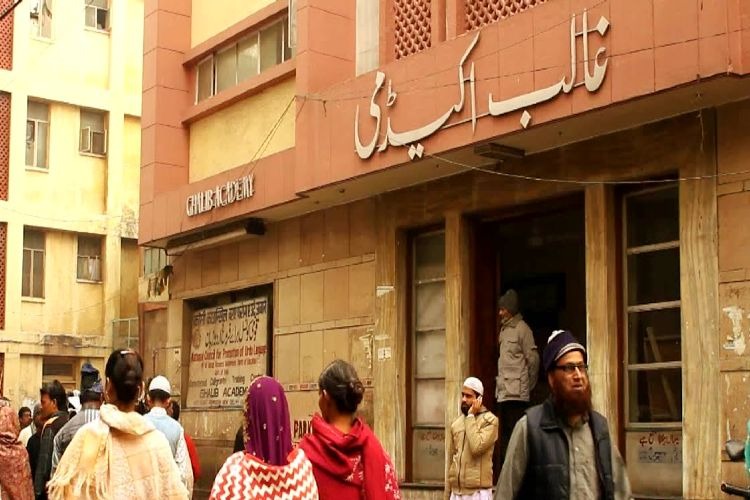 The Hamdard Clinic in Old Delhi
His sons Abdul Moeed and Hamad Ahmed had started working in Hamdard in their father's lifetime. Abdul Moeed also played a key role in modernizing the business of Hamdard. The idea of the founder was not only to promote Unani medicine but also to keep the family business going amidst the spread of the Internet, the growing popularity of allopathy, and the new era of manufacturing capabilities in healthcare.
After Abdul Moeed's death, his sons Abdul Majeed and Asad Moeed embarked on a mission of innovation in Hamdard. The turnover of Hamdard was about Rs 200 crore in 2005-06. The late Abdul Moeed had started the process for revamping the organization, sales, distribution, expenses, etc. and it jumped to Rs 500 crore and in 20-2019, it had touched Rs. 700 crore.
As one of the founding members of the Hamdard National Foundation, Hamad Ahmed has brought with him unlimited wisdom and experience. For over 50 years, it has made the Hamdard National Foundation one of India's most respected charities. He is currently the President, Hamdard National Foundation (India) - HECA and Co-Chairman, Hamdard National Foundation (India).
Hamaad Ahmed's involvement in Hamdard University was from the times it had not got the status of Deemed University. Over the years, he has served on the university's executive council, finance committee, and various other advisory bodies.
Since Hamaad's joining Hamdard Laboratories India as its Head of Sales and Marketing in 1973, the company has seen tremendous growth in the business and brand value of Hamdard. Hamdard has since established itself as one of India's leading business leaders. He is currently the Chief of Hamdard Laboratories India (Foods).
ALSO READ: The Nazki family continues to add colours to Kashmir's literary tapestry
Hammad Ahmed's son Hamid Ahmed is also associated with Hamdard. He was also the Chief Executive Officer and Trustee of Hamdard Laboratories India-Foods Division before he was made the Chancellor of Hamdard University. In addition, he has been serving as the Secretary of the Hamdard National Foundation (India) since 2017.
The Pakistan Branch
Hakeem Mohammad Saeed had left for Pakistan amidst the chaos and uncertainty of India's partition. He had reached there with an empty pocket. He, however, used his skills and knowledge of Unani to build an empire. He raised Hamdard as bright a brand in Pakistan as it was in India.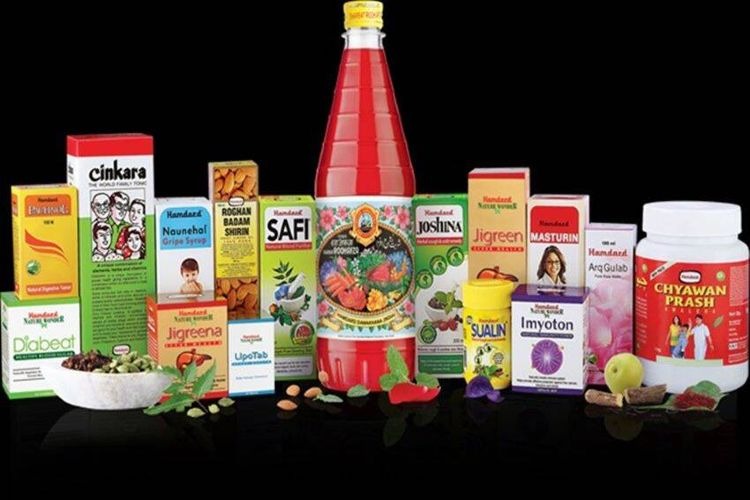 Different products of Hamdard
Hakim Muhammad Saeed was a medical researcher and a scholar. He was the Governor of Sindh Province, Pakistan from 1993 to 1996. He was one of the leading medical researchers in Pakistan in the field of Oriental Medicine. He authored and compiled about 200 books on medicine, philosophy, science, health, religion, physics, literature, social sciences, and travelogues.
The most popular children's magazine in Urdu is Hamdard Nonnihal, the monthly magazine on health and hygiene in Urdu is Hamdard Health and the English magazine on Islam is Hamdard Islamics.
However, despite all the services and development work, on October 17, 1998, Hakim Saeed was shot dead by assailants at the entrance of Hamdard Laboratories in Achi.
Surprisingly, Hakim Abdul Hameed had endured the trauma of his brother crossing over to Pakistan and he breathed his last in the Apollo Hospital in Delhi in July 1999, exactly nine months after his assassination.
.