Gaus Siwani/New Delhi
In 2009, former Pakistani President Pervez Musharaf was invited to speak at the annual leadership summit of a leading Indian media house in Delhi. Musharaf, in his address, spoke of India's unwillingness to be friends with Pakistan, persecution of religious minorities, and how India too was spreading terror in his country, etc. What came next was a shock for the Pakistani leader.
Maulana Mahmood Madani, a member of the Parliament and a religious scholar, sitting in the audience started by congratulating Musharraf. "Congratulations to you for bringing the politics of Pakistan to India."
Khandaan
"You must be aware that we, the Indian Muslims are more in numbers than the population of Pakistan. I also want to assure you that we are capable and empowered to take up our problems; also when we rise against discrimination and injustice, 70 percent of Indians support us. I beseech you, therefore that you don't say anything that aims to alienate the Indian Muslims."
Musharaf sitting on the dais was ash-faced as he listened to this young leader whose remarks had drawn loud applause from the audience. He gave some explanation for his remarks and sheepishly said "I am happy to know that Indian Muslims are doing well. I wish them well."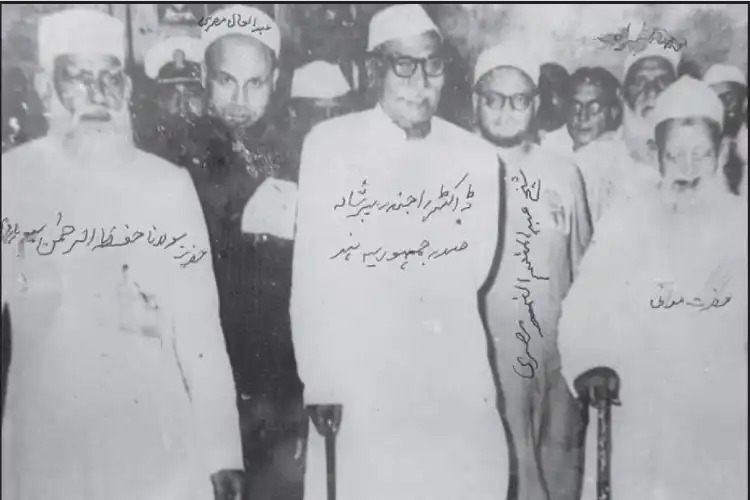 Maulana Hussain Ahmed Madani with President Dr Rajendera Prasad
Musharaf had no idea that he was speaking to the scion of the illustrious family that had opposed the idea of Pakistan rooted as it was in the premise that Hindus and Muslims are different nations and can not coexist.
Madani hails from an illustrious family of religious scholars, leaders, and freedom fighters. The family has been in the center stage of India's social and political milieu for more than a century. The founder of the family, Mujahid Azadi Maulana Syed Hussain Ahmad Madani was a world-renowned religious scholar. He was also respected by India's first Prime Minister Pandit Jawaharlal Nehru.
His son Maulana Syed Asad Madani was also a religious and social figure. He was elected to the Indian parliament's upper house Rajya Sabha for three consecutive terms. His son Maulana Mahmood Madani was also nominated as a member of the Rajya Sabha. Today's well-known socio-political organization Jamiat Ulema-e-Hind was founded by the family. Both the Madani surname and Jamiat Ulema-i-Hind are synonymous with each other.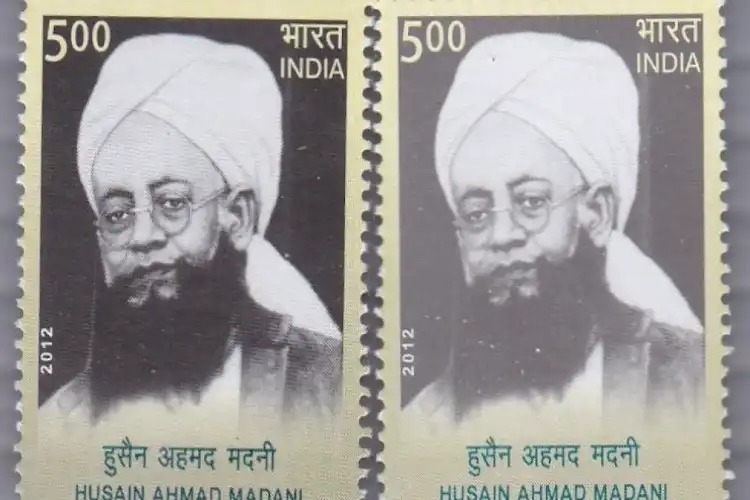 Postal stamp issued to honour Maulana Hussain Ahmed Madani
Maulana Hussain Ahmad Madani was born in 1879 in Bangarmao, Unnao District of Uttar Pradesh. He went to Darul Uloom, Deoband, for higher education. Later, he also went to Saudi Arabia and studied in the holy city of Madina. He also became a teacher and taught students from different nationalities. He was well versed in religious studies as well as modern sciences.
In Madina, the Britishers arrested his teacher Maulana Mahmood Hassan Deobandi. This was unacceptable to his young disciples including Maulana Hussain Ahmed. They all volunteered to go to jail in Malta with their teacher. After a few years, when they were released, Maulana Hussain Ahmed returned to Deoband and started teaching Hadith in Darul Uloom. He died there on December 5, 1957.
Maulana Syed Hussain Ahmed was the first to be called 'Madani that was linked to his stay in Madina and it has remained with the family. Maulana was still a teenager when his father Maulana Syed Habibullah had migrated to Madina with his children and wife.
Madani family and Sufism
The Madani family has a long association with Sufism. Maulana Syed Habibullah was the special caliph to Maulana Fazlur Rehman Ganj Muradabadi, a famous Sufi saint of the Kanpur area. Maulana Hussain Madani was the Caliph to Maulana Rashid Ahmad Gangohi, who hailed from the Chishti dynasty.
Maulana Syed Hussain Ahmad was one of the most active leaders of the Civil War of Independence. He was an expert in science, an author, and a teacher. He was also one of the founders of Jamia Millia Islamia University of New Delhi.
The then Prime Minister Pandit Jawaharlal Nehru used to share the stage with him. He had participated in the War of Independence and was awarded the title of Bharat Bhushan by the Government of India in recognition of his services. However, Maulana did not pay much attention to the power of his title and position. There is a Madani Square" in Sylhet, Bangladesh, in his name.
Maulana had vehemently opposed the ideology of Pakistan and refused to accept the partition of India even after Mahatma Gandhi, Pandit Nehru and Sardar Patel had accepted it. In this regard, he had sharp differences with one of the proponents of the idea of Pakistan Allama Iqbal whose real name was Sheikh Mohammad Iqbal.
Maulana Asad Madani (April 27, 1928 - February 6, 2006) was the second one from the family to become famous as an Islamic scholar and a politician. He became the sixth General Secretary and the seventh President of the Jamiat Ulema-i-Hind, was a member of the executive body of Darul Uloom Deoband.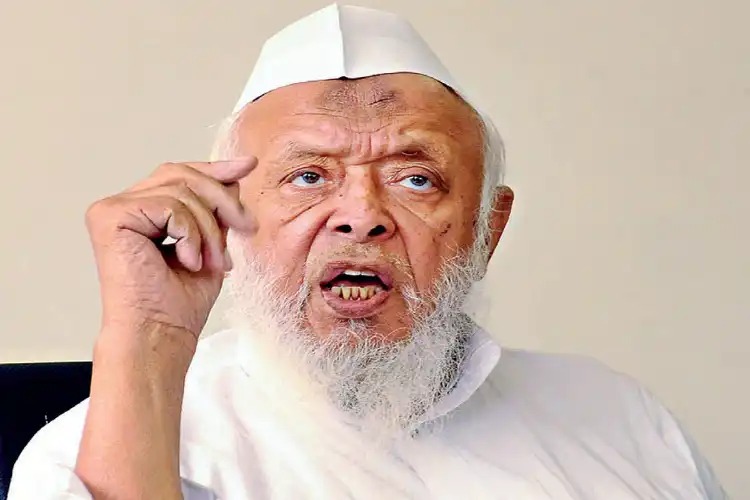 Maulana Arshad Madani
He was elected as Rajya Sabha member of the Congress Party for three terms. He thus was a member of the Parliament for 14 years. In April 2007 the then Prime Minister Manmohan Singh has released a compilation of the "Parliamentary Speeches of Madani at an international seminar.
Interestingly, Maulana Asad Madni was very popular in Bangladesh. He first visited East Bengal in 1933, and since 1973 traveled to the country every year. During Bangladesh's 1971 war of independence, Madani strongly protested against the brutal violence of the Pakistani army and its allies, and distributed aid in the refugee camps in India.
After his death, the Jamiat-e-ulema Hind split into two factions: one was led by the later Mualana's younger brother Arshad Madani and the other by his son Mehmood Madani; the latter took on Pakistani leader Musharraf.
Arshad Madani is a religious scholar and principal of Darul Uloom Deoband.
Maulana Mahmood Asad Madani (born 3 March 1964) is a Deoband-educated scholar, politician, and president of a group of Jamiat Ulema-e-Hind. He was elected to Rajya Sabha as a member of the Rashtriya Lok Dal from 2006 to 2012.
He is ranked 27th on the list of the world's 500 most influential Muslims, published by the Royal Islamic Center for Strategic Studies.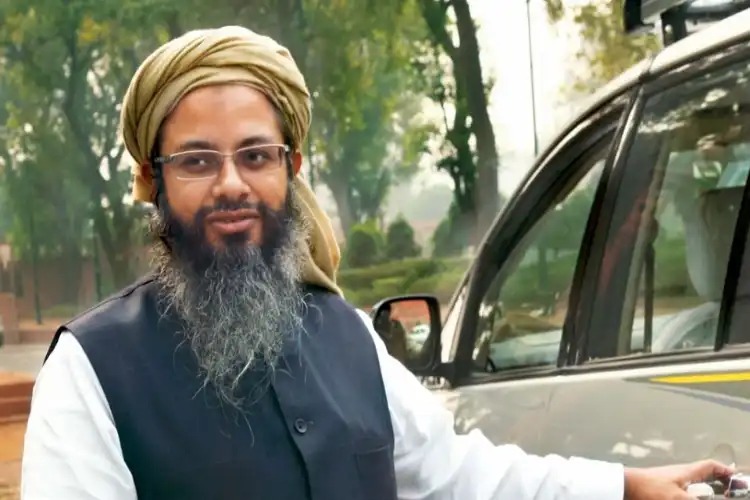 Maulana Mahmood Madani
Jamiat Ulema-e-Hind
The Jamiat Ulema-i-Hind was formed in November 1919. Most of its founders were Deoband Ulema, but its doors were open to all. many prominent Muslim personalities joined it. The organization played an active role in the freedom struggle of India and maintained close ties with Congress. When Maulana Syed Hussain Ahmad Madani became its President in 1940, it gradually became a family-run organization.
Two years after his term ended in December 1957, his son Maulana Syed Asad Madani led the outfit and remained its President till February 6, 2006. This organization became the strength of this family because its roots are strong and it has a wide membership and supporters.
Maulana Badruddin Ajmal, whose AIUDF has emerged as a political force to reckon with in Assam also draws its strength from the support of the Jamiat.
Maulana Abdul Din Ajmal who heads to Jamiat in Assam is against a big political influencer. The Jamiat has Maulana Siddiqullah Chaudhry as a minister in the West Bengal government.