Mukut Sharma/Guwahati
Bajali in western Assam's Barpeta has earned the reputation of producing many talents in the field of education. Another such new talent is Illias Khan Rana.
Illias who secured first position in Chemistry in the postgraduate examination from IIT Guwahati was recently honoured with an honorary Ph.D. degree from the College of Arts and Sciences at Stony Brook University in New York City, USA.
Rana, the only son of the late Bilayet Hussain Khan and retired Superintendent of Khandakarpara High School Hamida Begum had earlier secured fifth place in the State in the High School Leaving Certificate Examination or Matriculation examination and fourth place in the Higher Secondary Examination (Plus II final examination).
"I am elated to get the opportunity to do my Ph.D. in the United States. I applied to several universities and recently received an offer to do my Ph.D. from Stony Brook University in New York," Illias said in a conversation with Awaz-The Voice. Illias will fly to the United States for research in July-August this year.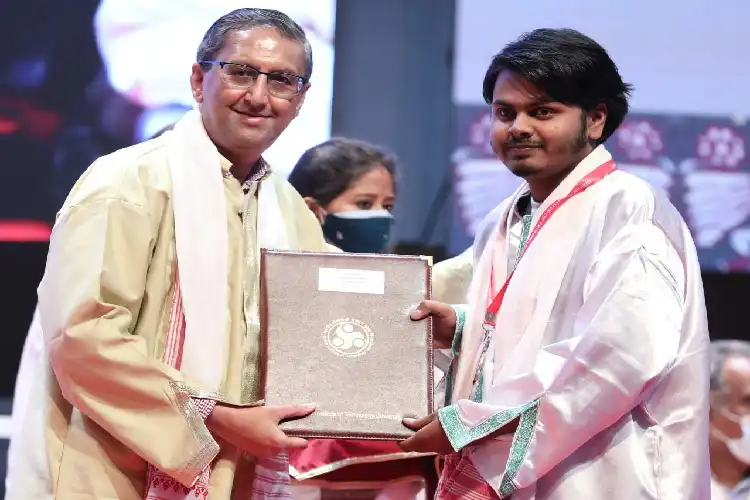 Illias Khan Rana reciving his citation during the convocation of the IIT, Guwahati

"I had a wonderful academic environment at home since childhood. My Parents are closely associated with education. I have had a dream of becoming a scientist since childhood. I shall leave no stone unturned to become a top scientist and serve the country in the future," Illias said.
Illias was awarded the Governor's Gold Medal in Chemistry Department from IIT, Guwahati in June 2022 with first class first place. He secured the fifth position in the state in the 2015 High School Leaving Certificate Examination from Hazrat Omar Model Academy in Howli. In 2017, he secured fourth place in the state in Science from Anandaram Barua Academy, Pathsala in the Higher Secondary Final Examination
After graduating with honors in Chemistry from the heritage Ramjas College under the University of Delhi in 2020, Illias enrolled for a postgraduate degree at IIT Guwahati.