Shah Rasheed Ahmed Quadari wishing Prime Minister Narendra Modi while proceeding to receive his award
New Delhi

When Shah Rasheed Ahmed Quadari met Prime Minister Narendra Modi after receiving the Padma Sri award from President Draupadi Murmu he was candid in telling him that he did not expect this award at this stage of his life.
The reason, as this veteran Bidari (inlay art) artist from Karnataka said, was a common perception among some Muslims that the BJP government would not recognize their contribution towards nation-building.
In what turned out to be the highlight of the Padma Awards investiture ceremony at Rashtrapati Bhawan, Prime Minister is seen listening to him intently and laughing away with a Namastey gesture.
"I was expecting a Padma award during the UPA government, but I did not get it. When your government came, I thought now the BJP government would not give me any award. But you have proved me wrong. I expressed my sincere gratitude to you," Quadari told the PM.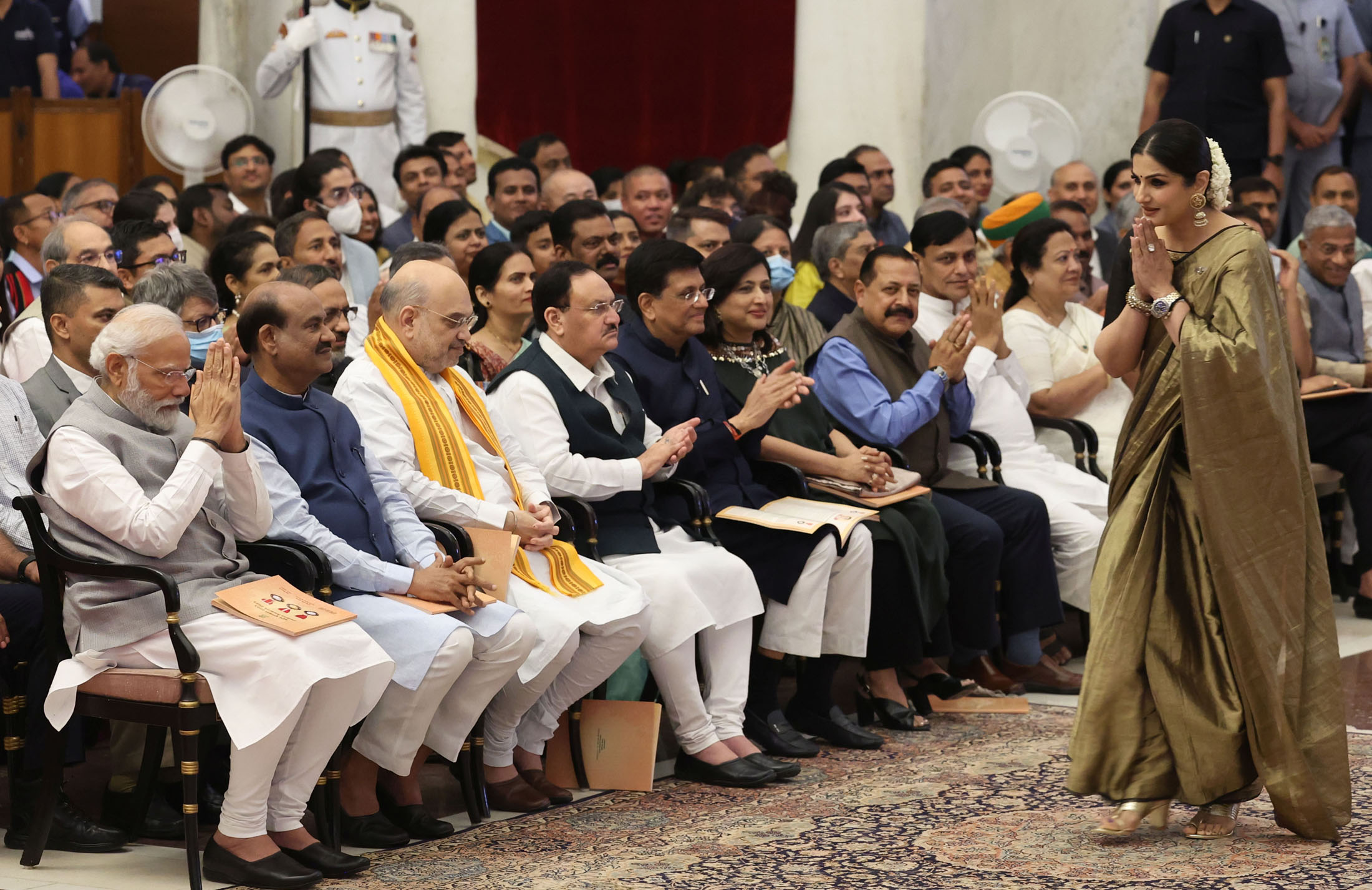 Actor Raveena Tandon before receiving her award

Quadari, who was among 55 persons conferred with India's top civilian award on Wednesday, later told the media that he had tried at least ten times for the award during the Congress regime. Each time, he spent Rs 12,000 preparing his portfolio, coloured photographs, and the application for the claim.
"After five years I gave up and when this government came, I lost all hope," said Quadari after the investiture ceremony.
His interaction with Prime Minister thus became the highlight of the investiture ceremony in which writer and motivational speaker Sudha Murty, Super 30 founder Anand Kumar, and Oscar-winning Music composer MM Keeravani were awarded the civilian awards.
Quadari is known for innovation in traditional inlay art. "You proved me wrong," Shah Rasheed Ahmed Quadri,
Quadari, who received Padma Shri from President Droupadi Murmu, was seen shaking hands with the Prime Minister in a video. He was then heard telling him that he believed he would not get a Padma honour under the BJP government's rule.
The Prime Minister reciprocated with a namaste and a smile.
Padma awards are conferred in three categories -- Padma Vibhushan, Padma Bhushan, and Padma Shri. India's top civilian award, the Bharat Ratna, has not been given to anyone since 2019.
The awards are given in various disciplines and activities such as art, social work, public affairs, science and engineering, trade and industry, medicine, literature and education, sports, and civil service among others.
Shah Rasheed Ahmed Quadri hails from a well-known family engaged with Bidri craft. He practiced under his family elders until 1970.
When he started working independently, he introduced various, new self-designed patterns and played a vital role to develop the Bidri craft.
Qaudari has won numerous awards for his work over the years, including The State Award of 1984, The National Award of 1988, and The Dist. Karnataka Rajya Utsav Award of 1996, and The Great Indian Achievers Award of 2004.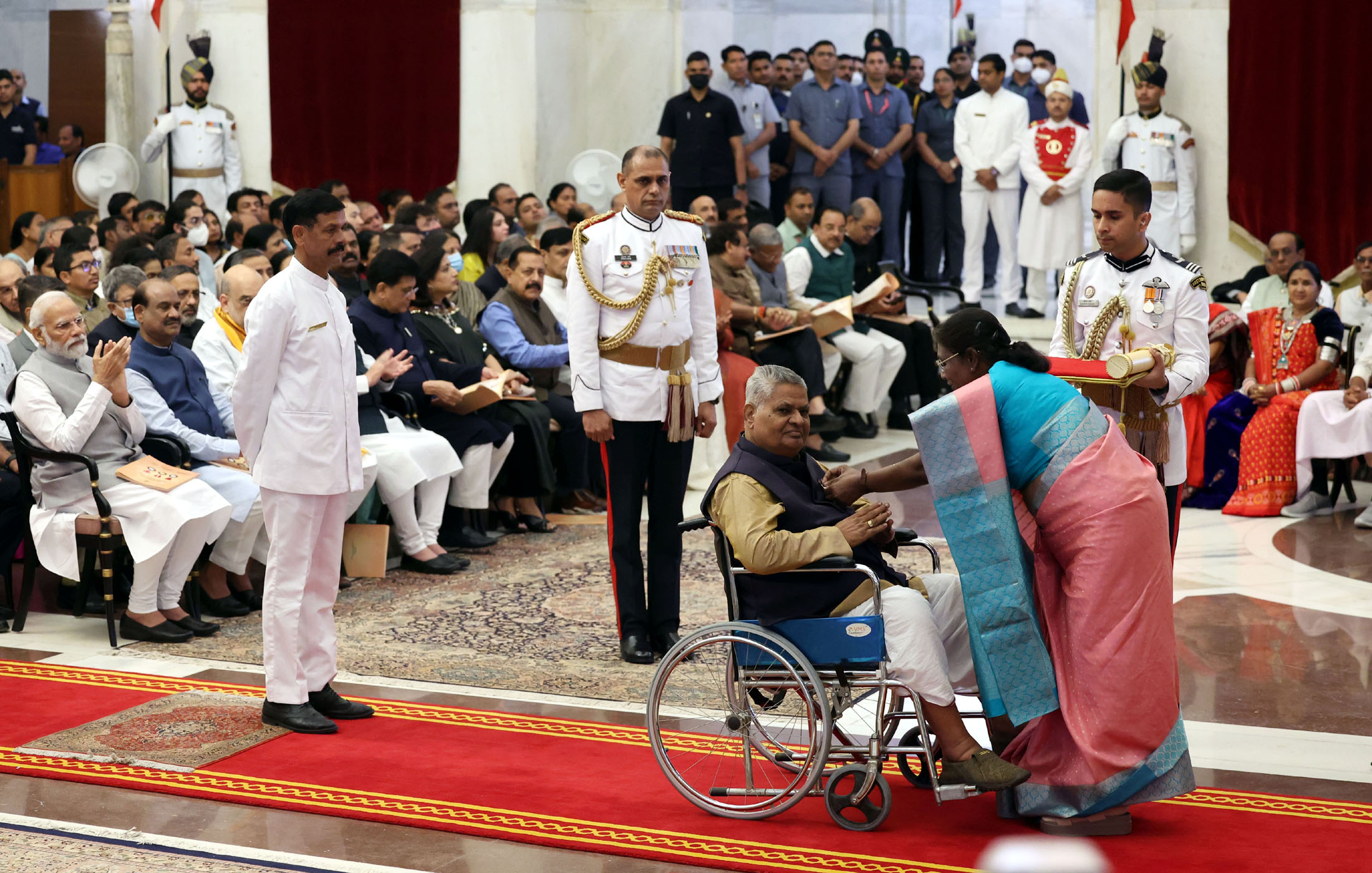 President Murmu givinhg away Padma Award

He has also taken part in exhibitions and demonstrations across the globe, in destinations such as Holland, Barcelona, Chicago, Bahrain, and Oman.
Bidriware developed in the 14th century C.E. during the rule of the Bahamani Sultans. Due to its striking inlay artwork, Bidriware is an important export handicraft of India and is prized as a symbol of wealth.
ALSO READ: Muslims witness positive surge in Padma Awards
The metal used is a blackened alloy of zinc and copper inlaid with thin sheets of pure silver. Traditionally, various flowers, leaves, geometric designs, human figures, stylized poppy plants, etc. are commonly found on the items.
Demand for the patterns of Persian roses and passages from the Quran in Arabic script are also in great demand in the West.