Syeed Fakhrudin Hamid, Deputy Commission, Budgam, flagging off ski expedition at Doodpathri
Ehsan Fazili/Srinagar
Doodpathri, a magnificent Pine fringed meadow with many streams crisscrossing it, is the newest resort ready to welcome tourists from all over the world in winter in Kashmir. Located in the Budgam district, Doodpathri is already a must-visit for tourists in the summer.
The Tourism department recently declared it open for winter tourism. Earlier Pahalgam, Sonamarg, and Yusmarg were opened for the same.
The Kashmir valley attracted the largest ever - more than 22 lakh tourists - in 2022. Over some time the authorities have been exploring the hitherto lesser-known areas for creating facilities with a view to adding these to the tourism circuit, particularly during the winter which was a lean period for tourism-dependent people.
Besides, the Tourism department is also developing 75 villages across the Union territory as Tourist villages.
"We are keeping the destination open this winter to promote it as a winter tourist destination," said Dr. Nargis Suriya, Chief Executive Officer (CEO) of Doodpathri Development Authority (DDA).
She said that enough facilities have been put in place for tourists so that they go back with memories. It has a spacious tourist reception center, huts for tourists' stay, a Cafeteria, and restaurants and beverage shops. She said all huts are offered at affordable prices.
Speaking to Awaz-the voice, Dr.Nargis Suriya said that 200 to 300 tourists arrive at Doodpathri each day. She hoped that the numbers would rise further after the official go-ahead to it as the winter tourism destination.
With each fresh spell of snowfall this month which happens to be the coldest period of winter, efforts are being made to keep the road to Doodpathri open for unhindered movement of vehicles carrying tourists. "We have already advised the operators to deploy 4x4 vehicles with anti-skid chains on the road leading to the tourist spot. This is to avoid accidents on the slippery roads due to freezing temperatures, even as snow clearance is done following each snowfall," Dr. Nargis Suriya said.
Due care is taken for the smooth movement of vehicles on the steep road from Raiyar (village) on the way to the tourist spot, she added.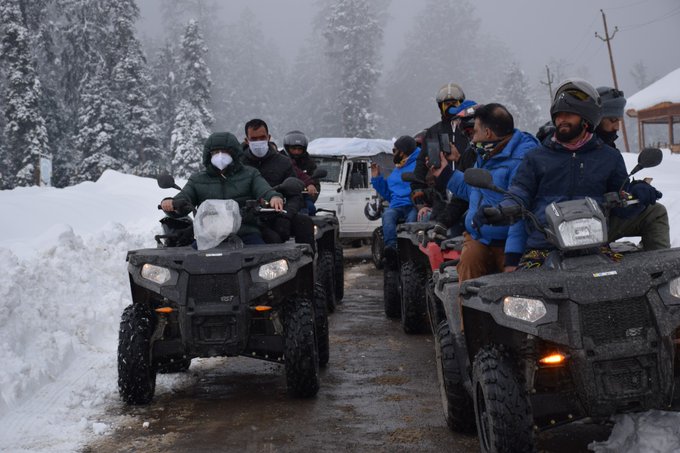 Tourists riding snow bikes at Doodpathri

A tourism festival is being in coordination with the J&K Youth Services & Sports and the District Administration is also being held soon at Doodpathri.
There are a lot of things to explore during the winter season for tourists, she said and added that Pony rides, ATV rides, Skiing, Sledge, Tube ride, and snow bikes are ready to welcome tourists.
"Activities like tourism festivals and sports events are being held as a promotional campaign" at Doodpathri, said Azad Yaseen, Tourism Officer of the area. He said that it was the nearest tourist spot - 42 km - from Srinagar international airport, and a lot of people including locals and domestic tourists were arriving in good numbers in Doodpathri.