If one can today ask a pharmacist for a pack of sanitary towels or pads unhesitatingly and without waiting for other customers to leave the shop, it's because of the work of several activists who have been spreading awareness about menstruation to end the 'shame' attached with it.
Dr. Sania Siddiqui of Pune, Maharashtra, is one such campaigner. She says: "Most of the women who come to my clinic share the same worries and anxieties about their daughter's biology. These concerned moms don't understand the basics of menstruation as their 12-13-year-old daughter approaches puberty."
"I soon realized that there was a big time need to talk about menstruation, that is periods, says Dr Siddiqui.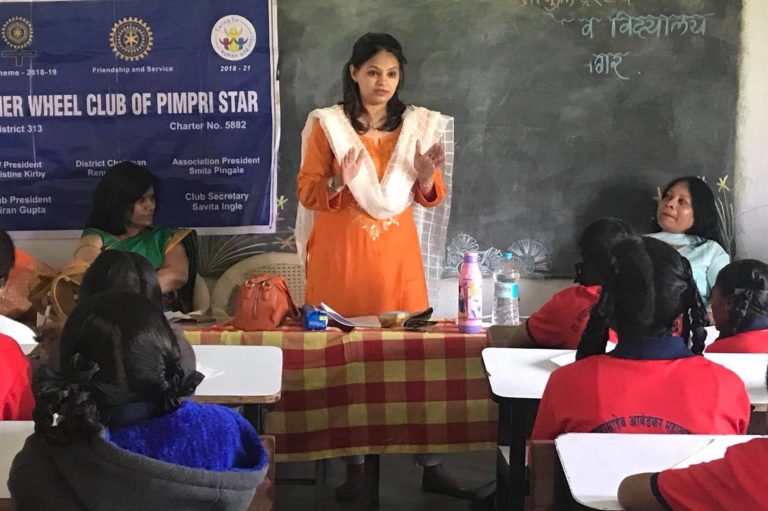 Dr Sania Siddiqui speaking inside a class room in a Pune Municipal Corporation school

She decided to become the voice of half the world's population and coined the slogan "Shame nahin, Kshmta hai" (Periods are not a shame, it's capacity (to become a woman)."
With this slogan, Dr. Sania Siddiqui, who has converted the awareness campaign towards menstruation into a movement, is today a well-known name in the field of social change.
She says that she must not take menstruation as just a 'women' issue but it should be seen as a 'human' issue and therefore both genders need to be sensitized on the subject.
It was this thought and concern that inspired her to establish, in 2018, the Hamjoli Foundation, an NGO dedicated to menstrual health and hygiene among young girls, women, and men across all sections of society. "I am working to create awareness about this biological process in a woman's body and how it's normal."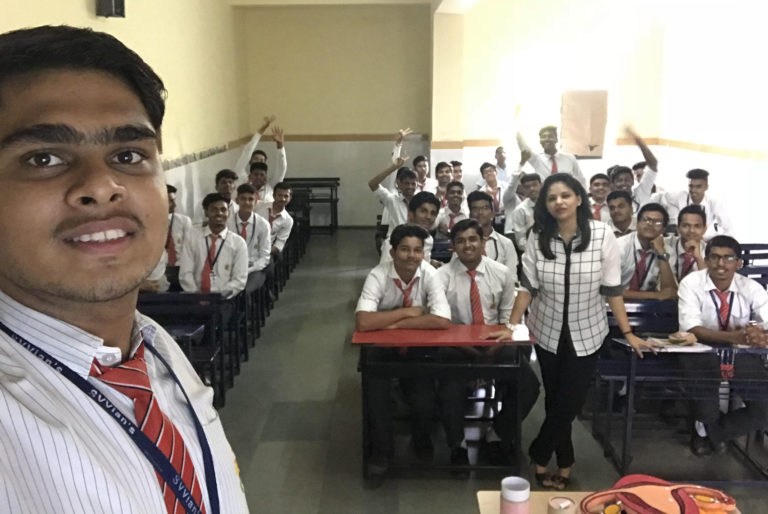 Dr Sania Siddiqui taking a session in a boys' school

Speaking to Awaz-The Voice, Dr. Sania Siddiqui said that this topic has been kept under the carpet for so long and is not spoken about to the extent that often even mothers hesitate to talk to their daughters about it. They try to speak in allusions to their daughters.
Hamjoli Foundation started by organizing a discussion on periods and women's health with professional guest speakers. Soon this campaign received support and endorsement from many like-minded people and organisations.
So far Dr Siddiqui has organized campaigns in more than 10 Indian cities and has addressed about 400 awareness sessions in these cities.
At these sessions, Dr. Siqqiqui provides basic information about menstruation and hygiene to women.
Menstruation is an important part of women's reproductive health and only a menstruation woman can naturally bear a child and yet a discussion on it is considered a 'shame.'
She says millions of girls pass through childhood and enter puberty without any preparation. Mother or an elder sister speaks vaguely about menstruation to the young woman only when she has her first period.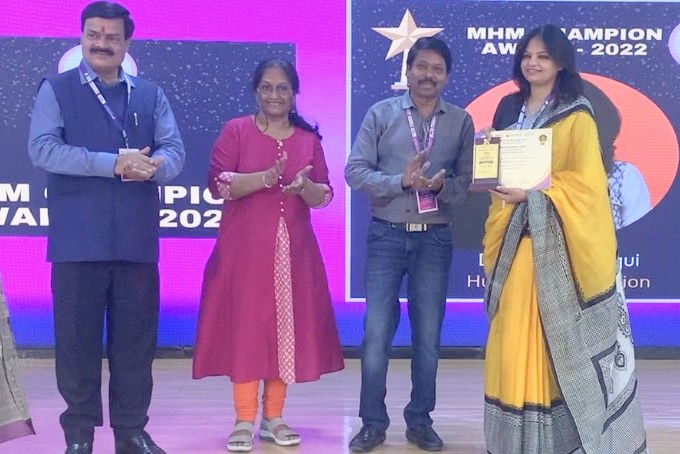 Dr Sania Siddiqui (extreme right) receiving The Women of Influence Award

Dr. Sania says that when we talk to girls, we often find that they have not forgotten their first experience of pain, fear, and sufferings faced by the innocent and young girls at that time. It has left a deep mark on their psyche and emotionally disturbed them.
She believes that if girls are provided with basic information on time, it will be easier for them to understand the natural process of menstruation, and deal with it easily.
"Because of the information they have the girls will not be subjected to any mental pressure," she says.
Dr. Sania Siddiqui says that we give information to people about menstruation and reproductive health. We endeavor to provide basic information to women as well as men in this regard. People still hesitate to talk openly but now things are changing.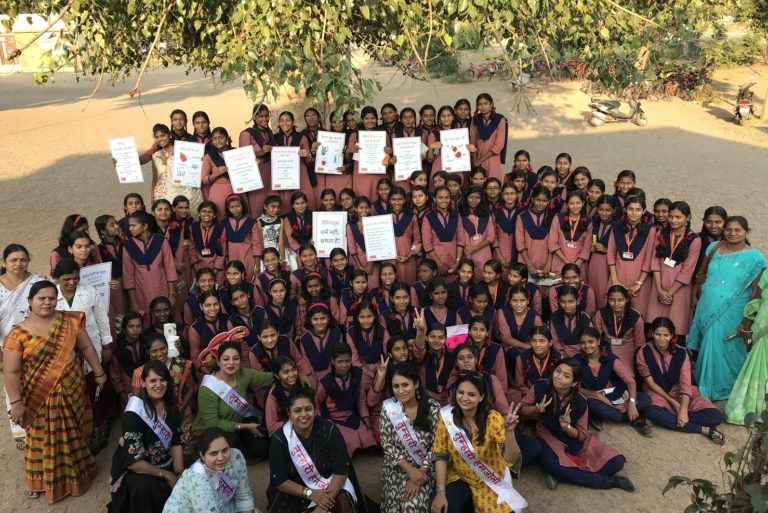 Dr Sania Siddiqui at Hamjoli Foundation's session of Menstruation

She points out that simply promoting the use of sanitary pads is not enough. Hygiene does not mean only using sanitary napkins. Wearing proper clothes, changing sanitary pads from time to time, washing hands thoroughly with soap, wrapping the used sanitary napkin in a paper, and throwing the same in the dustbin, etc. are also part of her conversation.
"Most women skip bathing during periods. At this time they need to keep their bodies cleaner than normal days. It is very difficult to break the age-old tradition of not bathing," she says.
Dr. Sania says that when we go to the schools to talk to the girls, we also meet their mothers because we believe that change comes from within the home and not from NGOs like us or the government.
Speaking with Awaz-the Voice, Dr. Sania Siddiqui said that most girls are not mentally prepared for periods due to a lack of open discussion at home. In such an environment, they do not tell anyone about the problems they face during this period.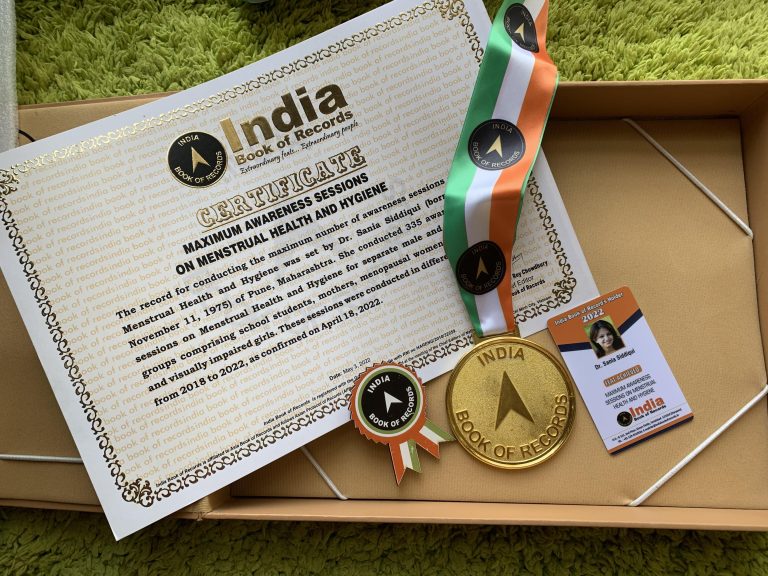 Hamjoli Foundation in the Indian Book of Records

They have questions about hygiene and the periodicity of their periods. These anxieties pile up in their psyche and eventually might become a bigger problem like a disease.
Dr. Siddiqui says the health problem faced by girls in the initial years of their puberty can be easily treated with mere counseling by a doctor.
Dr. Sania says that we do not just give people oral information, but also a kit containing essential items like sanitary pads to be used for three to six months, underwear, soap, etc. They are also provided with a booklet in Urdu, Hindi, and Marathi languages to convey the necessary information in a story form.
Talking to Awaz The Voice, Dr. Sania said that we try to teach them how to clean and use sanitary napkins and now sanitary napkins are also provided to girls in schools.
She considers this a positive step. However, she expresses her concern and says that despite all the efforts, statistics show that only 12 percent of women in India are using sanitary pads, tampons, menstrual cups, etc.
According to Dr. Sania Siddiqui, she has also started a certificate course in female hygiene, in which school teachers, college students, and others are taking an interest. A large number of people have become associated with organizations like Hamjoli Foundation to create and spread awareness on this crucial issue.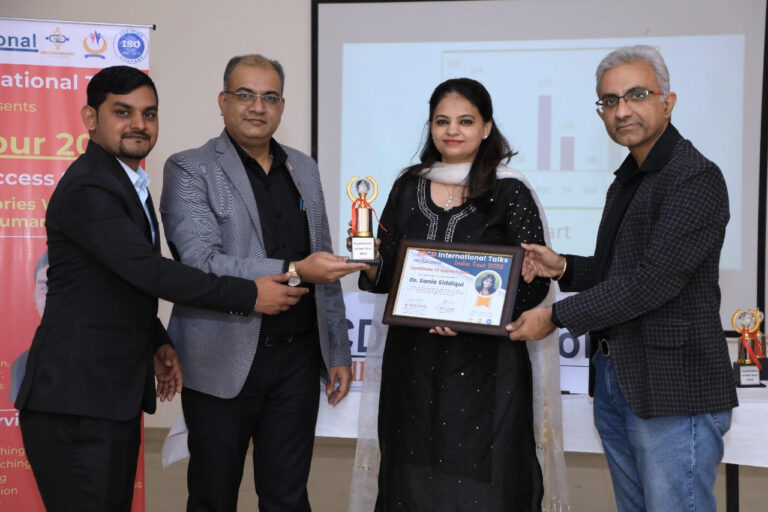 Dr Sania Siddiqui receiving the Beti Bacho, Beti Padhao award
Dr. Sania Siddiqui says that organizations like hers can make people aware, but it is the responsibility of the government and the administration to provide facilities to enable women to be at ease during those five days.
She says the information about menstruation and health and hygiene should be made a part of the syllabus, in clear, simple, and easy language.
She says many girls remain absent from school every month as schools do not have basic amenities like toilets, running water, dustbins, etc. and also many girls drop out.
Dr. Sania Siddiqui requests the government and the school administrations to pay special attention to this aspect. There is an urgency to provide information about menstruation anyway, not after menstruation starts, but before girls reach puberty.
Dr. Siddiqui has written educational books for young girls in Hindi and Urdu. These are stories in which she explains all aspects of menstruation in an easy and fun way.
The Urdu book has been selected by the Srinagar-based Chinar Corps of the Indian Army for mass distribution among young girls under its 'Mission Sadbhavna'.
Many schools are also using this book to teach their teachers and students.
Hamjoli Foundation's name has been included in the India Book of Records for conducting the maximum number of sessions on menstruation and hygiene in a single year - 2022.
She continues to be a guest on many major print and online media platforms and is also invited to radio talk shows on menstruation.
ALSO READ: Dr Bushra Khanam educates patients on hygiene and menstrual health
Dr. Sania Siddiqui has been honored with 'The Beti Bachao, Beti Padhao Award', Woman of Influence Award, Excellence Award, and Trailblazer of the Year Award for her exemplary work in this field.