Ehsan Fazili / Srinagar
As Jammu and Kashmir is gearing up to host one of the G 20 meetings on tourism in Kashmir on May 30, the Lt Governor Manoj Sinha made its special mention in his Republic Day address at the main function in Jammu on Thursday.

The LG said that it was a "message to the enemies of humanity who were attacking the interests of our citizens through cowardly acts of terrorism for decades" and described Jammu and Kashmir as "the life blood of India".
"It is the guiding lamp of civilization and the eternal sound of our social consciousness. Under the able leadership of our Prime Minister Narendra Modi, Jammu & Kashmir is standing tall with self-confidence, encompassing the great heritage and cultural values of the world's largest republic", the LG Manoj Sinha said in his address.
He added that the UT was marching forward on the path to progress and urged all sections of the "society to come forward and make the G-20 an inclusive event."
Recalling his earlier resolve, Manoj Sinha asserted that during the past two years, "employment generation, industrialization, assured livelihood in income and welfare of farmers, agricultural labourers and workers, empowerment of youth and women, development of scheduled castes, tribes and deprived sections, and provision of basic facilities like roads, electricity, drinking water" received renewed impetus.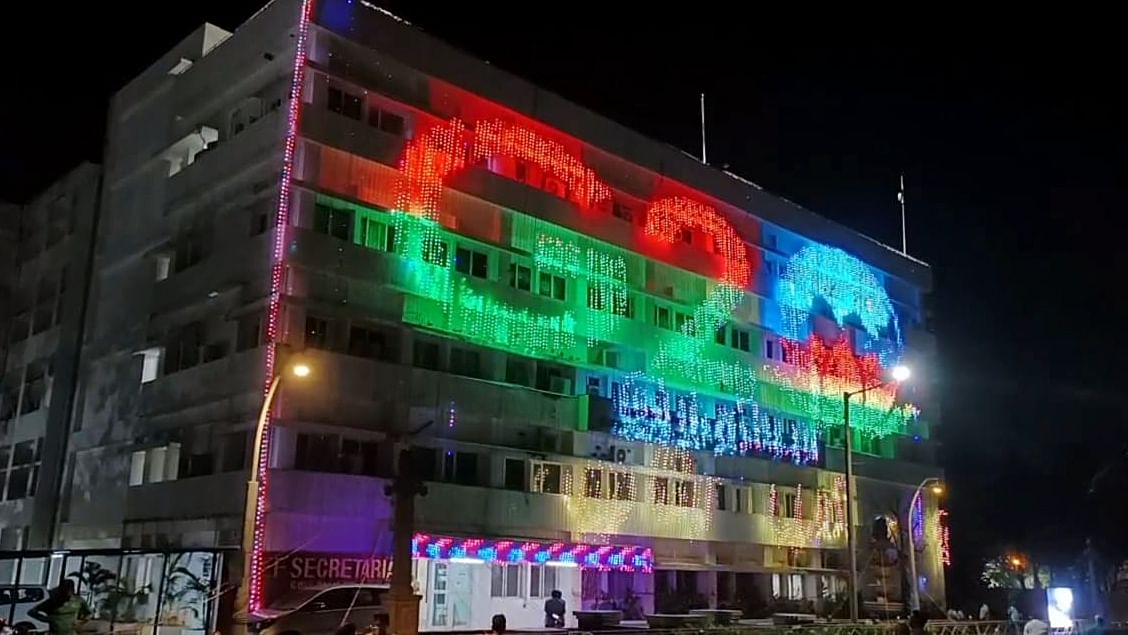 A building in Kashmir illuminated with G20 symbol
"Efforts have been made to make 21st century, the century of Jammu & Kashmir by speeding up development and by introducing multitude of reforms like establishment of grass root level democracy, creation of knowledge society and expansion of digital and physical connectivity", the Lt Governor stated.
The Lt Governor said that J&K was not only a geographical entity, but a "vibrant and radiant ecosystem where different faiths are the guiding force of inclusive culture. It is the living embodiment of our oldest ideal Sarve Bhavantu Sukhinah", he said. Jammu & Kashmir, he said, was a "rhythmic dialogue of social, cultural values, plurality and tolerance".
He pointed out that Jammu & Kashmir is the aura of self-confident India, adding that Harmukh, Amarnath, Pir Panjal and Trikuta Hills are the highest peaks of our spiritual heritage." The waves of Jhelum, Chenab and Tawi River reflect the essence of our intellectual and spiritual experiences, he said.
On the performance of sportspersons, who have been achieving greater heights, the Lt Governor said that they have an instinctive attraction to high ideals of development and adventurous pursuit of progress. "With immense potential and unbridled talent, our young sportsmen and women are scaling new heights of success at various national and international tournaments", he said.
The Government, he said, was "proud of the achievements of Vivrant Sharma, Yudhveer Singh Charak, Avinash Singh, Abhishek Jamwal, Adil Altaf, Bavleen Kaur, Muskaan Rana and Kirtharthi Kotwal" in different fields.
New infrastructure was being developed in all the districts to promote excellence in sports and Jammu and Kashmir was "all set to host the National Winter Games again this year", Manoj Sinha said. EOM.