Mohd Modassir Ashrafi
Ishana Ismail of Coimbatore, Tamil Nadu, used the money saved by her parents for her marriage for starting a boutique, three years ago. She was only 18 years old then. In a year, she had decided to switch over to making sanitary pads.
Today, Ishana commands a sanitary pad-making unit with nearly three dozen women tailors and has regular clients in her hometown and across India. She has also received business inquiries from the domestic and overseas markets.
With an investment of Rs 8 lakh, Ishana has made a name in the market with her brand 'Ana Cloth Pads'. These cotton pads filled with terry towels are eco-friendly, leak-proof, and can be reused up to 25 times.
Ana Cloth Pads receives orders from companies and also delivers pads by courier to individuals across India.
Her father's friend, Rajesh who works as a manager, also invested nearly Rs three lakh in the business. Ishana's 19-year-old brother, Ijas finds time from his hotel job to help her.
Impressed by her healthy initiative, many colleges and universities in Tamil Nadu have invited Ishana to their campus for addressing the students about menstrual hygiene. She has also been honoured by the Rotary Inner Wheel Club, Coimbatore, and many NGOs.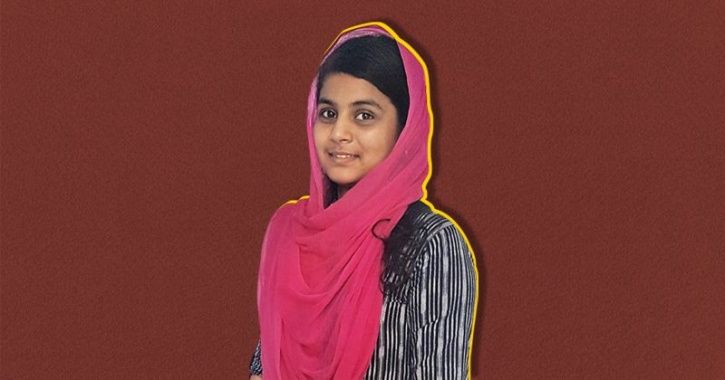 Ishana Ismail
Ishana completed her Class XII from Krishnammal Girls Higher Secondary School, Coimbatore, and a course in Fashion Designing. She has so far traveled to Karnataka, Kerela, and Tamil Nadu and yet has a global vision.
Keeping in mind the needs of her five full-time workers, Ishana also allows them to bring their children along to the unit. " Most of the tailors carry the fabric home and only five tailors work from my premises. At present, we are facing a shortage of orders because people don't want to reuse sanitary pads. At the same time, some people have suffered by using commercially produced sanitary pads and are now preferring to use eco-friendly pads. We are looking for bulk orders that will also support poor women, some of whom are semi-literate. We would like to give employment to 200 women.''
After completing a course in Fashion Designing, Ishana was clear-sighted about her choice of career. Her conviction about what she wanted to do was so strong that she did not think twice before investing eight lakh saved by her parents for her marriage.
She succeeded in persuading her parents. Starting the business was not easy. She had hardly settled in when the pandemic threw normal life out of gear. Her father's untimely death a year and a half back was a huge blow and the family had to face several financial hardships.
Ishana says that she started this boutique in 2019 with the blessings and support of her parents. When Ishana made up her mind to start her own business, the family had modest means. Her father was working as a labourer in a grinding company in Chinniyampalayam in Coimbatore and her mother was running a beauty parlour. However, Ishana was determined.
Initially, she tried selling bridal outfits and then switched over to sanitary pads. During the COVID 19 pandemic, Ishana also made facial masks. Her company recorded a net profit of Rs two lakh a month.
Ishana says that till Class XII she was using sanitary pads available in the market. "I was reluctant to use pads that could have been easily made at home because I was embarrassed about what my friends would think. I decided to use homemade pads as I fell sick. The pads available in the market also cause cancer.''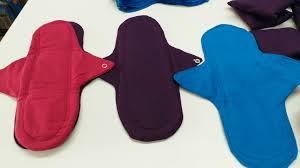 Sanitary pads made by Ana cloth pads company

Ishana's initiative is clearly in the public interest. Most of the sanitary napkins available in the market today are loaded with chemicals and are made using plastic, which can affect health after prolonged use. In addition, after each use, they need to be trashed because there is no recycling mechanism, and they end up clogging up landfills.
Every year, there are around 12.3 billion disposable sanitary napkins that need to be disposed of in India alone. According to the Menstrual Hygiene Alliance of India (MHAI), there are around 336 million menstruating women in the country, of whom 36 percent use disposable sanitary pads.
Initially, Ishana made sanitary napkins only for her use, but when she came to know that her friends are facing a similar problem with the use of regular sanitary pads, she began making more napkins and asked them to try the homemade pads.
Ishana said, " I am doing this for the people of India. Every girl is facing problems because of regular sanitary napkins made of plastic. They cause health problems like rashes. According to Ishana, the pad can be soaked in turmeric powder after washing and has to be dried in the sun. Before using them the following month, I recommend placing a wet cloth over the pads and ironing it for at least two days before using them for added comfort," she said.
She added, "Many women suffer from various health problems related to periods. This is mainly due to the synthetic fabrics used in disposable sanitary napkins. These napkins are disposable but not biodegradable.. So, I was thinking of an alternative solution to this. The result is reusable napkins."
Ishana says, "If the pads are properly exposed to the sun, then washing and re-using will not harm our health. This pad is very easy to handle and can be washed in normal water. It should be soaked in water for 30 minutes before washing. It should be dried first in the shade and then once in the sun. It should be ironed for two days before use next time."
She wants to educate more people about how to make sanitary pads from cotton cloth.
Ishana is also being approached by traders from Hyderabad and Kerala for pads. On her plans, Ishana said, "In the future, I would like to make pads for bedridden people and also baby diapers".
Ishana is keen to tap CSR opportunities which will help her unit create more work for her 25 full-time tailors and five tailors.
(The Author is Research Scholar at JMI and President of MSO of India. Additional inputs by ATV)