Ghulam Mohammad Kumhar with Zoya Khan at the exhibition The Lone Craftsman (Pictures by Basit Zargar)
Ehsan Fazili/Srinagar
Ghulam Mohammad Kumhar is the only man in Kashmir who knows the craft of making 'Khanyari tiles, often seen in old opulent houses and shrines of the Valley.
Kumhar, 74, has been making traditional glazed pottery for five decades. Once he had lost all hope of reviving his art and passing it on to the next generation. However, two years ago the government of Jammu and Kashmir approached him with a request to revive this art and he embarked on a journey of hope and possibilities.
Under his leadership, the six-century-old glazed pottery has been revived to an extent. Kumhar has trained a young potter, Umar Kumhar from the Nishat area.
Umar has already made a mark in the art and is gainfully trading in it. Ghulam Mohammad Kumhar belongs to the potters' den in the Khanyar area of Srinagar downtown. The potters' mohalla in the Khanyar area - also known for the shrine of Peer Dastgeer Saheb - was home to the traditional artisans, who once made at least 3000 Khanyari tiles every day.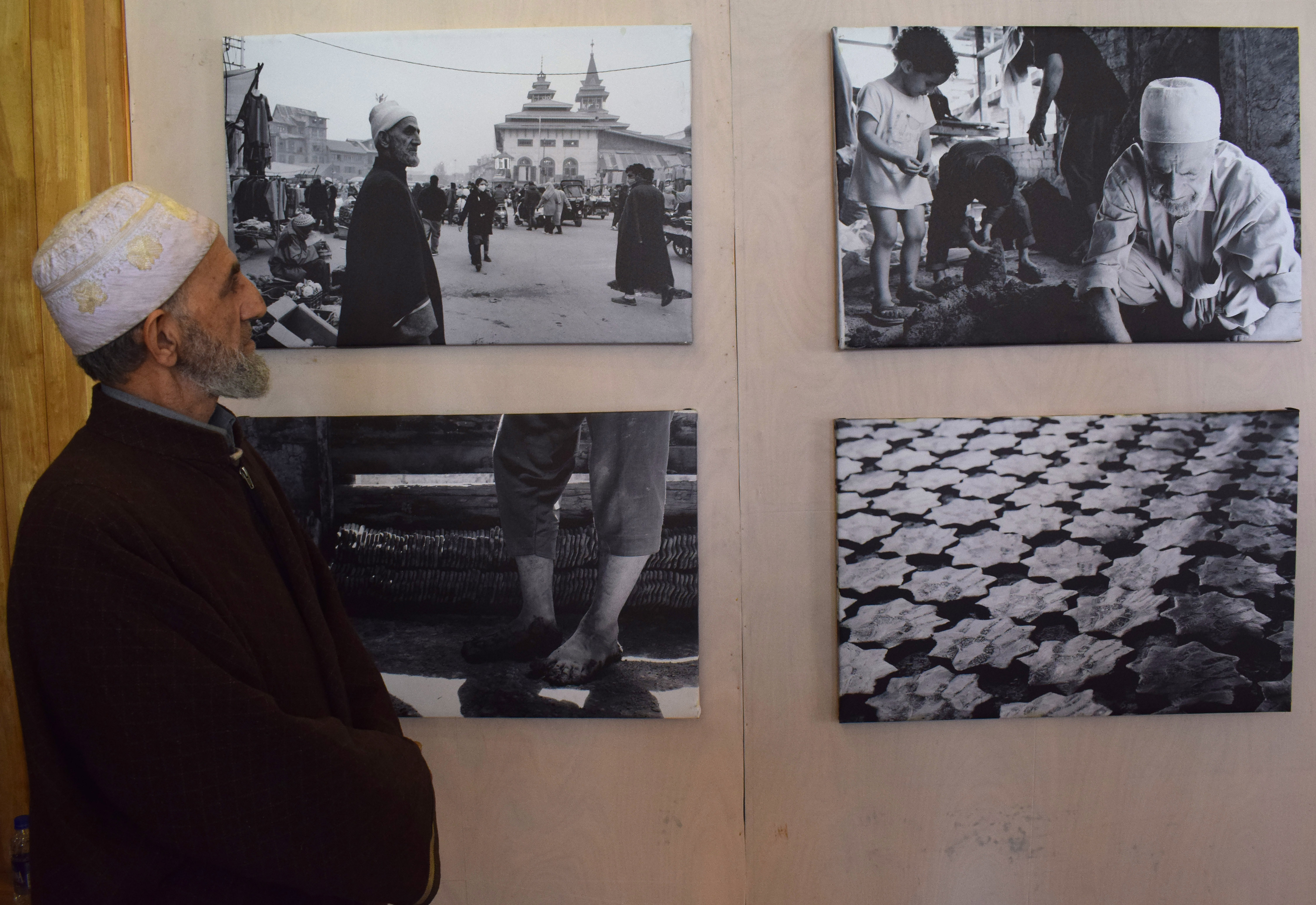 Kumhar at the exhibition
"The making of clay pots is my family tradition and I have carried it from my grandfather." he told Awaz-the Voice on the occasion of a photo exhibition on him and aptly titled "The Lone Craftsman.'
The exhibition by architect Zoya Khan was organized by the Department of Handicrafts and Handloom Kashmir in association with J&K Handicrafts and Handloom Corporation at the Government Arts Emporium.
Zoya Khan, who teaches Architecture at the Islamic University of Science and Technology (IUST), Awantipora, has documented the lone craftsman for the past more than two years.
"There is a need to attract more youth (from among the pot makers) to this traditional craft", Kumhar said. He looks forward to the Government taking more steps to get lure the youth to this craft. As of now, he is trying to involve women of his family and the clan in the craft of Khanyari tiles.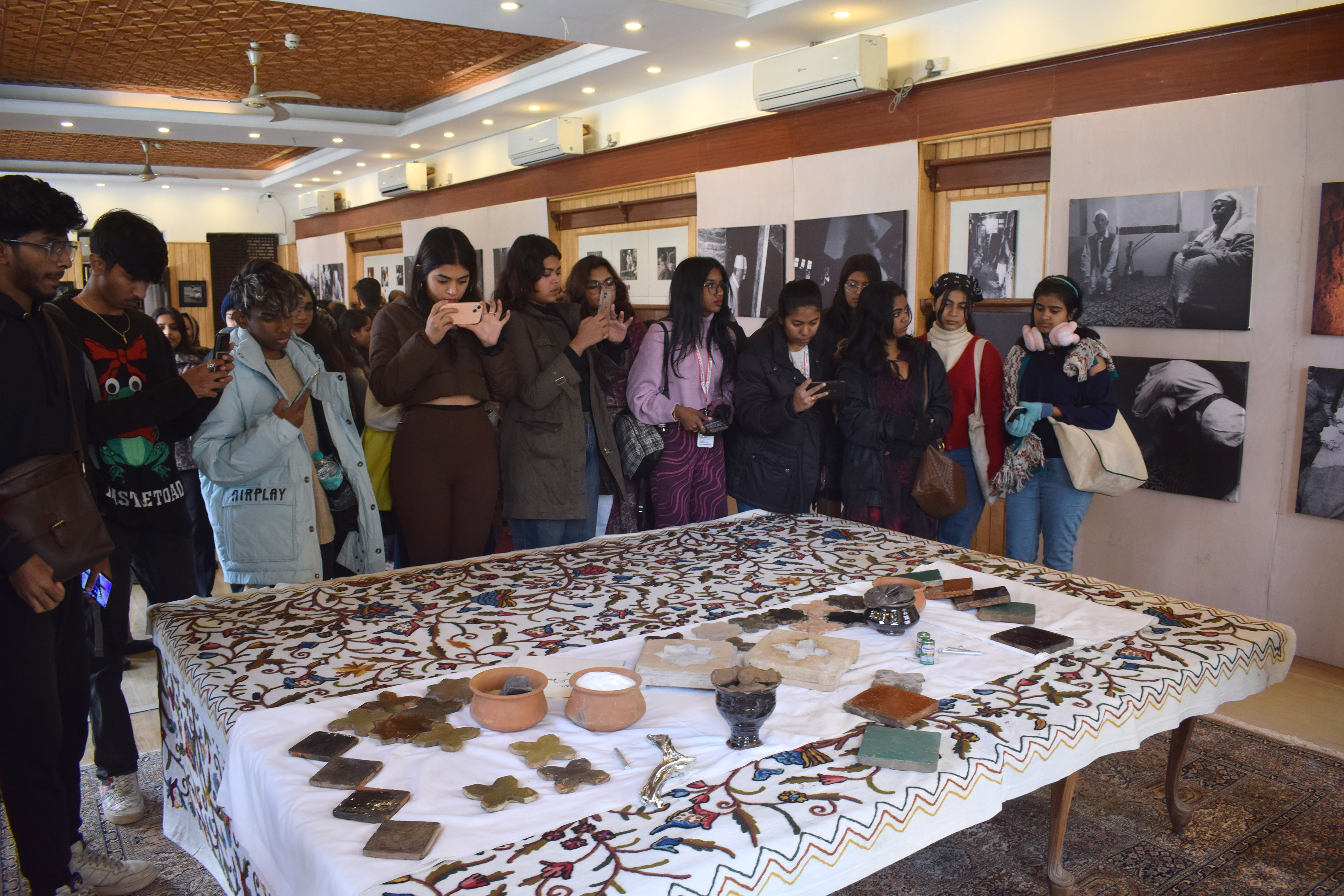 Visitors at the exhibition Last Craftsman of Kashmir
He laments that three of his sons have adopted other trades - one works as an auto-rickshaw driver, another a carpenter and the third one has chosen to be a Kandur (traditional baker).
He added that all his family members are inclined to art in a general sense, but not pottery. "I can accommodate at least eight people in my unit," the senior Kumhar asserted. He said jobless youth could learn from him and not only start earning from it but also help in reviving traditional art.
Mehmood A Shah, Director of J&K Government, Handicrafts and Handloom Department, said Zoya's exhibition was aimed at projecting a dying art form and the story of its revival. He said that the revival efforts were being made with the help of the Handicraft and Handloom Policy, 2020.
Under this scheme, a young Umar Kumhar was trained by Ghulam Mohammad Kumhar, in which both the trainer and trainee get a stipend plus the raw material for six months. "This intervention has saved our dying craft", Shah said, adding that these tiles were being used by the people in their houses and also at the shrines. "We want that these tiles are (again) used in houses and hotels…there is a need to give it a new direction", he added.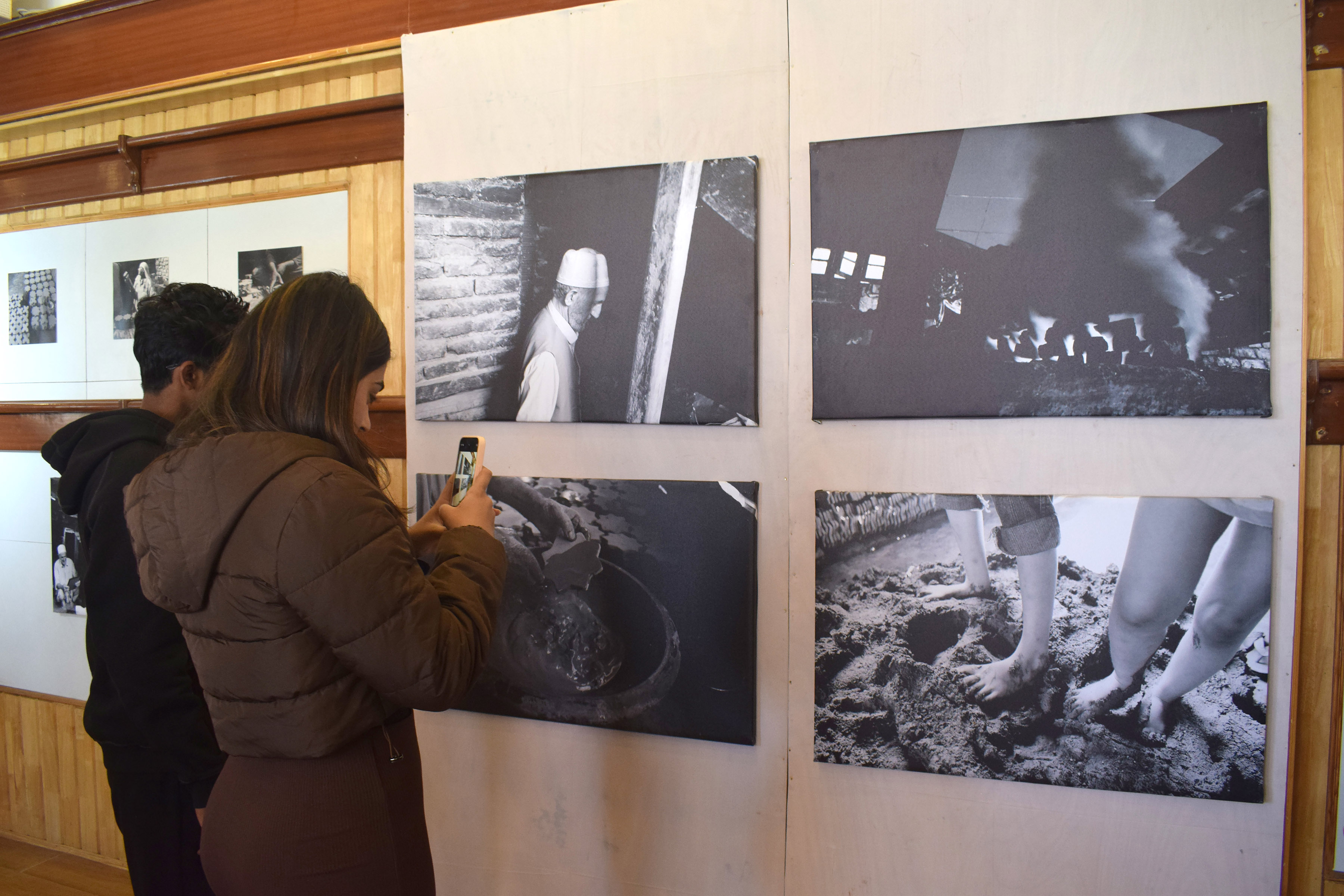 The Exhibition "Last Craftsman of kashmir"


Zoya Khan said that Ghulam Mohammad Kumhar was the last surviving craftsman making traditional tiles. She said that the craft was at the verge of extinction, and in her efforts to revive it, she documented the untiring efforts of the senior Kumhar.
She added that this unique craft using traditional material had gone out of the market. "It is time for us to start and establish a re-connection", Zoya Khan commented.
ALSO READ: Abdul Kumhar and sons overwork to illuminate Kashmir on Diwali
Glazed pottery is a skill that is exclusive to the region and is an integral part of the cultural heritage and vernacular building traditions of Kashmir. According to Umar Kumhar, who trained under Ghulam Mohammed Kumhar Khanyari tiles are made from different raw materials including Zinc and glass, copper, and iron dust for red colour and black from dry (battery) cells.