Mamoon Akhtar (sitting extreme right) with local government officers and students of his school (Twitter)
Mansooruddin Faridi/New Delhi
When Mamoon Akhtar of Hoowrah in West Bengal launched a campaign to impart quality education in the English language to the children of poor families and was wondering how to fund his fledgling social venture, the first major help came from two Jewish sources.
A Kolkata-based American diplomat's wife – Jew by faith - gave him a corpus of Rs 10,000 after scrutinizing his work. He also revived a defunct school on the land of a childless Jewish couple that was under the management of a Trust to launch his first big school
These moves helped shape Mamoon's dream of imparting quality English education to children of poor families in Tikiapara in Kolkata's twin city Howrah in West Bengal, where he was raised.
Interestingly, the next donation was from Ramesh Kachulia, a businessman from Mumbai.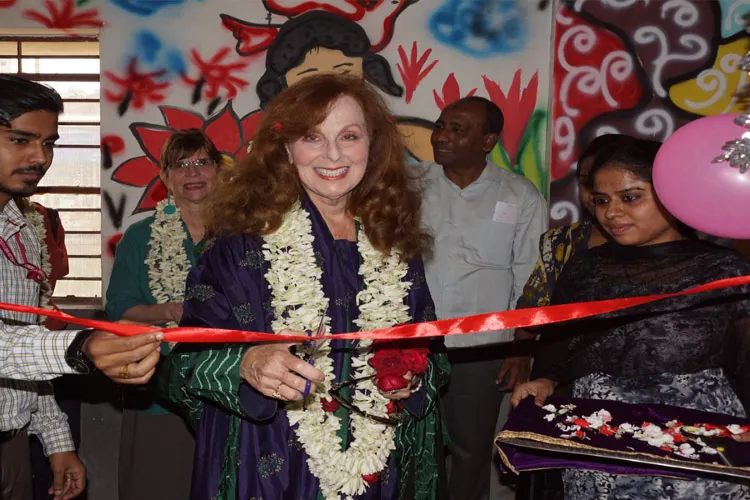 Lee Alison Sibley, the wife of an American diplomat in Kolkatta, inaugurating the school

"None of them cared to even know the religion of the children their help was supposed to benefit," Mamoon told Awaz-the voice over the telephone.
Today, under the banner of Bengal Samaritan Help Mission, Mamoon runs four major English medium schools where children whose parents could never dream of giving quality education to them are enrolled.
Besides, the trust also runs the Samaritan mission school, a hospital, a vocational training center, and an ambulance service.
At 55, today, Mamoon remembers how in 2003 his one room with a leaking roof school received Rs 10,000 from Lee Alison Sibley, the wife of the then US consular in Kolkata. The American diplomat visited his one-room school and was impressed by his dedication to his work.
Speaking with Awaz-the Voice, Mamoon Akhtar said that 99 percent of non-Muslims, including Jews, helped in the "movement that I started with the aim of removing the educational backwardness of our nation."
Even as the well-placed and rich Muslims looked away, Mamoon, a man with no means took up the responsibility. He says, "undoubtedly, today the awareness about education is growing among Muslims, we must remember that Allah does not work for Hindus or Muslims, but for human beings."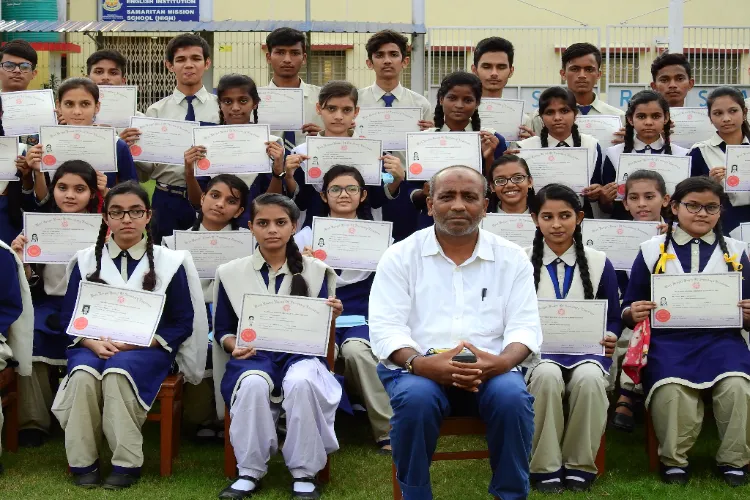 Mamoon Akhtar with meritorious students of his school

He says it's to make this point that Allah made sure, "my first help was from a Jewish woman, and Ramesh Kachulia, a businessman from Mumbai. None of them cared to know for which community my campaign was for."
Mamoon Akhtar says his school started from a 300 sq feet room and is today's Samaritan Help Mission spread over several acres. It's not only one of the best schools in the area but also a center for women's vocational courses, health services, and a civil-services coaching institute
"I never thought that I would get this kind of help because initially, help came from individuals, but then a Jewish family's land was the best thing to happen to me."
It was some 150 years ago that I R Bellious School was started on the land of the Jewish couple by a trust in Tiakiapara. The couple had set up a Trust to run the school as they died without an heir. The school was no longer functional and its pool has turned into a garbage dump while anti-social elements roamed around there.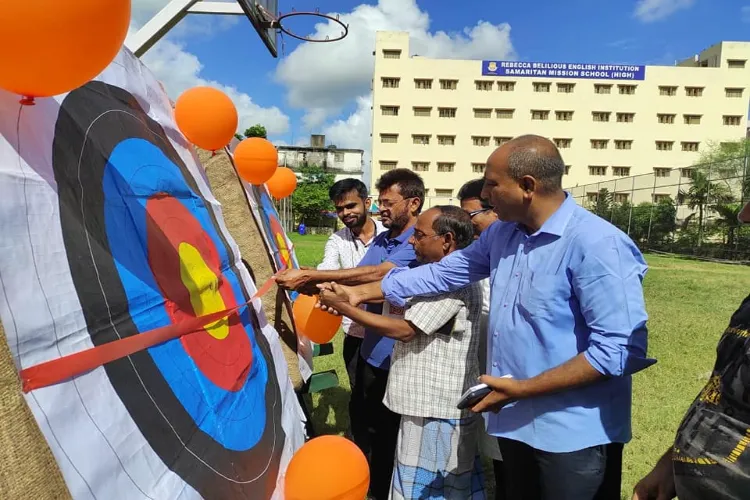 Mamoon Akhtar with parents of some students

The Howrah Police played an important role in evicting the mafias from the land,
As a child growing up in the area Mamoon Akhtar was deprived of education due to poverty, the environment, and the lack of facilities. However, his circumstances could never get better of his passion for education. He dreamed of arranging English education for thousands of children like him.
Mamoon Akhtar is today the founder of four schools in West Bengal, in which more than 6,000 students are enrolled. He says the mantra for his success is a clear vision of religion and the same clarity has seeped into the minds of the students in his schools.
Mamoon Akhtar says he is working to increase the enrolment in his schools to 10,000 by 2024. He says most of his students are from families where the father either drives a rickshaw or is in jail for some petty crime. Some are even disabled.
Children of such families are not only brought to school but the management also makes sure nobody drops out due to financial problems.
Mamoon Akhtar told Awaz-The Voice: "We take care that there is no shortage of food at the homes of their students. We are also responsible for distributing food grains to the homes of the needy. We also provide healthcare facilities to the members of their families."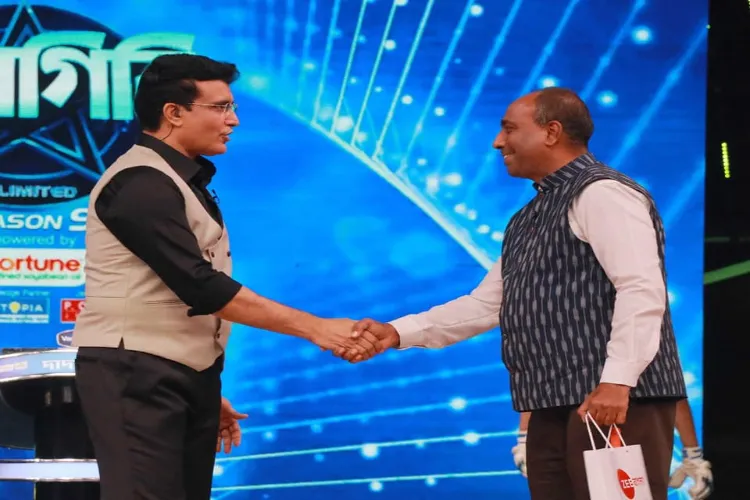 Mamoon Ali shaking hands with Indian cricketer Saurav Ganguly

Last year, a UK-based research organization included the Samaritan Mission School in the list of 10 unique and inspiring schools in the world. This was another milestone in Mamoon Akhtar's life. West Bengal Chief Minister Mamata Banerjee also tweeted to congratulate Mamoon Akhtar on this occasion.
Mamoon Akhtar was born in Tikiapara, Howrah, West Bengal. He loved going to school and was a good student. But in the face of the odds in his life, he was forced to leave his education.
He continued to study with the help of a tutor and wrote his class 10 and 12 exams as a private candidate. After school, Mamoon Akhtar gave private tuition to students in his locality.
"I grew up in an area where the crime rate was very high," he says. "Drug trafficking and the theft of cars and their parts were part of normal life. Women and children were often involved in these activities."
He says that it was a painful experience in school that motivated him to launch his mission. Once the school management told him that he will be barred from appearing in the examination as he had not paid his fees. Mamoon Akhtar says. "whatever happens, no student should be prevented from writing school examinations or expelled from school for non-payment of fees. If my father could not pay the fees, why was I prevented from writing the exams? "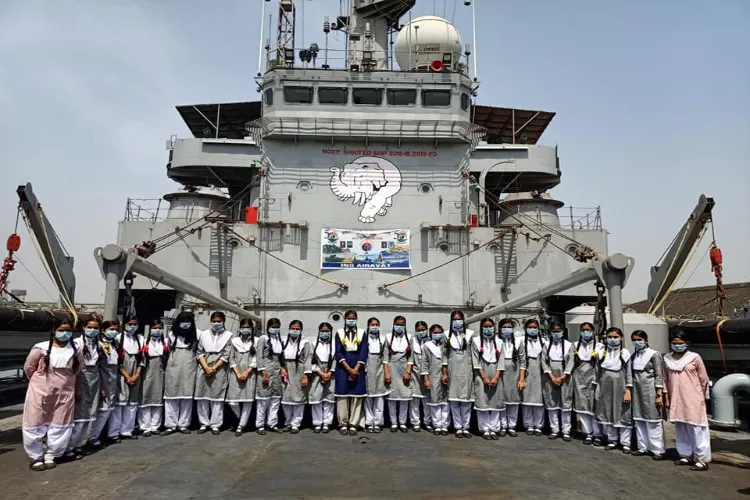 Students of Mamoon Akhtar's school on a trip to a ship

Ultimately, this thought and ideology led to the formation of the Samaritan Help Mission.
Mamoon Akhtar's first job after high school was at a local library. It gave him time to tutor children in his neighborhood. He gave half his salary to his mother for running the hearth.
He started asking for old newspapers and books from his neighbourhood to support his small school inside a 300 sq feet room.
Several college-going girls joined his mission and became teachers for the students in his school. He paid them Rs 100 per month. He levied fees of Rs 5 per student and those who couldn't afford it were encouraged to bring newspapers and other stuff for selling as trash.
"I didn't want the children to feel helpless or on being on the doles. They needed to believe that they were educated and that they deserved it. So whether it is Rs 1 or Rs 5, I requested them to pay for their education."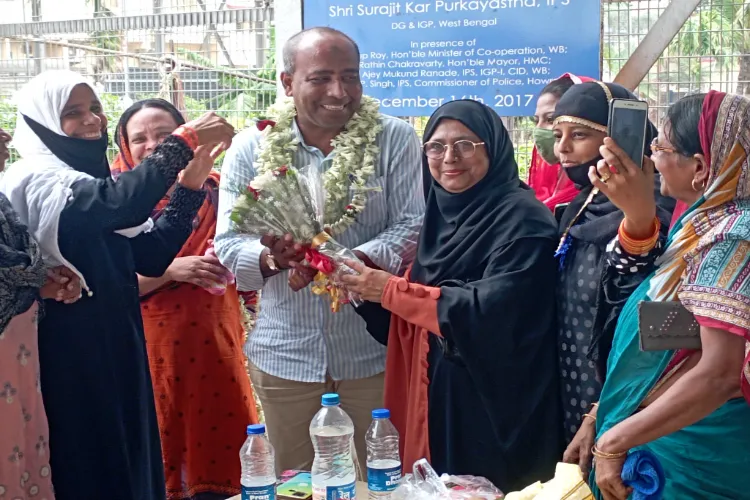 Mamoon Akhtar being felicitated by women

When Mamoon Akhtar was struggling to manage the children's education, an incident happened which he describes as an accident. "In 2003, I saw a newspaper clipping in which the wife of the then US diplomat offered to help organizations in the city," he says. I also wrote to them and to my surprise I received 10,000 rupees from Lee Alison Sibley (US Consulate wife). That became the first major support for my campaign. The money was used to build classrooms and toilets for the children.
At that time he had not formed any organization and considered himself a volunteer like others. Soon he registered the Samaritan Help Mission with money borrowed from friends.
A co-educational English medium institution named Samaritan Mission School was established in 2006. In 2008, the state of West Bengal gave it certification.
Newspapers articles about the visit of the US diplomat's wife to his school helped bring in donations from all over India and Mamoon was able to acquire a large plot of land where he built the first school.
He says that earlier children used to study sitting on the floor, then we have been able to provide them with proper tables and chairs. We introduced uniforms and it instilled confidence in every child.
Mamoon Akhtar told Awaz-The Voice that he gradually expanded the scope of this campaign. Along with the children's education, they also kept an eye on their families because they knew that most of the students drop out of education because of their family condition.
Due to his ability to run an educational institution, the Howrah Municipal Corporation handed over one of its locked schools to him. The school was revived by his organization and is still being managed.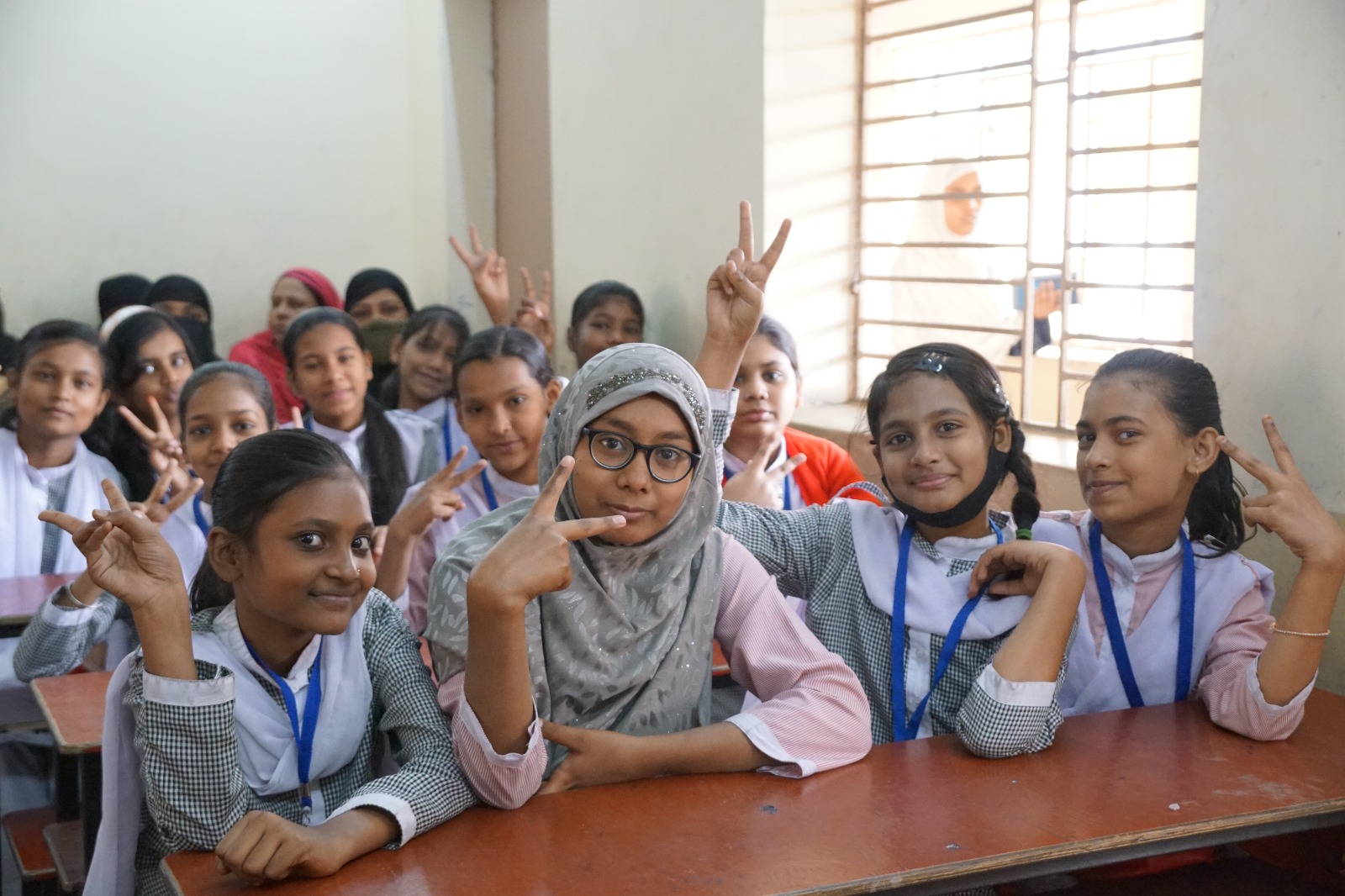 A class in progress on Mamoon Akhtar's school

Mamoon Akhtar while talking to Awaz The Voice said that we have created a system in which only the needy are identified. His religion or caste is not seen. This is the reason why we provide rations every month to such families who have financial problems. The number of such families is 750. Parents who have been left alone by their children have also become our responsibility. We have been supplying rations to such families and parents since 2008.
He says that on the occasion of Eid, not only Muslim families but also non-Muslim families are supplied with the essentials of the festival, while gifts are sent to Muslim families along with Hindus on Diwali and Holi.
Along with the school, Mamoon has also succeeded in establishing a primary health center and a vocational center, where more than 400 women learn to work. He also started a vocational training center to help women earn a living. Big brands give us regular orders, which these women fulfill and earn, they say. It has also helped reduce crime rates and domestic violence in the community. Mamun's Samaritan Help Mission now also runs an ambulance service and a sports academy.
ALSO READ: Kerala couple who remarried after 28 years face flak, fatwa
It is worth noting that now there are 347 staff members and 35 volunteers with them. But everyone knows that the spirit of the movement is the result of the spirit and courage of Mamoon Akhtar, who believes in selfless service, in which religion has no interference.