Students of Maryam Ajmal Women's College of Science and Technology attending a science class
Daulat Rahman/Guwahati
Maulana Mohammed Badruddin Ajmal, popularly known as Badruddin Ajmal is a Member of Lok Sabha from Assam and heads the Muslim-centric political party, All India United Democratic Front (AIUDF). However, unlike many other Muslim politicians, Ajmal does not speak on issues like hijab or triple talaq. Instead, he has set up a line of modern educational institutions for Muslim women across Assam to help them undo their stereotypical image of homemakers mired in orthodox circumstances.
Speaking with Awaz-the Voice, Maulana Ajmal, Managing Trustee of the Ajmal Foundation, said that according to the Quran and Prophet Mohammad, seeking knowledge is mandatory for all Muslims, irrespective of gender. He said it would be disrespectful to the Holy Quran if women are not allowed to go to schools or colleges.
Given the fact that Badruddin Ajmal was trained to be a cleric, his concern for women's education is praiseworthy. He studied at the famous Darul Uloom, Deoband, Uttar Pradesh, from where he obtained a degree of Fazilat, equivalent to an M.A. in Arabic.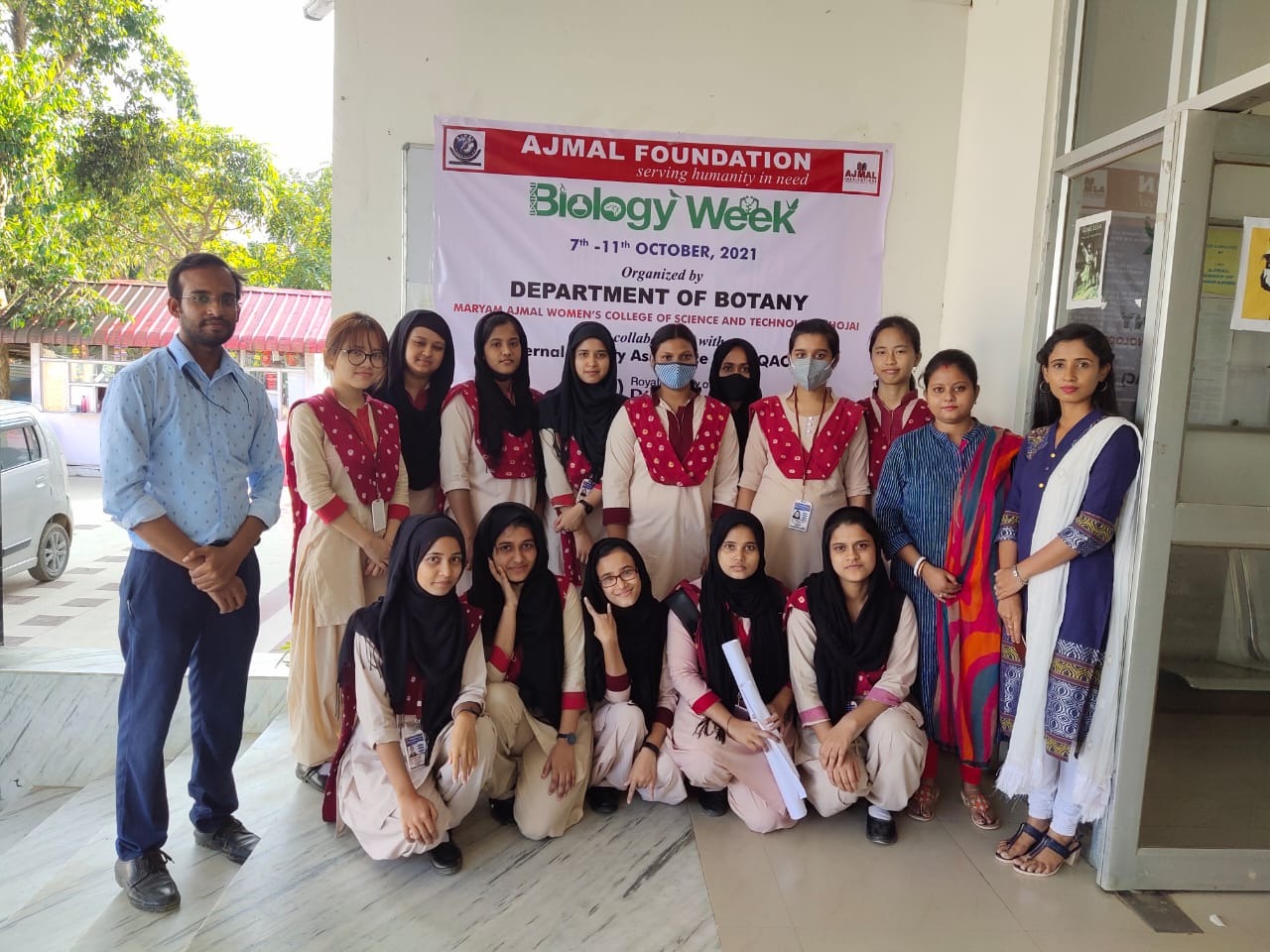 Students at Maryam Ajmal Women's College of Science and Technology in their biology class
"It is unfortunate that very less percentage of Muslim girls go to schools and colleges for higher education in India and the situation in north-east India is even worse. Ajmal Foundation struck the chord by establishing its very first institution by the name Maryam Ajmal Women's College of Science and Technology in the year 2006 solely devoted to girls' education offering HS (+2 Level) Science. Later on, the college was upgraded to Degree level in the year 2012," Director of Ajmal Foundation Dr Khasrul Islam told Awaz-The Voice.
Six years later, the college was upgraded and today it offers courses both in BA and B.Sc. in subjects like English, Assamese, Education, Political Science, Economics, Mathematics, Botany, Zoology, Chemistry, and Physics. The college is affiliated with Dibrugarh University.
According to Dr Islam, Maryam Ajmal Women's College of Science and Technology has grown by leaps and bounds and it is now one of the most elaborate infrastructures. The college is equipped with state-of-the-art infrastructure facilities with provisions for both day boarding and hostel. It strives for an integrated approach, emphasizing individualistic attention for students.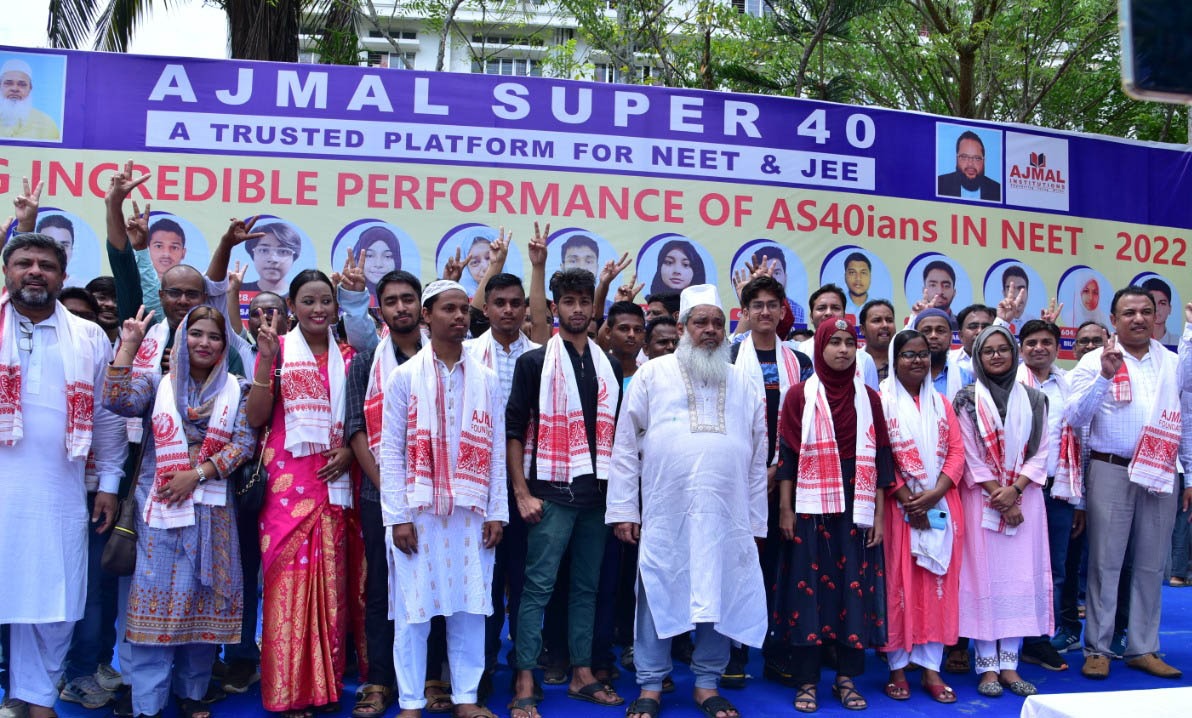 MP Badruddin Ajmal with students of Maryam Ajmal Women's College of Science and Technology
The present strength of Maryam Ajmal Women's College of Science and Technology is more than 1500 and to date, more than 5000 students have passed their HS and degree (BA & B.Sc.). This college has a 100 percent pass rate. A number of its alumni are doctors, engineers, lawyers,teachers, researchers, entrepreneurs, etc.
"Many of the alumni continue their higher studies in reputed universities like the University of Delhi, Jawaharlal Nehru University, Aligarh Muslim University, Tezpur University, Gauhati University, Dibrugarh University, Assam University, North Eastern Hill University, etc. Every year a good number of students qualify for NEET and JEE and they are pursuing their medical and engineering courses in institutes of national repute," Dr Islam said.
From Maryam Ajmal Women's College of Science and Technology, Jirat Kataharpi qualified for JEE Advanced and she is studying at IIT Kharagpur. Shorifa Yasmin (2019), Khadiza Begum & Swopna Begum (2021) cracked IIT-JAM. Nasrat Jahan, Papri Bhadra, and Forida Begum qualified for GATE in the year 2021.
Over the years several other institutes on the line of Maryam Ajmal Women's College of Science and Technology have been established in different parts of Assam like Gauripur, Kharupetia, and Hojai which are exclusively meant for girls' education.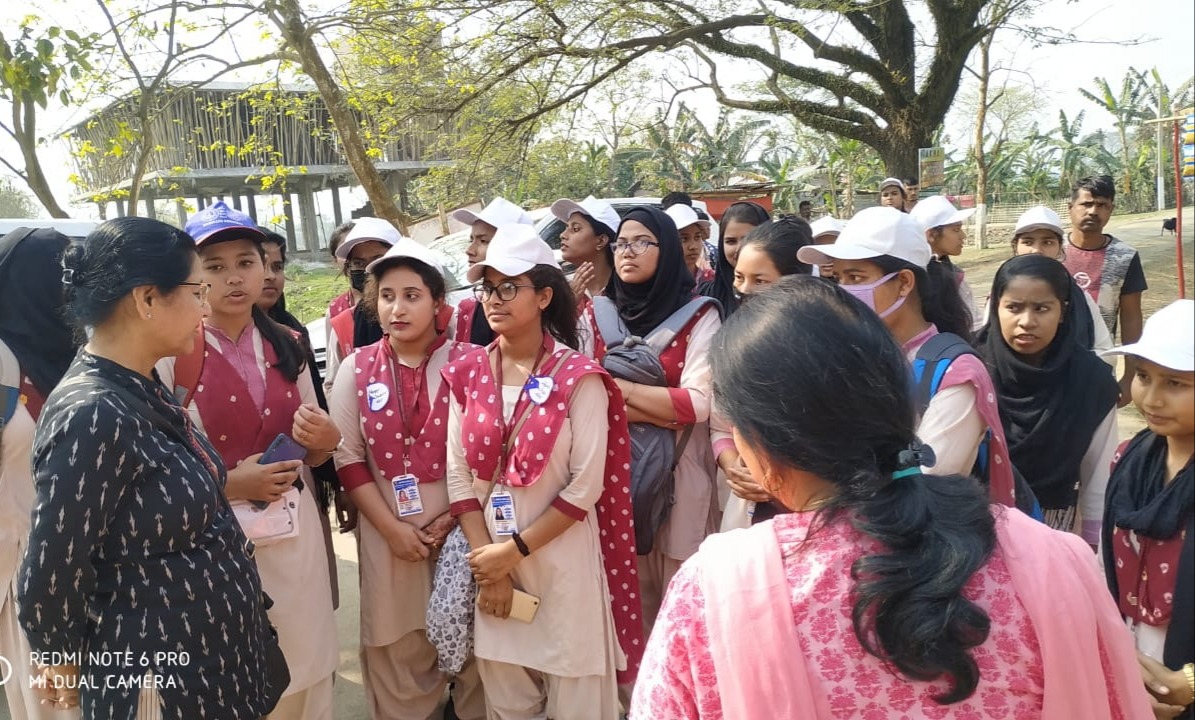 Students of Maryam Ajmal Women's College of Science and Technology during their field studies
Maryam Ajmal Senior Secondary School, Kharupetia, has produced marvelous results so far. At present 255 girls are studying in this school and 771 have already passed out. Several alumni of the schools are teachers posted in different schools under District Elementary Education, Government of Assam.
Maryam Ajmal Senior Secondary School in Gauripur in Dhubri district is another center for learning focusing on girls' education with a current strength of around 200 students. So far more than 500 students have passed HS Final Exam and most of these alumni are studying in the reputed institutes of higher education.
ALSO READ: Hurdles that slow the march of Muslim girls to higher education
Maulana Badruddin Ajmal's dream is to set up the Maryam Ajmal Women's University that, he hopes, will produce women leaders who will deal with the future challenges before humanity and make this world a better to live in.