New Delhi
The day is not far off when Pakistan-occupied Kashmir (PoK) will once again belong to India. This declaration was made by General VK Singh at a massive rally of the Muslim Rashtriya Morcha (MRM) in Delhi on Sunday. On this occasion, Indresh Kumar, Chief patron of the MRM and a senior leader of the RSS said that due to Pakistan's nefarious actions, ill intentions, and rapidly deteriorating economy, not only PoK will rejoin India, but Baluchistan and Sindh will also secede.
At a massive rally, the MRM leaders declared their intention to hoist the Indian flag in PoK. Speaking at the rally, Indresh Kumar said that the Pakistan government is oppressive, while the Indian government and nation stand for peace and harmony. Observing India's communal harmony, brotherhood, peace, and culture, PoK wishes to join India.
General VK Singh said that the day isn't far when PoK will rejoin India. He expressed that if the British hadn't conspired, there's no way PoK would have separated from India. He said that Pakistan has always feared that the PoK residents, who have relatives in Kashmir, would want to reunite with them.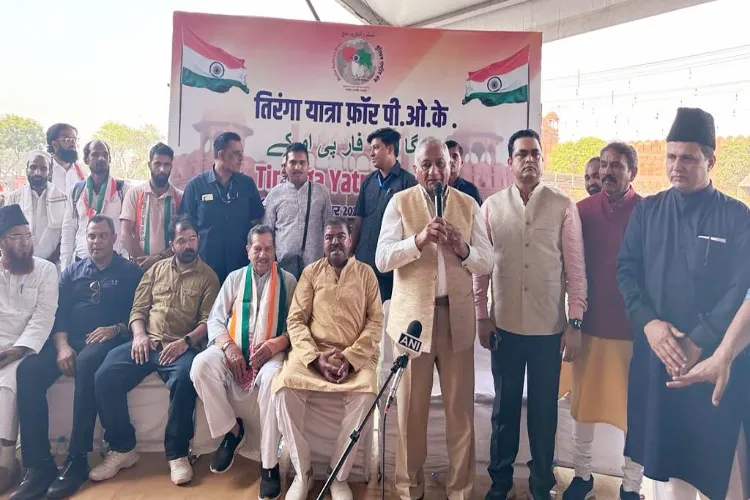 Minister and former Army Chief Gen V K Singh addressing the MRM rally

Indresh Kumar said that all there is in PoK is the Pakistani military; they don't even have Pakistani currency, postage, or the flag. The people there consider India their nation and wish to join it.
MRM National coordinator Shahid Akhtar said that by revoking Article 370 and 35A, the Indian government has demonstrated that it holds Kashmir and Kashmiris close to its heart and works for their betterment. He said the country has decided to reclaim PoK at all costs.
Both Indians and Kashmiri Muslims understand that in India, people of all religions are on a path to progress, peace, and prosperity.
MRM National coordinator Mohammad Afzal said that in India, people respect each other's religion. This is why India, with its diverse religious and cultural backgrounds, progresses together. India has shown its reach to the moon, whereas Pakistan today is dependent for every single grain.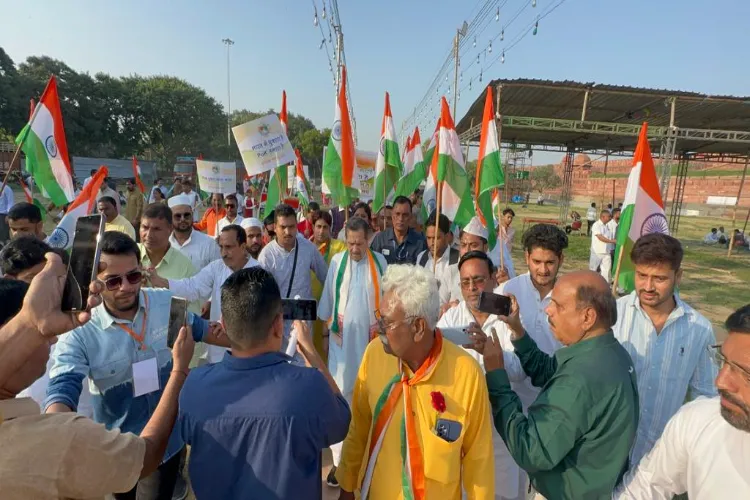 RSS leader Indresh Kumar walking in the MRM rally

Firdaus Baba, a former militant turned legislator from Kashmir said that Pakistan stands on a foundation of hatred, with constant conflicts between the Shia and Sunnis. People praying in mosques are either blown up with bombs or gunned down. On the other hand, India moves forward respecting all religions.
The MRM rally, which started from Ramlila Ground near the Red Fort, passed through Jain Digambar Temple, Gauri Shankar Temple, Sunehri Mosque, Gurudwara Sis Ganj, and St. Stephen's Church before returning to the Red Fort. Chants like "PoK is ours," "We have to hoist the flag in PoK," "Victory to Mother India," and "PoK has called out to India" echoed throughout. The rally received a warm welcome at all religious places. People from every religion and community joined together, chanting in unison that PoK is calling out for India.