Aasha Khosa/New Delhi
For the initial two years after Babita Bhat was elected Sarpanch of the Ladhoo-A village of Pulwama, South Kashmir, not many villagers knew they had a woman village head.
"This information was deliberately kept away from the womenfolk. It's only after I started interacting with the students of the government schools that the news about me spread making women come to me for work," Babita, who is among a few non-Muslims and women village heads in the Muslim-dominated Kashmir told Awaz-the Voice on phone from her home in Pulwama.
She won the 2018 Panchayati elections from her ancestral village against perceived threats from terrorists. "I just started walking knowing that I can be killed," she said stoically.
Mother of two young children, Babita Bhat says her family never left Kashmir because her father Som Nath Bhat was among the four notables of their village. "Life was difficult for everyone but somehow I continued my studies in the village school and later in college," she said.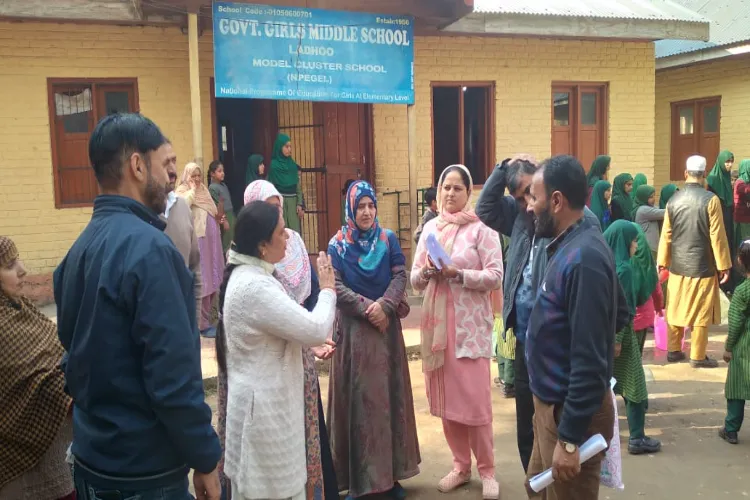 Sarpanch Babita Bhat (in White Salvar-Kameez) interacting with the staff of the local school
"Things have started looking up now," she says.
Babita, 47, says soon after she was elected the Sarpanch, she decided to fulfill her father's wish. Bhat was a government servant and an agriculturist. "He wanted that the village has a hospital and an agriculture office."
Her father passed away 21 years ago.
Sarpanch Babita saw that her village does has a PHC, Primary Health Center, in the name of public health facility but it was a bare building. As Sarpanch, she arranged funds for setting up a diagnostic laboratory and X-Ray machines and now the PHC is fully functional.
"In our childhood, the village had an agricultural extension office where farmers went for soil testing, buying seeds and fertilizers, etc."
In the years of insurgency that Babita and her three siblings grew the office had become defunct. She has since revived it.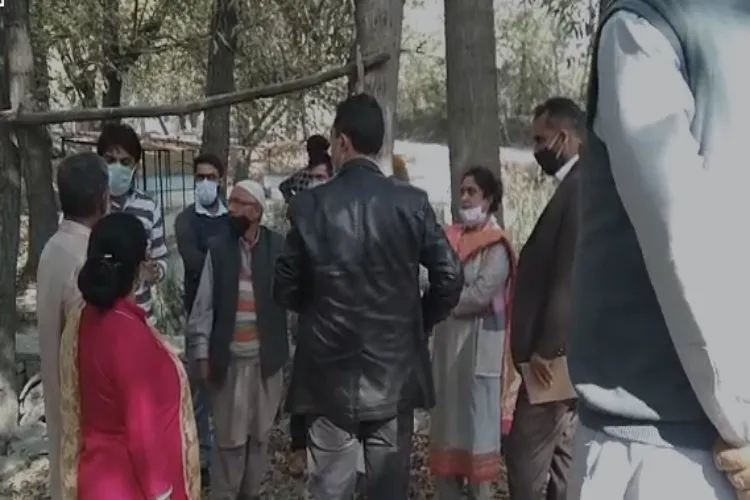 Sarpanch Babita Bhat supervises work in the village
Babita said the first Monday of every month she calls the meeting of Gram Sabha and summons officials of all the 25 departments of the government that are supposed to help common people. "This is a huge success and many grievances of the people are addressed in the meeting on the spot."
It's a great tradition set by Prime Minister Narendra Modi where the government comes to people and it's not the other way round.
"First of all, I asked the Patwari (revenue official) to sit in the village. People have a lot of land-related issues and they had to go all the way to district headquarters, 10 km away, to meet him. This has changed."
She also helped build walls around 24 graveyards for local Muslims to buy their dead peacefully. Most of the cemeteries were either encroached upon or were in bad shape. I saw to it that encroachments are removed and proper earmarking of the land done.
These days, she is supervising the construction of a crematorium on the 3.8 kanal land that had been encroached upon and she faced resistance in demolishing the illegal structures.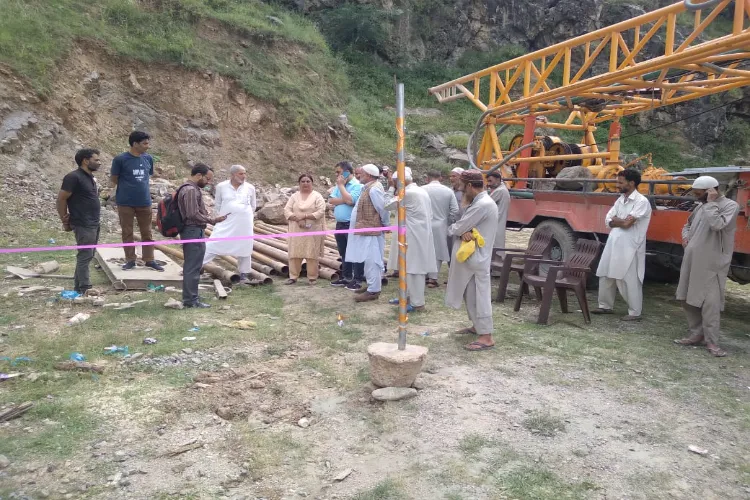 Sarpanch Babita Bhat supervising developmental work in her village
However, Babita Bhat says her most challenging task was to get back the building of the 100-year-old Panchayat Bhawan that had been burnt down by militants and all its signs removed with the shifting of a school in the premises.
It took me one and a half years of writing letters to different departments to get permission to have an office in the same place where the original Panchayat Bhawan was. Since it's on the same premises as the higher secondary school, I interact with the students and come to know about their problems,
Babita's next campaign is to give a playground to the youth of the village. "Kashmir has an acute problem of drug addiction and to keep children away from this the best way is to make them go for sports," Babita said.
However, the land earmarked for the playground is dotted with walnut trees that need special permission for cutting.
"I have been asking everyone from Delhi to Srinagar – to allow the cutting of walnut trees on the common land so that our children can play. So far nobody has acted.
Babita says she has given an ultimatum to the authorities that she will get into action and use a saw to cut the trees to protect the rights of the children to have a playground.
How does the presence of a woman sarpanch change the situation for women? Babita said after the women folk came to know about me through their school-going children, women come to her for help in sorting issues with the government. She said a few days ago a destitute woman came to her house late in the evening seeking her recommendation for her appointment as poen in the government school.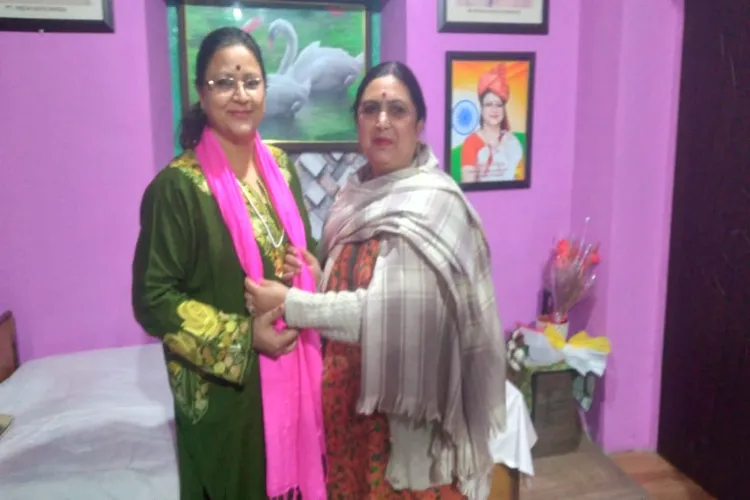 Sarpanch Babita Bhat with a relative
"I wish I could help her. She needed it the most but I explained the procedure to her. However, the next day I received a call from her and it made my day."
The woman told her on the phone, it doesn't matter if she gets the job or not but she was happy that she could speak with someone from the government side about her problem late in the evening. "She told me it's so good to see a woman in a place of position because I could walk to you late evening and you too sat with me without discussing problems till late. Such things are not possible with men."
Besides making lanes and drains and electrifying the village, Babita's one contribution to the memory of those who lost their lives saving people from terrorists is the plantation of 40 trees planted in memory of the CRPF soldiers killed in the Pulwama Blast. Right from planting saplings to taking care of these till they have grown was a personal mission of Babita Bhat.
ALSO READ: Telangana adapts Kashmiri Sarpanch Farooq Ganai's gold for plastic campaign
"I deliberately didn't involve anyone in this project and went there with my husband and son to plant the saplings," said Babita.
She is however not free of worry and thinks the youth need to be guided on an urgent basis. "When your house is in disorder, outsiders can always create trouble by misusing the most vulnerable members of the family," she told Awaz-the Voice seeking governments' attention on the youth of Kashmir.
WATCH: