Abdul Rahman Pasha/Hyderabad
Syed Imtiazuddin of Hyderbad has turned his hobby of collecting autographs of famous personalities into a body of work that is bound to be of great historic value for the future generations.
His collection of autographs of important world and Indian personalities has reached up to 200 so far.
The famous people whose signatures are part of Syed Imtiazuddin's proud collection include Nobel laureates, politicians, writers and poets of Urdu and English, the heads of state and prime ministers of many countries, and film stars.
His passion for collecting the signatures of important and famous people transcends borders. Syed Imtiazuddin says he had to be patient while waiting for the signatures of famous personalities to whom he wrote letters requesting the same inside India and abroad.
Syed Imtiazuddin narrated an interesting incident from his student days. He was a 7th-grade student at Gandhi Bhavan Middle School, Nampally, Hyderabad. He says it was triggered when he was learning a chapter on India's renowned Nobel laureate, Physicist-scientist Sir C.V. Raman. Dr. Raman discovered what is now known as the 'Raman Effect.'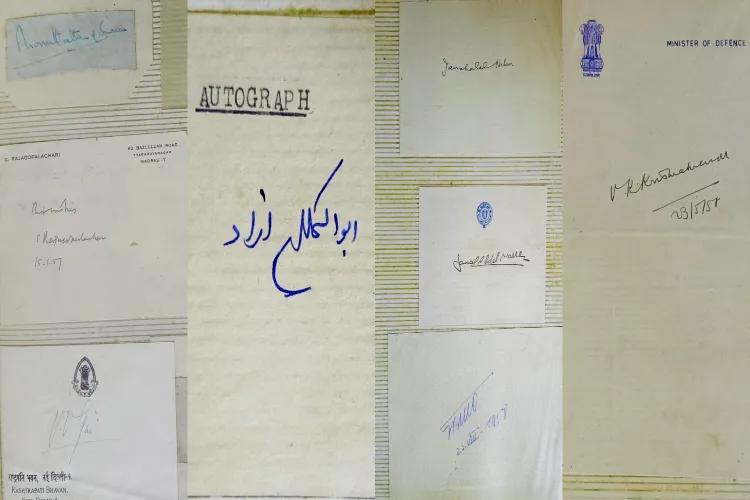 Dr Rajendra Prasad's signature in Urdu

When the school teacher was imparting the lesson on the life of Sir C. Raman in the classroom, Imtiaz Ahmed thought of if only he could write to the great scientist. He tried to search for his mailing address with no success.
Finally, he did write to Sir C V Raman and posted it to on the address: Sir CV Raman, Bangalore.' In the postcard addressed to the scientist, he wrote, 'I was very impressed when I read about you today and I want your signature.'
To his pleasant surprise, a few days later he received a letter from Sir CV Raman. Dr Raman appreciated his passion.
Syed Imtiazuddin says that this was the first 'happy and memorable day' for him and it sparked his passion for getting autographs from celebrities.
After receiving Raman's reply letter and signature, his happiness knew no end.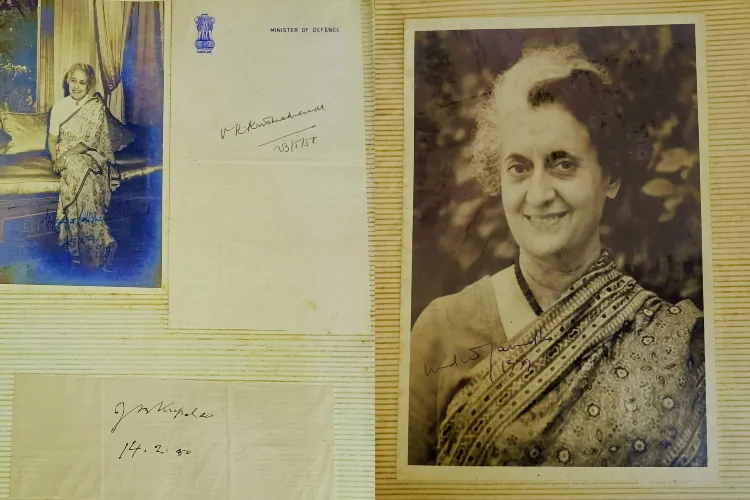 Prime Minister Indira Gandhi's signature

Syed Imtiazuddin said that he passed the class 10 examination from a famous school - Chadar Ghat High Schoo and graduated from Osmania University.
He worked in the Andhra Pradesh State Electricity Department (APSEB) and simultaneously completed his MBA. He retired as Superintending Engineer in year 2001.
The famous poet of Hyderabad, Shaz Tamkant was Syed Imtiazuddin's elder brother. Shaz Tamkunat was invited to mushairas in Delhi, Lucknow, and other states of the country
Syed Imtiazuddin says, "When Shaz went to Delhi to participate in Mushaira, he also carried an autograph book with him, in which he obtained the signatures of many well-known poets."
Seeing this, I also decided to follow him. In late 1957, I wrote to the former President of India Dr. Rajendra Prasad expressing my desire to meet him. I received a reply from the Rashtrapati Bhawan that the President is due to visit Hyderabad in June 1958 and I would come to him there at his residence."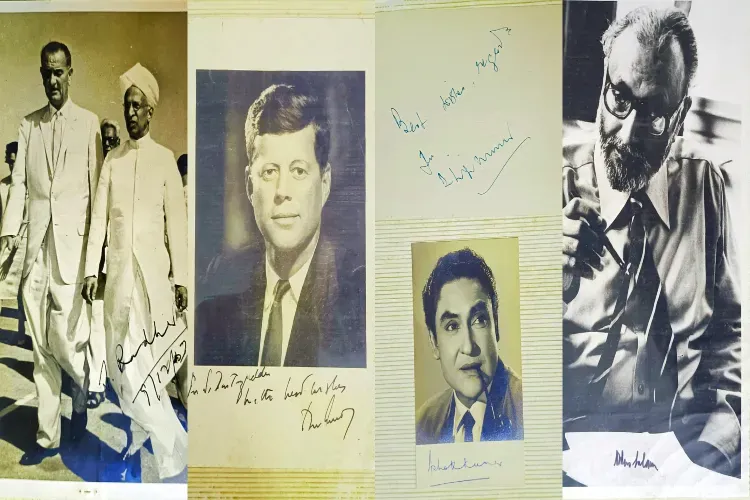 A glimpse of Syed Imtiazuddin's collection
"As the day of my meeting with Dr Rajendra Prasad was approaching, my anxiety knew no bounds. When I got the message that Rajendra Prasad had come to Hyderabad, I reached Hyderabad Resident with my elder brother Shaz Tamkant and met Rajendra Prasad. I was very happy to meet him. Even Rajendra Prasad appreciated my passion. He had already kept his signatures – in Hindi and English – on an expensive paper ready for me."
The President also penned his signature in Urdu on his request.
Syed Imtiazuddin is fond of Allama Iqbal's poetry. He is invited for delivering talks in the 'Mahfil Iqbal Shanahi' held every Wednesday.
Syed Imtiazuddin obtained the signatures of more than 200 personalities including Lord Mountbatten, the last Viceroy of India and first Governor-General of India.
Apart from them, the forty-second president of the United States, Jimmy Carter, the second president of Egypt, Gamal Abdel Nasser, the former president of Yugoslavia Josip Broz Tito, the Thirty-fifth US President John F. Kennedy, Indonesia's first President Abdul Rahim Sukarno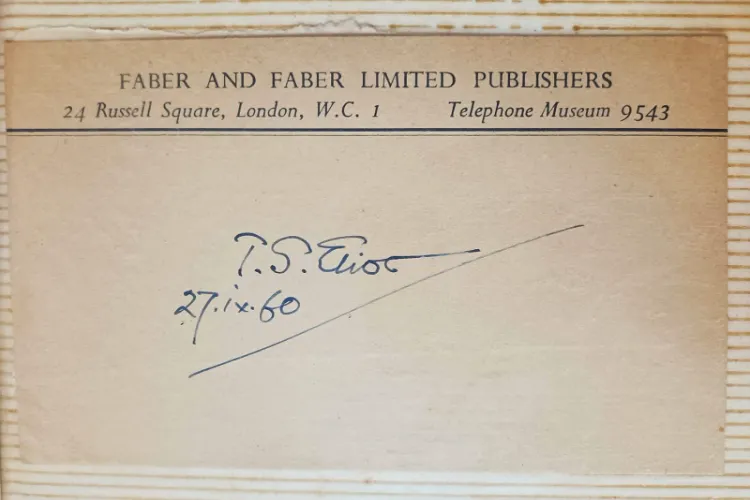 Signature of Writer T S Eliot

Israel's first Prime Minister David Ben-Gurion, former King Hussein bin Talal of Jordan, famous American actress Elizabeth Taylor, her husband, famous Hollywood actor Richard Burton, Mother Teresa, and Charlton Heston, the hero of the famous American film The Ten Commandments.
Syed Imtiazuddin also obtained signatures from Pakistan's first Nobel laureate Dr. Abdus Salam. Many of these personalities presented him with their photo as a gift.
Among the Indian leaders' collection, Syed Imtiazuddin has the signatures of Pandit Jawaharlal Nehru, Indira Gandhi, Dr. Zakir Hussain, Maulana Abul Kalam Azad, Vijaya Lakshmi Pandit, VK Krishna Menon, Moraraji Desai, V. V. Giri, Dr. Sarvapalli Radhakrishnan, Neelam Sanjeeva Reddy.
Syed Imtiazuddin says he feels literature, film, and sports are close to human life and this is the reason why most of his collection relates to personalities from these fields.
He has an unenviable collection of signatures of TS Eliot, American writer John Steinbeck, British mathematician and Nobel laureate Bertrand Russell, Novelist Ernest Hemingway, Dr. AJ Cronin (Scotland), American writer Pearl S. Buck, English writer Aldous Huxley, Josh Malihabadi, Rashid Ahmad Siddiqui, Jigar Moradabadi, Faiz Ahmed Faiz, Khalilur Rahman Azmi, Sohail Azimabadi, Ahmad Nadeem Qasmi, Makhdoom Mohiuddin, Qaratul Ain Haider Krishna Chandra, Rajendra Singh Bedi, Maulana Syed Abul Hasan Ali Nadvi and Maulana Abdul Majid Dariyabadi.
Besides he has the signatures of Bollywood legends Dilip Kumar, Ashok Kumar, Sunil Gavaskar, Sachin Tendulkar, and Amitabh Bachchan.Syed Imtiazuddin said he used to study at an American library near the famous Muazzam Jahi Market in Hyderabad. While going through the book "Who's Who in America" made him familiar with many top personalities.
ALSO READ: I want to explore people through food: Sadaf Hussain
Syed Imtiazuddin says success comes only if a person has passion and true dedication to a cause.