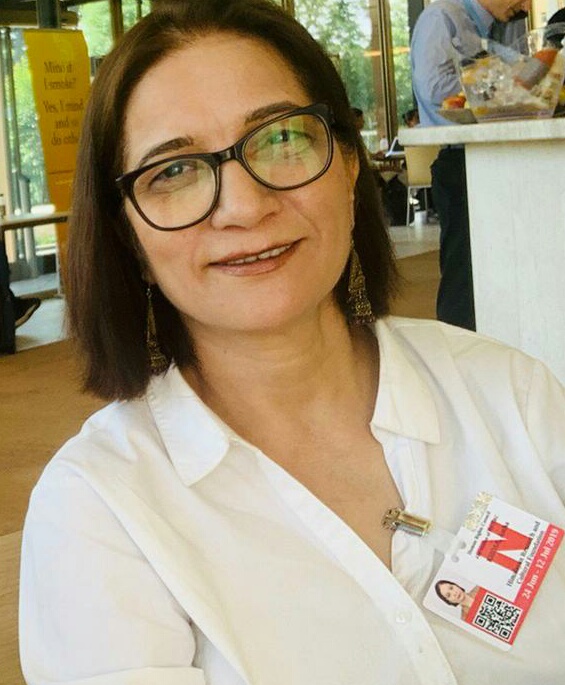 Aasha Khosa
Kehwa, the cardamom-cinnamon flavoured green tea, traditionally brewed and served in a Somavar, is a quintessential Kashmiri beverage. The golden tea is an instant hit while the other unique tea of Kashmir (and the Himalayan belt) – pink salt tea - needs special taste buds to be appreciated. In its shahi (royal) version, a few strands of saffron and slivered almonds are also added to it.
Friends and neighbours often drop in on festivals especially in winter to relish the 'Kashmiri Kehwa'; they keep bragging about it till it's the next time. Surely, Kehwa is part of the Kashmiri identity in the multicultural milieu that we live in, but sometimes I wonder how much of this food is Kashmiri. Think of it – other than water, none of the ingredients used in Kehwa are grown in the Valley. Cardamom and cinnamon do not grow in Kashmir as these are cultivated in the rain-fed areas of Kerala and Karnataka; and long curled tea leaves perhaps come from Assam, Kerala, or maybe even Palampur, Himachal Pradesh. Sugarcane doesn't grow in Kashmir.
Kehwa is just an example of how hyped and inorganic the food of Kashmir is.
The most recommended and served food in restaurants across the Kashmir region is Wazwan, the multi-course mutton-chicken-rice meal. Wazwan is indeed unparalleled in Indian gastronomy for its variety and quantity served compulsorily to each individual. Interestingly, the lamb for it comes from Rajasthan. The local nomadic Bakerwals do rear the lamb for meat and wool but the supply is far below the demand. Interestingly, Kashmir is famous for the highest per capita meat consumption in India.
I do realize this may come as a rude shock to all those living in the romantic imagery of Kashmir. My idea is not to run down whatever is Kashmiri but to point out certain illogical and unsustainable trends in the cuisine. While experts may have an explanation for this, I have a different point to make. The real Kashmiri food is missing from the commercial spaces in one of the most visited tourist destinations of India.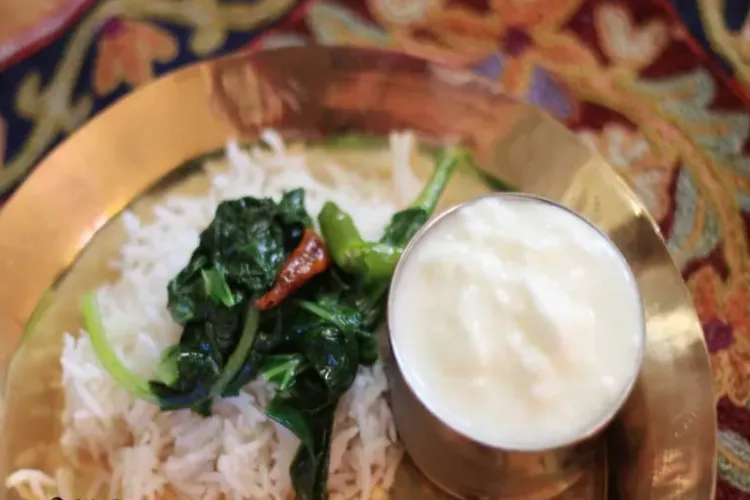 Haakh, rice, and curd - the soul food of Kashmiris

First of all, vegetarians like me are forced to eat badly cooked dals (lentils) in hotels, guest houses, or homestays across Kashmir. Sometimes, if I am lucky, I may get Punjabi-style mixed vegetables with 'Basmati' rice. On my recent visit to Kashmir in the last week of September, I gave a dressing down to the cook of an up-end homestay in Srinagar and asked him to make real Kashmiri food. He did cook dishes with a semblance of Kashmiri food and all the non-local tourists staying there relished it. They also ended up noting down the recipes of Tchok Wangun (brinjal cooked in tamarind-flavoured sauce) and above all haakh saag (collard greens).
Rice is the staple of Kashmiri people and they eat it with an array of vegetable curries cooked with minimum spices. At home, Kashmiris cook mutton with greens - methi, Knol-Khol, turnip, spinach, and potatoes. Chutneys made of raw onion, walnut; mint, jalapenos, and especially Radish are unique to the land but sadly not available in hotels, restaurants, and government guest houses.
Like Litti Chokha of Bihar and Dosai-idli of South India, Kashmir too has a rich culinary tradition based on local foods. The food is simple and yet delectable. Haakh-rice is to the people of Kashmir what Dal-chawal is for the majority of people in north, south, and east India. Haakh which grows almost around the year is a simple, sublime, and delicious food. It's a metaphor for the common man's food and affordability. Kashmiris cutting across social barriers love this either as a standalone dish with rice or as part of a multi-course meal.
It is no exaggeration to say that Haakh is the soul food of Kashmiris.
Lotus stem, called Nadru in the Kashmiri language, is another delicious and unique common food of Kashmir that is seldom available in restaurants. I have yet to come across an eating joint where the fritters or chips of Nadru called Nadur Churma are served. It's a delicious savoury served at Kashmiri pandit homes. I have tasted Nadru in many parts of India and even abroad. Trust me, the Kashmiri Nadur is the softest and sweetest of all and yet it doesn't find a place in the Kashmiri palate.
I saw Nadru Pakora, called Nadir monjae in Kashmiri, being sold in the downtown markets by the traditional halwais but the same was not available at places visited by tourists.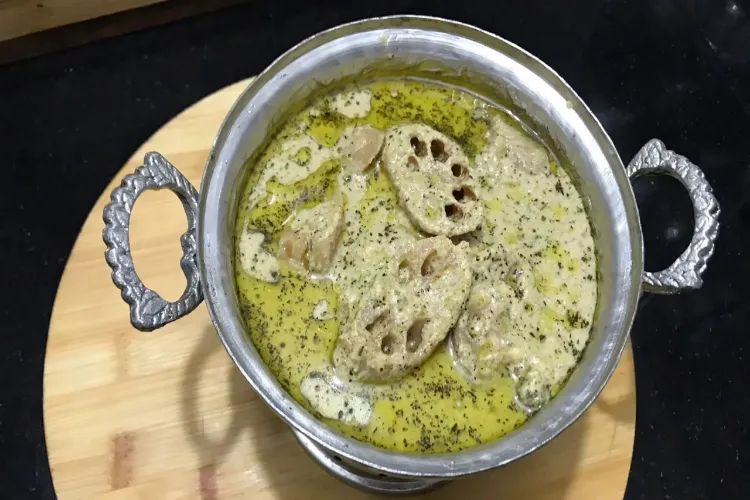 Lotus Stem (Nadir) Yakhni

Yakhni (curd-based curry) and sour curry of Nadru are delicacies and yet these are not available at the eateries. Locally grown coarse rice may be available in small eateries but otherwise, it is fake basmati that is offered to tourists.
At the societal level, I feel the food democracy has not touched Kashmir; the culinary culture is still stuck in a feudal and elitist mindset dating back to monarchy. The common man's food is rated too ordinary to be served to the tourists!
It's pertinent to mention that the Wazwan is not cooked in Kashmiri kitchens as it needs special tools and skill and above all, can be made only on a large scale for the scales of economy. Usually, Waza, special cooks, make it for hotels, and for social functions like weddings, etc.
Wazwan is expensive and many tourists – non-vegetarians included- think it's hyped food. The mutton culture of Kashmir is so grotesque that the dining halls of many popular hotels and restaurants in Srinagar are filled with the nauseating stench of meat.
No wonder many dhabas serving dal-Chawal-roti as it is made in most north Indian homes have sprung up in Srinagar. Tourists throng these eateries; locals too visit these.
Kashmiri fish is another food that is ignored by the cooks. Traditionally, fish is cooked with lotus stems, radish, and knol khol in Kashmiri homes. Most restaurants and hotels don't have this on their menu. The only place I found fried fish being sold was a roadside eatery at the Wular Lake in north Kashmir. The man served it in a newspaper yet the tourists loved its taste. Is the fish not preferred because it's not expensive enough to qualify as a food worth showing off?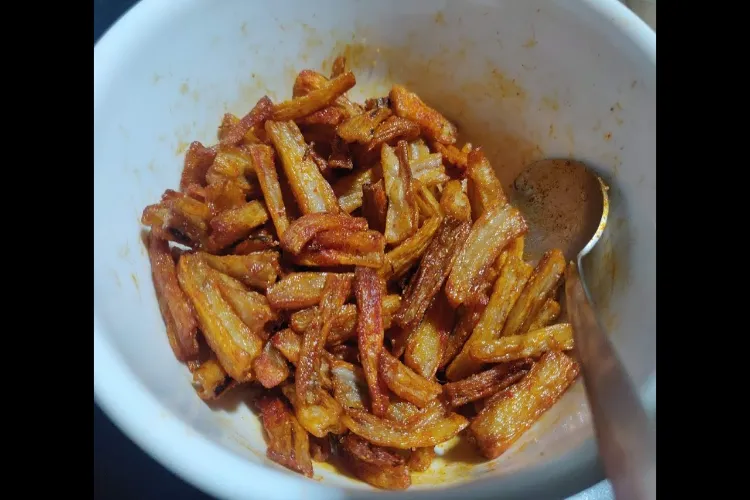 Nadir Churma- fritters of Lotus stem

India's food diversity is amazing and of late the desi foods have gained as much popularity as the foreign cuisine. People from different regions promote their local cuisine as even tourists prefer to eat local foods. This means people going to a particular region of Bihar would prefer to have litti-chokha, while a person visiting Mumbai would not like to miss the vada-pav or pav bhajji.
Even within J&K, the Jammu region stands out for its pure Basmati rice-Rajma cuisine that one can eat at food joints – ranging from a star hotel to a roadside eatery. Both fragrant Basmati and Rajma are local produce and people proudly offer it at the top of the menu.
ALSO READ: How food healed the wounds and pain of refugees of Bengal's partition
Kashmir has been receiving a heavy flow of desi tourists for three consecutive years. Surely there is no point if they end up eating Punjabi food and Bhelpuri instead of 'Dal masala' – a quick snack made of boiled and roasted spicy kidney beans, and Nadir monjae during their stay in the valley.
Aasha Khosa is the Editor of Awaz-the Voice, English