New Delhi

Kenya's former Prime Minister Raila Odinga and his wife had lost all hopes of seeing their daughter Rosemary get back her vision till they came to Kerala to try its famed Ayurveda therapies. Three weeks into treatment at the Sreedhareeyam Ayurvedic Eye Hospital and Research Centre in Kerala, and Rosemary has started to see again.
She had become blind after a stroke in 2017 and had spent two years in total darkness.
After her stroke, Rosemary had travelled to several countries seeking treatment. In an interview to NTV Kenya, Odinga had said: "In the beginning, Rosemary spent quite a bit of time in South Africa in rehab. My wife had to take an apartment on hire for three months in Johannesburg just to look after her. On returning, we found that her condition had mot improved much.
"We sent her to Israel. However, the facilities there were not good for this kind of treatment. We tried our luck in China and Germany too. We were almost giving up when our friend told us about this institute in India that uses traditional medicine.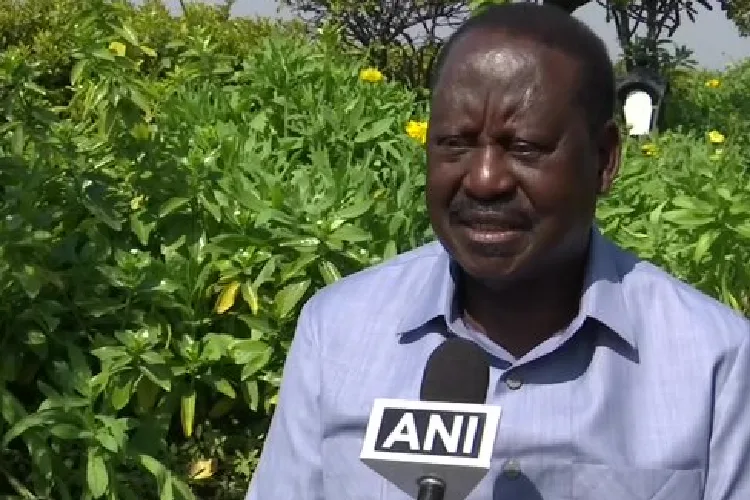 Kenya's former Prime Minister Raila Odinga
"We were apprehensive at first as we had already tried at a few of the most renowned institutes in the world. But Rosemary still had faith and we went ahead."
Hari Nambudiri, vice-chairman of Sreedhareeyam Group of Institutions, said: "Rosemary's optic nerve was extensively damaged and we are happy that we were able to help her. When she came a few days ago, she was excited that she could see everything. Before this visit, she had come during the Onam season and she was fascinated by the taste and smell of the food on offer. This time, when she could see the dishes and her room, her happiness knew no bounds."
About Rosemary's treatment, Nambudiri told the African TV channel: "The process of treatment is called rejuvenating the neuro system. Our eyes have all systems in place to protect them, but when they fail, Ayurveda can restart them. We grow the herbs and beneficial plants in our institute. In our ancient texts, we already have the information about how certain ingredients act in our body. Depending on the patient's condition, our doctor advises a combination of drugs to address the ailment. The medicines are prescribed in a way that side-effects of any active ingredient are neutralised."
Sreedhareeyam uses three centuries of traditional Ayurvedic wisdom inherited from Nelliakkattu Mana, a Namboothiri family known for Ayurvedic Netra Chikitsa (Ayurvedic eye treatment).
Recently the sreedharan group has set up Sreedhareeyam Ayurvedic Village that offers world class facilities to the patients. It has 20 independent Villas of international standards and various treatment facilities, everything from infrastructure to amenities like health club, private treatment rooms etc., are well thought of and designed to the utmost comfort level.
The villas in Sreedharan Ayurvedic center, Kochi, Kerela
Odiga profusely thanked the doctors. He also met Prime Minister Narendra Modi and asked him to send the Indian Ayurveda to Africa so that the local knowledge and herbs could be incorporated in it.
"I came to India for my daughter's eye treatment in Kochi, Kerala. After 3 weeks, there was a substantial improvement in her eyesight. I have discussed with PM Modi to bring this treatment method (Ayurveda) to Africa and use our indigenous plants for therapeutics"" Raila Odiga told the media in Delhi.