Shaista Fatima/New Delhi
"Shaheen Bagh is no longer just a name, it is an identity…" Imran, a young trader who sells export surplus of top shoe brands at his shop in this South Delhi area says.
Imran recalls how earlier auto-rickshaw drivers had no clue about this working-class southeastern Delhi neighbourhood with a majority Muslim population. He says the auto-rickshaw drivers didn't seem enthusiastic about driving a passenger to Shaheen Bagh and would say, "achchaa wahan.." (Oh, that godforsaken place!)
For the unversed Shaheen Bagh hit the international headlines back in 2019 when it became a venue for the anti-government sit-in protests for nearly four months against a draft law called the Citizenship Amendment Act (CAA) and National Register of Citizens" (NRC).
Something happened in between the protests and the Covid-induced lockdowns and transformed this working-class neighbourhood into a shoppers' and foodies paradise. Imran agrees that the area has changed for the better. The protests brought the place in limelight but people gave up regressive actions and got down to business.
"Whatever happens, happens for good," he quips. He says incessant media presence during the sit-in protests made Shaheen Bagh's food and factory outlets famous, "Shaheen Bagh had become a picnic spot, with people coming to see the map of India, videos made by the media personnel often showed the factory outlets of various brands, this after the market reopening has led to an increased footfall of customers..".
Good sense prevailed and people gave up protests and got down to their business.
The good impact of the 2019-20 agitation was that Shaheen Bagh came to the center stage of important places and the brands obviously took advantage of this limelight and in no time had set up the shop there.
The area is full of factory outlets or surplus outlets selling wares that were not exported for some reason and at 60% discounted rates."
Imran says how youngsters flock to the place which is also known for its food items, "Normal places shutdown by 9 in the night, Shaheen Bagh resumes its business from this hour, the market stays open till 2 or 3 in the night...".
From Mughlai cuisine to Lucknowi, Kolkata delicacies all are found under one sky in Shaheen Bagh. Ballimaran Nahari, Royal Biryani, Jawed Nahari, Victoria Biryani, Ghalawati Kabab, and Rampur Kitchen are a few outlets that serve quintessential Mughlai and Nawabi food.
While Ballimaran and Jawed are famous for their Nahari (dish comprising of mutton gravy that is cooked slowly overnight). Folklore has it Nahari was the breakfast dish for the Mughals. Today it is more or less eaten as the main course for lunch or dinner.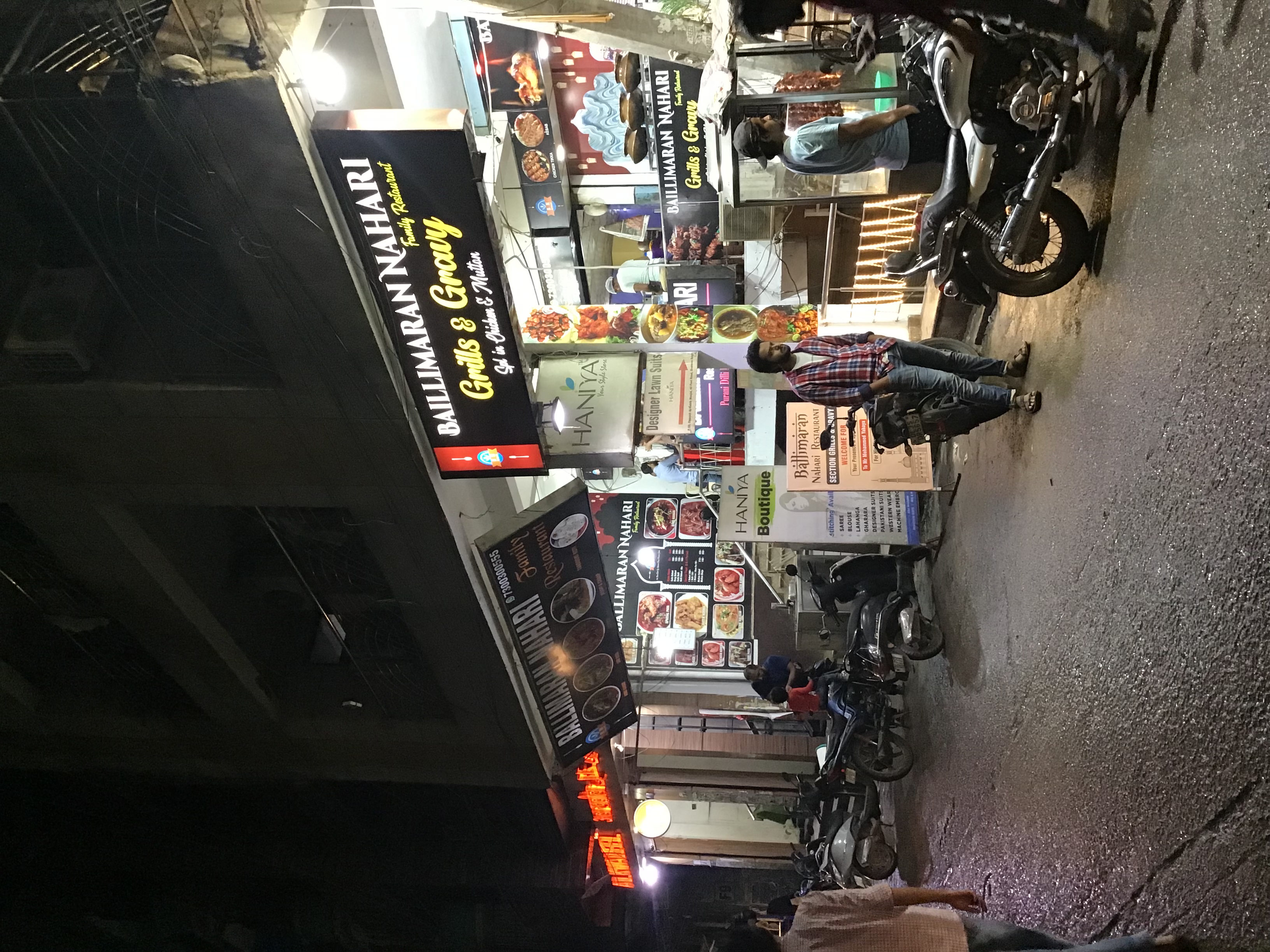 Royal and Victoria Biryani are famous for bringing the taste of Kolkata to the streets of Delhi. They fill the pallets with their quintessential Aloo wali Chicken Biryani, (a rice dish filled with marinated chicken and potatoes).
A recent addition to the place is Ghalawati Kababs (marinated mutton patty) from Lucknow cuisine. It is said the Nawabs of Lucknow were lazy and didn't like to chew their food either thus this dish was prepared. As the tale suggests the patties are soft and succulent and can be eaten with one's lips.
Imran says that Shaheen Bagh is now called the "Mini Chandini Chowk". A look around the area from the road shows hoardings announcing 50% discounted rates of wares – apparel, and big brands can be seen everywhere, Shaheen Bagh has indeed come a long way from being a small ghetto to big brands and food hub.
Those who witnessed the protests know that it was more of a meeting point for various groups over tea and snacks around the clock. People often joke that tea-stall owners became millionaires during the protests.
The hangover of the just concluded festival season lingers on in the area with (discounted sales still on there). Shoppers continue to throng the factory outlets of brands like Allen Solly, Woodland, Van Heusen, Flying Machine, Fabindia, Arrow, Bata, Skechers to Biba, Adidas, and many more in the lane adjoining the main road.
Long white, and yellow shararas, white kurtas, black tuxedos, workout outfits, and running shoes all are beautifully displayed in the long array of showrooms.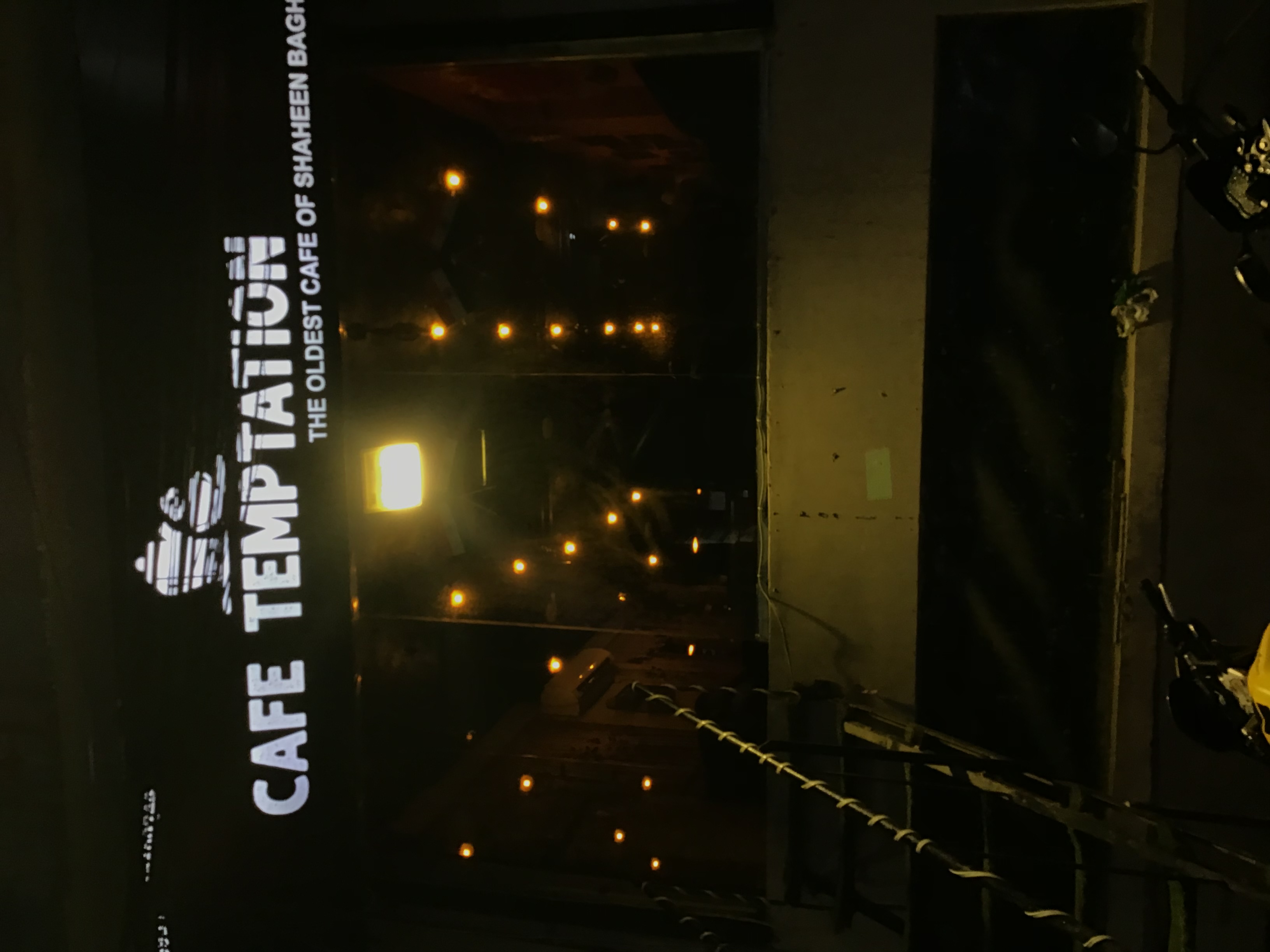 The newest edition to the market is the various cafes and lounges that attract the youth from Jamia University. Situated just behind India's acclaimed university Jamia Millia Islamia, this place serves as a hanging point for many college-going youths. Shayri cafe, Nagori tea stall is a hub for graduates to sit and discuss topics ranging from anything and everything. On a normal day, the shops are crowded with customers sipping chai and having a smoke.
ALSO READ: Sheeru Cafe: place for women to pray, pause and party
Shops like Purani Dilli ke Shahi Tukde give this small 40 foota lane a feel of Old Delhi's Chandini Chowk thus proving Imran's point.