Shaista Fatima/New Delhi
Nighat Siraj, 53, is a homemaker based out of Lucknow who is also an interested chef. Ask her neighbours and they'd say, "Whenever she cooks the whole lane is filled with the aroma of her dishes, come Eid and Bakr-Eid, we'd wait for her delicacies..", Neel, a childhood friend of her daughter and now a hotelier said.
Flavours of Eid
Palak, another childhood friend of her daughter and now a doctor says, "Aunty's food was something I always looked up to, I looked for some alibi to run over to Moni's (her daughter's name) house in order to eat…even a simple yellow lentil dal tasted like heaven..".
Shamit Dias, her daughter's English professor associated with PSIT, Kanpur says, "Well, may Almighty bless her hands with which she makes succulent ghalawati kababs (marinated meat patties), I am a foodie but never have I tasted something like the ones she makes…" Saumya Janga, a senior from her daughter's college and currently associated with a reputed MNC as Lead Business Analyst says, "I can never forget that biryani ever.."
Awaz the Voice reached out to the beloved chef Nighat Siraj on the occasion of Bakr-Eid to ask her about her favourite recipes and share some childhood memories. "Well, what do you want to ask? I have never done interviews..I hope I am able to justify your queries…", was the line with which the chef started her journey down the memory lane.
Nighat, a BA, B.Ed in Economics and Statistics, hails from India's neighbouring country Pakistan, she moved here after her marriage. When asked as to how Eid celebrations differ in culture and traditions she says, "I don't think there is any major difference…the basic intent is the same.."
Reminiscing about her childhood days she says, "everything feels the same…the dishes prepared are the same…although Eid reminds me of the time when we all siblings used to get ready, buy bangles but they never looked good on my hands so I used to go to the loo and break them…" She laughed out loud on remembering this detail and added, "it all feels like a different era with just one constant..the food, its aroma and the manner of preparation.."
When asked about her favourite recipes, she says, "umm...my all time favourites would be Ghalawati Kababs(marinated meat patties), Qorma (mutton curry), Dahi Phulki (gram flour fritters served with flavoured curd), Qemami Sewaiyyan (Orange vermicelli specially prepared on Eid)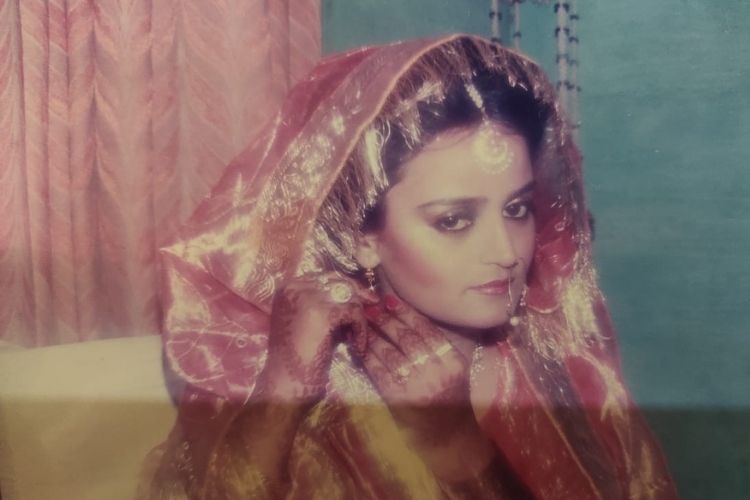 Nighat Siraj as a young bride
Sharing the quintessential Qemami Sewaiyyan recipe Nighat says, "in a pan sauté rather dry roast the vermicelli (500gms) in one spoonful clarified butter and keep it aside, in the same pan add one spoonful clarified butter and add half a tablespoon cardamom powder, clove powder and sugar in the ratio of 1:1 as per vermicelli used. Add a cup of water and milk and stir the ingredients properly. After that, put in 250gms Khoya (a dairy product made by thickening milk) and a pinch of orange food color along with a choice of nuts. Wait for the milk to come to a boil and then add the kept aside vermicelli. As soon as vermicelli absorbs all the potpourri, cover the pan with the lid and let Sewaiyyan cook for a while, say 10 minute. The flame all the while should be on low medium.."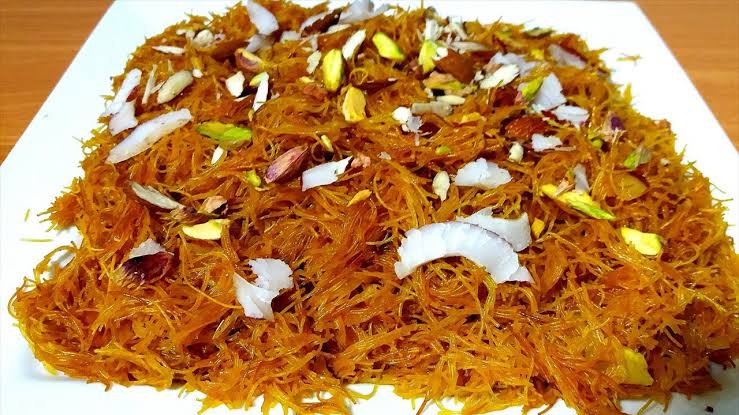 Qemami Sewaiyyan
Nighat believes in using her intuition while cooking and particularly doesn't follow any rules she says, "I owe my cooking to my interest in the art..cooking makes me feel alive.." She says she learned the art by watching her elders and took no training for the same, "early 70's wasn't really a time when one has much to do, apart from studying, helping in household chores was also a dire need..cooking was my favourite past time…thus gradually it became my most loved hobby.."
Coming to her famous Ghalawati Kababs (marinated meat patties) she shares, "well..they are a bit tricky to make, as they require a proper marination of 12 to 14 hours. Minced meat (say 500gms) is marinated with a medium raw papaya paste, garlic-ginger paste, red chilly powder, coriander powder, freshly grounded garam masala powder (black cardamom, bay leaves, cloves, cassia bark, black pepper corns, )t as per taste, roasted gram flour for binding, finally a secret ingredient called "kawasbon ka masala" also known as Lazzat-e-Taam, and finally with help of charcoal adding the smokey flavour. Now after 12 to 14 hours they'll be ready for pan-frying at medium heat in oil of one's choice.."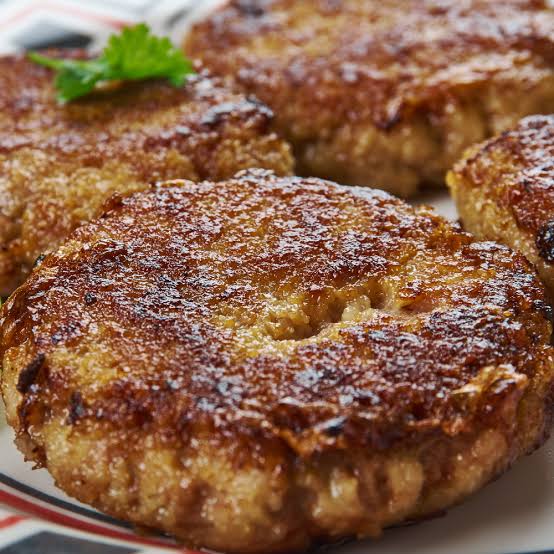 Ghalawati Kababs
The next in line is "dahi phulki" (gram flour fritters served withflavoured curd). She says, "gram flour is mixed with cumin powder, ginger-garlic paste, salt as per taste, red chilly powder and with help of water is made of a medium-thick consistency. Now the litmus test of floating in the water is done. After beating the batter, take water in a separate bowl and just drop a pinch of gram flour batter in it, if it floats on it then the batter is ready for medium frying. The fritter are medium fried, once golden brown are dropped in the curd which is of light consistency and a mix of ginger-garlic paste, red chilly powder, salt as per taste. The final dish is tempered with some whole cumin roasted in oil of your choice…"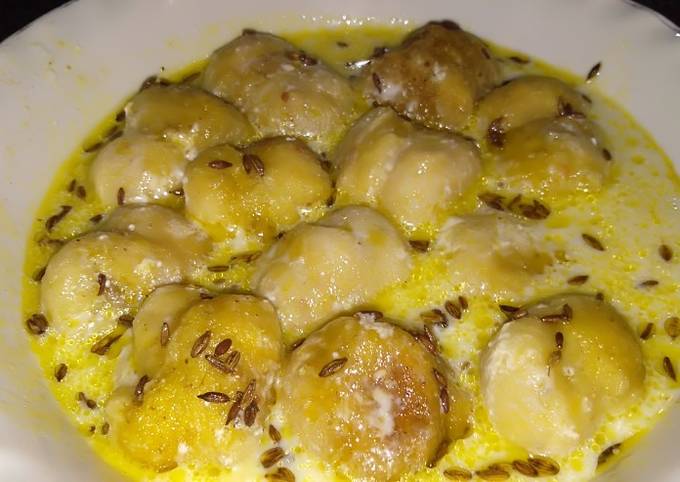 Dahi Phulki
The last on her list is "Qorma". She says, "It is the easiest one to prepare, start with sautéing onions until golden brown in oil of your choice, once done keep them aside. In the same pan add some bay leaves, whole spices like cloves, cardamom, wait for their aroma, next add the meat and sauté till it changes its colour, then add curd to it and add the fried onions and mix them nicely. Then add red chilly powder, coriander powder, salt as per taste and stir stir stir, keep it on medium flame and prepare a special mixture, take some cloves, cardamom, nutmeg, mace, nuts of your choice, poppy seeds, coconut, chiraunji (charoli seeds) and make a fine paste, add it to the broth and let it simmer for a while. Once the meat is tender the Qorma is ready to be served.."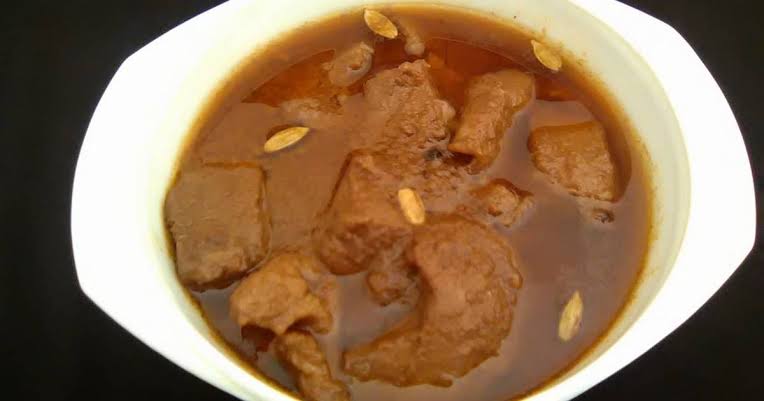 Mutton Qorma
She'll be preparing Ghalawati Kababs, Biryani and Sewaiyyan for Eid this time. She says, "Kababs taste best with Sheermaal (a quintessential orange colour bread found in Lucknow, made by kneading dough in milk and baking it in oven), so yeah..they are there and of course Biryani and Sewaiyyan.."