Reshma Rehman & Hafeezur Rehman
The empowerment of Muslim women varies across countries and regions, as it is influenced by cultural, social, educational, and political factors. However, there are some trends and initiatives that are contributing to the empowerment of Muslim women worldwide.
Many Muslim women are pursuing higher education, which is providing them with the knowledge and skills they need to participate fully in society. Some countries, such as Saudi Arabia, have recently lifted restrictions on women's freedom, allowing them to drive, attend universities and pursue a wider range of academic disciplines. There is a rich legacy behind the educational empowerment of Muslim Women in the past.
Hazrat Aisha bint Abu Bakr, Prophet Muhammad's wife, is known for her knowledge and expertise in Islamic jurisprudence. She played a prominent role in transmitting Hadith and was known for her leadership skills. Hazrat Fatima al-Zahra, the daughter of the Prophet Muhammad and his wife Hazrat Khadija, is revered by Muslims as a symbol of piety and purity.
Fatima al-Fihri founded one of the world's first universities, the University of Al Quaraouiyine, in Morocco in 859 CE. In Indian. Begum Rokeya Sakhawat Hossain founded the first Muslim girls' school in Kolkata and wrote extensively on women's rights. She is widely regarded as a pioneer of women's liberation in South Asia in the early 20th century. Rabia al-Adawiyya, Nana Asma'u, Shahrazad al-Khalij, Zainab al-Ghazali, Fatima Sheikh, Fatima Mernissi, Malala Yousafzai, and many more have made a remarkable contribution to the educational world.
Political Empowerment
While Kamla Haris of America, Jacinda of New Zealand, Chancellor of Germany Angela Merkel, and President Draupadi Murmu, are some of the examples of women's political empowerment. Even many prominent Muslim women like Sheikh Hasina, the President of Bangladesh, and Queen Rania of Jordan are playing a vital role in world politics. The large participation of women in politics is seen in Muslim-majority countries. For example, in Indonesia, the world's largest Muslim-majority country, women hold 25% of seats in parliament whereas, in Tunisia, women hold 47% of seats in local government.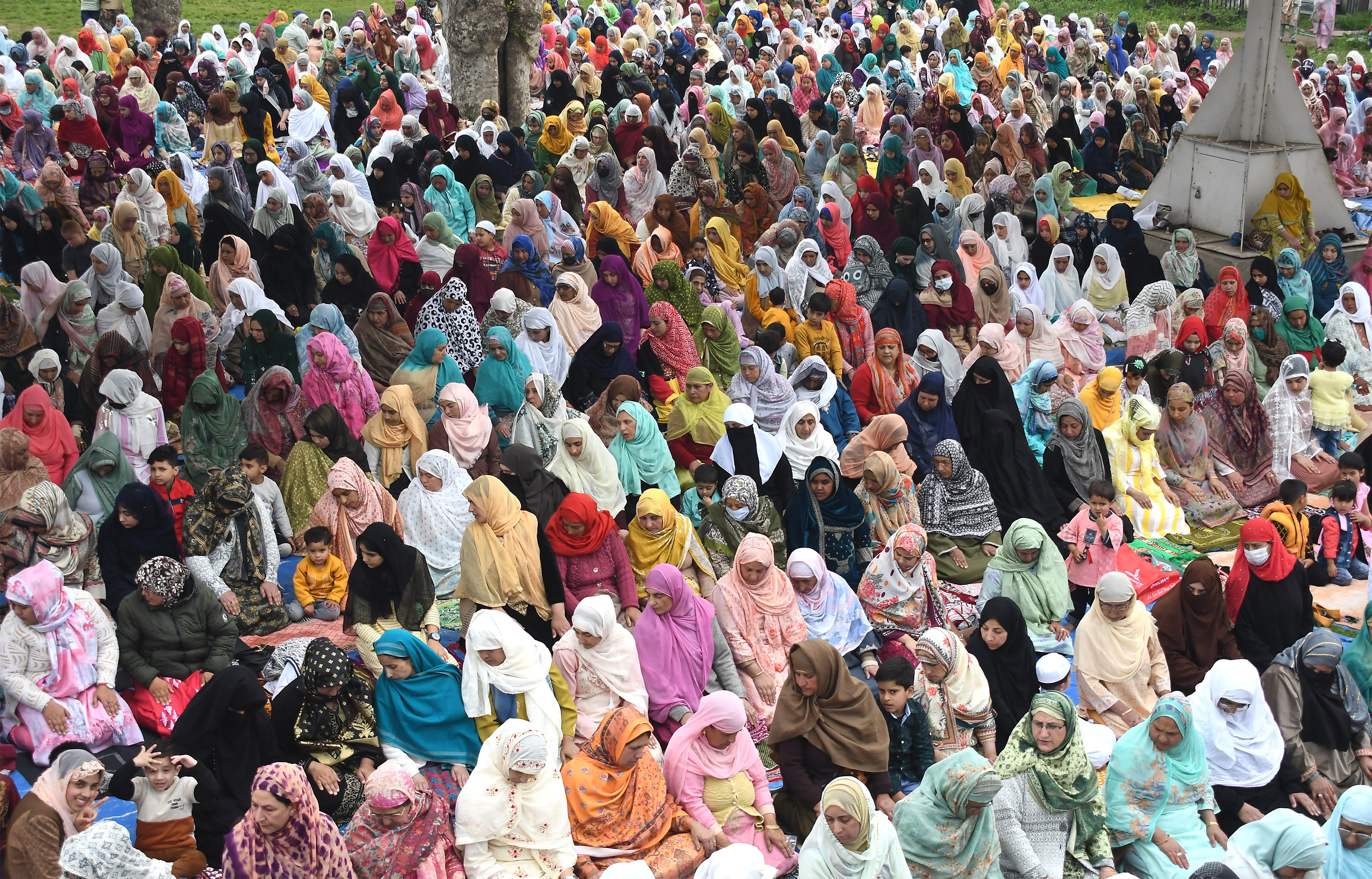 Indian Muslim women praying on Eid
Muslim women are also leading political activism and advocacy efforts. In Iran, the One Million Signatures campaign was launched by Iranian women to demand an end to discriminatory laws against women. The campaign succeeded in gathering over a million signatures and raising awareness about women's rights issues. In Malaysia, Nurul Izzah Anwar, the daughter of a former deputy prime minister, has become a prominent political figure and advocate for women's rights. In contemporary India, Fatima Begum, Begum Aizaz Rasul, Syeda Anwara Taimur, Dr. Zakia Siddiqui, Dr. Najma Heptulla, Mohsina Kidwai, and Mehbooba Mufti have held various ministerial portfolios at the national level.
Economic Empowerment
It began with Hazrat Khadija bint Khuwaylid, the prophet's first wife. She was a prominent figure of Mecca, a successful businesswoman, a well-known face of mentorship and guidance to other women in the community, and a great defender of women's rights. Intriguingly, her accomplishments in the business world motivated other Muslim women to follow their entrepreneurial dreams and achieve financial independence. Hina Johari, Nuzhat Hashir, Farah Arif Khan, Alim Sheikh, Ayesha Menon, and Huda Patel are a few names on the list that shows the economic positioning of Muslim women in India.
Hence, the question arises: Who is responsible for the plight of Indian Muslim Women today?
When our country is celebrating the Amrit Mahotsav of Independence, after 75 years of independence, where the Prime Minister has given the slogan of 'Beti bachao beti Padhao'. Even today, Muslim society doesn't encourage women. In India Muslim women have to pay a high price for their dream of achieving quality education, participation in politics, literature, arts, sports, army, navy, police force, and so on. Muslim women in India are capable of reaching any position, but the Muslim community structures are still not equipped to help them. It is high time to sit and estimate where they would stand in the future and where they are now.
Whereas Islam has not made any distinction between men and women and stands for gender equality, peace, modesty, empowerment, and justice for all human beings. Islam has given higher rights to women. But in contemporary times, women are facing numerous challenges such as dowry, gender-based discrimination, lack of decision-making, denial of education, and many more. Even today women are majorly burdened with household chores like cooking, cleaning, and looking after the family, etc. Teaching is the only profession where women are subjected to slightly fewer restrictions because people believe that this profession is safe and women return home early.
Apart from this, the main reason for the declining position of Muslim Women is the ignorance of Muslim organizations, false narratives, rigid customs, and practicing patriarchal dominance. Even educational institutions like Aligarh Muslim University, Hamdard University, and many other educational institutions have not ever entertained any Woman Vice-Chancellor. Recently, Jamia Millia Islamia got its first woman Vice Chancellor Prof. Najma Akhtar in 100 years long history of Jamia
When we look back on history, Muslim women's contributions were extremely on the top. They had done excellence in almost every field like education, advocacy, health, and politics, but the present condition of Muslim Women is highly worse. Muslim Women are making tremendous progress in every field but Muslim community leaders restrict and do not encourage their leadership. Why Muslim organizations and institutions like Jamiat Ulema e Hind, Muslim Personal Law Board, Deoband, Bareilly, Nadwa, etc are not creating any road map for Muslim women's empowerment?
Why these organizations and institutions are not opening educational institutions, rich libraries, art centers, and so on for Muslim women? Why these organizations and Institutions are captured by men only? Are they scared to lose their dominance, and dominance for what? Islam has given equal rights to both men and women. Why do Indian Muslim women have not enough space and equal opportunity to serve in our community organizations?
ALSO READ: Hana Mohsin Khan is a pilot yet it wasn't easy for her
It is high time to rethink the issues, challenges, and ways to empower Muslim Women which will accelerate the economic growth of the country. Because thousands of them are waiting for support, opportunity, space, and freedom. Instead of demanding dowry and increasing it, the share of Muslim Women in their inheritance should be ensured, which has also been ensured by the Supreme Court of India as well as by Islamic jurisprudence but is not being practiced in society.
Reshma Rehman, Researcher, Women, and Media Studies, and Dr. Hafeezur Rehman, President of Sufi Peace Foundation, New Delhi.