New Delhi
At a time when Muslims believe a campaign against them is rife in India and this sentiment threatens to harm the Hindu-Muslim equations, veteran journalist Saeed Naqvi's book The Muslim Vanishes looks at the issue in perspective. Manjit Thakur, the deputy editor of Awaz-The Voice, Hindi, spoke to Saeed Naqvi about the book. Excerpts from the interview
Why this book? Is it because it's needed?
Had you asked me why you brought this book in the form of a drama in today's time, that would be a better question. (Laughs) Yes, there was a need for it. You don't hate us, but hate becomes a political tool under certain circumstances. In this situation, a new kind of vote bank is created using this tool. There are two parallel elements. One is communalism as a political project; caste is a social habit. When these two meet, there is an explosion.
For 1200 years, since the time Muslims came to India, surely they must have done some good things. There are thousands of names like Babur, Dara Shikoh, etc. It is time that they too are remembered.
The question rises – how was this hate born? In the middle of cow slaughter, i.e. before independence, someone threw a pig or the cow's viscera in the mosque. Such things would lead to a violent conflict. The cow was special. Atal ji (Atal Bihari Vajpayee) did a great job. He entrusted a Gandhian scholar Dharampal with writing a book on this issue. People have forgotten that book.
Dharampal was a very simple Gandhian. He went to the UK where he sat in the National Museum and Archives; did research, and came out with a book. Its cover is very interesting; it shows Queen Victoria writing a letter to her Viceroy Lansdowne. She was an impulsive person. She wrote a personal letter to the Viceroy in which she patted him for doing a good job of banning cow slaughter. (Shows his book)
The queen is saying that you have done a very good job on cow slaughter; you have stopped it because both you and I know that we kill more people than they kill the cows.
The anecdote relates to 1857. The British would have faced a sure defeat had some groups not helped them in the face of Hindus and Muslims fighting together. So after that, they saw to it that the Hindus and Muslims should not be together as it was a threat to British rule. Cow slaughter was a very good trick to keep it (Hindu-Muslim unity) away.
More soldiers had arrived as they were called to quell the first war of Independence. After 1857, the number of British soldiers in India increased. They needed more beef. This book is a witness to that phenomenon. The problem was that the butchers were Muslims; Muslims slaughtered goats and chicken as well. So when it was needed, the Englishman got the animals slaughtered by Muslims and when there was a conflict, they would point out that Muslims are slaughtering the cow.
So how and where did the political project of communalism and the social element of caste meet? The coalescing happened in 1989 when Vishwanath Pratap Singh became the Prime Minister for a few days in 1989, he immediately announced the implementation of the Mandal Commission report, Which gave 27 percent of government jobs to OBCs. He wanted to save his chair.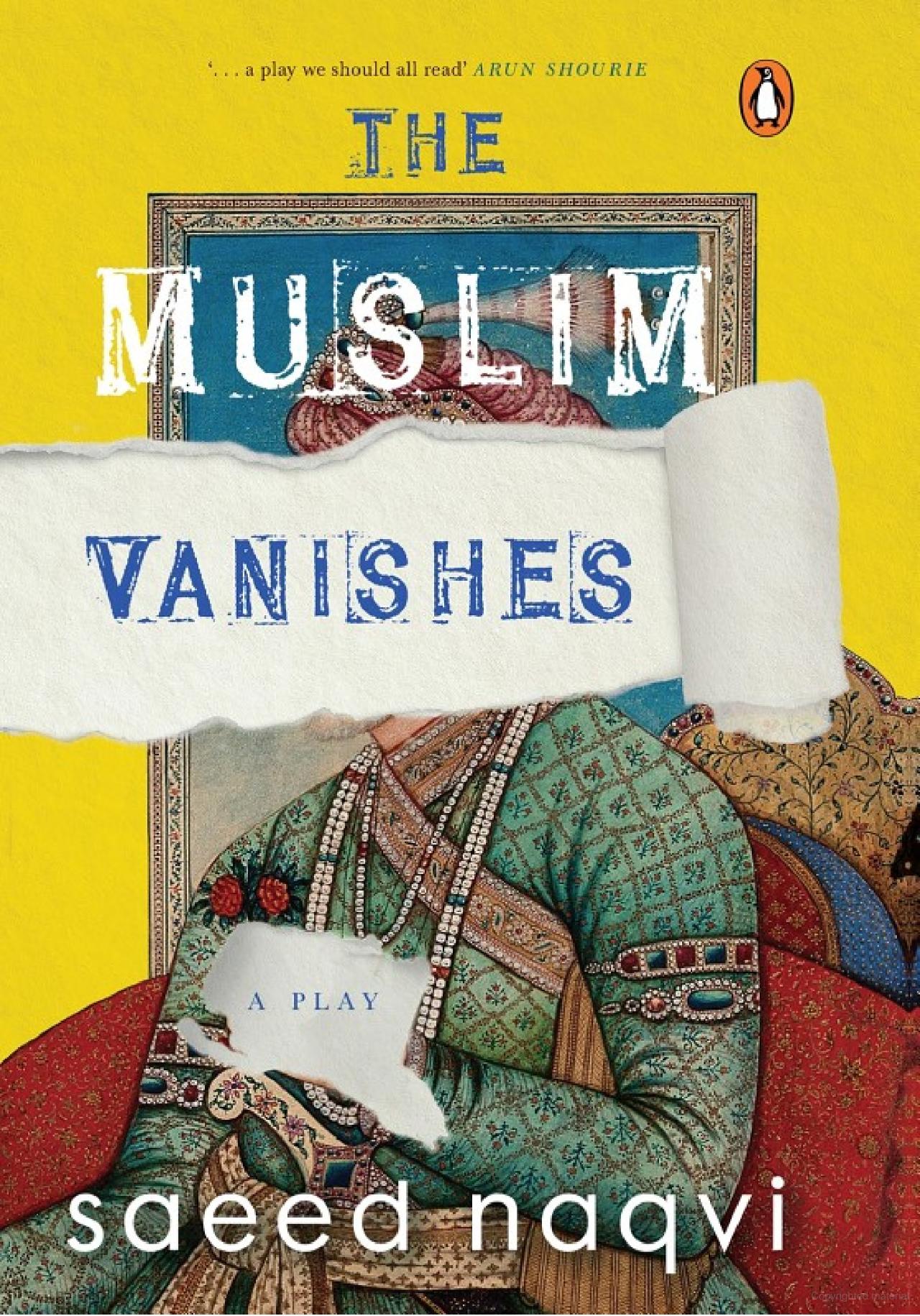 Saeed Naqvi's book
There was a boy named Rajeev Goswami of Deshbandhu College (in Delhi) who died in the agitation against this report. He tried to commit self-immolation at the intersection of AIIMS and later died of the injuries. After that this low-caste and upper-caste fight increased. Coincidentally, the Muslims did a very stupid thing at that time. The Congress party had already started wearing soft saffron colour.
Muslims' behavior stems from the fact that they were hurt by the JP movement in 1973-74. After that, for the first time in 1977, the Janata Party dethroned the Congress in Delhi. When Indira Gandhi staged a comeback she was told that the talk of the Muslim vote bank has spread and it's making Hindus angry. There is talk of appeasement (of Muslims). She was told that she has to keep an eye on the majority votes as well.
There was one more reason. Punjab was seething with a huge violent separatist movement. When Indira Gandhi fought the 1983 election in Jammu, she fought on an anti-minority plank, that is, in her view, Sikhs were there, but the word minority kept expanding.
In 1984, Indira was assassinated and Rajiv Gandhi won the election and got a three-fourth majority. Even Jawaharlal Nehru did not get such a big majority. The party had become wiser by then. We were thinking that Rajiv got a sympathy vote because of Indira Gandhi's assassination.
It was not so at all. Brainstorming sessions were held. I don't want to disclose names but I can tell you that some bigwigs told me that I don't understand the reality that Rajiv Gandhi had won because of a huge consolidation of Hindu votes towards him and Congress.
The Hindu polarization which is being increased by the BJP these days was already part of the policy of the Congress. Now Muslims had no idea where to go from here. After the partition, Muslims sat on the lap of the Congress and watched the situation leisurely. Others will say look, he (Muslim) is being caressed. The Sachar Committee report in 2005 bared the reality of this perception. It made a statement that Muslims rank at the bottom in every development index, even below SC and ST.
Again, Muslims had to decide where to go from there. People explained that the caste parties have come up. Everyone looked at UP and Bihar. Caste parties emerged especially in UP.
Caste-based parties emerged in UP and they were trying to wrest power from the likes of traditional leaders like Pandit Govind Vallabh Pant, Kamlapati Tripathi, Hemvati Nandan Bahuguna, and Narayan Dutt Tiwari. Muslims, again, had no idea whom to align with.
Muslim closed his eyes, and went with Mulayam Singh; some also aligned with Mayawati. Again inside these parties they were shocked to see that only Yadavs and Dalits are being treated by these parties respectively. The Muslims were again lost.
However, the behaviour of Muslims at that time did give an idea to the ruling class that in the politics of India, for the first time after independence, the Muslims tried to overturn this caste pyramid by interfering in the internal caste disputes of the Hindus.
There was no solution to this. So far Muslims were only blamed for religious conversions in the past. They were never blamed for manipulating politics. It was in an environment full of caste politics and communalism.
When these forces started rising, everyone thought - and if I were in the Brahmin (thinkers') circle I would have also thought - that there is only one way of avoiding it (interference of Muslims in caste equations) - the mobilization of Hindus. Target the Muslims so that the Mulayam supporters come back under the Hindu umbrella.
Something struck me while reading your book. In the preview, Clinton Wiley, an Israeli intellectual, historian, and expert on Bedouin culture, has written about you: "By the way, Naqvi is a Muslim but his true faith is in India." Why does he say so?
I am not just a Muslim and you are not just a Hindu, I was born in a Muslim home, so I learned something from there, and created something. In this environment, our school and college were affected, the country was affected, my friends were affected, my literature was affected, and my leaders were affected, all these are me.
Aisa tha bnansuri ke bajeiya ka balpan, kya kya likhon Kishen kanhaiya ka balpan
Such was the childhood of the flute player; What should I write about Kishan kanhaiya's childhood (poetry about Krishna)
If I were just a Muslim, I would not have been grooving at this song written by Nazir Akbarabadi. Maulana Hasrat Mohani was a Maulana; he offered Namaz five times a day. He was a member of the Constituent Assembly but never stayed in the bungalow. He slept on the floor on a mat spread in Masjid Abdul Nabi, which is behind the Times of India building (Delhi). He also performed Hajj eight times. However, his Hajj would be incomplete if he did not go to Barsana to see Radha (consort of Lord Krishna).
He (Maulana Hasrat Mohani) says he wants to hold this son of Gokul (Krishna) who throws colours on others, tightly in a hug, and squeeze out all his mischief.
The use of the word Bheenchna 'hugging tightly' shows the poet's passion.
Shah Abdul Razzaq has a dargah in Barabanki. He was a believer who used to talk to Lord Krishna.
This is our culture that people are bored of but I am not. Our favorite Sohar (song sung to an expectant mother) is the one in which they ask "Allah Miyan hamare bhaiya ko diyo Nandlalal, (O my Allah give my brother a son like Lord Krishna).
This is from Awadhi literature: One day Hazrat Bibi (Daughter of Prophet Muhammad) is sitting while Hazrat Ali had gone to war. He doesn't return by evening. Sugara Parrot is a messenger in Sanskrit and Awadhi literature. Hazrat Biwi tells Sugara, "Sugara you go in search of Ali Saheb, if you don't find him anywhere, then definitely go to Vrindavan." What would you call this, what kind of Muslim am I?
This is the only way according to me and what I have spoken about (in the book). Tagore has written two national songs, ours and Bangladesh's. People say that he has also written Sri Lanka's national song; I don't know about that. He was a very secular man; he did not mention God anywhere.
Qazi Nazrul Islam and Tagore were also British to some extent. Qazi Nazrul Islam's no poem is without reference to Tandav, Shakti, and Kali. You go to Kerala. Hyder Ali was the biggest Kathakali Mandalam artist, Chinna Maulana Sahib is the artist of Nadaswaram in Tamil Nadu.
In the 90s, we did a 35-episode programme called Saeed Naqvi ka Mera Bharat on Doordarshan. Surely things must have been different back then, How much has the situation in India changed?
It had improved once upon a time. Let me tell you something very interesting. I wrote the book Reflections of Religious Faith which came out in 1993. All these facts were there in it. Nikhil Chakraborty released that book. He was a journalist and a communist. The chief guest was Dr. Murli Manohar Joshi, who is from RSS. Everyone was deeply attached to the subject. RSS Sarsanghchalak Sudarshanji also started writing notes on the occasion. Today, some people may not like such an event.
The book's tile The Muslim Vanishes appears as if one day suddenly you wake up and see that all the signs and monuments of the Muslims living around you have disappeared, then how do you live in India?
It's a writer's way of encapsulating views, I thought that let me accept that Muslims are communal, bad people; they do Tabligh, terrorism, and Jihad. So let's remove them. After they have been removed what is the picture of India after that? At the end of the book, there is a court with a jury comprises Swami Vivekananda, Kabir, and other thinkers. Abdul Rahim Khankhana is also there.
Listen to one thing, Rahim had correspondence with Pandit Tulsidas. It was during Akbar's rule. Akbar liked the elements of Hinduism so much that he made Din-e-Ilahi by incorporating them into the new religion. Abdul Rahim Khankhana Wahid wrote a poem on Ramchandra's biography in Sanskrit. It's another matter that no one knows about him today.
Why did this book come in the form of a play, why are we seeing it as fiction, why didn't you bring it into non-fiction?
Its polemics and arguments are easy to resolve in the style of drama. I said one thing. One, I stated the Indian civilization, and the answer also came from the other side, which means it was not completely one-sided. This also kept a balance and provocative ideas kept coming from both sides. If you read it completely, then it has been written with a lot of effort and with passion.
The things in this book are very important, we are dreaming of becoming a superpower in the world. When we are discovering that our economy is the fifth largest economy, we cannot sleep ignoring the 200 million Muslims living in India, because 'we' and 'they' are words that should never come into our conversation.
I am taking your point a little further that the present condition of India is that due to the Ukraine war, there is a line in Shakespeare that there is one of goodness in anything of given goodness overall. So something can emerge from this war too, what is that?
Right now we are in such a place that we can bargain from both sides. S Jaishankar is doing wonders in foreign policy. We are at the place from where we take off. To be that power we want to be.