Azhar Ahmed, 70, who has been selling paan (beetle leaf) for nearly six decades in Lucknow, Uttar Pradesh, commands an impressive clientele from all walks of life.
Azhar Bhai's paan is not just a brand in the crowded alleys of Akbari Gate located near Nakhas market; it's famous all over the city. This shop is a meeting point for people from all walks of life. While enjoying their favourite paan day after day and exchanging greetings, many Hindus and Muslims have forged bonds of friendship.
Ashok Gupta, a 65-year-old resident of the Yahiyaganj locality ends his day only after enjoying his favourite paan from Azhar Bhai's shop.
Gupta, a construction contractor, drives up to the shop every single day to pick up his customised paan and makes sure that he carries 'Begam Pasand' paan for his wife Kaveri.
Besides picking the paan, he also gets to meet Azhar Bhai who has become a friend over the years. " Hamari latt hame waha roz pahuncha deti hai. Inke paan lagane ka andaaz hi bahut alag hai. Lucknow me paan ka chalan kuchch zyada hai.'' (My addiction leads me to his shop. His way of making paan is altogether different. In Lucknow, many people are in the habit of eating paan.)
Gupta has been visiting Azhar Ahmed's shop for almost 16 years. Azhar Bhai arranged for him even during the COVID. Gupta and Azhar's relationship is not merely that of client and seller. They never miss greeting each other on Holi, Diwali, and Eid.
Gupta also invited Azhar Bhai to set up a paan kiosk at his son Amit's wedding many years back. Gupta has been living in Lucknow for 23 years and he says what he likes the most about the city is its Ganga-Jamuni Tehzeeb.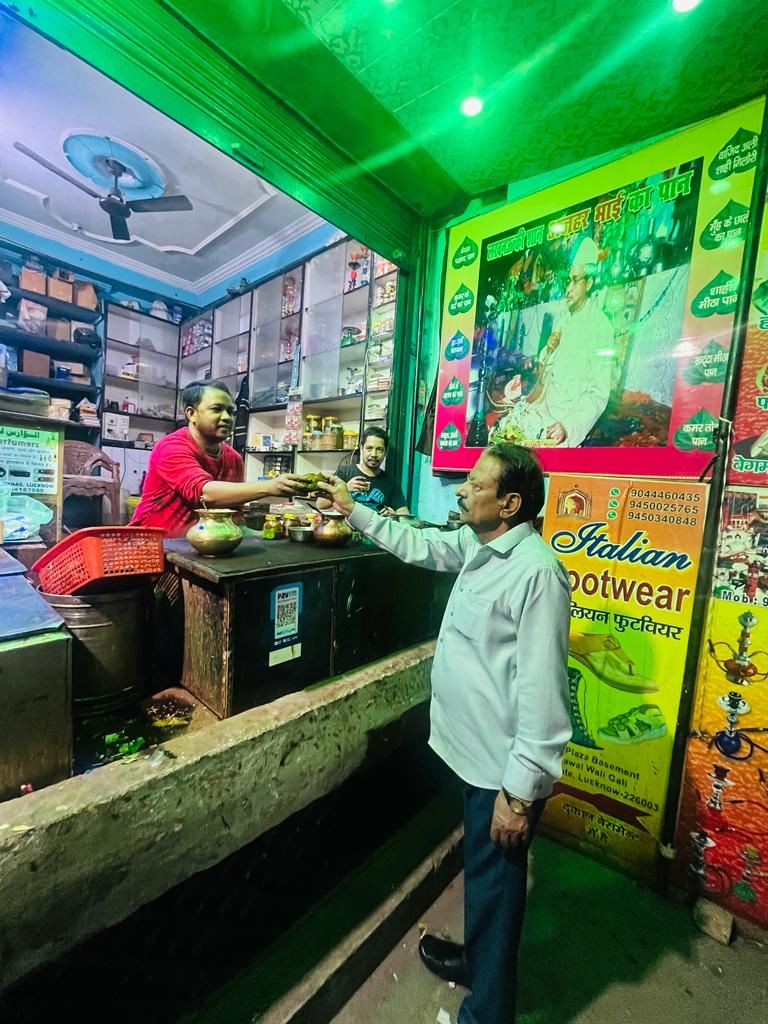 Ashok Gupta taking a paan at his favourite shop
Like Gupta, a 57 year- old paan lover, Alok Kumar Saxena from old Lucknow also walks a kilometer to the shop to enjoy tobacco paan.
Alok, a mechanical engineer says, "I have been coming to Azhar Bhai's paan shop for almost 18 years. The paan quality is very good. Sometimes, my wife also joins me to this shop to have Begumpasand paan.''
Azhar says he is looking forward to Holi on March 8 when he will visit his old customers turned friends, Gupta and Saxena in their homes and greet them with sweets.
Located barely 50 meters from the Ek Minara masjid, the paan shop illuminated with green lights cannot be missed. People come here to buy paan, cold drinks, hooka, and different kinds of hookah flavours. Azhar Bhai's nephews sit on plastic stools behind a rectangular wooden table that has a plastic tray with paans, metallic containers for 'Choona' and 'Katha' besides many tin boxes for ingredients used for filling the paan.
Azhar Bhai who lives in Shahganj, a stone's throw from the paan shop, opens the shop at 11 a.m. every day. Although he aims to end his daily business by 11 p.m., paan lovers keep dropping in till well past midnight.
Tourists visiting the Bara Imambara, one of Lucknow's most famous monuments, find their way to Azhar Bhai's shop in Nakhas market, a Muslim dominated by shops selling various merchandise.
Azhar Bhai says that filmmaker Muzaffar Ali invited him to set up a stall at his son Shaad's wedding party in Lucknow some years back. His shop has also been featured in Zaika India ka by the late TV journalist Vinod Dua.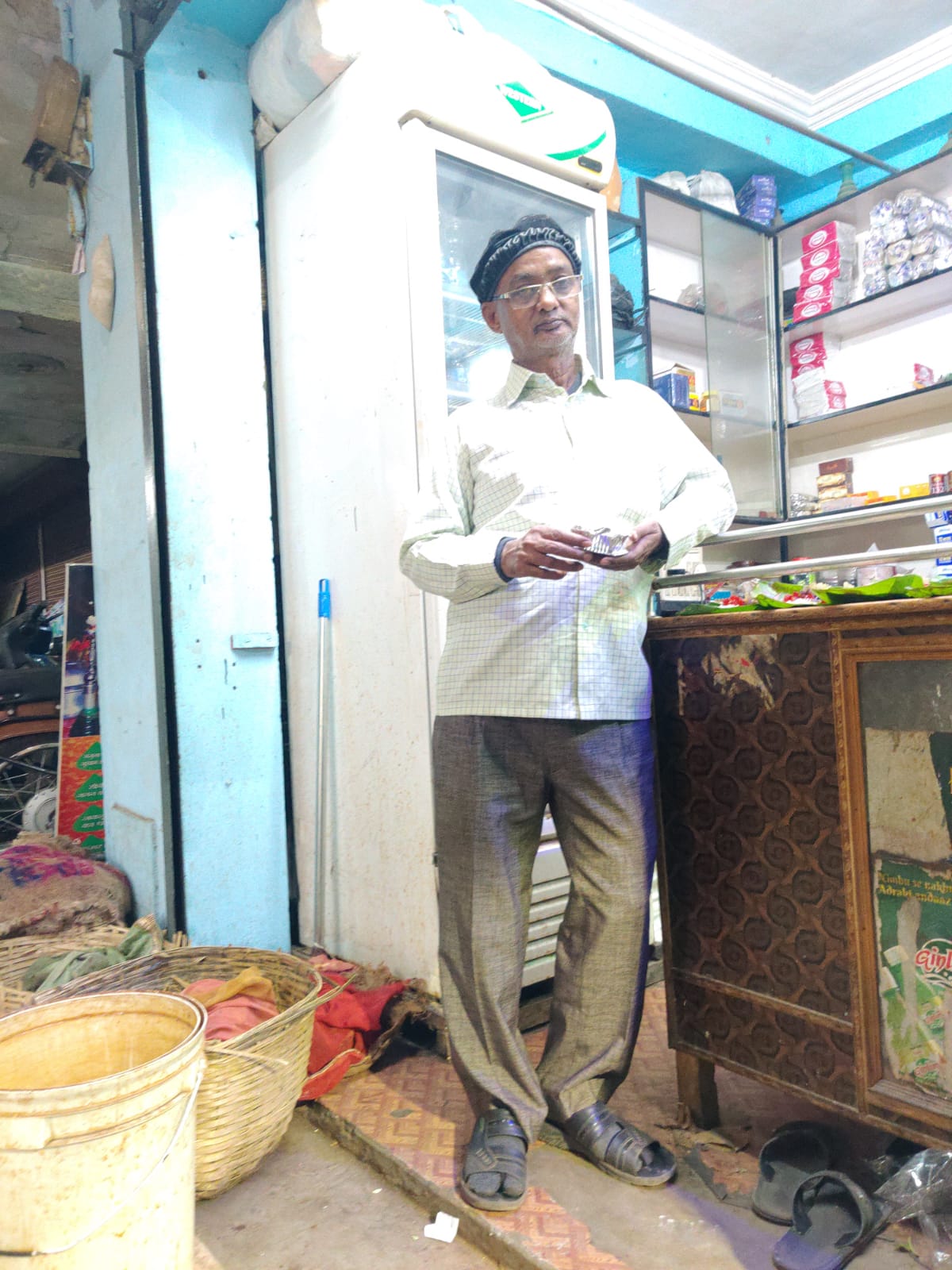 Azhar Bhai at his shop
Paan lovers land up here through the day but the business peaks only after dinner time around 9 p.m.
Like Gupta's wife Kaveri, who, on some days comes to pick up her paan, Azhar bhai has at least a dozen ladies from different communities as his regular customers. Many of them go for "Begum Pasand paan."
An illuminated frame at the top of the shop reads, 'Lucknow ki shaan, Azhar Bhai ka Paan'. It shows a picture of Azhar Bhai enjoying Hookah. On the right entrance to the shop, there is a panel that enumerates names of a variety of paan such as 'Haajme ka paan', 'Fire paan', 'Begumpasand paan, and hookahs.
Azhar can be seen overseeing the basic preparation of pans around in the evening. His nephew, Salim adds all the condiments and methodically arranges all the paans on the table on a raised platform. The shop sells about 150 paans a day.
Azhar Bhai has rubbed shoulders with the high and mighty-from those in the film industry to politicians and bureaucrats. He is happy to have had a chance to meet actor turned politician Raj Babbar, filmmaker Muzaffar Ali, and Abhishek Bachchan at the wedding celebrations of Ali's son.
While visiting Lucknow for a programme, Punjabi singer Daler Mehendi came to his shop to sample paan. Azhar also had a chance to offer a paan to former Uttar Pradesh Chief Minister, Akhilesh Yadav.
Azhar was only 12 and was studying in a primary school in Shahjahanpur when he lost his father. His maternal uncle who made a living by cooking, brought him to Lucknow, 170 kilometres away from his hometown, and left him with Mohd Naseem who had a paan shop in front of Mubin Hotel.
" I worked and lived with my Ustaad for ten years and then set up my shop near Mubin Hotel. Since the building is being reconstructed, we moved here."
The cost of paan at his shop ranges between Rs 15 to Rs 500. He sources beetle leaves from Benaras, Kolkata, and Mohaba.
Azhar explains that while the 'Halka meetha paan' is only for Rs 15, the special meetha paan is for Rs 20, the Shahi Begum paan is for Rs 25, the ' Haajme ka paan, the ' Seene me jalan ka paan' , the 'Nazla, khaasi, zukaam ka paan.
Azhar has four daughters of whom three are married. He has a son, Mohd Faiz who is in the final year of graduation. "My son is not interested in the paan business. This does bother me but I will let him follow his dream. If he does not succeed in what he sets out to do, he can always join the paan business. My Begum Nazma likes saada paan but most women across communities like the Begam Pasand paan which costs only Rs 30. Earlier, we were selling paan for weddings for Rs 500 but now, there is no demand for the expensive paan."
Azhar says that like others, his business also suffered losses during and after the COVID pandemic. " For three years, we hardly had any business. Even now, if we earn Rs 3000, we have an expenditure of Rs 2000. We serve 150 paans a day but we don't focus so much on profit as on building our reputation.''
ALSO READ: Shab-e-Barat- A night to seek forgiveness and savour dishes
And Azhar treats himself to Gola Barood paan every day- once after lunch and then again in the evening. This paan has ' khimam', 'chamanbahar' and two 'shahi goli.'
In a city where residents take pride in describing paan eating as an intrinsic part of their culture, it is not uncommon to find evey fourth person on the streets eating paan. Given the huge demand for paan in Lucknow, one finds paan shops at just about every nook and corner here.