Nakul Shivani/ New Delhi
As India completes 75 years of independence there are stories in various fields of achievements and legends.
For retired sportsperson who got glory for the country, the evolution of sports in the country is the study of a beautiful journey across many generations.
In cricket we have won the ODI as well as the T20I world cups to relive.
Talking of athletics, India continues to be a superpower at the Asian level. This was a tradition started by the great 'Flying Sikh' Milkha Singh, continued by PT Usha and still continues with javelin thrower Neeraj Chopra.
The icing on the cake was the seven medals India won in track and field at the recently concluded Commonwealth Games in Birmingham.
India is the only country to have won eight gold medals in hockey at the Olympics.
Talking of hockey, Vasudev Bhaskaran led India to its last gold medal at the Olympics in Moscow in 1980.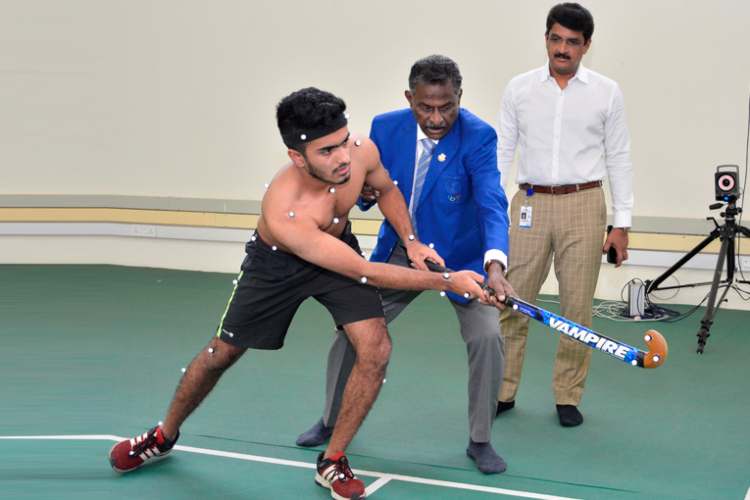 Bhaskaran imparting training to upcoming hockey players
Speaking exclusively to Awazthevoice.in, Bhaskaran now 70 years old, reminisces about the time when sports was a way of life for people like him.
"We played for the passion of playing for the country. In fact, all sportspersons do that", says Bhaskaran.
"I have grown up watching the legendary Milkha Singh, tennis stars like Jaideep Mukherjea and later the Amritraj brothers. India was growing up in all fields. Sports was a passion for young kids", he adds.
With no distractions like mobile games or multiple channels on Television, Bhaskaran grew up in an India where outdoor activities were the preferred options to keep oneself preoccupied.
"Sports was part of life. Parents encouraged us to go out. They were not happy if we stayed home for too long in the evenings."
"Such a life gave us the license to dream big."
Bhaskaran talks about the pride that came when playing for India. "Watching the tricolor unfurl at an international stage always gave goosebumps. It still does", he says.
But the star hockey player of yesteryears has a tinge of regret.
"We could have done even more wonders had our sportspersons got access to scientific training like the Europeans.", he says.
"Sport is very scientific. It is not merely about running and lifting weights in modern-day gyms. You have to train with care and discipline. There is a science behind every move a sportsperson makes. We have started introducing such training techniques now. This is a huge change and will help us become even more stronger."
The 70-year-old veteran who now runs a Hockey coaching academy in Chennai looks back with a little disappointment on the 41-year wait for an olympic medal in the game.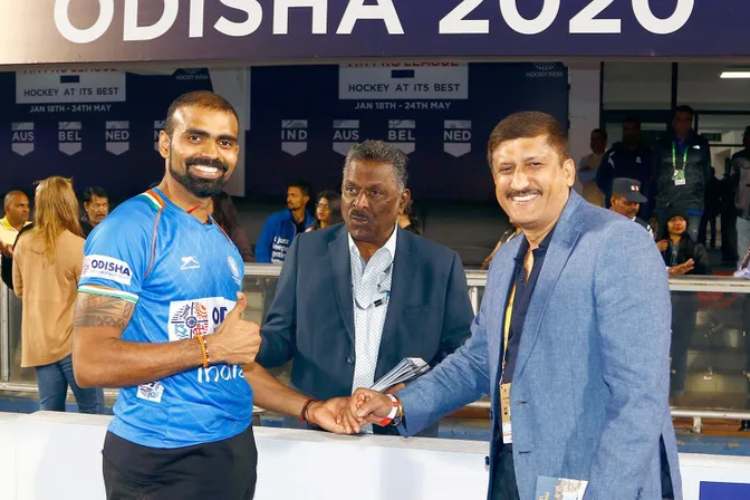 Bhaskaran with P Sreejesh who won the Bronze medal at the Tokyo 2020 Olympics
"What we did in Tokyo could have been and should have been done much earlier. But I am happy, at least we broke an important barrier," says Bhaskaran.
What is the biggest change to have happened in Indian sports in the last 75 years?
"The difference in my time and what today's kids are doing is a bit of a mixture of happiness and disappointment. We were always out on the ground. Today's kids have a lot of indoor distractions. But the good that is happening is that we are evolving as a superpower in many sports. Earlier, we were just a cricketing nation or a one-sport (Hockey) giant", he says.
"At the world stage we have badminton superstars, athletes, boxers, wrestlers all doing great. Earlier we had individual sparks. Now we have a group of world-class athletes".
Living with the nostalgia of the past and the cheer of the present, Bhaskaran hopes the baton passed on by his generation to today's generation will generate more success for the country.
"I am hopeful. I like the commercialization. It has allowed small kids from small towns to change their and their families' lives," he says.
"The likes of Milkha Singh, Amritraj's, PT Usha, Balbir Singh, and others laid the foundation for the coming generations to take the baton forward in Indian sports. With what we did in Tokyo, I am hopeful there are more glorious days to come," Bhaskaran adds.
"But I just hope the wait isn't as long as it was from Moscow (India won last gold medal in Hockey in 1980) to Tokyo (India won a Hockey bronze after 41 years)," he says, walking off to catch the grand reception on TV Indian athletes are receiving on their arrival from Birmingham.
ALSO READ: 'Azadi ka Amrit Mahotsav': Reliving India's iconic sports moments
"This is good. This will motivate more and more people to think about sports," he says.