Imtiaz Ahmed / Guwahati
For the Hazarika household, nothing could have come as a more precious gift on the birthday of Pranami Hazarika on Wednesday than the news that her husband Elvis Ali Hazarika has became the first from northeast India to have swam across the North Channel in the United Kingdom. Also that he has become the oldest swimmer from India to have achieved the feat.
Hazarika also became the first relay swimmer from Asia to have crossed the hazardous channel from Northern Ireland to Scotland.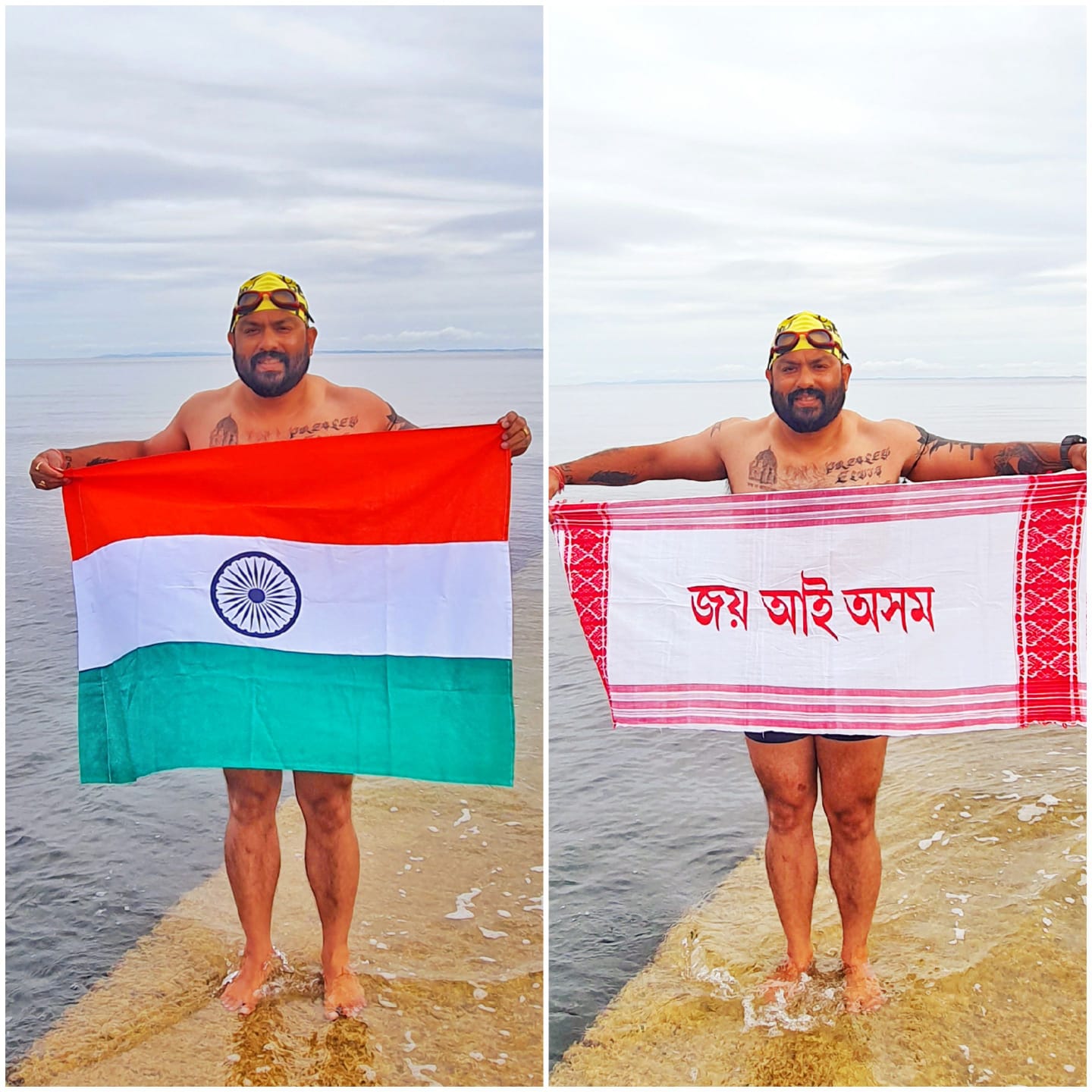 Elvis Ali Hazarika displaying the Indian tricolour and the Assamese gomcha after completing the swim
The 40-year-old adventurer clocked 14 hours 38 minutes to achieve the feat of overcoming the challenging cold water and jellyfish sting on Tuesday. The water temperature ranged between 12 and 14-degree centigrade.
When contacted by Awaz- The Voice, Elvis said: "I've done it. But, it was too challenging. I am stung by jellyfish from head to toe… Recuperating well."
Elvis was prepared for the jellyfish attack, as he had experienced their overwhelming presence in the channel during his 20-day acclimatization.
Earlier he posted a message on social media saying: "I have been waiting for this day for a long time. After a lot of effort and hours of pushing myself to work harder, every day, I successfully have become the first Assamese (North East) to cross the North Channel by swimming it in Relay Northern Ireland to Scotland. We had to go through a lot of challenges. Especially, the huge Jellyfish that was accompanying us all the way!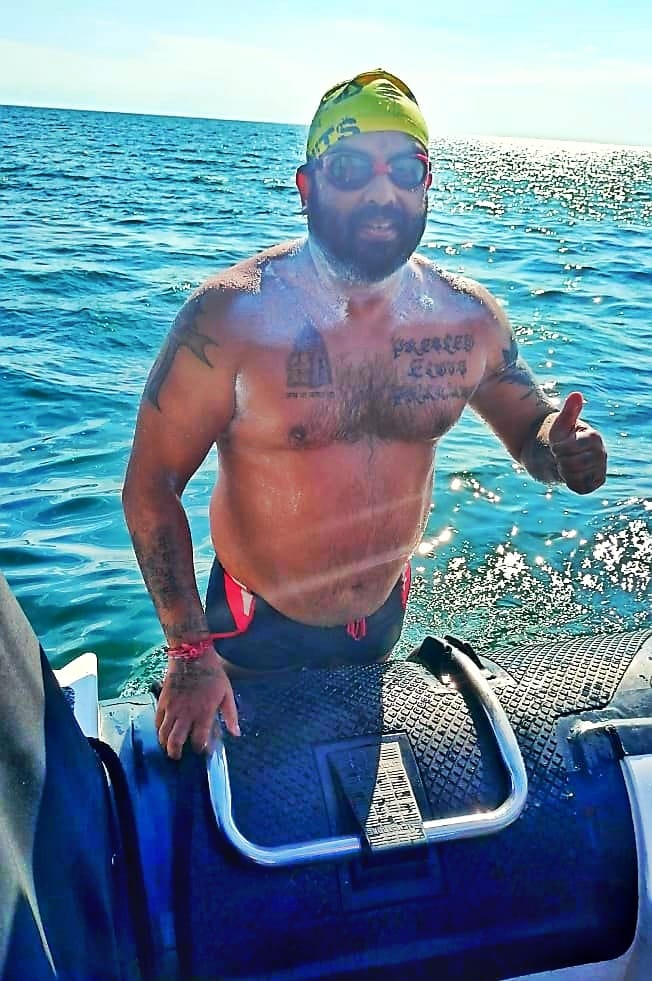 Elvis Ali Hazarika during the expedition
"We are the first Asian Relay team to cross the North Channel and I am the first oldest swimmer from India to have crossed the North Channel to clock a time of 14hrs 38mins.
"A dream come true and a proud moment for all Indians and Assamese people.
"Thank you to all my friends, and family, specially Pranami (wife) and Presley (son), for all your love and support."
Dedicating the achievement to his wife, Elvis added: "This is also my gift to my wife on her birthday. Thank you everyone for your love and prayers because of which I've successfully completed this."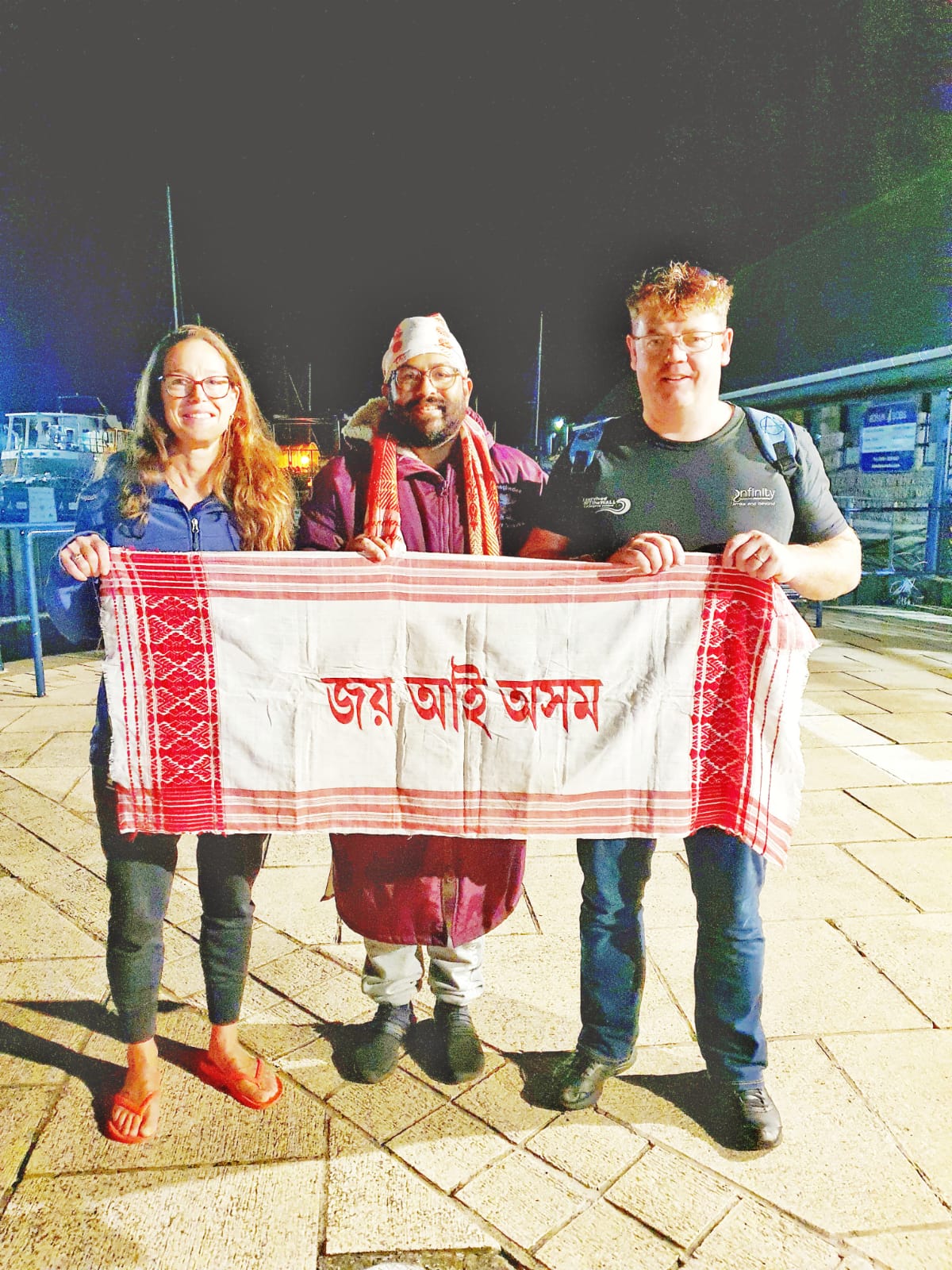 A proud son of the soil: Elvis Ali Hazarika displays Assam's icon Gomcha after his mission
He had started preparing for his long-distance swimming preparation in 2016, The event was scheduled for 2020 but was postponed due to the Covid-19 pandemic. He had to abort his English Channel crossing midway due to a lack of acclimatization in 2018.
Elvis has so far swum across the high-risk whale-shark-seal-dolphin-infested Catalina Channel (USA) in 2019
Would he try to cross the English Channel, again? To this, Elvis said: "This achievement is a big motivation. I'm going to attempt it again in June."
Elvis swam in the Arabian Sea in 2021 and earlier this year to swim from Dharamtal Jetty to Gateway of India in Mumbai and the Mumbai coast respectively.
The former international swimmer, who took the plunge into the competitive pool at a tender age of seven years, set as many as 23 national records in his competitive career and bagged as many as 68 medals, including 20 in international meets, but was deprived of the prestigious Arjuna award due to alleged bureaucratic lapse on the part of the then Assam government. Elvis now eyes the Tenzing Norgay Award for adventure sports with his latest feats in long-distance swimming.