Nakul Shivani/ New Delhi
25-year-old Inayat wakes up every morning before the crack of dawn to prepare herself for the drills that will hopefully make her an India international player sooner rather than later. Even before her other family members are awake, Inayat has put on her track-suit, picked up her hockey stick carefully placed next to her bed, and is on her way to the newly laid astro-turf at the Polo grounds in the heart of Srinagar.
She is one of the thousands of youngsters in the Union Territory who have picked up India's national sport in the hope of making a bright future for themselves and bring glory to the country on the international stage.
"Earlier there were very few hockey players here. Core of the JK team was primarily from outside the valley. But this is changing now. New facilities are drawing more and more young boys and girls to the sport," says Inayat who played for Jammu and Kashmir in the 2016 and 2018 nationals in Bengaluru and Ranchi respectively.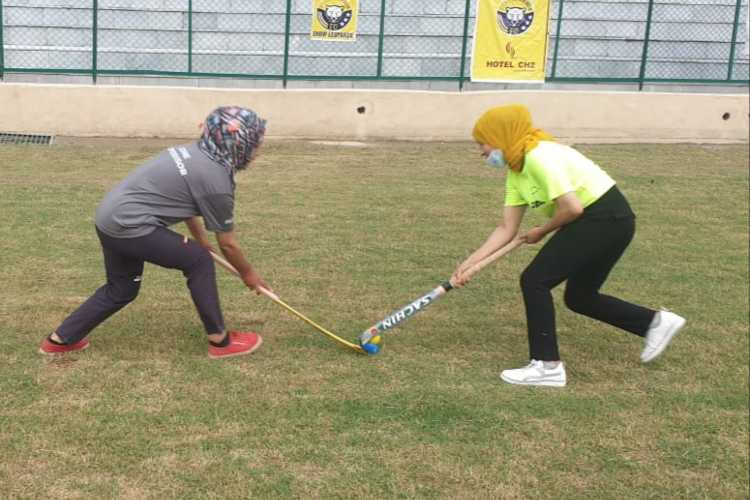 "Young boys and gils want to pursue the sport seriously" - Nuzhat Ara
Today, the Union Territory has close to 40 Hockey clubs. There are regular tournaments organised at the club and district-level. Players from Jammu and specially the Kashmir valley don't go to national level tournaments only to make up the numbers, but to catch the attention of the powers that be in Indian hockey.
Nuzhat Ara who has played for JK 16 times and is a qualified NIS coach asserts the game has shown an exponential growth in the UT. "Hockey is now very popular here. There are Astro-turfs in place in the valley. Young boys and girls have picked up the stick and want to seriously pursue the sport," she says.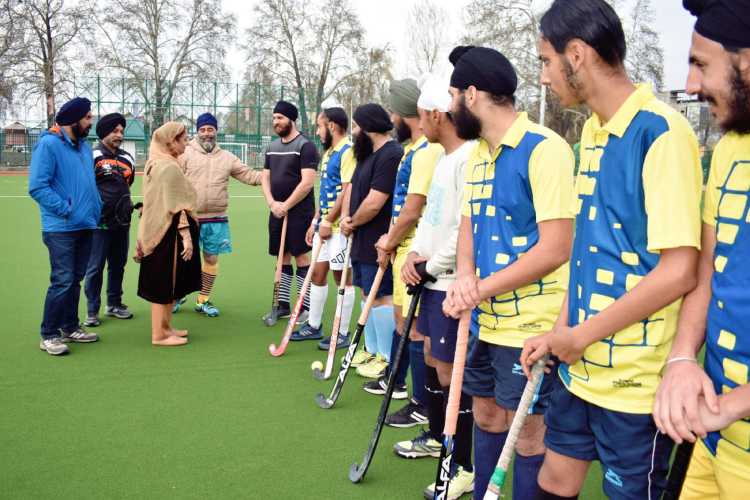 Jammu and Kashmir has close to 40 clubs playing serious Hockey
Once considered the backbone of the team, Ara is optimistic of the future of the sport here. "The fitness is there, the desire to learn the skill is there. Its just the facilities that were missing here. But now with astro-turfs in the valley, coaches and player are very enthusiastic."
Srinagar's Polo ground has a newly laid Astro turf. There are plans to lay one in Amar Singh College grounds too.
Rajeev Kumar, President of JK Hockey is one of those at the forefront of taking the popularity of Hockey far and wide in the UT. "Hockey is an essential part of India's legacy and with the numerous accolades the country has won in the sport, JK was not going to miss being part of this," he says.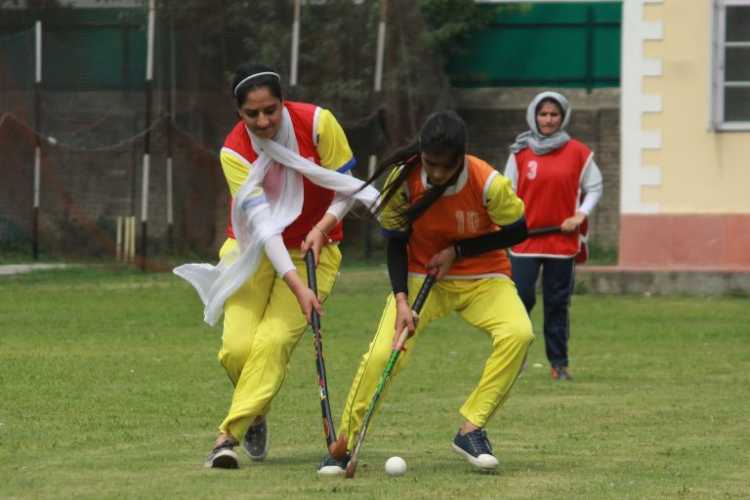 Hockey is very popular among girls in the Kashmir valley
The JK Hockey along with the JK Sports Council are making efforts to make Hockey as much part of the sporting culture in Jammu Kashmir as martial arts or other sports in which players both from Jammu and Kashmir are excelling at the national stage.
Jagjeet Singh, a Hockey coach for 19 years, is all smiles when asked about the rising popularity of the sport here. "The facilities are coming here. Even players from the Kashmir valley are now getting to taste the pleasure of playing on Astro-turf. This augurs well for the sport in the Union Territory."
With the introduction of modern facilities, aspiring players are set to get world-class training. "I can now practice in an environment that produces world-class players. I learnt my basic skills on grass, but now there is interest shown by administrators to upgrade the facilities, which makes players and coaches happy," says Inayat.
"Every evening when I see 10, 12 year-old-boys and girls dribble the ball, practice penalty-corner drills, run on watered Astro-turfs, scream out for passes…it excites me. I see hope. Hockey is taking kids to walk on a constructive road," adds Nuzhat Ara.
But as many experts say, Hockey is still a work in progress in Jammu and Kashmir. "We can do better if we have residential sports hostels like in other parts of the country. Punjab, UP and now Odisha have done incredibly well in the field. We must emulate their model. There should be national level tournaments here in the UT. Interest will increase further. Kids will get to see world class players. With right exposure we can produce national level players," says Jagjeet.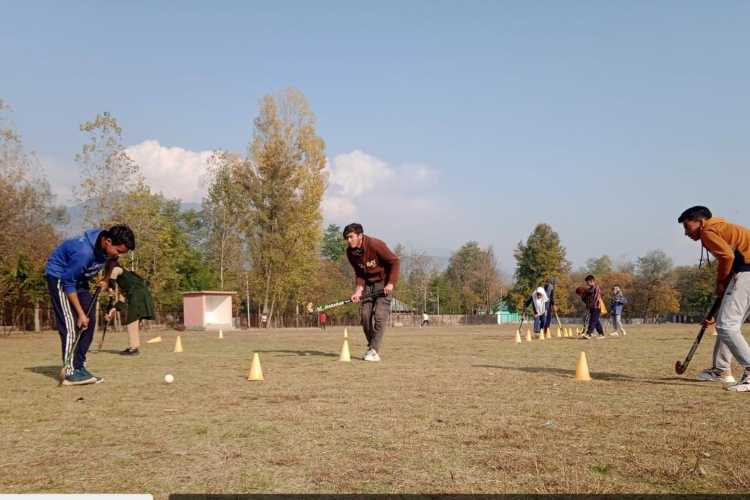 Children are today voluntarily coming out of their homes in Kashmir to learn Hockey
"There is change definitely happening," adds Anjali who coaches trainees in Jammu. When she started giving coaching, she had to reach out to parents and plead with them to send their children to the playground. "Now I see parents walk in to see their children play. They themselves come to learn Hockey."
Hockey, India's national sport is finally getting its place in the Kashmir valley. With the right exposure and timely intervention by the powers that be, to see a Kashmiri boy or girl don the India jersey is no more a dream beyond imagination.
"I see a lot of talent here. Hopefully, one day we will have a Kashmir boy or a girl play in India colours," says Nuzhat Ara summing up the feeling of the Hockey fraternity here.
Interview with Rajeev Sharma, President, JK Hockey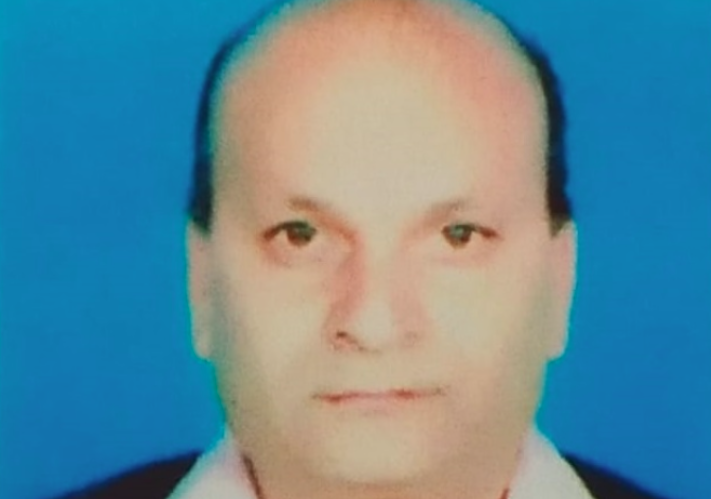 How will you describe the popularity of Hockey in Jammu and Kashmir?
As we all know Hockey is an essential part of india's legacy and the country has won numerous accolades in the sport as well. In J&K , Hockey is itself very much part of the culture and every trainee enjoys to play hockey. With the help of Sports Council, popularity of Hockey is becoming very vast in J&K. Some of the hockey players here are good enough to play for the country and many have got jobs because of hockey.
What efforts are being taken to take the game to the far-flung areas in the UT?
Providing proper infrastructure to trainees like laying new Astro-turfs in not only Jammu, but also Kashmir area is one of the biggest measure taken to spread the sport here. In addition, coaching camps are organised at regular intervals where good coaches impart training.
Do you see the promise of a Kashmiri boy or girl making it to the national squad?
Yes, definitely. We have many hockey clubs from Kashmir valley where the trainees from different districts participate every year in district championships, state championships. Every year our team goes to play at the national level championships. I am sure the day is not far when we see our Kashmiri children play for our country.
What role is Hockey playing in the overall development of youngsters in the valley?
Hockey is playing a very important role in guiding our young generation to be focussed and not get distracted by irrelevant things. Many of the state players are getting government jobs due to Hockey, and many are aspiring to play for the country. The day is not far when our teams will start winning at the national level tournaments.