Lt Governor Manoj Sinha flagging off the Indian contingent for the 19th World Pencak Silat
Srinagar

The India team for the 19th Pencak Silat championship, the highest competition in this martial art sport relatively new to India, left Srinagar for Malaysia after attending a 14-day training camp in the summer capital. The Indians will compete against players from 29 other countries in Melaka, Malaysia.
According to Nuzhat Gul, Secretary, Jammu and Kashmir Sports Council, it was the first national coaching camp organized for Pencak Silat or for that matter any martial arts discipline in the region.
Jammu and Kashmir's Sheikh Najmus Saqib, Suhaib Jilani, Pir Adil Manzoor, Ravees Ahmed, Komal Dhiman, Bilkis Maqbool, and Aksa Gulzar are members of the Indian team.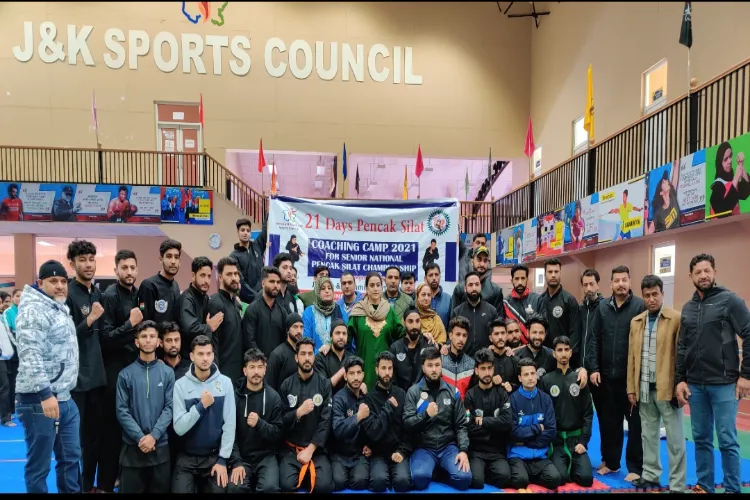 J&K Pancak Silat plaers with Nuzhat Gul Secretary J&K Sports Council
The Indian team was flagged off by J&K Lieutenant Governor Manoj Sinha to Delhi and from where the players would fly to Melaka, Malaysia.
Sinha interacted with the players and coaches and wished them success. He also inquired about the facilities and training provided to the players during the 21-day National Coaching Camp.
He told the players that it is a matter of great pride for them to represent their country in the World Championships. Referring to J&K, he said, "good game will be seen there." He told the players that they must keep in mind that 1.3 billion Indians are cheering for them.
Manoj Sinha said he was proud of the youth of J&K and their achievements. "I am really proud to see his confidence, vision, and dedication to transform the country into a sports superpower."
A team of 36 players (men and women) from across the country left for Malaysia. Eight players from Jammu and Kashmir - Karan Chopra, Sheikh Najmus Saqib, Suhaib Jilani, Peer Adil Manzoor, Ravees Ahmed, Komal Dhiman, Bilquis Maqbool, and Aksa Gulzar are part of the team representing the country at the World Championships.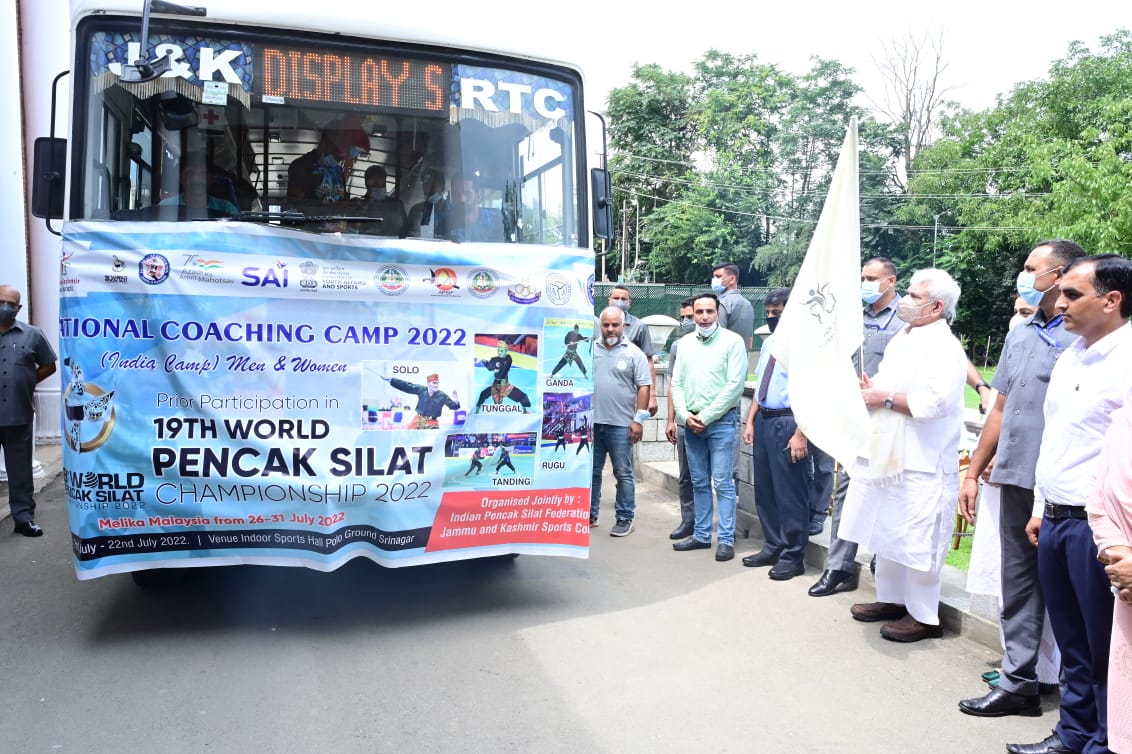 Manoj Sinha flagging off the bus carrying the Indian contingent for Malaysia
Pencak silat is a martial arts sport, which collectively includes various martial arts styles. Apart from this, the use of weapons is also allowed in the game. Pencak silat involves full body fighting, where any part of the body can be used and any part of the body can be attacked.
That is, it is different from the rules of karate. This form of fighting originated in Indonesia as a means of self-defense and turned into a competitive sport. This game has spread across many South Asian countries at present.
The players are accompanied by six coaches and staff members, including two coaches from Jammu and Kashmir - Mohammad Iqbal and Irfan Aziz, besides one staff member - Mufti Hamid Yasin from UT also accompanied the Indian team for the World Pencak Silat Championship.
Environment Campaign - The Spirit of Football on Sustainable Development and environmental awareness about environmental change.