Afzal Butt/Srinagar
Fighting his way to glory, the 19-year-old Saleem Kumar of central Kashmir's Soibugh village has become a symbol of grit and determination.
With seven golds in the national and one silver medal in international competitions in his Kitty, Kumar's success has set an example for other trying to find way out of poverty and difficult circumstances in lie.
Saleem's father Habibullah is a kangri-maker and mother a homemaker. Kangri is a portable fire pot used by Kashmiris to beat the cold. With selling Kangris, Habibullah can barely manage to support his family of five.
Kumar recalls the first Wushu martial art competition that he participated in. "I could barely stand then." he says. "It was a Wushu championship in Tamil Nadu in 2010," His coach would lift him to the arena and around.
In a special conversation with 'Urdu Awaz,' Kumar said since his childhood he was inspired by the Wushu fighters as he saw them on television.
Saleem Kumar
There was no looking back for him since. He won a silver medal in Brazil in Junior World Wushu championship. He also participated in 20-day Wushu camp in China.
"This year I was scheduled to take part in Asian championship in Morocco that was cancelled due to Corona pandemic."
Nissar Ahmed Mir, a local Wushu coach has been a great mentor and a well-wisher to him. "Sir motivates me to improve upon my skills." Kumar said. "He has even paid towards my expenses," he says.
Due to financial difficulties, his brother had to drop out of school and join his father's vocation. His sister has completed her graduation.
"My family has lived with financial difficulties but always tried to help me."
Saleem is studying in 12th standard in the village school. He is also associated with the Wushu martial arts society of Soibugh.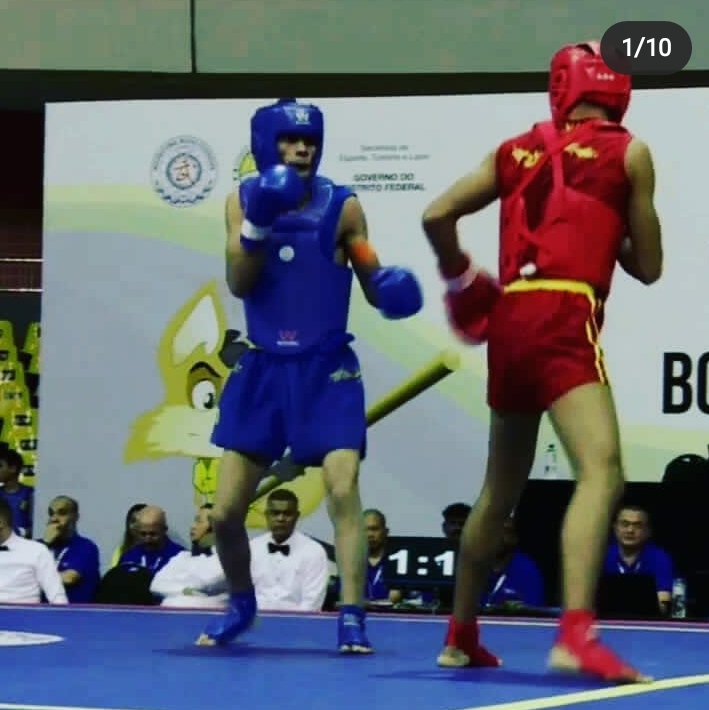 Saleem Kumar taking part in an international competition
"Players have to face difficulties. However, we must remember that success comes at the end of a long and hard walk.
"I have been waiting for some help from government. However, I believe a person's passion can make him pull through all difficulties."