Nakul Shivani/ New Delhi
India's most prolific ultra-runner Sufiya Sufi is on the road again. This time, she is aiming to get herself a fifth Guinness record by running from Manali to Leh in under 100 hours. This will be her second run on this route.
"I did this in 2021 in 156 hours. I challenged myself to cut it down to under 100 hours," said Sufiya speaking to Awazthevoice.in from her base in a Manali village.
She is currently training from a village called Majach, about 10 kilometers from Manali town. Planning to reach peak preparedness by June, Sufiya plans to embark on this arduous task in the first week of July. "I need time to be mentally prepared. That is why I am giving myself enough time," she says.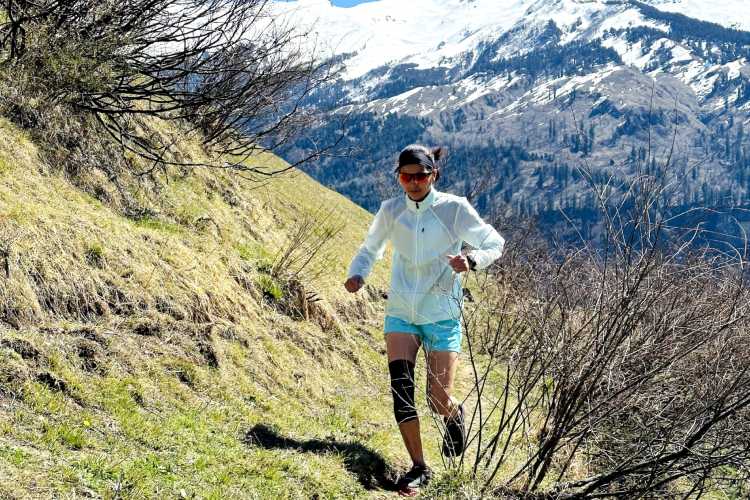 Training in Majach village is giving Sufiya more time to prepare mentally for the challenge
During her last challenge, Sufiya feels she did not give herself enough time to acclimatise in the mountains. "That's the reason I took more than 150 hours to accomplish the feat. I have learnt from my mistakes and this time I set-up base in a village here."
Based in a village is allowing her to calmly prepare for her challenge without distractions. Majach is a small village with about 70 families. "People are very helpful here. Staying in a homestay helps me stay grounded. I get to eat fresh food and the mentoring of village elders," Sufiya chuckles talking about the decision to shift base to a remote village. "Maybe I will stay here for the next year or so, even after the run," she adds with a smile.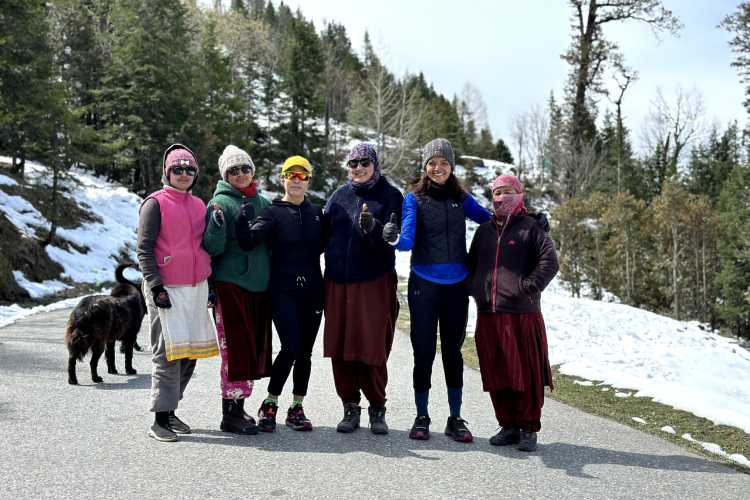 Sufiya with women of Majach village
Sufiya's day begins early. Up even as the snowfall adds to the beauty of the place, she runs about 10 kilometres every day. On a given day this extends to about 30-40 kilometres. "Running in mountains is far more difficult than running on plains. For every 5-6 kilometres I do in the mountains, I can do 20 kilometres in the plains."
Her regimen for this special task resolves around increasing her lung power and mental strength. "Oxygen levels are low at places here. So, I need to strengthen my lungs." Add to that her requirement to be mentally strong enough to accept the challenge. For this she does meditation and gives enough time to do yoga.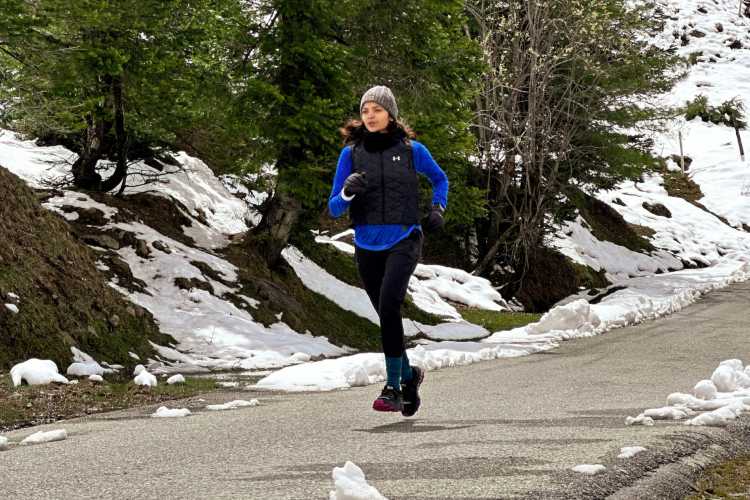 Sufiya is specially working on improving her lung power
For this challenging run, Sufiya is hoping to get the support of a physiotherapist and a doctor. "I hope someone can sponsor this part. This will make my preparation easier," she says in the hope that a few more hands in her challenge will allow her to finish the task with more ease.
This upcoming run by Sufiya comes a few months after she completed the Qatar circuit in under 200 hours. And it comes a few months before she will embark on another challenge in the desert – the seven emirates of the United Arab Emirates in 7 days.
ALSO READ: Sufiya Sufi – Running to define new boundaries
But for now, its running on the mountainous, curvy roads of Manali that is keeping her busy. "I love challenges. I don't feel scared. It's not just about preparing the body but it is also about the mind. I am setting some tough benchmarks, am I not?" she asks before turning to prepare her run on the path covered with fresh snowfall against the backdrop of the majestic Himalayas.