Ariful Islam / Guwahati
At a time when restaurant and cloud kitchens are doing huge business with multinational food delivery companies like Swiggy, Zomato, Uber Eats, et al gaining popularity in Guwahati, a couple of the city has been running successful business of home-cooked foods and promises to be healthy and hygienic.
The couple from the Hatigaon area in the city has made it a priority to provide healthy and quality food to clients as against the aggressive promotion and advertisements of multinational companies. Unlike restaurants and commercial cloud kitchens, the couple has made it a point to prepare food without the help of any chef.
In an interview with Awaz-the Voice, Mujakkir Hussain said: "We started this business in September 2020. At first, we prepared snacks at home. We tasted these and gave these to our neighbours as well"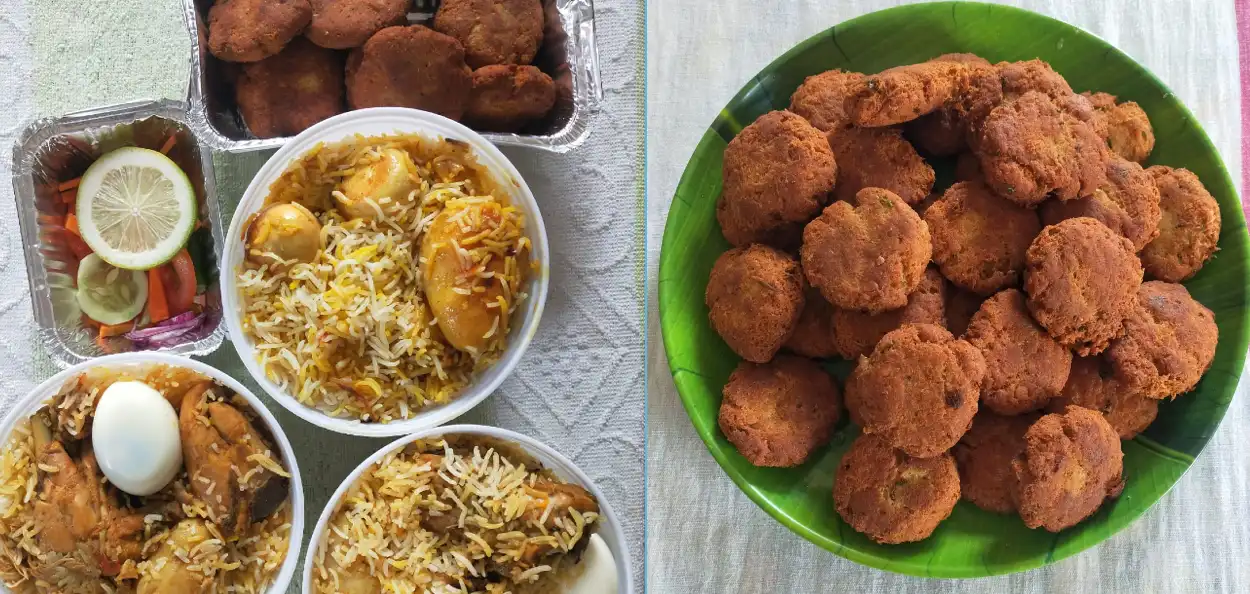 Delicacies prepared by Khadija Begum

Soon he and his wife started supplying snacks to a few nearby shops. "We started cooking other food items such as chicken, mutton, duck meat, fish, etc. All food is prepared with fresh ingredients and we pay special attention to serving healthy and hygienic food. No food is stocked and everything is brought on the same day of cooking."
Mujakkir Hussain lives in a rented house in Hatigaon with his wife and two children. Mujakkir's wife Khadija Begum cooks every dish ordered by customers. After the food is prepared, Mujakkir Hussain takes the bicycle and delivers it to the customer's home.
With the reputation of Khadika's food spreading through the word of mouth, the couple is getting more orders each day. Customers order food items from them for parties, household functions, Ramadan iftars, and office lunches.
Khadija Begum said: "I was always interested in cooking. Since the lockdown, we have had to do a little more cooking after we took it up as a livelihood. I try to give people as much quality food as I can. Sometimes, it becomes a little difficult and tiresome when bigger orders come in."
"I share photos of the food that we prepare for our customers on my Facebook page called 'Northeast Food Hub'. We get new customers on Facebook regularly. Our regular customers initially felt the prices were a little high than others. It's because we use all the homemade spices and better quality oil such as rice bran oil. This gives the customers a distinct taste like homemade food. I can say that they like it and that's why they order our food almost regularly," said Hussain.
The couple keeps the health of their customers in mind while planning food. They say they never want anyone to fall sick due to their food.
They buy whole spices from the market, wash them thoroughly, dry them in the sun, and grind them at home. They don't use any chemicals or colours, they prepare biryani completely at home. This gives the customers a new taste and they order again and again.
Mujakkir Hussain said: "The number of customers has increased significantly now compared to when we started. Usually during the colder season and Ramazan, the number of customers increases. We are also getting ready for the month of Ramadan this time. Last time orders came from far-flung localities too but I couldn't go on a bicycle and deliver so far. I don't think the price is high in terms of our homemade food. What matters to me is that the customers like our food."
Before launching the cloud kitchen in 2020 under the name of Northeast Food Hub, Mujakkir Hussain used to do private tutoring and ran a small tea leaf stall.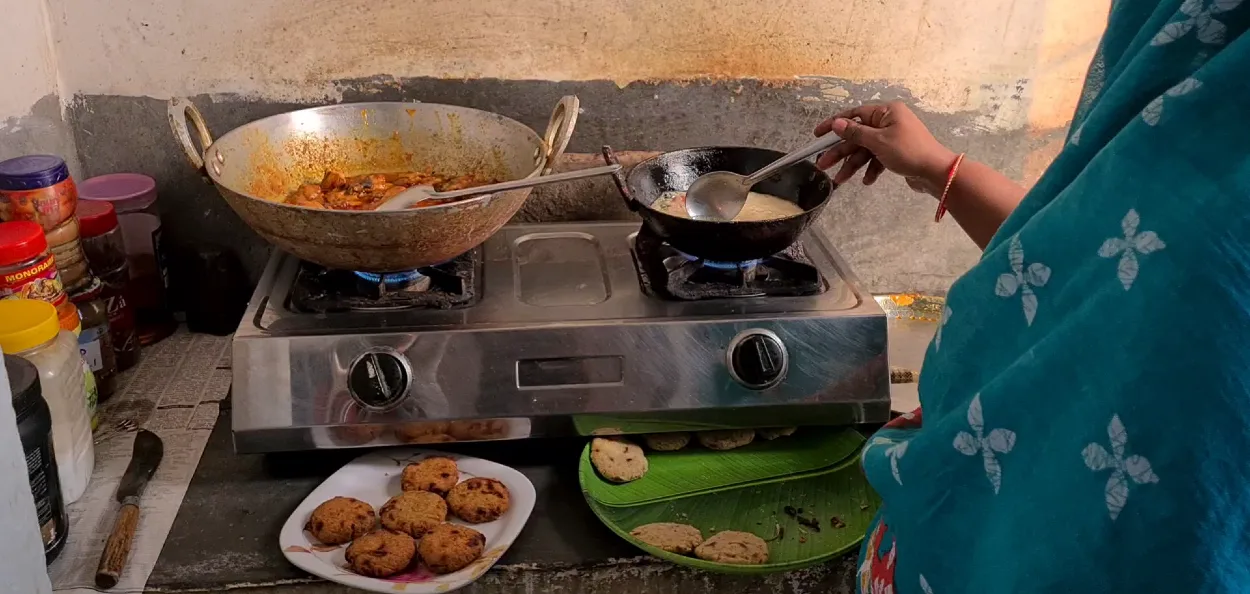 Khadija Begum preparing food in her kitchen
Mujakkir also tried to capitalize on the MNC food delivery outlets such as Swiggy, Zomato, etc but did not get a good response.
Mujakkir Hussain and his family had relocated to their original home in Mangaldai due to threats to their employees during the lockdown.
At that time, many women in Guwahati started cloud kitchens. Mujakkir liked the idea. Mujakkir, on the other hand, was inspired by videos of Behrouz Biryani and other cloud kitchens.
"These big brands have been able to establish their businesses around the world without having any restaurants. Seeing that, I started the cloud kitchen under the name of 'Northeast Food Hub'," said Hussain.
Hussain donates 5 percent of his profits from business to charity. In the future, Hussain and his wife want to establish a cloud kitchen by the name 'Northeast Food Hub', and also a restaurant by the same name where customers can enjoy food both online and offline.