Tripti Nath/New Delhi
Nasima Nawabi, a 66-year-old Afghan woman, who came to India 12 years ago in search of a new life, works day and night to support her eight children. After her husband died in 2010, Nasima decided to leave Kabul where she was born and lived for nearly five decades.
Moving from the Afghan capital Kabul to an unfamiliar country and adjusting to new surroundings was a tough decision. Her firstborn Mohammad Noman was only 14 then and the youngest Ali Javed was all of six months. Caught between the Devil and the Deep Sea, Nasima moved to India's national capital with her five sons and three daughters.
In 12 years, this simple and friendly Afghan family from the Hazara ethnic group has embraced Indian culture. They look forward to Diwali and have many Indian friends who even invite them to family weddings. Nasima's youngest son Ali shares Afghani tiffin with his schoolmates and also relishes the aloo paranthas they bring for him.
The family has cordial ties with Indians and is relieved that they escaped an unknown future in their home country.
Nasima supports her family with her home-food inititiave 'Ilham Kitchen' . She set this up eight years ago in her rented flat in Bhogal where she lives with her six children. Two of her sons have moved out.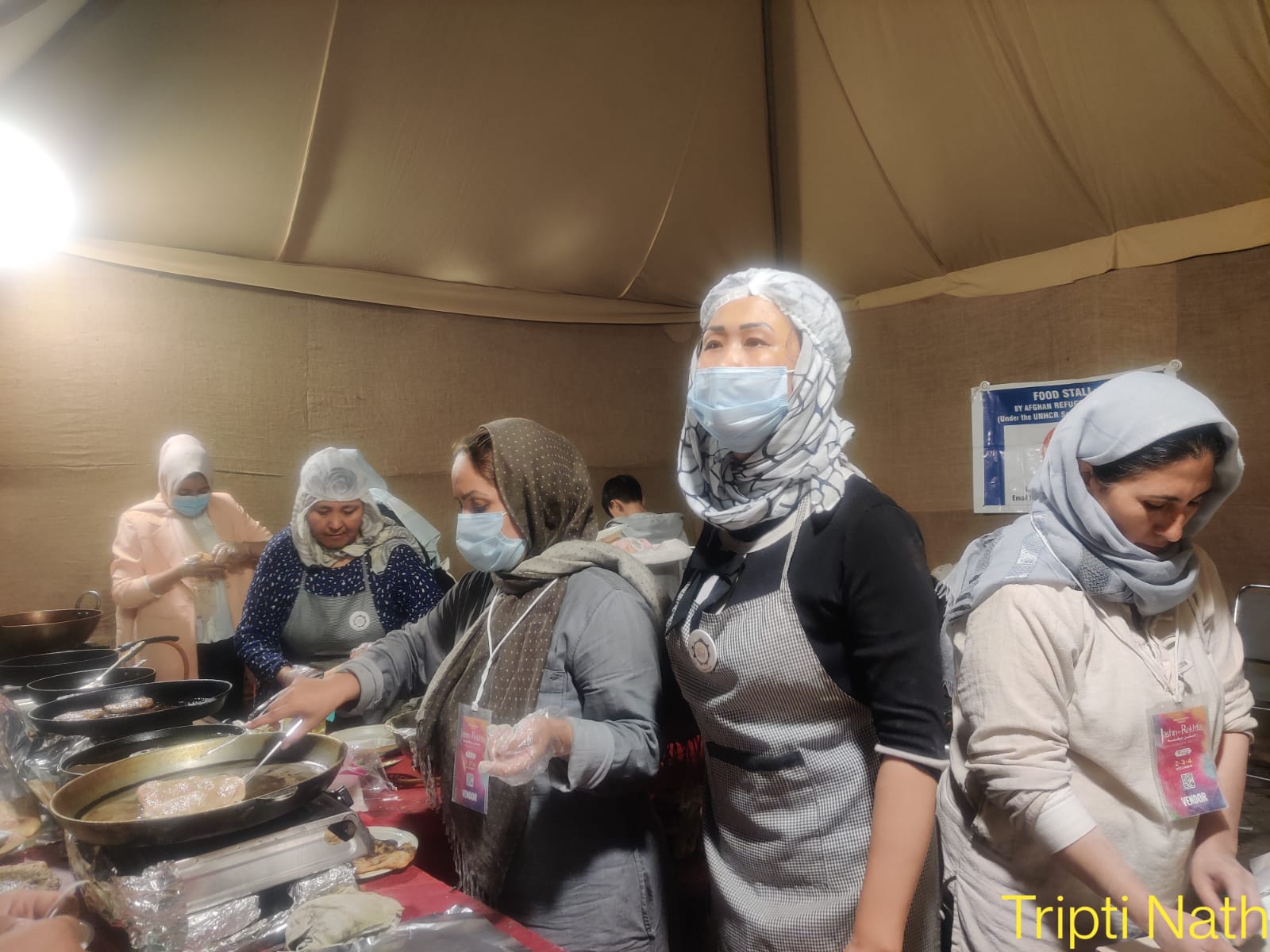 Nasima Nawabi and her team mates running Ilham Kitchen counter in a festival
The weariness of years of struggle for existence shows on Nasima's face. In the carpeted room of her rented house with almost no furniture, Nasima narrated her saga of toil and trouble. With her youngest son Ali by her side, Nasima was able to do so in a calm manner.
"My husband, Bahram Ali eked a living by selling auto parts. I sold his shop and just about everything as we had to raise money for the fare and miscellaneous expenses. Back home, my relatives lost their children. I was worried about my children. The only person I knew in India was a relative who had come to Delhi for medical treatment, " Nasima recalled.
While four of her children were born in her home country, four were born in Pakistan.
The family moved to India with whatever goods they could bring on the flight. Initially, they took a two-bedroom house on rent in Jangpura in south central Delhi. Now, they live in another block in Bhogal,
Clad in a traditional Afghani Peran paired with a dull grey scarf, Nasima recalled, "I started life afresh by finding odd house jobs in the neighbourhood. I began mopping, sweeping, and dusting in some homes but that was not enough to run a household and pay rent of Rs 8,500. So, I started stitching clothes. I approached UNHCR (United Nations High Commissioner for Refugees) for work."
The UNHCR trained her in making dishes and marketing techniques. Initially, four women joined the training and later the number increased to seven. "I gained confidence from this training and was able to start Ilham kitchen in 2015. 'Ilham' means inspiration,'' Nasima said.
Nasima says that she began by selling the Afghani sweet Khajoor. Later, she began selling Chapli Kebab, Afghani non-veg Momos known as Manthu, veg momos known as Ashak, and Bolani which is like Aloo parantha. When she started, she had orders from U.S. embassy staff who visited the UNHCR office.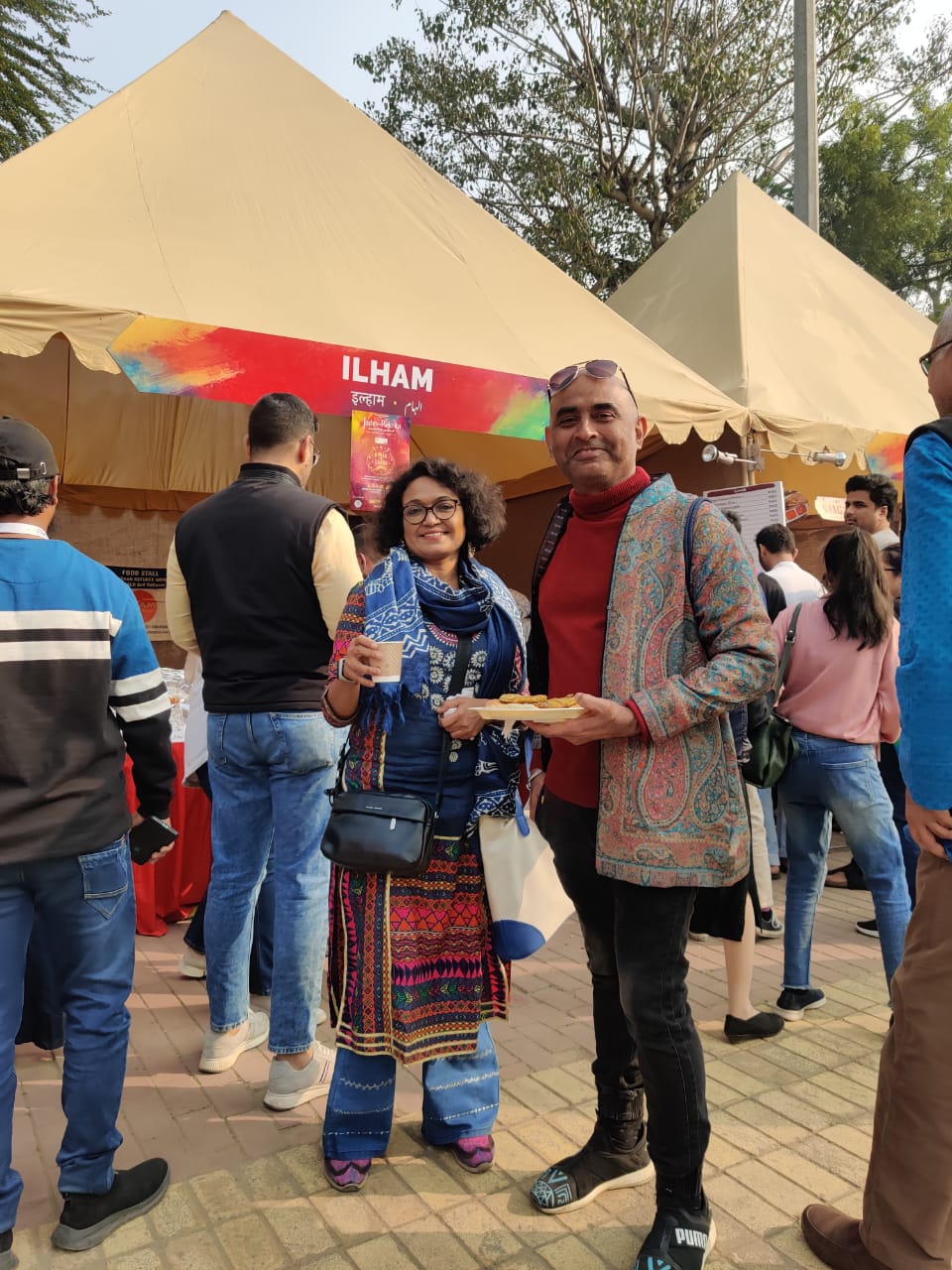 People relishing Ilhan Kitchen food at Jashn-e-Rekhta
Her dexterity was visible at the food stall she had set up at Jashn-e-Rekhta, an Urdu language festival, held in New Delhi in January.
Her Ilham stall was a big hit during the three-day festival. Besides Nasima and her children, their partner Masuma also worked at the stall.
Nasima had allotted the work very well to her children. While one of her daughters processed coupons, the other daughters rolled wraps, coordinated orders and packed food. Her underteen son, Ali Javed did his bit by lending a helping hand.
Nasima told Awaz-the Voice: "This was the fourth time that we set up a stall at the same festival but I earned only a little over Rs 20,000 as 30 percent of earnings go to the organizers. I borrowed money to buy ingredients. Standing there for three days affected my lung health and I fell sick due to pollution.''
Many visitors to the stall relished Afghani food like Chapli Kebab, Qurm-e-Kofta, Baklawa, and Afghani Chai (saffron tea).
Sadly, the family continues to face financial hardships. They have not been able to pay rent for some months. Nasima says she takes tailoring orders to supplement her income. "My eyes hurt now and it is difficult to stitch but I have to keep the hearth burning. I stitch clothes for my children.''
The one thing that keeps Nasima's youngest son Ali smiling despite adversities is football. Ali enjoys studying and playing football at the government boys' senior secondary school in Jangpura. His favourite subject is English and he wants to be a football player and a businessman. He enjoys playing cricket and football with his Indian friends.
His sister, Zohal who completed Class XII in April 2022, wants to take up a career as a fashion designer or an air hostess. With barely any money in their pockets, Nasima's children are keeping their dreams on hold and hoping for a better tomorrow.
Like Nasima, many Afghan refugees in India do odd jobs to support themselves and their families. It is not uncommon to find Afghan men selling dry fruits, homemade cakes, and wraps on carts in Lajpat Nagar and Afghan women selling crochet gloves.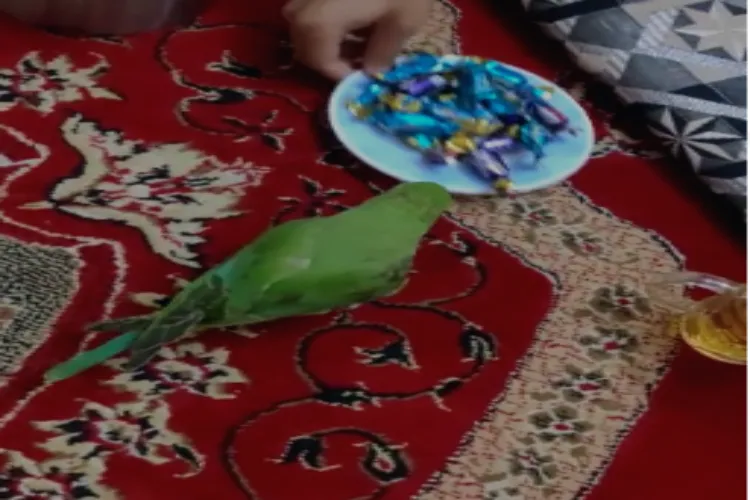 Nasima's pet Mitthu

As of January 21, 2022, more than 46,000 refugees and asylum-seekers are registered with UNHCR, India. The UNHCR India office says that they are mainly from Afghanistan and Myanmar. Of the total number of refugees, 46 percent are women and girls and 36 percent are children.
Sapna Poti, Director, Strategic Alliances, Office of the Principal Scientific Advisor to Government of India, who enjoyed having saffron tea and Qurm-e-Kofta at the stall says she would strongly recommend Ilham Afghan cuisine to people." For two days that I attended the festival, I had Qurm-e-Kofta two times. It was very heartening to see that it was an all-women enterprise.''
Tej Singh, a luxury brand consultant from Mumbai, and his artist friend, Bidisha Moulika who also visited the Ilham stall also enjoyed nonveg Bolani, Qurm-e-Kofta, and saffron tea on two consecutive days. ''I gorged on the Kofta. The flavours were very subtle and the food was not spicy. It reminded me of Kashmiri cuisine. I have never had this kind of food before, '' said Singh.
Of late, Nasima has not received any orders for food. "My eldest son who works in an ice cream parlour, supports us with money. My third son, Akil does not keep well but manages to earn a little bit of money from a cloth shop in Bhogal. Ehsan is only 15 years old. Like Ali, he is still studying. Zohal, my 18 year- old daughter works for Jesuit Refugee Service in Bhogal but earns only Rs 3000 a month.''
ALSO READ: Saltanat didi-Sarla behanji bond lives beyond their demise
During the 90-minute conversation, the only time Nasima forgot her miseries was when 'Mitthu', her pet parrot who she rescued from a park last summer, flew in and perched next to her. She was amused when Mitthu chose to pick up the candies offered to me. She communicates with Mitthu in Afghani.