Daulat Rahman/Guwahati
Afsana Begum's world turned upside down when, one day, she realized her businessman husband had a disease that was going to keep him away from work for the rest of his life. This mother of two had no option but to take charge of providing for her family.
She took up the reins of the business that her husband had built from scratch. She was completely immersed in raising the children and looking after the household and business was an alien territory for her.
A few years later, today, Afsana Begum is one of the leading women entrepreneurs in North East India running a widely circulated Assamese newspaper (Axomiya Khabar), a state-of-art shopping mall, a multinational chain restaurant 'Pirates of Grill', and a few other real estate development projects.
In an interview with Awaz-The Voice, Afsana Begum said that her husband Sailen Konwar Dutta was a successful businessman and he had built everything from scratch. However, a few years back his health failed him. At that time Afsana was a full-time homemaker and a mother to their two sons.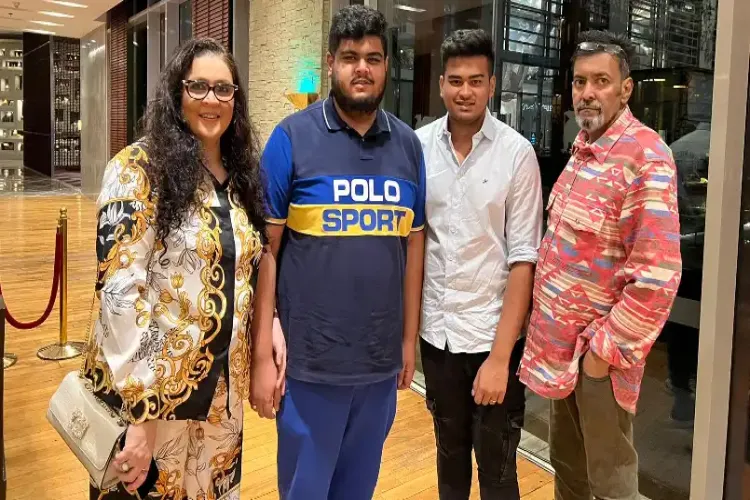 Afsana with her husband (Right) and sons

I had to step in and take charge of the business and it was quite new for me. Initially, I had to face a few crises and it took me time to understand and learn the basics of the trade. Only slowly things got better and I had a better grip over the businesses," she said.
Afsana Begum says starting one's own business is never easy and one needs to be mentally prepared for the worst possible scenarios to move ahead.
"We were running our own branded restaurant O' Guwahati during the pre-Covid period. O' Guwahati was the answer to Guwahatians' demand for the best of Indian, Chinese, and Tandoori cuisine under the same roof. But tragically we had to close down the restaurant when the pandemic was at its peak. It is never an easy choice to close down something that you built from scratch but at that time it was a necessity. But then again in 2021, we opened one of the biggest franchise restaurants (Pirates of Grill) in Guwahati and after quite a lot of hard work today I can proudly say that it's one of the best restaurants in the town," Afsana Begum said.
Afsana Begum who did her schooling and college education from Guwahati, said that it is hard to say whether it is tough for a woman to become an entrepreneur. But it's not easy, she added.
"Though I had the privilege of coming from a strong business background as my father late Abdul Khaleque was also a very hardworking first generation businessman from Guwahati's Machkhowa area. But it's still a very difficult job to gain the trust of everyone and prove that you are capable of doing the hard work. Building a business from scratch is never easy and you would need a lot of perseverance to get through it," Afsana Begum said.
Afsana Begum has now started diversifying her business and has invested in creating her fashion brand. She now harbours the vision of providing quality and affordable clothing to women.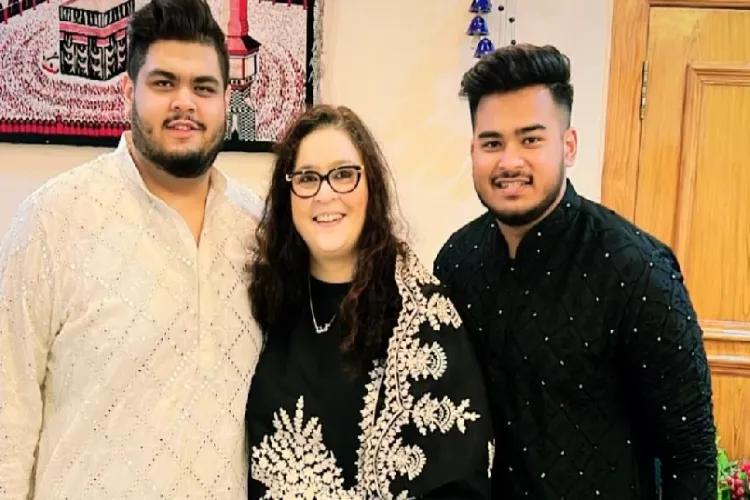 Afsana Begum with her sons remains a doting mother
Even after becoming a successful business woman Afsana Begum's role as a doting mother and homemaker has not changed. Her elder son Eric Javier is a doctor and her younger one Zeedan Javier is doing a Bachelor of Business Administration in New Delhi.
Afsana along with her husband and two sons are currently based in Delhi. But she is running her business quite smoothly in Assam and credit goes to her brilliant entrepreneurship skills.
Finally, when asked about the secret of becoming a successful business woman Afsana Begum said one should have confidence in one's abilities and must believe that she can achieve her goals.
ALSO READ: Tashida Khatoon: Assam's first woman farmer who exports organic crops
"Build a strong professional network; seek out communities of other women entrepreneurs who can provide advice, guidance, and morale. Balancing work and personal life is crucial. It's easy to get absorbed in your business, but taking care of your physical and mental health is equally important. Understanding your finances inside out is very important. Learn about budgeting, cash flow management, and financial planning. Being financially literate is the key to making informed decisions for your business. As you succeed, consider giving back to your community and supporting other aspiring entrepreneurs, especially women," Afsana Begum said.