Baishali Adak/New Delhi: Money isn't a constraint in the path of achieving noble dreams, but in the case of 24-year-old Aaliya Tabassum, it is holding her back from becoming a pilot.
Aaliya first grabbed headlines in 2018 after earning a Student Pilot License (SPL), and becoming the first person in Malegaon to do so. Malegaon is a Muslim-majority town in the west Indian State of Maharashtra. Her achievement was hailed as a big step for a woman from a traditional community into the modern world.
However, Aaliya's family, simple weavers of the Blue Bird Textile family of Malegaon, have fallen short of money. Most private flying clubs and even government aviation academies charge anywhere between Rs. 50 lakh-70 lakh for the entire course.
So, she is now awaiting governmental assistance or a loan from any charitable organisation to complete her flying hours and gain a Commercial Pilot License (CPL). This is necessary for her to join any airlines and become a full-fledged pilot.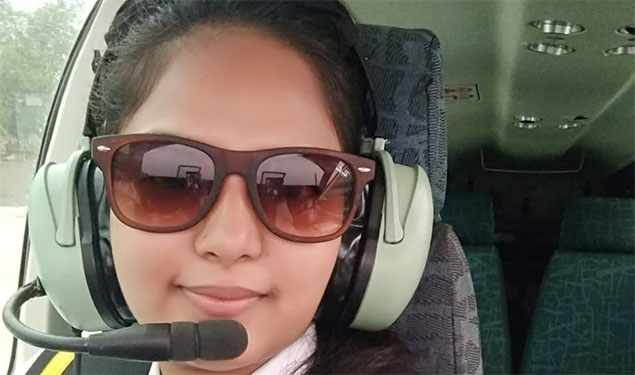 It was her father, a simple weaver, Shafeeque Ahmed's dream to see her fly a plane. "It was in year 2005 that my parents undertook a journey to Saudi Arabia for Hajj and encountered a problem. They were late to catch the flight at Mumbai Airport and the immigration staff refused to let them in," remembered Aaliya.
"My mother was almost in tears when the pilot showed up and asked the staff to clear our papers and let us board the plane. Later, the pilot even took my father to the cockpit to cheer him up and abba was so grateful that he decided right there that one of his children will become a pilot," she said.
Aaliya was only nine when she was told about this. She says she didn't realise when her father's dream became her own.
"I would wear my brother's white shirt and papa's black coat and tell my mom, 'See, I am a pilot now.' I would cut out pictures of aeroplanes and helicopters from magazines and stick them on my almirah. Even when I attended B.Sc. classes after XIIth, because we didn't have the money to join a flying club immediately, I would look out of the window and ask myself, 'What am I doing on the ground? I belong to the sky,'" she recalled.
Aaliya joined the Madhya Pradesh Flying Club (MPFC) in 2017 and after extensive training, got her Student Pilot License in June 2018. Thereafter, she enrolled in Delhi's Capt. Sahil Khurana Aviation Academy to get a Commercial Pilot License (CPL).
"There were many hurdles on the way. Someone told my father that being a pilot requires dressing inappropriate for a Muslim girl and compulsory drinking. I had to convince him that no one is allowed to drive a car in India while drunk, leave alone an aeroplane. Also, people in Mumbai think that Delhi is very unsafe for girls, so for my abba to resist those notions and send me there was a big deal," she said.
Aaliya cleared all the five exams that a CPL seeker needs to undertake, in just 1.5 years. Thereafter, one needs to complete a mandatory 240 hours of flying experience (as per the Directorate General of Civil Aviation) to obtain the CPL. This is where, she has got stuck.
"An average flying club charges Rs. 15,000 for each hour of flying. The total cost comes to Rs. 30 lakh, which is exclusive of travel and accommodation cost. My middle-class parents have already invested over Rs. 15 lakh in my training so far, and are now in the process of selling some property to obtain more money. I often wonder why doesn't our government provide any scholarship money to children like me for pilot training," she asked.
How has the local Muslim community reacted to her achievement? Aaliya says she has become a star, "There were some negative comments, but my parents had been preparing me mentally regarding the same for years. But the appreciation has been really encouraging. I am often invited to schools and colleges to lecture small girls. Though, my happiest moments are when my parents are invited on the stage and felicitated."
And what are her views on the current religious divide and acrimonious atmosphere in the country. "For one, I love my country and our national anthem gives me goosebumps. As for Hindu-Muslim unity, I would say, there are fights in a family even between siblings, but sometimes, we should just ignore each other's mistakes and move on," she said.