Munni Begum/Guwahati
Rosie Rahman, a popular model from Assam, has changed the perception of modeling. She has shown that modeling is not just walking on the ramp wearing exotic clothes as she has won accolades by modeling with traditional apparel.
For this reason, Rosie Rahman is also able to play a role in politics and social work.
The Guwahati-based Rosie Rahman told Awaz-The Voice in an interview, "I wasn't interested in the fashion world though I always loved dressing up. I never thought I could establish myself as a model. I was into dancing and singing as a child."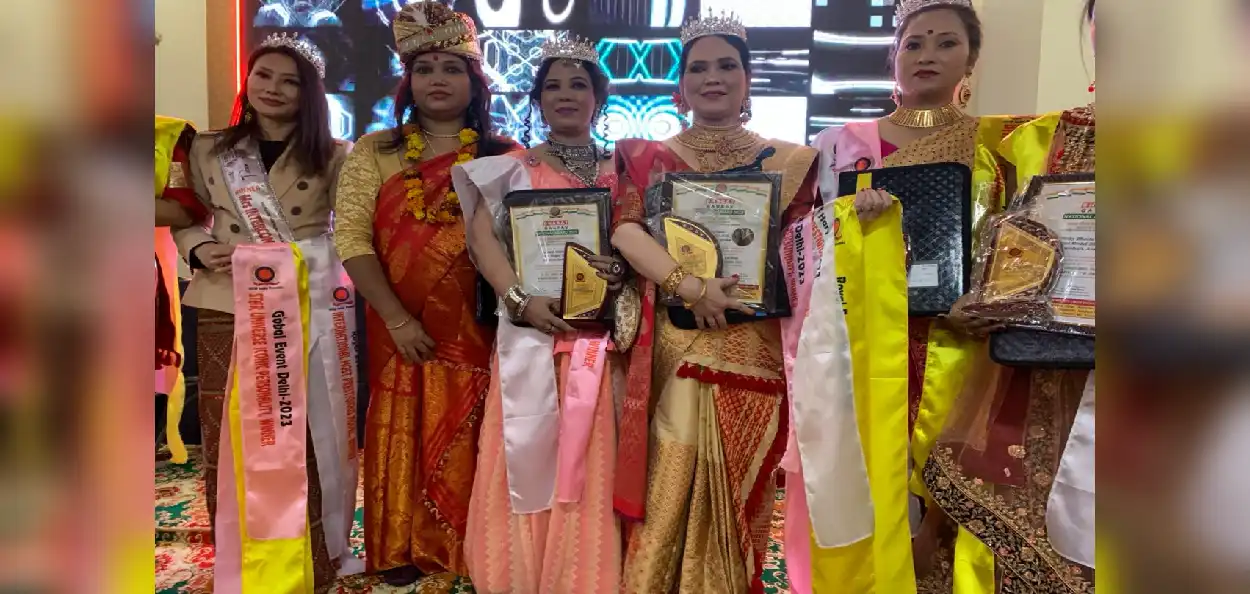 Rosie Rahman in a beauty pageant
Her friends Ritu Gogoi and Hemlata Chetia encouraged her to model for a magazine. She made her debut as a cover model for Assamese magazines and she did modeling for Nandini and Sakhi magazines.
"I got an offer to do a show of jute fabrics from a boutique called Naam. This was followed by Dr. Namrata Sharma asking me to do another show," she told Awaz-the Voice.
Rosie Rahman has won several national and state beauty pageants wearing various elegant traditional dresses including Mekhela chadar.
She is a firm believer in the beauty of elegant and traditional dresses.
"I think you can achieve success in fashion even by wearing elegant clothes. Because I am always on the stage wearing elegant clothes like gowns and mekhela-chadars I've walked the ramp and the stage and won competitions and awards."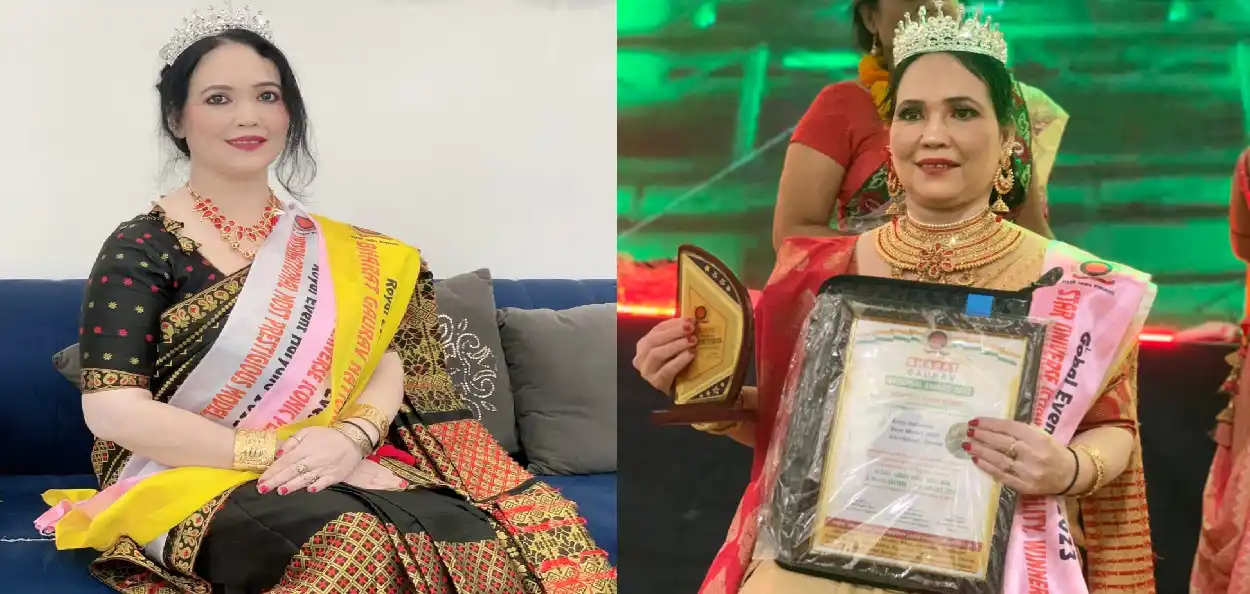 Rosie Rahman with her beauty pageant titles
Rosie Rahman has been named Most Beautiful Model of the Year 2021, Red Carpet Beautiful Queen World Beauty Pageant 2021, International Global Universe 2022, Mrs. India International Chhattisgarh 2022 and Mrs. E International Ambassador, Mrs. Global Delhi, Mrs. Royal Haryana 2023, Miss Star Universe 2023, MSSF Delhi Awards 2023, Bharat Gaurav Awards 2023, Mrs. Popular Face of India 2023 and Most Prestigious Model of the Year He has won a total of 11 titles.
"I think it is impossible to concentrate on anything without the support of family and friends. There is a misconception in Muslim society that women should always be behind the scenes It's challenging to go out to work in the world. But I'm fortunate that I haven't faced any such obstacles from my family and society. My husband has always encouraged me and my friends have been very supportive.," Rosie Rahman told Awaz-the voice, of Assam.
Rosie is also involved in political and social work. She is currently associated with the Women's National Security Organization of India and cultural organizations Bihu Suraksha Manch Assam, Sanskritik Mahasabha Assam, Rangdali Sanskritik Sanstha, Sanskritik Sanstha 'Satsari' etc.
"The fashion industry in Assam is very advanced nowadays. Assamese culture has a wide range of colorful garments. The traditional Mekhela-chadar of Assam is liked across the country and abroad. There are many people involved in this industry who have become self-reliant and have made a name for themselves."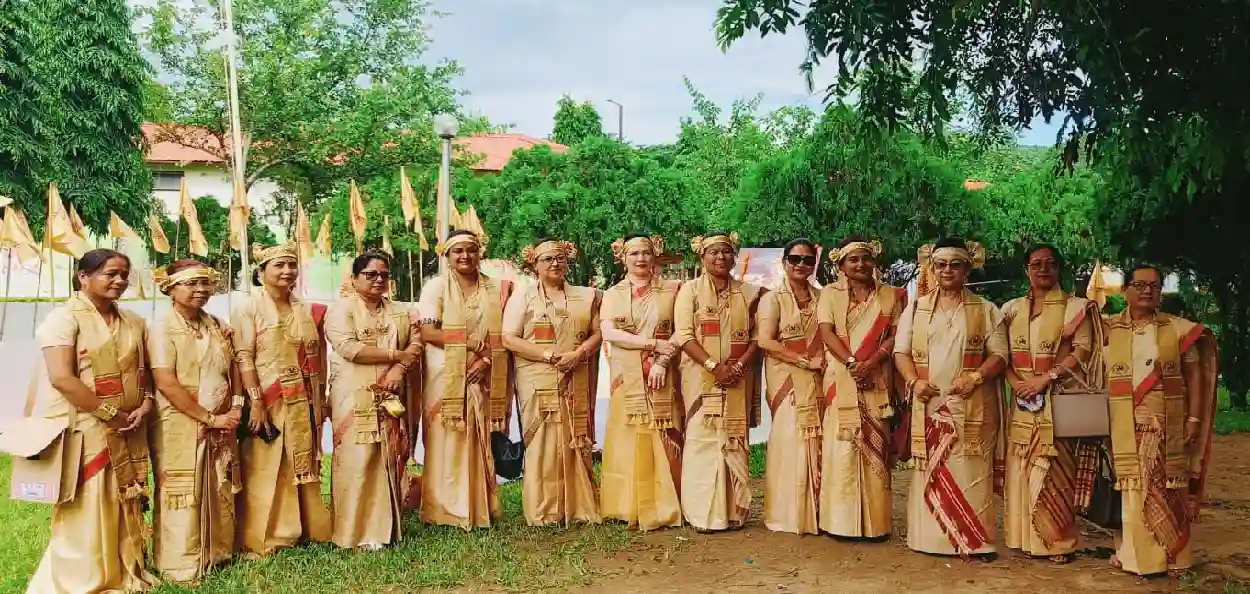 Rosie Rahman with women members of the Women's National Security Organization of India
Rosie Rahman, founder of Seheli Kalyan Samiti, has been working to empower children and women and bring back the lost indigenous games of Assam among the present generation.
Rosie is also engaged in educating many children from below the poverty line segment of the State's population.
"I think every person should contribute to the best of their abilities to the society. I have been teaching my children and many poor children free of cost since 2012.
ALSO READ: Pakistan-born Maulana Ghamidi says Quran doesn't prescribe punishment for blasphemy
"I donate clothes, uniforms, shoes, etc. to the poor. I have also been providing relief to flood victims in different parts of Assam through a group called Asha Rangni."