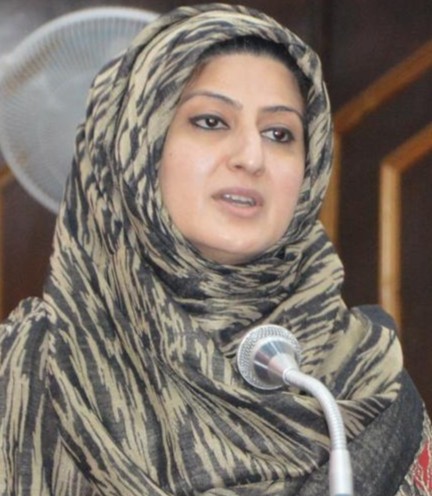 Shenaz Ganai
"Wajood-e-zan se hai tasweer-e-Kainat mein rang Isse ke saaz se hai zindagi ka souz-e-Darun" ( Allama Iqbal) "The colours of the universe are due to the existence of woman, She is the lyre that can impart pathos and warmth to the human heart."
In the contemporary era, notwithstanding the headway made in the domain of gender egalitarianism and women's agency, females still encounter systematic obstacles to their full-fledged participation in society. Despite the endeavours of several Southeast Asian nations, India predominantly, to promote gender parity, women's economic, social, and political statutes still do not match those of men.
Nevertheless, the drive for gender uniformity has earned considerable impetus over the years. In its resolute pursuit, society is gradually awakening to the harsh truth that equality alone may not suffice. A new perspective has emerged, one that implores us to shift from gender equality to gender equity. Women's equity, a concept that transcends equal opportunities and focuses on leveling the playing field, is the key to propelling a progressive and harmonious society forward.
We must shift our focus towards promoting gender equity, which challenges the implicit causes of gender inequality. Women face unique challenges stemming from patriarchal norms and power structures. True equity thus demands a level playing field by eliminating these impediments. Empowering women not only aligns with moral imperatives but also serves as an economic and social necessity, as various research studies validate that gender-diverse leadership and decision-making teams lead to enhanced outcomes for businesses, governments, and societies.
The pressing need for women's equity is palpable in the present scenario. Despite women's momentous achievements in various domains, they still face discrimination in the form of gender-based inequality and violence, ultimately anchoring them from realizing their full potential. Women's rights have always taken a backseat in the mainstream discourse, while the push for gender equality has thus far been confined to the adage of "equal rights for all."
Urdu poetry has always celebrated the crux of womanhood. There is an apt couplet by Faiz Ahmad Faiz that goes, "Yeh daagh daagh ujala, ye shab-gazida sahar, Vo intezaar tha jiska, ye vo sehar to nahin." (This stained dawn, this night-bitten morning, this was the awaited moment, but this is not that morning.)
Systemic obstacles continue to hinder women's empowerment across the globe, with cultural norms, biased legal frameworks, and limited economic opportunities serving as major roadblocks. Gender inequality remains prevalent, with traditional gender roles preventing women from obtaining an education at par and autonomy. Loopholes in the legal system and weak law enforcement perpetuate gender-based violence and workplace discrimination. Furthermore, economic disparities, occupational segregation, and wage gaps prevent women from achieving financial independence. To truly empower women, it is essential to implement holistic reforms that address these issues across legal, economic, and sociocultural domains. A corpus of data available shows that women's empowerment can have a significant positive impact on social and economic development, making it all the more essential for policymakers to prioritize and implement these reforms.
Various research studies show that when women are supported and their rights protected, communities and nations prosper. A study by the McKinsey Global Institute underlines the importance of advancing women's equality in Southeast Asia could add up to $200 billion to the region's economy by 2025. The data consolidates the importance of empowering women and according to the United Nations, countries that infringe upon girls' and women's opportunities to receive an education are more prone to conflicts and instability. India, with its considerable populace, has in the past faced challenges regarding gender inequality. India ranks 112 out of 162 countries, accentuating the dire need for women's equity.
A nation cannot truly progress if half of its population is left behind. Empowering women and making them equal participants in the workforce will fuel India's economy. As the adage goes, "When women thrive, all societies benefit." Society cannot be at peace if its women are subjugated. Women's equity will strengthen families and communities, resulting in a more harmonious and cohesive social fabric.
India, a nation imbued with a deep-seated cultural legacy, is well-acquainted with the potency of women. In a terrain where goddesses are worshipped and exalted, it is only befitting that Indian women are bestowed with the due respect and admiration they deserve. In the words of renowned poet Kabir, "Nari tu Narayani tu", which translates to, "You are a woman, you are divine." This simple yet profound message should inspire us to strive for and accomplish women's equity. In the pursuit of women's equity, India must adopt a holistic approach by addressing systematic inequalities and social prejudice. The mere provision of equal opportunities is inadequate; the system itself must undergo reform. It is also vital not to overlook the involvement of men and boys in this process. As Mahatma Gandhi once said, "To call woman the weaker sex is a libel; it is man's injustice to woman."
It is time for India to transcend mere gender equality and strive for gender equity. Our endeavours should be aimed at establishing a knowledgeable society that transcends tokenism, surpasses superficial gestures towards the treatment of women, and embraces the true potential of women. As the ordained Sufi poet Rumi wisely proclaimed, "Woman is a beam of the divine Light," and by endowing women with greater power, we shall observe a society that is more radiant, serene, and truly progressive.
It is true that discrimination and marginalization still loom over countless women in many states and Union Territories including, Jammu and Kashmir. Eradicating patriarchal norms and gender stereotypes that reinforce these disparities requires a collective effort from all stakeholders. In Jammu and Kashmir, prolonged unrest adds to the additional obstacles already faced by women in the region. To address these challenges, a gender-equitable strategy catering to women's specific needs and experiences is critical. This strategy must be guided by human rights, justice, and accountability and include the participation of multiple stakeholders. Gender equality is safeguarded by the constitution of India, where gender-based discrimination is expressly forbidden. Furthermore, laws have been enacted to combat gender-based violence and discrimination. However, the implementation of these regulations is often inadequate, with women still facing systemic obstructions in accessing justice and redress.
Gender equality is not enough, for true empowerment and justice to strut, equity must be the driving force to level the field, without remorse. Pertinently, women must have access to resources and power, to make decisions and advance in every hour. For a just society to be realized, gender equity must be emphasized. Achieving gender equity involves a shift in attitudes and perceptions regarding women. Educational and awareness-raising campaigns aimed at challenging gender stereotypes and promoting gender-sensitive values can assist in this endeavour. Poetry and literature, with their rich tradition in the region, also play a crucial role in promoting gender-sensitive discourse.
ALSO READ: I did it for dignity of my daughters and all women: Shukkur who remarried under SMA
Concluding by the lines that fit the present age, "In the movement of life, give space to men too, but don't forget the efforts of women who never complain. Women don't wear crowns on their heads, but they are the ones who make crowns."
The author is a former Member Legislative Assembly, J&K