Sheikh Muhammad Yunus/ Hyderabad
Jameela Nishat was born in 1955 to Syed Bin Mohammad, a portrait artist, and Fatima Sayeed. Her father was an excellent painter. A Nawab in Hyderabad spotted Syed's artistic skills and sponsored his education in fine arts. Syed Bin Mohammad went on to become a professor of painting at the College of Fine Arts and Architecture in Hyderabad.
M F Husain, India's best-known artist, was a close friend of Syed Bin Mohammad. Jameela has vivid childhood memories of Husain spreading out a canvas or a chart paper on the floor of her house and painting on it. With such inspirations around her and having inherited her father's creative genes, Jameela showed interest in painting at a young age. However, her conservative Muslim family discouraged her from taking up painting even as a hobby
Not being able to pursue her passion, Jameela took to Poetry. With her newfound passion, she started writing poems right from the age of 12. Her poems were considered radical. The budding poet not only faced a lot of resistance from her family but also threats from the community. Unlike her sisters, Jameela could continue her studies up to graduation, but no further.
Jameela's father observed that the views expressed through her poems did not concur with the traditional and conservative Islamic culture. He decided to get her married to M S Rehman, a self-declared atheist, believing both would complement each other.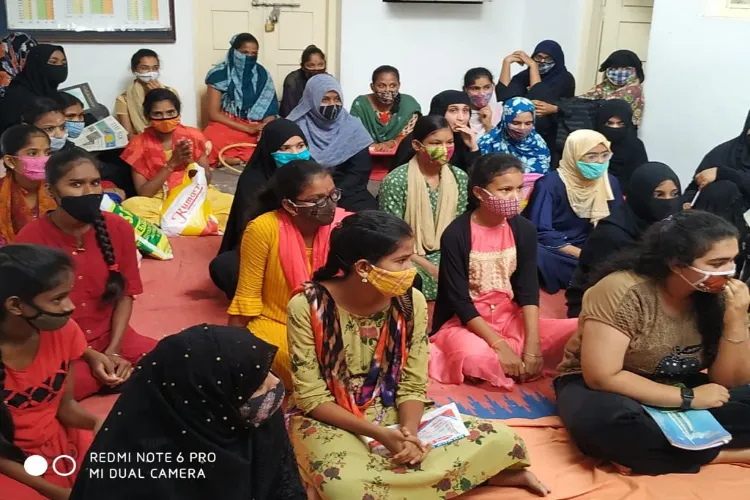 A class of young girls andwomen in progress at Sheheen center

Rehman never stopped Jameela from expressing her views and doing things that conservative Muslims would object to.
After marriage, Rehman encouraged her to study further. She completed her master's in English from Osmania University in Hyderabad and then did a PG Diploma in theatre arts.
In 1982 when her father passed away, she wrote a eulogy for him.
Her poem was seen through the prism of religion and she was discouraged from getting it published. Critics like Mughni Tabassum and Shamsur Rahman Faruqi were highly critical of her work, thus indirectly discouraging her from poetry.
However, her husband was like a solid rock backing her all the time and encouraging her to follow her dreams. She started writing plays and joined the theatre in 1987.
Her journey of transforming from an artist into a social activist is an interesting one. She had taught English in a school and headed a school for disabled children before getting a government job.
After the 1992 riots in the aftermath of the Babri Masjid demolition, her religious identity became a point of contention, triggering in her a desire to work for communal harmony.
Jameela quit her secure government job of 12 years. She joined ASMITA, a rights-based women's organization in 1997 and worked there for five years. After joining ASMITA, Jameela revived her creative journey. She wrote poems that mirrored the place of women in Hyderabad. She realized that expressing herself through poems was not enough.
"I felt the writing was not enough and that I needed to do something to change the scenario and also to create a public space for myself," she recalled. With a determination to make her words catalyze action, she registered her organization called Shaheen Women's Resource and Welfare Association in 2002.
She says, "Women and girls should realize their potential through education, become independent and self-sufficient, the voice of protest should be raised against oppression and injustice..." She feels that society should be fully aware of its existence, "Do not be a victim of fraud, but make yourself powerful economically, physically, mentally, and, emotionally." she adds.
She writes openly about atrocities on women in society and women's issues. Jameela Nishat has undertaken the all-around development of the girls. She is known as the champion of beti padhao, beti bachao and has dedicated herself to helping the poor, backward, oppressed and affected women regardless of religion or nationality.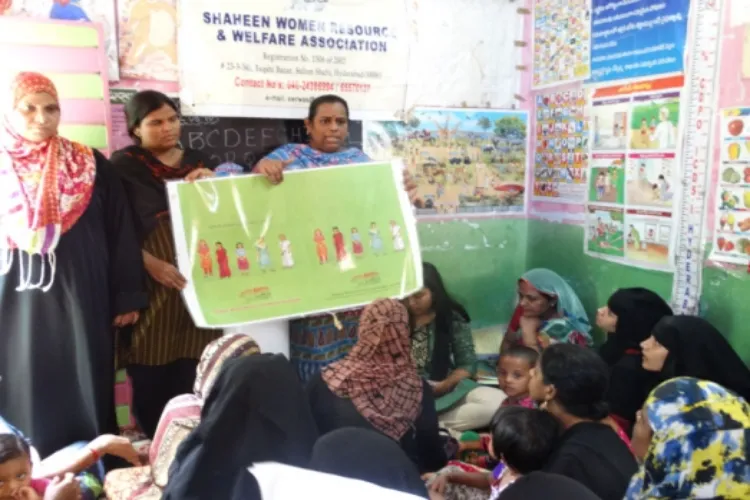 A workshop to spread awareness about women in progress

She named her organisation Shaheen, that in the Udu language stands for the majestic bird Falcon. She intended young girls to take on the bird to feel independent and fly high. Sultan Shahi is a locality in the old city of Hyderabad, dominated by Muslim and Dalit populations and known for the animosity between the two communities.
Jameela's efforts in the early days to bring the communities together did not bring the desired result. However, after many attempts, they were able to convince women from all the communities that there could be harmony among them.
To bring the women of Sultan Shahi together and pique their interest, Jameela organized a drawing competition for the girls of the area. She asked the girls to draw pictures depicting themselves.
"Shaheeda who was just 12 years old had drawn a bird without wings," Jameela reminisced. Jameela asked her if something was missing from the picture. Shaheeda came back with a cage over the bird and said, "This is me." "That is how the name of the organisation cropped up; Shaheen – the bird which flies high above in the sky. Our objective is to release this caged bird," explained Jameela.
Shaheen works in the Old City of Hyderabad and the adjoining areas from an office in Sultan Shahi. Shaheen has a center each at Siddique Nagar, Aman Nagar, Valmiki Nagar, and Hassan Nagar areas, the most vulnerable and prone to communal disharmony.
Shaheen Women's Resource and Welfare Association" excels in addressing the burning issues of women and girls as well as promoting communal harmony. Apart from providing justice to the poor and oppressed women and girls of the old city of Hyderabad, this organization is actively working to equip them with knowledge and skills.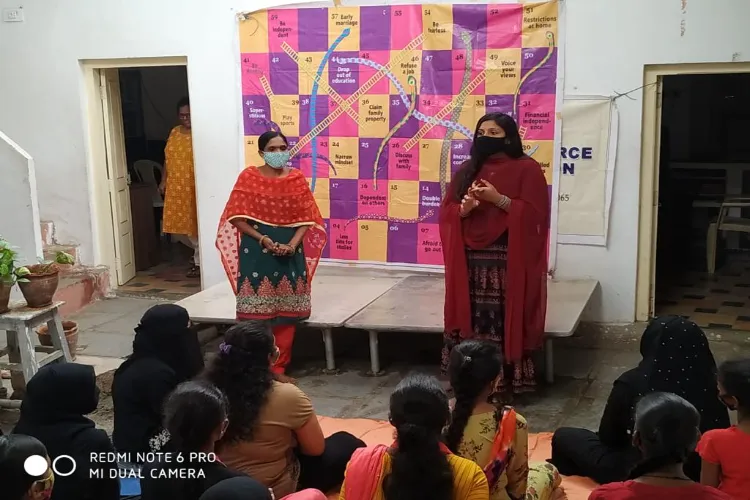 Young women and girls learning the way of world at Shaheen center

Shaheen works with women, for and on women's rights. Jameela's work includes active involvement in maintaining communal harmony and gender justice. All the girls and women at Shaheen give Jameela the credit for making impossible situations turn into reality.
However, for Jameela it was not a single day's work. In a workshop, a woman quoted her husband, "Is it a crime to beat one's wife? One who does not beat his wife is not a man."
The words still resonate in her mind, giving Jameela the zest to execute her ideas and transform her creativity into something more concrete.
From 2003 onwards, the Shaheen team started visiting houses and mobilising the girls and women of the community. Based on the demands of the community, Jameela started vocational courses and legal counseling at Shaheen. She learnt about the issues the women faced while interacting with them during house visits.
The Muslim, Dalit, and Hindu communities in the Sultan Shahi area would never see eye to eye with each other. Shaheen has continuously tried to break this barrier among the women who visit the office. The women and girls soon realised that caste and creed do not matter. The violence is perpetrated against them and they face the same set of issues irrespective of caste or religion.
The women now work hand in hand with each other rather than against each other. Shaheen staff along with members from different communities formed a human chain near Charminar to spread the message of communal harmony after the riots in Hyderabad in 2003. Also, Shaheen conducts different activities and workshops in such a way that they instill a sense of equality.
From the year 2002 to 2008, Shaheen's main focus was dealing with domestic violence and child marriage. Until the enactment of the Domestic Violence Act 2005, there was no law under which the victim could get justice. After the implementation of the Act, things became easier for Shaheen.
Initially, Jameela faced a lot of difficulties in dealing with cases of domestic violence. She faced the situation with determination and courage. Justice was ensured for Sultana, a victim of domestic violence. Sultana's husband cut off her nose during a domestic dispute. Sultana was lying unconscious in her house covered in blood. The organization "Shaheen" rescued and admitted her to the hospital bearing all the medical expenses.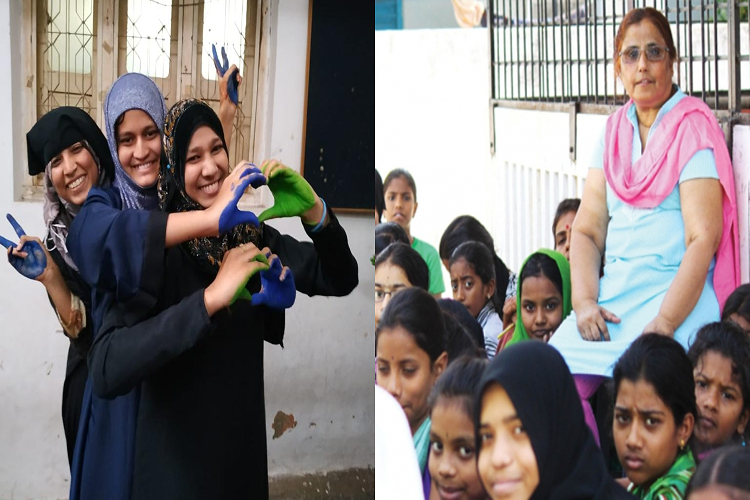 Jameela commanding a class for girls
Shaheen along with the police brought the man to the dock. Jameela supported Sultana and stayed with her throughout the legal proceedings. This gave Sultana the courage to file a complaint against her husband and seek injustice.
After this incident, Jameela never had to look back. Sultana is now a key member of Shaheen who counsels women and educates them about their legal rights. Sultana had to go through 17 plastic surgeries but her courage did not diminish. She lives with her son. Sultana revealed that she did not know legal procedures until she joined Shaheen in 2005.
Due to the efforts of the organization women and girls who are victims of domestic violence either call it or reach the office. Jameela counsels them. Sultana and other women who have experienced domestic violence at some point in their lives comfort and encourage the victims in a group setting.
After the initial counseling session, the victim is informed about the possible course of action i.e. counseling the husband and mother-in-law or filing a First Information Report (FIR). If she chooses the first option, the husband is summoned and reprimanded. If the victim chooses to file a complaint with the police, they (Shaheen) provide the necessary support to the victim till the case is concluded.
According to a survey by Shaheen, the percentage of girls getting married at an early age is very high in the slums and backward areas of the old city. In addition, young girls are married to Sheiks from Gulf countries. The whole process is carried out in such a systematic way that no case has been registered yet.
Due to poverty parents marry their daughters to Arab Sheikhs. Brokers approach parents and lure them with money. To bring such dark realities to the public and prevent child marriages, the organization is working to create awareness.
Jameela believes that the economic empowerment of girls is the solution to this scourge. If a girl is educated and earns, she can support herself and her family. But it is not as easy as it seems. The organization is coming forward with various strategies and projects to enlighten society about the dark side of child marriage. To raise awareness about the issue, they published a comprehensive booklet in Urdu on the prevention of domestic violence, including child marriage, in 2005 and distributed it widely among women.
It is a rights-based organization and believes in creating awareness about practical and legal issues related to women. It conducts regular legal awareness workshops on women's rights. Shaheen also provides legal assistance to women who are victims of domestic violence.
Shaheen provides counseling to distressed women regularly. Distressed women are identified during field visits. Also, there is a lot of awareness about Shaheen and hence women approach Shaheen for counseling and legal help. The main objective of rights awareness is that women take responsibility for their lives and do not live a life of deprivation. In 2012,
Shaheen published and distributed a comprehensive booklet in Urdu on girls' rights, the right to education, the right to information, and health.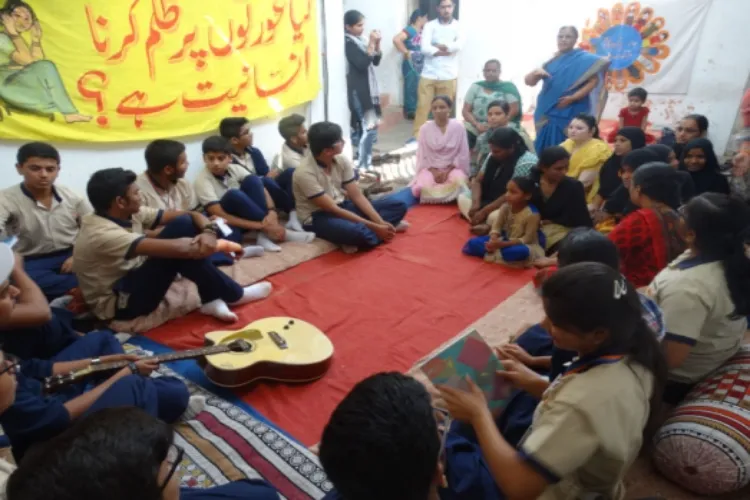 Jameel with children at Shaheen center

Shaheen conducts workshops to create awareness about the importance of education. Shaheen actively works with the State Department of Education for school facilities. Shaheen provides tuition to girls who appear for examinations through the Open School System. In this way, dozens of girls have cleared the SSC exam so far. Jameela noticed that many girls were failing Telugu or English language exams. Muslim girls who speak Urdu have found it difficult to clear the Telugu exam. So Shaheen provides Telugu language tuition so that girls can clear the 10th board exams.
They help female students in getting admission to Ambedkar Open University if they want to continue their studies. She even provides financial assistance to the students. Shaheen runs a children's education program.
The organization has been very active in organizing health camps to create awareness about health issues. She organizes workshops on nutrition and hygiene. They conduct regular health camps for women. The Shaheen Office and Resource Centers also play an important role as a helpline center where girls and women can reach out to each other.
Together they express their health-related details and solve their problems. Due to the awareness programs conducted by Shaheen, there has been a positive change in women's health-related issues. Making women self-sufficient Shaheen is taking practical measures to make women economically stable. Free skill training in Zardozi art, computer, and other technical courses is provided. Trained women and girls are strongly guided to get jobs.
Due to Shaheen's efforts, dozens of women have become self-sufficient today and are living a prosperous life in society. Promotion of communal harmony Shaheen's efforts to promote unity and consensus and communal harmony among the Muslim, Dalit, and Hindu communities in the city of Hyderabad, especially in Sultanshahi, have also proved fruitful.
The office of Shaheen reflects the national unity and Ganga Jamani culture where women of different religions approach the settlement of their problems, also Shaheen is associated with women from different classes.
Today the organization of the old city of Hyderabad is famous at the world level because of the united efforts for women's rights and cause. Shaheen's services are also ideal for preventing communal riots and maintaining peace and order in society.
Shaheen has formed a human chain at the foot of Charminar with people from different walks of life to foster the spirit of national unity, besides spreading the message of equality through various activities and workshops.
Jameela Nishat said, "I had to make many sacrifices to establish Shaheen as an organized organization...".
ALSO READ: RSS-Muslim dialogue started in early 2019, Najeeb Jung reveals more about the dialogue
Jameela receives the full support of her family. Her husband Saeed-ul-Rehman along with her children Sohail-ur-Rehman and Ubaid-ur-Rehman always encouraged her. Jameela says, "I cannot sleep until the victims get justice,,, I have given place to all the victims in my life and they will live forever in my poetry and poems..."