Faizan Khan/Agra
The brotherhood between Hindus and Muslims was kept alive as Pushpa Yadav, teacher of Saghir Fatima Girls Inter College, tied a rakhi to Haji Jameeluddin Qureshi, manager, Shobia Inter College, on the occasion of Rakshabandhan making it a truly Indian festival.
In an emotional voice, Haji Jameel said: "This is the beauty of our country and especially Agra." As Pushpa Yadav was tying a rakhi to her brother Haji Jameeluddin, she said, "The love and the bond of sister-brother are universal."



"There is always an atmosphere of unity in our school. I am very happy to realize that while many people speak along communal lines, we have maintained our relationships and are becoming examples of harmony to others."
When Chavvi Rani Chahar tied the rakhi to Rustom of Sagir Fatima in Sadarbhatti, she Rakshabandhan is a festival that breaks the walls of religion and binds people in Love. " Rustam Bhaiya is my brother; I have been tying Rakhi on his wrist for a very long time," she said.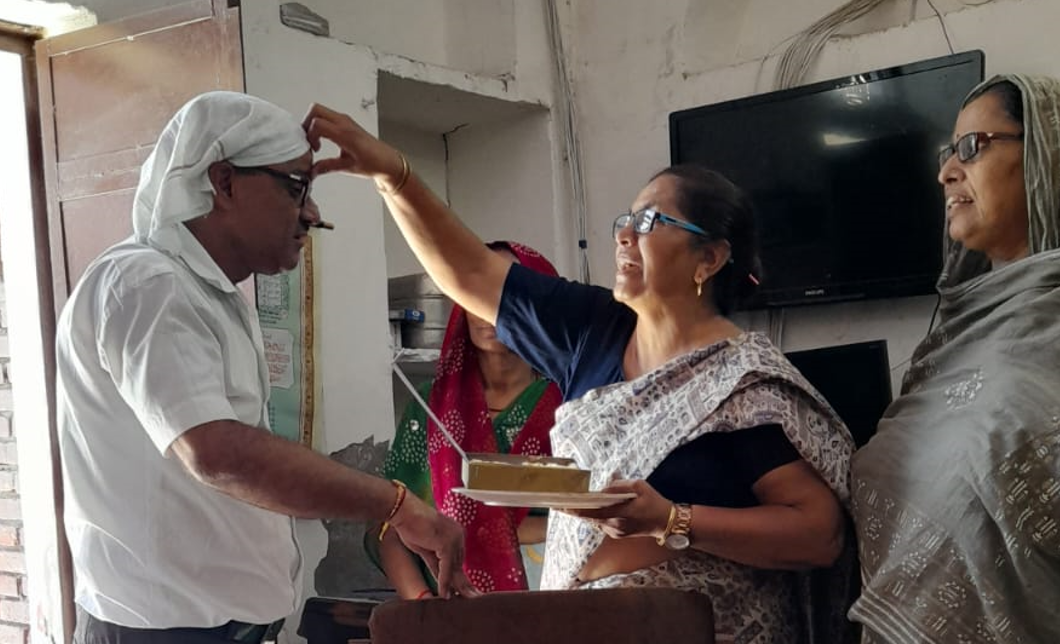 Chavvi Rani Chahar tying a rakhi to Rustom
At the same time, many Hindu women also came to pay respects to Khalifa Ramzan Khan Sabri of Alhaj Ramzan Ali Sabri's dargah built in the cemetery at Idgah Katghar. Among them, Vimlesh tied a rakhi on the wrist of Khalifa Ramzan Khan Sabri. "You cannot bind this relationship in limits of religion," Vimlesh said.
"I have always been tying Rakhi to Ramzan Bhai. Where does religion come from in the bond between a sister and a brother? Let's not label festivals as Hindu or Muslim, these are the festivals of humanity," Vimlesh made a profound comment on the occasion.
Kalfa Ramzan Khan said that the perceived rift between the Hindus and Muslims is the creation of a few people while a majority of people on the ground still live in peace. If you look back to a few years nobody's religion of caste ever mattered."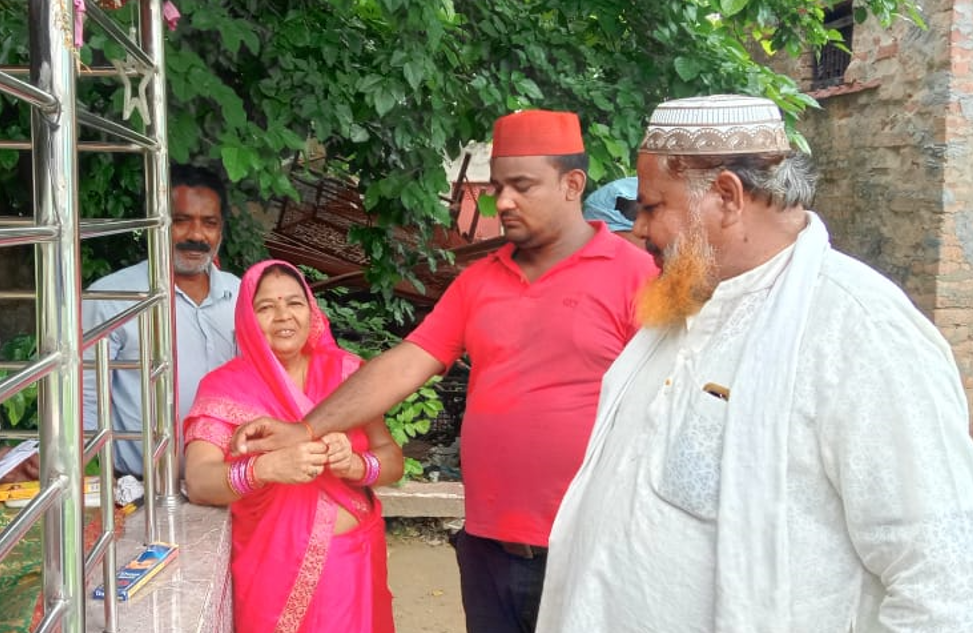 Vimlesh tying Rakshi on the wrist of Hashim
He said, "In the rural areas Hindu-Muslim communities continue to celebrate Raksha Bandhan grandly. We used to go to the houses of Hindu sisters to get bhujrias (an Indian snack) and if they gave us bhujrias and we would gift them money in return. I don't believe in pro-revolutionary talk and neither am I a supporter of it."
Vimlesh also tied rakhi to Hashim. Hashim said that this is a festival to augment harmony and relations between two communities. If you look at everything from the perspective of Hindu or a Muslim, you will be in pain."
Also Read: PM Modi celebrates Har Ghar Tiranga, Rakshabandhan with children
We have been tying Rakhi on Raksha Bandhan for many years. Neither our family nor the neighbours have ever objected. "I respect Vimlesh sister; I am always around to help her."