Rayyanah Barnawi has been nominated as the first Saudi Women astronaut to go into space in 2023
Mansooruddin Faridi/New Delhi
In Saudi Arabia, the citadel of Islam, women were not allowed to go to school till 1956. Though today the world largely sees Crown Prince Muhamad bin Salam, MBS, for making sweeping changes in the laws to end discrimination against women, it is his father King, Abdullah bin Abdulaziz Al Saudi who laid the foundation of the change for women by opening the first school for girls in 1960.
Despite restrictions on women till recently and the ones which are getting slowly dismantled, Saudi women seem to have been quietly pursuing education and getting ready to challenge male dominance.
As someone said education has readied the Saudi Arabian women to aspire to even reach the space.
Islamic scholar Professor Akhtarul Wasey says the Prophet of Islam had clearly said that acquiring knowledge is a duty for both men and women, and there is no difference based on gender in this. Today, if this change is coming in Saudi Arabia, it must be to revive the teachings and spirit of the Prophet of Islam.
Today we have a Saudi Arabia where women are moving along with men to further the national goals. They have taken the form of a large workforce in the country.
The opening of the Saudi economy to women's participation and more rights for them is bound to help in the massive transformation of the country and end the inequalities in educational institutions.
Today more women are members of Majlis Shura, occupying key positions in the country, and performing their responsibilities well in prominent positions in the United Nations, embassies abroad, international organizations, and sports organizations.
The interesting thing is that the era of women's deprivation of education in Saudi Arabia continued until the 1950s, but the reason for this was not religion but culture.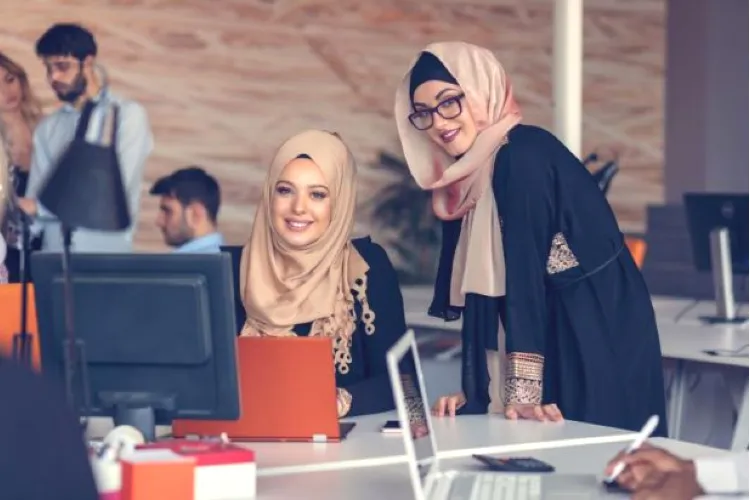 Saudi women in college

Significantly, it began to fade when a group of educated middle-class men petitioned the royal family to establish a school for girls. These men believed that educated wives improved the harmony of the family and helped them to have a better married life.
According to Saudi scholar Sarah Yazraili, the first government-funded school for women was opened in 1960. This had a very positive effect, girls entered these schools, wanting to be part of the world of education that they had been missing out on for a long time.
Prominent Islamic scholar Dr. Razi-ul-Islam says that it is a misconception that Islam does injustice to women. Islamic teachings show a lot of respect for women. Education should be given to everyone, as the Prophet said, "Every Muslim man and woman is requested to seek knowledge, so both sexes are equal in seeking education" (Al-Hariri, 2006, (page 51)
What was going on in Saudi Arabia at that time was due to cultural reasons, and it was difficult to raise a voice against it. But the surprising thing was that the initiative to open and widen the avenues of women's education was "royal".
This credit goes to Shah Abdullah Bin Abdul Aziz. A progressive leader in this sense, he differed from his predecessors who never allowed women to drive or walk outside the house without a male companion.
According to Professor Fawzia Al-Bakr, an educationist at King Saud University and a renowned feminist Islamic scholar, "the distance of women from education was preventing Saudi Arabia from progressing nationally and internationally."
However, King Abdullah had realized where the country was lagging. She says that King Abdullah had a strategy, he started trying to empower women as much as possible. This can be called the golden age for women's education. Because King Abdullah bin Abdulaziz established 24 public universities, and 8 private universities and there are a total of 494 colleges in 76 cities within Saudi Arabia.
Some students have even been sent to universities abroad through the King Abdullah Sponsorship Program, which was launched in 2005. The program has been made available to all Saudi students regardless of gender.
Professor Rehan Akhtar Qasmi of Aligarh Muslim University says that this is a revolutionary change in Saudi Arabia that will play an important role in the development of the country.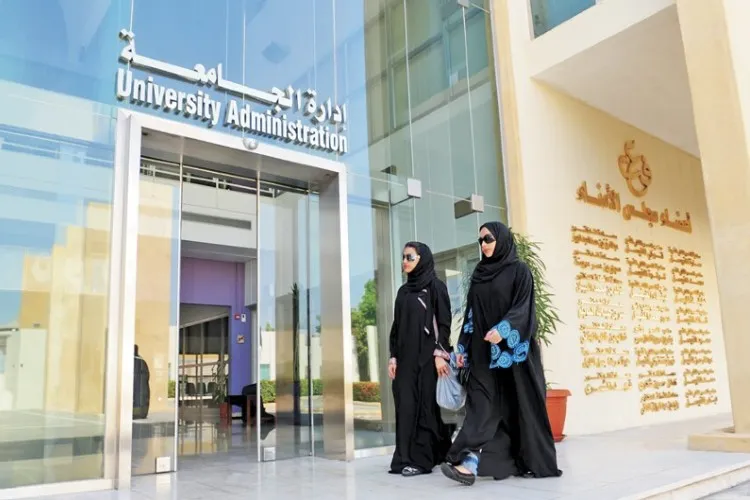 Saudi Women walking in a street

In this regard, the initiative and thinking of the royal family must be praised, who acted with foresight, today in Saudi Arabia, especially women are ahead in every field, they are part of the workforce. It is a positive change that is different in Saudi Arabia. Development in the fields will be guaranteed
He said that during the last few decades, educational reforms have gone through different stages, which have presented a changed image of Saudi Arabia to the world. In Islam, women have the same right to education as men. is opening new avenues.
The royal initiative had a great positive effect in a country where the doors of education were once closed for women. Now, how much the situation has changed can be estimated from the fact that according to the Minister of Human Resources and Social Development of Saudi Arabia, in 2022 Saudi In Arab, the participation of women workers in the labor force reached 37 percent.
The 21st century has become a century of happiness for the women of Saudi Arabia. A lot has happened in Saudi Arabia that no one could have imagined before, which has brought a lot of gifts to women.
The avenues opened for education have changed the lives of women. The women who were confined to four walls until a few years ago were living a life wrapped in restrictions, whom the world used to look at with pitying eyes, are now talking to the air but reaching space.
The participation of women in the economy and their increased role in the society of Saudi Arabia will not only make more women educated but also make them professionals. Already there are reports about Saudi women who have joined space institutes to become astronauts to go into space for exploration.
The following are some of the Saudi Arabian women pioneers:
Ambassador: Princess Rima bint Bandar bin Sultan
Astronaut: Rayana Harnawi
Director General, Ministry of Foreign Affairs: Ahlam bint Abdul Rahman
Representative to the UN. Princess Haifa Al Muqrin
Vice-chancellor. Lilac Safadi
Bank head: Lubna Al Olayyan
Football Referee: Sham Al Ghamdi
CEO, Stock Exchange: Sarah Al-Sahimi
Blind woman lawyer: Laila Qabi
TV Newsreader: Waem Al Dakhil
Car racer: Reema Jafali
Commercial pilot: Hanadi Zakaria Al Hindi
Ambulance driver: Sarah
Hairdresser: Wafa Sukkar
Professional boxer: Rasha Khamis
Vegetable vendor: Reem Al Nasser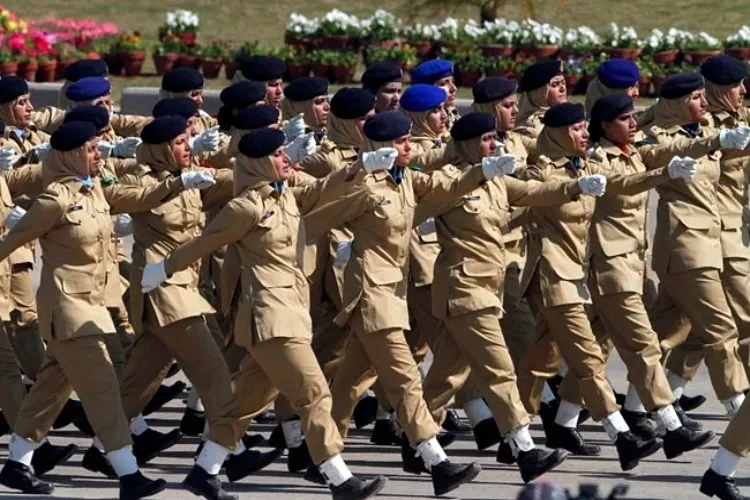 Saudi women police marching on national day

This short-list is proof that Saudi women are advancing in all fields. They are also achieving success in the political field at home and abroad.
It is for the first time in 2013, that 30 women have been appointed to the Majlis Shura, The Consultative Assembly that advises the ruler on law making and other issues of governance. A royal decree has ordered 20 percent of the Majlis Shura seats to be reserved for women.
In the second Royal decree, the names of the women members of the Shura were appointed by the royal decree.
Again the inclusion of women in the Majlis Shura was started during the reign of King Salman bin Abdulaziz. Majlis is the apex governing body of the Kingdom.
Some of the women to be appointed as members of the majlis Shaura are Ahlam Muhammad Hakimi, Amal Salama Al-Shaman, Iqbal Darandari, Dalal Bint Mukhlid Al-Harbi, Hanan Abdul Rahim Al-Ahmadi, Hayat Sindi, Khola Bint Sami Al-Karee, Zainab Muthni Abu Talib, Salvi Bint Abdullah Al-Hazzaa, Soraya Obaid, Fatima Al-Qarni, Fadavi Abu Marifah. , Latifah Al Shaalan, Mini Al Mushit, Moazi Bint Khalid Al Saufd, Nihad Al Jashi, Noorah Bint Abdullah Bin Adwan and Noorah Faisal Al Shaban.
ALSO READ: Tahmeena and Shariqa are smiling as they rose from society's curbs
The Shoura has the power to propose laws to the King of Saudi Arabia and his cabinet and his It has 150 members, all appointed by the king and chosen "from amongst scholars, those of knowledge, expertise and specialists"