Rita Farhat Mukand/Siliguri
With her eyes glowing with compassion, Shabnam Parveen is the epitome of elegance and grace. Her phone rings endlessly to the point that she barely has a moment to herself. She listens intently to thousands of distressed people, mostly girls, and women caught in the grip of violence, rape, and social injustices.
She would even listen to a lady for an hour without taking any fees. The majority of the people who consult her in their distress are from the underprivileged sections of society. Shabnam offers her consultations and even advocates for them for free, without taking a penny.
According to Shabnam, the ratio of domestic violence is extremely high, and even in the last two years, during the holidays as well, Shabnam took frantic calls from newly married girls who were beaten brutally.
Shabnam talking quietly over the phone would soothe them down, and bring them to a place to make calm decisions to chalk out further plans.
Besides her free services on the phone and in person, she also takes time to meet many distressed women and girls even taking them out to lunch or for tea in a restaurant while they sob their hearts out talking about their problems.
Shabnam first tries to calm them down and then makes them understand that if they want to continue to live in that abusive situation, they need to be very strong. She would make them gradually understand that such a choice would mean they have to live in perpetual patterns of abuse.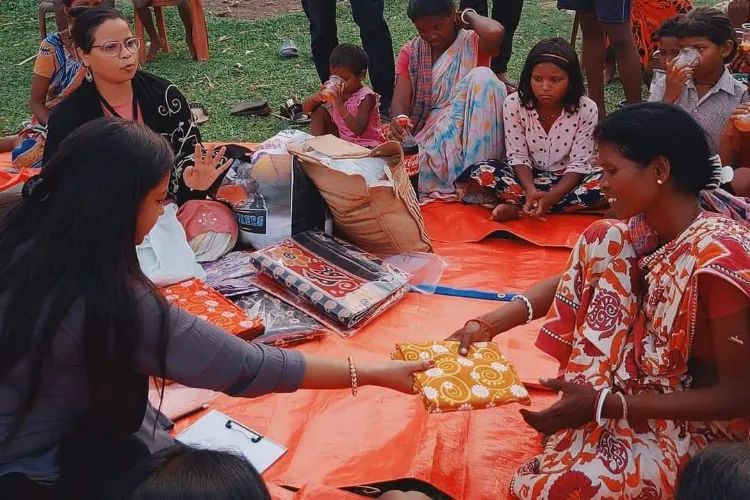 Shabnam Parveen distributing gifts to women

Traumatized women or girls caught in the web of domestic violence would call her in the middle of the night. Shabnam discovered that most of the victims would immediately retract if she suggested reporting to the police or even taking it to court.
Shabnam says, "Due to the lack of education, most abused women never enter doors of court, afraid of the consequences, and that too, more if they have children. Due to the laws on age of marriage from 18 to 21 years, new complications have arisen where even couples dating each other are targeted and face problems. Another big malady women face is domestic violence and my first focus is to ensure my victims will mentally survive the trauma and get legal help fast or go to the police, which they are not keen to do. I try to help them get skills to get a job and escape from their places of abuse to get them to safe zones."
Through counseling, Shabnam makes them realize what they want. Those who want to continue with their relationship with abusive partner need to be prepared to become stronger and more self-sufficient. If they want to leave their abusive spouse, they would need to file an FIR and go through the legal system.
She encourages women to learn skills and take up a job to become financially independent.
When I asked Shabnam what inspired her to become a lawyer and also help others, she recounted that as a child, her family used to live in a large compound near a court, and her father, a government official, had streams of guests coming into their home pouring out their problems.
She always loved that atmosphere of loving care of her house. By the time Shabnam was in class 6, she was impressed by lawyers and the justice they imparted to the helpless. Growing up she decided to be a lawyer.
Shabnam joined the North Bengal University to complete her LLB course. During the lawyers' awareness camps attended by judges, lawyers, and interns, she and her classmates visited schools, colleges, and villages, and interacted with people to understand the needs of common people.
During her internship, her first case shook her: it was a gang rape of a student. As Shabnam interacted with the victim from the world she learned the ropes of the procedure. She was happy to see all the perpetrators put in jail.
In another case, a woman was attacked by her stalker. One day, he stormed into the house of the woman. She was chopping vegetables when he threw acid on her face. Shabnam set out to get justice to the lady and won the case.
In a different scenario, a woman faced defamation on social media initiated by her ex-husband. Shabnam and her team rallied around the woman to ensure her protection and rights.
During all these cases, she built a bond with her victims, with a steely determination to get them justice. Attending camps and programs with other lawyers garnered her with skills to learn the wonders of the legal free aid system for the marginally disadvantaged sections of society.
ALSO READ: Rasul Galwan: Pasmanda tribesman of Leh after whom Galwan Valley is named
On Woman's Day, a program organized by the DPMI private medical institute at Kishanganj to felicitate women invited her and the lady police officer conferred her with a medal as the guest of honor.